Grand Theft Auto IV and Episodes from Liberty City come to Xbox backward compatibility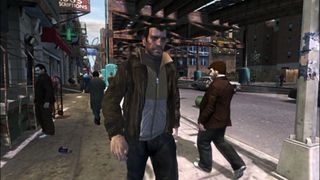 (Image credit: Rockstar Games)
Xbox One gamers, heads up: it's time to head back to Liberty City. Rockstar has announced that Grand Theft Auto IV and Episodes from Liberty City are now playable on Xbox One via backward compatibility.
Grand Theft Auto has been a heavy hitter franchise for a while now, and scoring both GTA IV and Episodes from Liberty City is definitely a boon for the backward compatible list. If you already own the game digitally, you should be able to install GTA IV from the "Ready to Install" section of your Xbox One now. If you have it on disc, all you have to do is pop it in.
If you're new to GTA IV, however, you can dive in by grabbing the game for $20 at the Xbox 360 Marketplace now. All of the DLC is also up for grabs, including both Episodes from Liberty City experiences, The Lost and Damned and The Ballad of Gay Tony. And as always, if you're in the market for more backward compatible games, be sure to check out our comprehensive rundown of every title on the list.
See at the Xbox Marketplace (opens in new tab)
Dan Thorp-Lancaster is the former Editor-in-Chief of Windows Central. He began working with Windows Central, Android Central, and iMore as a news writer in 2014 and is obsessed with tech of all sorts. You can follow Dan on Twitter @DthorpL and Instagram @heyitsdtl.
Great, now I can go bowling with cousin on my XB1!

https://www.youtube.com/watch?v=zxMLVlspD1Y

Nice. Maybe now I can finally play GTA IV properly since I could never do it with the crappy PC version... Even on 2016 hardware.

I call bullshit. The PC version runs well enough. Especially on 2016 hardware. Dramatically prettier than the console versions as well.

No, it does not. Unless your "well enough" is absolutely horribly. It's not fluid AT ALL. It lags, stutters and crashes like hell, it's filled with visual glitches and it's downright unplayable. I've bought the PC version of game on launch (not Steam nor alike) and never has it run properly. Ever.

GTA IV hasn't lagged or stuttered since 2009. Its optimization is meh and it can't use more than 4 threads properly and not even those 4 as it should, but it's fine. Zero visuals glitches as well. You should have your PC checked.

Agreed. The PC version was like Crysys, you needed a heavy duty PC to run it but, if you had the gear and knew how to tweak games a litle it ran great, I finished it 100% on the PC and loved every min of it... What a great game.... it really was

Still better than GTA V but the Xbox 360 version is really not that great.

I've had this game on Steam for like 5 years now. Maybe I should finally play it. I should also find my Steam login lol.

It always blows my mind that 12 year old hardware with 512MB of RAM can play some games better than a new PC with 8GB of RAM.

Shows how much effort they put into the PC version

if i put 8GB of RAM in a machine with 2017 Intel Celeron G3930 and intergranted graphics will magically become a beast because of more RAM

it ran fine on my PC after a few updates... got the "Key to the City" achievement on it, If it ran like crap in anyway, I would not spent enough time to get that one achievement (that is 100% complete). I will admit it needed a little work to get running perfectly, was not drop in a DVD and install type thing by any means.

I'm gonna cry full of happiness... I've never finished it completly...

Spent a lot of time with this game. And between the PS3 version, the Xbox 360 version was the go to version in terms of performance. The Xbox One GPU eliminated screen tearing for Red Dead Redemption, I wonder how much better is GTAIV on the Xbone.

Awaiting Digital Foundry's analysis

Excellent. And the PC version was a hog because they didn't develop it well. It was the first game that steam ever gave refunds for due to the botched launch and delayed fixes. I'm sure the game runs ok by now. But Rockstar more than made up for it with GTA V on PC. Now if only I could play my 360 version of GTA V on Xbox one...

Finally! Been wanting to play GTA IV on my Xbox One since I bought it because neither of my PCs at the time could run it properly. Thank you Rockstar.

Besides the side things like bowling and stuff, this was a EPIC game and even the episodes were great, at some points during all 3 stories they meet up. Really well done game. I won the "Key to the city" achievement on this game (did it on the PC), 100% complete, all side missions, all pigeons everything... Still temped to play it again (I do have the 360 version). And after a few updates, I thought it ran great on the PC, I got it to run MAXED out with all settings at max, beautiful game...

Was GTA IV any good? I bought it on a sale some time ago and haven't ever touched it.

It's good. Not Skyrim good but good 😉
Windows Central Newsletter
Thank you for signing up to Windows Central. You will receive a verification email shortly.
There was a problem. Please refresh the page and try again.