The Lenovo Slim Pro is an excellent laptop for those seeking an affordable device that still has plenty of power. Its thin, lightweight, and has excellent battery life making it a great fit for most people.
Pros
+

Reliable CPU and GPU performance

+

2W speakers with Dolby Atmos

+

Facial detection and camera privacy switch

+

Affordable pricing

+

Great battery life
Cons
-

Bad power button placement

-

No SDcard slot
Why you can trust Windows Central Our expert reviewers spend hours testing and comparing products and services so you can choose the best for you. Find out more about how we test.
Lenovo has been making laptops since 1985 and provides a wide range of reliable devices that satisfy various use cases. The latest version of the Slim Pro 7 proves to be a very affordable option that still manages to provide a powerful CPU and GPU that can handle most programs and tasks thrown at it.
I spent a week and a half testing the Lenovo Slim Pro 7 for work purposes and using it for my own amusement in my personal time. Lenovo specifically describes the Slim Pro 7 as a "clamshell notebook built for mobile content creators." This being the case, I used several programs on the laptop to test its abilities. As is common with the best Lenovo laptops, the Slim Pro 7 is very easy to use, features long battery life, and charges up quickly. While not perfect, it is a strong contender in the affordable laptop space.
Lenovo Slim Pro 7: Price and availability
Lenovo Slim Pro 7 specs
Price: $1,199.99
CPU: AMD Ryzen 7 7735HS
GPU: NVIDIA GeForce RTX 3050
RAM: 16GB
Storage: 512GB
Display: 14.5-inch, IPS 2.5K
Battery: 10:10
Size: 12.81 x 8.92 x 0.61 inches
Weight: 3.5lbs. (1.59kg)
The Lenovo Slim Pro 7 has an MSRP of $1,199.99, which is an understandable asking price for the hardware and conveniences it provides. Unlike some other computer lines, this version of the Slim Pro 7 (powered by AMD) only comes in one configuration. So if deciding between CPUs, GPUs, storage space, and other specs is a challenging ordeal for you, just know that the decision is premade.
This laptop can currently only be purchased from Best Buy. It's unclear if it will be made available at other retailers as time passes. Additionally, Lenovo sells its Slim 7 and Slim 7i (the 'i' denoting Intel variants) on its website for those interested in seeing what else the tech company offers.
Lenovo Slim Pro 7 Recommended Configuration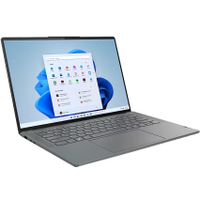 Unlike other laptop lines, the Lenovo Slim Pro 7 with AMD only comes in one configuration, so you don't need to worry about which hardware to choose from. As it is, this 14-inch laptop offers long battery life and strong performance, making it a great buy.
Lenovo Slim Pro 7: Design and build quality
Image 1 of 2
Overall, the Lenovo Slim Pro 7 is a very attractive laptop with its warm-grey coloring, slim chassis, and minimal bezel around the display. It isn't too heavy and doesn't take up much space when closed, making it easy to travel with too.
It's got plenty of connection points to help me go about my day without inconvenience. There is a USB-C 3.2 Gen 2 port and USB 4 port on the left side as well as an HDMI port to plug into various displays and accessories. Meanwhile, a USB-A 3.2 Gen and 3.5mm headphone jack are on the right. I had no problems connecting my wireless mouse using the USB-A port or listening to my wired earbuds while using these connections.
One of my biggest problems with the Lenovo Slim Pro 7 deals with the power button placement. It's located on the right side, exactly where my hand goes when I pick the laptop up or grasp it to slide it around on a table. This button presses in very easily, which means that I've accidentally powered down the Lenovo Slim Pro 7 several times during testing. Granted, it will be easy enough to train myself to pick up the laptop at a different spot, but I'd have preferred it if the power button had been placed elsewhere, like next to the keyboard, to avoid this inconvenience.
On another note, while there are plenty of important ports, as mentioned previously, it's odd that there is no SD card slot. While not exactly the most used connection point on laptops, they are still very important to many users, including photographers, creatives, and audiophiles. So its absence could cause a problem for some people.
Lenovo Slim Pro 7: Performance
Image 1 of 5
As far as Lenovo Slim Pro 7 performance goes, the long and short of it is that the NVIDIA GeForce RTX 3050 GPU combined with the AMD Ryzen 7 7735HS CPU work beautifully to meet my creative needs. It's ideal for video editing, digital drawing, or using other visually demanding programs. It can also handle video games but won't perform nearly as well as dedicated gaming laptops will and is better suited to less demanding titles.
The Ryzen 7 7735HS is a new processor announced in January 2023 and is only hitting the streets now in some of the latest laptops. It features 8 cores, and 16 threads, with a max boost of up to 4.75GHz with a Configurable TDP (cTDP) between 35- and 45 watts.
To test the Lenovo Slim Pro 7's performance, I used it for over a week while using my standard programs, attending video calls for work, and using it in my free time to watch videos and listen to music. Since this laptop is specifically marketed as a tool for content creators, I also made sure to spend time working on larger Photoshop files during testing. It never had any issues and proved to be a reliable device for all of these tasks.
During benchmark testing, the Lenovo Slim Pro 7 scored a somewhat average score of 4,558 in 3DMark Time Spy and a respectable 12,328 in Cinebench R23. Meanwhile, it offered impressive SSD reading and writing speeds, as the CrystalDiskMark score of 7,167 MB/s shows, clearly exemplifying the power of PCIe 4.0. This makes it even faster than the powerful Dell XPS 15 (9530) that was recently released.
Image 1 of 2
Now, the Lenovo Slim Pro 7 is in no way marketed as a gaming laptop. However, being a gamer, I was still curious to see how its NVIDIA GeForce RTX 3050 GPU would perform, given that it's an entry-level, low-budget graphics card that's ray-tracing capable.
To start my testing, I downloaded and updated the latest GeForce drivers and restarted the laptop to ensure that I got an accurate read on the GPU's capabilities. Once that was done, I played Cyberpunk 2077, one of the most visually demanding PC games out right now. While not the smoothest gaming experience I've ever seen, frames-per-seconds-wise, it did a good job of rendering locations and characters quickly.
I ran Cyberpunk's in-game benchmark after setting the resolution to 1080p, turning on medium ray tracing, enabling DLSS settings, setting the target FPS to 60, and selecting high texture quality. With these settings, the laptop could only provide an average of 24.5 FPS, which isn't great. Going higher on ray tracing levels makes Cyberpunk 2077 extremely choppy and reduces the frame rate even more.
That being said, the laptop performs better with less demanding games. I was also pleasantly surprised to find that the fans stayed relatively quiet compared to others I've tested, even when blasting after I pushed the laptop on higher settings.
Lenovo Slim Pro 7: Display
The Slim Pro 7 features a 14.5-inch IPS display that can support a resolution of up to 2560 x 1600p. Lenovo claims that the Slim Pro 7's display produces 100% sRGB. However, when conducting my testing with a SpyderX Pro colorimeter, the laptop produced slightly less at 99% sRGB. This isn't anything to complain about, as that's still a very respectable result, but it's worth noting.
While not as visually deep as OLED panels found on competitor laptops, images and video displayed on the Slim Pro 7's IPS panel come through plenty crisp and vibrant. Additionally, while not a gaming laptop, it does have a good refresh rate of 90Hz, which will come in handy for specific creative projects and smoother Windows animations.
This 16:10 IPS display can only get up to ~350 nits, which isn't as bright as some other laptops I've tested, but as long as you're using it inside, it should get plenty bright enough for you. On the other hand, it can get very dim, making it usable in extremely low-light scenarios without hurting your eyes.
Swipe to scroll horizontally
| Setting | Brightness | Black | Contrast | White Point |
| --- | --- | --- | --- | --- |
| 0% | 3.3 | 0.00 | 0 : 1 | 6700 (0.310,0.330) |
| 25% | 14.5 | 0.02 | 590 : 1 | 6700 (0.309,0.330) |
| 50% | 42.6 | 0.05 | 880 : 1 | 6700 (0.309,0.330) |
| 75% | 117.4 | 0.10 | 1230 : 1 | 6700 (0.309,0.329) |
| 100% | 346.0 | 0.29 | 1210 : 1 | 6800 (0.307,0.329) |
As is increasingly common among most laptops, this is a multi-touch display. Tapping the screen rather than always using the touchpad was convenient. However, there were also times when my cat came up to the panel and rubbed her face against it, causing programs to shut down or web pages to go to a previous page. Fortunately, I found it was very easy to turn off touchscreen capabilities in settings, so I suggest you do that if you have a similar problem.
While this laptop does have a touchscreen, it does not support a pen because it is a traditional clamshell laptop and not one of Lenovo's Yoga designs, which converts into a tablet.
Lenovo Slim Pro 7: Battery life
Good quality laptops tend to last between eight and 10 hours on average while performing basic office tasks like video calls, running programs, and playing music. I'm happy to report that during my PCMark 10 Battery testing, the Lenovo Slim Pro 7 lasted for 10 hours and 10 minutes while performing modern office tasks before calling it quits. This is ample time for me to use it for an entire workday, and it lasts a bit longer still.
Additionally, I found that this laptop has impressive charging abilities thanks to the Rapid Charge Express technology, which allows it to replenish as much as three hours of use after only being plugged in for 15 minutes. This fast charging ability came in handy when I forgot to charge the laptop one night and was able to quickly charge it up the following morning before performing some tests.
As a note, the room in which I did the battery testing was dry and cool, but using any laptop or battery-operated device in hotter or more humid settings can significantly reduce battery life. It's also worth noting that playing video games burns through battery power faster, so the laptop might only last three to four hours when gaming. Still, this is to be expected, and the Lenovo Slim Pro 7 offers respectable battery life overall.
Lenovo Slim Pro 7: Keyboard and touchpad
It's very easy to use the Lenovo Slim Pro 7's keyboard and touchpad, maybe a little too easy in the case of the latter. My wrist often accidentally clicks the right and left click buttons on the touchpad when I reach up to adjust the volume or brightness keys along the top.
This is yet another case where I can shift my own habits to make the laptop work better for me, but it almost makes me wish that there was a bit more space between the end of the laptop and the touchpad so I couldn't accidentally tap it this way.
The keys themselves are well-spaced and give a satisfying tactile feel when pressed in. Just note that there is no fingerprint scanner, so it cannot be set up on this laptop.
Lenovo Slim Pro 7: Cameras and audio
The Slim Pro 7 sports an FHD 1080p webcam, housed precisely where you'd expect above the display. While not the most impressive camera I've ever seen on a laptop, it does provide decent sharpness and color as long as there is sufficient light in a room. However, the image quality can look grainy and muddled, even in scenarios where it seems there should be enough illumination.
As with many laptop cameras, the Lenovo Slim Pro 7's IR camera allowed me to set up Windows Hello's facial recognition quickly. That way, I can unlock the laptop simply by sitting in front of it rather than needing to enter a code. It's quite convenient and always works correctly.
Something I love about this laptop is the extra privacy and security provided by the E-Shutter button (located next to the power button on the right side). Flipping the switch quickly allows me to cut power to the camera without making me fiddle around with any program settings. While a small thing, it provides peace of mind, knowing that no one can secretly peek in on me when I've toggled the switch.
As far as audio goes, the Slim Pro 7 features four powerful Dolby Atmos Speakers that get plenty loud while conveying music and sounds clear. As part of testing, I downloaded the free Dolby Atmos program and used it to adjust the sound balance to get it exactly where I wanted it to be. The speakers were perfectly fine before doing this, but this allowed me to customize it to how I prefer, so I suggest you do too.
The Slim Pro 7 also features a quad-microphone array with noise-canceling, which does a decent job of blocking out the whirr of my robot vacuum during work meetings. All in all, the Slim Pro 7 is more than capable of handling video calls, movies, and music playing.

Dolby Access | Download free from Microsoft
Get your Dolby speakers to sound just how you want them by adjusting specific settings or choosing from different presets. It's super easy to use and is designed to work with the Lenovo Slim Pro 7's Dolby speakers.
Lenovo Slim Pro 7: Competition
The Lenovo Slim Pro 7 is perhaps most similar to the HP Envy 16, a laptop from last year that also proves to be a budget-friendly option with plenty of power. Available configurations include the 12th Gen Intel Core i5, i7, or i9 and a GeForce RTX 3060 GPU. Users can choose to go with either an IPS or OLED display. As always, the better the configuration, the more expensive the laptop is.
Suppose you like the look of the Slim Pro 7 but would rather have something with a bit more oomph. In that case, you should consider looking into the Lenovo Slim 7 Pro X. This is another reliable 14.5-inch laptop that offers over 10 hours of battery life. Still, it utilizes the AMD Ryzen 9 6900HS for its CPU and tag teams its processing abilities with the NVIDIA GeForce RTX 3050 GPU. It offers far more space with 1TB of storage and 32GB of RAM and can handle various tasks.
Likewise, if you prefer the same laptop but with Intel 13th Gen processors, the Lenovo Slim 7i features Intel Core i7-1360P but just Iris Xe graphics (much less powerful than NVIDIA RTX 3050), along with more abilities to customize at Lenovo's site.
Of course, if you want something much more potent (and more premium) than the Slim Pro 7, then the upcoming Slim 9i Pro will be of interest. This is a mini-LED display laptop that features the 13th Gen Intel Core i9 CPU paired with the NVIDIA RTX 40-series graphics card and still manages to be lightweight. Just note that with increased performance abilities comes a higher cost.
Lenovo Slim Pro 7: Should you buy it?
You should buy this if...
You want a reliable laptop that can easily run most creative and work-related programs.
You're looking for a laptop that can charge up quickly.
You'd like a thin and lightweight design.
You should not buy this if...
You want to run intensive games at a higher frame rate.
You need a laptop with an SD card slot.
You're looking for a laptop display that can get really bright.
While the Lenovo Slim Pro 7 won't be breaking any records as the strongest laptop on the market, it is still a very powerful device in its own right. It's very easy to use and is affordably priced, considering its powerful components. The ability to last for over 10 hours and quickly recharge in just a few minutes makes it an ideal laptop for creative, work-related, or personal needs. Plus, there are plenty of ports, making it easy to connect other devices to the Slim Pro 7. What's more, including a physical camera off-switch can provide peace of mind to its users.
However, it is a bit odd that this content-creation-focused laptop doesn't have a built-in SD card slot, as this is something that many people tend to use still. Then again, if you don't need it, this won't be a problem. Since the GPU is an entry-level gaming graphics card, the laptop can handle moderately intensive games but can struggle with frame rates on more intensive ones.
While not perfect, the Lenovo Slim Pro 7 is an excellent pick for most people as an affordable laptop that can easily handle traditional tasks and programs.
Self-professed gaming geek, Rebecca Spear, is one of Windows Central's gaming editors with a focus on Xbox and PC gaming. When she isn't checking out the latest games on Xbox Game Pass, PC, or Steam Deck; she can be found digital drawing with a Wacom tablet. She's written thousands of game guides, previews, features, and hardware reviews over the last few years. If you need information about anything gaming related, her articles can help you out. She also loves testing game accessories and any new tech on the market.
These newest notebooks and laptops supposedly have USB-c ports. In real use however, we must use USB hubs, to add a few more USB hardware devices.
In my personal experiences, these inbuilt USB-c ports do not provide enough raw current to power the added hardware devices. Often an additional power connector needs to be used with the additional hub. It would be worthwhile if these inbuilt USB ports offer enough current to power external USB connected hard drives, without demanding additional power support.

Reply