Here's how to make our app a transparent Live tile and show up in your Notification center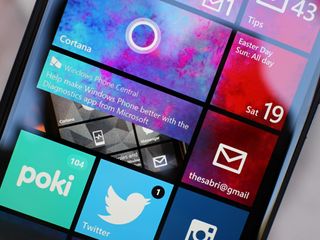 Earlier today we updated our official Windows Phone app to version 4.4.18.8. You'll find a lot of things in there that you'll like if you're on Windows Phone 8.1. We've fixed our app to look great on your Start screen with its very own transparent Live tile. You'll also be able to pick up our notifications in the new Notification center. Bonus, all features in available to paid users is now available to those in the free version of the app. Before you get on with your weekend we just wanted to make sure you all had the transparent Live tile and Notification center working for our app. Here's how if you're not sure.
Transparent Live tile for Windows Phone Central
In our app go to settings > Live tile > turn on Live tile
If you want to get extra fancy hop into the live tile settings again and click configure Live tile. This is where you can select between two different Live tile styles for your Start screen. They are:
Iconic tile – Use the Iconic template from Microsoft, this one sided tile shows the number of articles unread in all modes. When wide, the tile three newest posts are displayed. This is a reliable tile as it follows Microsoft's SDK strictly.
WPCentral Flip Tile – Our custom tile template, shows the unread article count on the front of the tile and the latest headline and picture on the rear. The wide tiles shows the top headline son the rear. Memory limitations can cause this tile to incorrectly render at times.
Whether or not you select the Iconic Tile or WPCentral Flip tile make sure you select the color 'accent' if you want that transparent Live tile! Now for those notifications up top.
Articles in the Notification center
In our app go to settings > Live tile > turn on toast notifications
If you want to see us popping up in the Notification center make sure you enable toast notifications for our app. This way anytime an article pops up you can catch it in the Notification center. Don't forget you can be a pro and manage the notification settings for any app, including ours, by going to your phone's settings > notifications + actions > tap the app. Here you can tell Windows Phone 8.1 whether or not you want those toast notifications to stay in the action center, change the sound and more.
Enjoy using the official Windows Phone Central app with both transparent Live tiles and in your Notification center. Have any questions? Ask below, though if they're technical you might want to save them for Jay (@JayTBennett). Enjoy!
Download our app from the Windows Phone Store.
P.S. Before you ask, I don't remember where I found that image I'm using as the Start background above. I think it was somewhere in this thread from the forums. Try those OneDrive links!
Windows Central Newsletter
Get the best of Windows Central in your inbox, every day!
Wow seems fabulous! Love it as a transparent tile! Also, can't imagine life before action center!

Those were dark times... hearing a notification on your phone... running to it because it's across the room... getting there... too late... missed notification.. what was it... did the Live tile update... Dark times.

I know Sam, I know. That was a long long time ago though. Dark times indeed. Now I even have a custom tone for all important apps so even if I miss it, don't want to walk over to phone and can't see screen, I still know what App buzzed me. Now if only I had a "Sam just doing Sham things at Titanfall" notification.

And some still live in those dark times.

We must join forces to show these people the light.

Omg @ u guys reminiscing about Windows Phone "Dark Ages". Oh the travesty.!! lol

Windows Phone "Dark Ages" are more epic than iPhone launch in 2007!

I remember the good ol days when copy and paste was just a pipe dream

Now Obama came along and changed everything

We have have left the Dark Age and have now entered the Middle Age. By the grace of the phone gods, next year WP will transition to the Age of Enlightenment and finally to the Golden Age of WP when the suffering of those dark times will be but distant memories but the glories of those who stuck through it since the days of WP7 will still be told and passed on to future generations. Our grandchildren will still hear of the House of Balmer and the Evil Sinofsky.

The buggy, laggy and incomplete light.

I can't afford one, show me your wallet

the world economy will collapse soon, and all I care about is the notification center! :)

You guys are hilarious xD

My friend still rocks a Lumia 800, which is running 7.8. I showed off 8.1 to him the other day and I swear he nearly cried :')

Hahaha, same here, but then he showed me Zune and then I cried

Hahaha ! Never used Zune before but this comment is epic !

I am using iconic tile... I am opening wpcentral from action center but the count on the iconic tile still shows even after I read the article... I will have to open it directly from iconic tile to remove it... Is that same for everyone..?

Same for me. They need to fix that.

This. Sam this needs a fix for sure!

Yeah a situation in Windows Phone 8.1 I hadn't considered! This will be fixed in our next update :)

Thanks Jay.... Hope it comes soon...

Nice ! Thanks Jay. The sooner the better. :)

Thanks Jay! No pressure, it's more than what it was yesterday anyway. ;)

toast notification not working. app doesn't update new feed untill i open it, even if its allowed to work in background.. any idea

I wish the white window sign is a bit smaller. It blocks the view of wallpaper now. Can we get a transparent window? :-)

Sorry. I changed to iconic tile and that solved the problem. It looks great in wide tile.

Now just wish my facebook notifications would show up

Is it normal that I barely have anything under the notifications+ apps setting? I only see my email, texts, phone, store, and Line (for some reason), but nothing else. I have the WPcentral toast notifications and live tiles enabled, but I still don't see it under the settings.

I get all that, plus Notifications for InstagramBeta, FacebookBeta, WPCentral, Battery and NBC news.

What the... Give me my notifications! No wonder why my action center has been so useless... Anybody know how to fix that?

Open those apps once and trigger a notification yourself. Then it should be shown in the action centre. That's bore I how twitter working..

NBC news for real bro?! lol

I tweeted myself, but I don't get any notifications at all. Does that not work?

I love when you talk dirty ;)

Mine is not showing up either.... Anyone fixed this?

Mine shows up. But like notification doesn't work

Turn them off then on. Worked for me

Nice background, sam. I'm using the same one.

Which one is it, its awesome

I threw it up on imgur for you: http://i.imgur.com/1hSjN4a.jpg I got it from the same thread Sam references at the end of this post... this was the best one I found, mainly because it's colorful and interesting but most importantly it still allows you to easily read white text in the foreground.

Thanks. When I clicked the post it was exactly what I was looking for.

Thanks man! Loving the wallpaper!

Thanks for posting the image, it's a very nice background!

Thanks man! Several people have been asking. I'm going to forward this link to them...

the background is really nice. you can zoom in different portions and yield a different effect.

I just wish if some of my notifications can be only toast notification without getting into notification centre or optional settings between the two.... Not for Thi app as such but for all apps

I don't see the Wpcentral app in the notifications settings. Only a few select apps appear there for me like outlook and Nokia call/SMS blocker. How can I get it to show up there?

I had to do a soft reset and have twitter open in order to see it.

Enable toasts for our app and then wait for the next post to go out. It should catch and stay in the notification center and show in the settings.

Do you have to enable toasts for it to show up in the notification center? My twitter app shows in notification center but I have toasts off.

Yeah it's not showing up on my L920 nor my L1020 either.

By getting a new Sony phone? Lol. Peace.

Is that jealousy because you can't afford one? Too bad, so sad.
Now I would tell you to go sodomise yourself with a cactus but you might enjoy it...

It is called a JOKE. Lighten up a bit there, Dude. Aren't you the one who always brag about getting a new Sony phone? It is like a well-known secret in WPCentral community already. No need to get offended and get cactus-sodomy over that. To be honest, I am actually surprised you are still rocking Windows Phones.

He loves Nokia. Doubt he will appreciate Sony.

I am sure 99% of WPCentral knows how much he loves Nokia (not a sarcasm). That's why I specifically mentioned "Window Phones", not Nokia.

You know nothing, Jon Snow.
I've said more than once that Sony is the only OEM to whom I recognise quality to replace Nokia in their absence. So, there's that...;)

Well, you should try something else, comedy isn't your best asset ;)
And why are you surprised? My Nokias still work. My 1020 is here to stay for a while as it's my dedicated camera.
So, only my daily driver will switch. The only reason it hasn't is because Sony has yet to release the Z2 Compact ;)
(And if Sony does actually release a WP, I might even stay with WP anyway). I just will never ever buy any Microsoft branded phone, specially one made from the corpse of Nokias' D&S, aka "Microsoft Mobile" ;)

Sam, which app is good to get current weather temperature updates in your action centre?

How does cortana add weather in the action center?

It doesn't. I was being pathetic there. There is no app that gives weather in notification. Why would one need it when you can pin a tile, get it from Cortana. Cortana does push notifications in action centre for severe weather warnings in your area.

Not sure if this is happening to anyone else, but the unread article count on the live tile doesn't clear if I open up the app through the notification center. It will only clear if I open it up from the tile on the start screen. Any thoughts? Thx.

It's happening to me as well, it's really annoying

Yep a new situation with windows phone 8.1 I hadn't considered, will be fixed next update!

Great, thanks for your answer!
Cheers :)

Toasts are on.. But I don't see WPCentral in the action center..

You have to wait until first notification shows up, then it will appear into action centre.

Not getting toast or message in action center when there are new article's.

Next, can you guys do an collection of start screen backgrounds you guys use.

Check the forum out dude!

Also they did one about a day and half ago. Check old news.

Lol.. I just going to ask that background, but you already mentioned in the bottom of the article

Check the comments above. Someone posted a link to it...

Ya, i already check it and download the picture. By the way, thanks for the reply. ;)

Everything working spot on here in the UK, Lumia 920 on EE. Rocking a nice black grained leather look for the background. ;)

Lol what? The biggest bug I had was not being able to set a custom tone for Twitter... And I'm a HEAVY user. Have to charge my phone up 3 times a day so one bug that went away after a power cycle is really nothing at all...

Any way to get the flip tile to be 100% transparent instead of having half an image on one side?

Update to the new WPCentral app and use iconic tile!

I want flip tile 100% transparent and obviously I have updated or none of it would be transparent

Actually was transparent before update but only after notifications!

So you want a tile without that image on it? I'll see about that for the next update

Sweet, yea I'm looking for complete transparency on the homesceeen, having one tile with a solid image looks out of place and wpc app is a must have tile

For now try the iconic tile :)

Wow my lockscreen also damaged now. Text coming in 1 column with 1char per line overlapping each other. Same problem with flip live tile. Please fix this asap.

How can I post screenshot here?. Dont have PC access.

But its working fine now both tile and lock screen.

You upload it OneDrive and post a link. Come on, we are WP crew, we don't upload stuff. We share links ;)

Does this mean that if I waited a little longer I wouldn't have to pay for the full app? No, i don't regret it, best 99 cents (4,xx pesos for me) that i've ever spent but still XD

But the I'm special feeling is now gone

Use other tile option then, even though I prefer iconic because it gives a quick rundown of latest news.

is it just me, i cant see wpcentral app in seetings> nothification&action?? i see few others but not all :/ i even got a full app but still :/

You have to wait until first notification shows up, then it will appear into action centre.

Why the hell I paid for the app?

This app got me a full year subscription for Skype, a lot of free games and productive apps, recently the killer WP 8.1 update and a lot of deals from different carriers. Definitely worth a dollar.

Seriously dude? Do you not like to pay for the stuff you use everyday? Some people...:/

Liking the transparent tile more than I expected.

The Toast Notification is On here but theres no app in notification center :( i'm using l820 how sad :'(

You have to wait until first notification shows up, then it will appear into action centre.

Not working for me even after the update :(

Read my mind with this post

I have turned on toast notifications from within the app but in the phone settings under notifications WPCentral is not listed. How do I control the banners and notification?

You have to wait for the first toast from the app, basically for another news article.

I have problems with the lock screen settings of wpcentral....i have set the lock screen but everytime I open this app it shows me warning about lock screen....is lock screen settings still not available for trial users

Yep that's a bug I need to fix

Sam, send us an article about taking Cortana out for a date and may be then the notifications would start popping up and we can move on with our lives.

Anybody has that background wallpaper he is having

Here you go, courtesy of @PhilR8 above: http://i.imgur.com/1hSjN4a.jpg

Can someone post a link to Sams background. I can't find it using forums in app.

The commenter @PhilR8 already did, but I'll repost it here again for you: http://i.imgur.com/1hSjN4a.jpg

LIVES THIS APP AND SITE! GREAT WORK!!

The tile transparency stopped working for me after following this article. What gives?!?

Can someone link that wallpaper? It looks amazing!

Here: http://i.imgur.com/1hSjN4a.jpg Thanks to @PhilR8...

WP Central is there in my action center but toasts notification is not working..:(

Windows Phone 8.1 is iconic in its performance. My 520 is better and more personal than ever before.

Yup dude!Its just that now i can show my Anrdoid boasting friends what an awesome phone 520 is with such low cost! Btw very rare crashes than before, no restarts no lag everything as smooth as butter!If this phone will recieve Wp9 then windows will blindfoldedly beat Droid and Ios!Love you MS!

I can't wait for WPCentral's new post so I can change notification setting for wpcentral app!

But I am unable to view images or attachments in the forum using wpcentral app

Hello, I have turned my toast notifications and I have allowed WPCentral to run in background! But I can't see the app in notifications+actions ! I want this app notifications in action centre! Help plz:(

You have to wait until first notification shows up, then it will appear into action centre. And you can then go and configure to your hearts desire :)

Loving the new look I didn't have to do anything. It updated on its own. Awesome

Hey guys,i know this is a bit of topic but does anyone know how to get that old charging tone back when you plugged it into a charger? Also does anyone know how to change from using LTE to 3G to EDGE? I always keep my data on EDGE to conserve battery power.

Not sure about charging tone but for data connection go to settings> cellular+ sim> sim settings. From there you can make the required connection changes.

Thanks a million. Just wish i can get that charging tone again because I really liked it.

That background though love it

Can anyone recommend a good shortcuts app with transparent tiles?

How to get the notification to work???

Life of a journalist; having a special inbox for tips xD

Scrolling through the article list seems a bit laggy lately..

Lately!? It's been like this for months. But everybody's been waiting on 8.1 and the tools so hopefully it will get better. But I wouldn't hold my breath.

I'm looking at this issue right now

WPcentral app doesn't show up in notification center. Do I need to reinstall

No, it's a wierd bug. Just turn everything on as in the article. Then wait for the first post from WPC. I can't set notifications for individual apps until I recived my first message/notification.

Thank you for the tutorial!

Hi, is there a possibility to make a white theme for the app? Cant seem to find the settings for a white theme as shown on the pics in the store? Thx for the help

Have to go to settings -> start + theme, switch to light background color

Cool, now let's hope microsoft, facebook and other apps do the same by activating the option of a transparent live tile.

Happy Easter WP Central team

I can't get WPCentral to appear in the action centre settings :'(

Once you receive a toast notification, it will appear in the settings, so don't worry it will show up!

Thankfully, my WPC tile is on my second row of tiles so I'm never missing anything, really. But I might just give it a go.

I just did a soft reset...the date and time will not auto update - and I do not have any notification centre apps either - aside from phone/sms/outlook/whatsapp/store/WiFi.
I guess my WP8.1 experience wasn't glitch free after all!
Time to give diagnostics a whirl

You have to wait until first notification shows up, then it will appear into action centre. And you can then go and configure to your hearts desire :)

@Mayur - thanks for that :). I was wondering why my notification centre was so empty. I've managed to invoke a low battery warning notification from 'battery'...and it does now show up in the notification centre. I'm just waiting on the next bit of news to come through from WPCentral to get that app working :) It's a shame that the apps which have toasts switched on don't automatically show up in the notification centre settings page. It would make for a much easier user experience (i.e., when I install Facebook for example, I expect it to just show up as a notification centre app). Better still, it would be great if all apps just handed toast notification configuration control over to the notification centre. It would save us diving through the menus on the various apps...

You are welcome :) I see your point, may be these apps need to be updated to take advantage of now built-in notification centre. But removing notification settings all together from apps might not be a good idea. Like example Twitter app, I follow around 50 peoples but I only want notification from 3 peoples I care most, this kind of control can only be achieved through apps own settings. Even for Facebook, I don't want to be spammed where someone likes my photo or update. Those types of notifications are not important to me atleast.

The articles were already showing up on the notification center before the update.

I have the toast notifications activated in settings/live tile but the WPCentral app does not show up in notifications+actions :( Anyone an idea why ? update: forget about my silly question, has already been answered several times earlier. Sorry, should have read before posting.

My tile went transparent to begin with but now that's stopped working for some reason. Is that a bug?

Sam, where did you get this beautiful background ima...*SLAP*, Sorry could not resist :) on serious note, it looks like image of Indian festival of colours (holi), just seach on bing and it should come up with tons of colourful images..

I never bought WPCentral app (and up until now, it still show me ads). But as far as I remember, live tile and push notification were part of paid version features. But now I can use both. Is there any change to the policy? Or is it already changed long time ago and I'm just not realize it?

Read the article from yesterday, we opened up all features on the free trial version :)

Ahh ... So that's why. No wonder I didn't know. I don't have the chance to read the previous article since around that time was my busiest days in the past weeks :)

I need the wallpaper of the first photo!!! :D

Your app Is not free, Please make it free... Please..... I am in need of it, not want to go for browsers...

The app is free, the trial is fully unlocked just shows adverts

Updated yesterday to the new WPCentral app. I have live tiles turned OFF. However, my tile flips and shows top headline and image.

Now everyone has the same background, thanks Sam xD

You guys always have the coolest wallpapers, how can I get this one?

Thanks WP central team.... Was having problem at first... But now both live tile and notification centre is working.... Happy to see another app at the banner

Is the app worth the cost? Not sure why this App isn't free like the android central app. I'm not sure why i would pay money for something i can view in a web browser for free.....

It is free, the only difference is that the paid version has no ads.

I've been visiting WPCentral for a while, but this is my first comment. I downloaded the app and just had to register to let you know how brilliant I think it is. Thanks guys

I love this. With the iconic tile I can now change the tile color to its original magenta color and with the toast notification + action center I can't miss an article. Thanks Sam this is brilliant.

I have downloaded the 8.1 on my Lumia 1020. Since then everyone I showed my phone to wants one...Great Job Microsoft / Nokia.

I've had toast notifications enabled for a long while now, but haven't once seen one for WPCentral. Nothing in the action centre either. I just reinstalled it so we'll see if that fixes it...but its annoying because I'd much rather have these toasts than ones from twitter.

Transparent icons and background images are raping for eyes and common sense .

The only reason I haven't purchased the app isn't cost it's this: App requires phone identity owner identity photos library media playback microphone data services phone dialer Proximity movement and directional sensor speech web browser component HD720P (720x1280) WVGA (480x800) WXGA (768x1280) photo, music, and video libraries camera
Um, why is all of this required?

Actually, I'd like to know too.

Followed the instructions, still no TRANSPARENT tile, even re-started the phone once. :( What am I doing wrong ? Why can't there be a simple "Activate Transparent Tile" option ? Wouldn't that be more intuitive ??