Here is what's fixed in Windows 10 build 10586.494 July update for PC and Mobile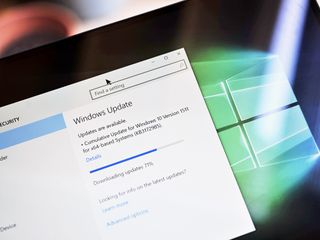 Microsoft is rolling out build 10586.494 for PC and Mobile. PC users should look for KB3172985 and KB3173428 while Windows 10 Mobile users will get an a full over-the-air update. The update applies for those not enrolled on an Insider program as well as Release Preview Ring..
Microsoft has posted the changelog for the cumulative OS update on their Update History page (opens in new tab). Here is what to look for in the update, but note that these fixes apply to both PC and Mobile or either in certain instances where applicable.
Improved reliability of Windows Media Player, Internet Explorer 11, Windows Explorer, Miracast, and Windows kernel.
Fixed issue with some people seeing a black screen instead of the lock screen when resuming from connected standby.
Fixed issue with DirectAccess where the Disconnect button appears in some cases when the connection isn't fully established.
Fixed issue where local user accounts weren't locked after a number of failed sign in attempts.
Improved support for video playback in certain apps that didn't render video correctly after resuming from sleep.
Fixed issue with Windows Phone losing user authentication certificates after upgrading to Windows 10 Mobile in some cases.
Improved support of the backup settings of apps on Windows 10 Mobile.
Fixed issue where Microsoft Silverlight based apps wouldn't install on Windows 10 Mobile after joining Azure Active Directory.
Fixed additional issues in .NET, Windows Kernel, Windows Update, authentication, revised daylight saving time, support for PDF files, Bluetooth, Microsoft Edge, Internet Explorer 11, networking, and Wi-Fi connectivity.
Security updates for Microsoft Edge, Internet Explorer 11, Kernel Mode Drivers, Windows Kernel, .NET Framework, Windows Secure Kernel Mode, and Microsoft Print Spooler.
Microsoft notes that "No new operating system features are being introduced in this update."
We'll update this page with more information as it comes in.
Daniel Rubino is the Executive Editor of Windows Central, head reviewer, podcast co-host, and analyst. He has been covering Microsoft here since 2007, back when this site was called WMExperts (and later Windows Phone Central). His interests include Windows, Microsoft Surface, laptops, next-gen computing, and arguing with people on the internet.
I'm NOT on Insider Preview and am getting it now too on my UK Lumia 950

The update applies for those not enrolled on an Insider program as well as Release Preview Ring

Yeah. Article's been sneakily updated to say that!

when u going to fix the god damm facebook app, people??? when??? is just an app!!

Maybe you should use the Facebook (Beta) app actually published by Facebook like me. Has all the features you could possibly want.

For me on Surface Pro 4 Facebook app and Messenger both doesn't respond on touch screen events sometimes. When it happens I just can't use these apps.

I don't think FB beta works with every phone. I'm using the 950 and can't download it.

You have to set your region on France, than download and than just switch back to your real region

Don't waste your time. It doesn't appear in the list.

The app is no longer available for download

Use the direct link from Windows Central article

Try with region set on germany. I have been using the facebook (beta) app (the one made by facebook) for about a month along with new messenger and both work great, faster then old apps, more features, stable. Thats all I want from fb apps. Now if only messenger would get call support

I have this app. It worked the first few days but then the app crashes when opening. I amgetting really tired on getting 3rd rate apps on my 3rd rate OS. Damn. I'm surprised I said that. Maybe I'm just sick and tired of being a loyal MS follower.

Facebook beta is a big piece of crap. It crashes on startup if u even get it to start. Slooooowwww. Omg people! How effing difficult is it!? Posted via the Windows Central App for Android

You could be the next WM dev rock star by finding out how effing difficult it can be.

I had the same problem. Solution: Simply move the Facebook app to internal memory. No more crashes on startup.

Its a great app but its really buggy and takes a lot of time to load up. Almost always crashes the first time it loads. Hoping for a good bug fix and performance improvement update soon :)

And btw...no need to get angry

I'm on the Release Preview Ring and get these 10586.xxx updates on my Lumia 635 DS.

That's because it's for everyone

Same I got it on my Lumia 830 UK. I still have the bug that causes the screen to get stuck on the windows logo when it restarts everytime I have a update which is wierd. I rolled back from the Insider Preview cuz my phone got bricked due to that very same bug. I'll have to deal with it lol.

Updating my L925 right now

Lumia 925 getting this update? Or have u used xda hack.

No hacks. My Lumia 925 is on the Insider Release Preview Ring and gets all OTA updates for this branch.

Mine as well, still love my Lumia 925

x20 series can get treshold updates but not redstone.

redstone only via xda hack

Is this for insiders only?

What about dttwu on US 950XL? Why they take it too long to release?

Since that's a firmware update it's your provider that has a say in when you get it.

My phone is unlocked, carrier free.

I got it on my US 905xl couple of hours ago. Check it once again.

Daniel - Can you please provide a quick link on the site for users to refer what insider builds are what version is it currently on and what is latest production stable release etc.,

Search about it in Wikipedia under "Windows 10 Mobile" & For complex view - https://support.microsoft.com/en-in/help/12387/windows-10-update-history

Been trying to keep this up to date with just that info. http://forums.windowscentral.com/windows-10-mobile-insider-preview/41960...

If this build is not for either insiders or release preview ring, then does this mean we should be expecting an Anniversary update build for the release preview ring? ☺

But it IS for the release preview ring. It's not for the slow ring or fast ring though

I don't understand the meaning of this build if the fast ring build is supposed to become anniversary update (RS1) for all the insider rings and production build!!!

The meaning of this update is to make stuff more stable and prepare it for the redstone. You peeps are complaining on everything.

Misinformation. All those on the stable branch of W10M get it.

Cumulative updates are for stable production releases. (10586.XXX). Insiders are in Redstone builds. This is not a Insider release. This has been mentioned over and over and over and over.

+1, and it's the same EVERY second Tuesday of the month!

Stuck on 50% downloaded, Desktop version

Rebooted pc, now it's stuck at 2%

For how long? These update need time.

im waiting for almost half hour here thats the time it takes me to download almost 1GB file

Won't even download through Update catalog directly, stuck at 0%

Just relax...let it sit for a while. It will finish. My L925 took a bit but is done now.

You are getting impatient . . .

30 minutes waiting for a download on 100MB internet connection isn't impatient it's a problem with the download

So, download PC version from MS Catalog OR wait for Anniversary Update

Great to see monthly security updates. What other mobile does that?

Actually, Android did start monthly security updates recently.

To every phone automatically?

No. It's up to your service provider. If you have a budget phone, you can pretty much forget it.

My Samsung S6 gets monthly OTA updates too. And I believe Nexus devices too. Don't know about other brands.

My Note 5 is receiving updates for last two months...

No I'm non insider lumia 950 XL DS

So the last Windows 10 build for my Lumia 720. Lumia 950 takes over the role :-)

I hope the battery is improved on mobile. After the last update I noticed my battery running down a lot faster than normal.

It depends upon your usage AND
They didn't tell about less battery drain for this update...

My usage is not very high and it hasn't changed since I've used this phone AND sometimes a simple adjustment in the code can make things more/less efficient (an indirect effect - hence no mention of a "fix"). I simply stated that I noticed my battery running down faster than normal with the last update. I don't see how that warrants a down vote? Any ways, Cheers.

I'm in the same boat. Just yesterday my phone decides to go from 100% to about 30% in a matter of three hours without me even touching it. I have noticed it is something to do with Messaging+Skype. It was having very heavy use in the background. Once I disabled background usage for it, the issue went away, but I also started missing skype messages. Weird thing is that my skype usage is pretty even throughout the day. It doesn't always happen to that extreme, but it's definitely the biggest battery drain on my phone. It's an interesting problem I'd love to spend more time troubleshooting if I had, well, more time.

In short... Less Battery drain not fixed yet.That's why I only installed it on Mobile not PC yet.. Cheers ;)

I've already know the date of this update... ;)
https://s32.postimg.org/lp6730jhh/Untitled_1_copy.jpg

I'd like to see an update that brings back the ability to install android apps Then we don't have to hear about Snapchat and Pokemon GO anymore lol.

iOS Bridge is the answer to your request, in theory all iOS apps will be ported without coding effort to Windows Mobile and this will allow companies to save costs by having 1 single developer team to support both iOS apps and Windows Mobile apps.

Actually the coding required is much more than you think. The iOS Bridge just gives you a head start for developing the full Windows app. With the Android Bridge, developers just had to replace Google APIs with Microsoft ones. This approach was much simpler but it involved putting an Android subsystem in Windows which was eventually removed due to performance issues.

Thanks for letting us know, I really thought it was the opposite, that iOS Bridge would require less coding efforts. It looks like Microsoft's Mobile team has a huge challenge to get iOS Bridge ready for 2017 Primetime, when new hardware by Microsoft is announced for Surface Phone.

No ****! I've had enough of those. Posted via the Windows Central App for Android

But still no new firmware for US unbranded 950XLs lol

Yeah gotta wait on carrier

Carrier phones are "branded" phones. The new firmware is for all unbranded phones, like what I said mine was.

also dont have the firmware in 950 UK cv


Mine is unbranded also, OS updates are gonna come no problem,firmware still have to go through carriers or use Wdrt once it's on those servers

Nice, still waiting for the double-tap-to-wake firmware for my 950XL here in the UK though.

Call me a cynic but isn't that what every cumulative update change log reads? What am I missing here. Okay I'll contend with under the hood changes that makes my experience better (not).

This change log seems pretty specific and unique to me. And behind the scenes fixes can't be a bad thing...

Off topic. I would like to know what is Apple's opinion on letting iOS Bridge to port Pokemon Go for Windows Mobile, are there any legal issues which Microsoft ingringes on Apple's source code if they are using iOS API that can't be used outside the iOS ecosystem? The reason I'm concerned about legal issues is that iOS bridge can become the salvation of Windows Mobile ecosystem by 2017 since Pokemon Go, Rovio and many other apps will be supported and carriers and consumers will be happy to get support on 100% of their apps, but in other web forums, some say Apple may not like this idea of having Windows Phone to circunvent a mechanism to run iOS code inside Windows Mobile. I think this should be the responsibility of Windows Mobile team in charge of iOS Bridge.

An iOS API can only be used in iOS. Microsoft is making native APIs to replace the iOS ones.

No. A lot of the Apple API is open source and the bridge actually includes and uses it.

This has nothing to do with Apple. This has everything to do with app developers agreeing to use the iOS bridge to recompile their applications for use on Windows 10 UWP. Microsoft has simply coded .NET equivalent APIs that match the names of the iOS APIs so that when iOS source code is compiled in the .NET compiler, any iOS API calls are simply executed by .NET APIs.

Means nothing much really for mobile

For me it was of 722mb on mobile

downloading now.. thanks Dan.

sounds like the other past months list. they probably copy paste for the people who complain about no release notes haha. it's good we will finally get new features next month.

Downloading...I am also waiting for the firmware update for my unlocked Lumia 950 in US.

Would be an awesome treat if they brought back phone number links in emails and calendar!!! Please!

Oh hey this is nice. I've been spoiled with constant updates in the insider program so it's great to see my moms Alcatel one touch finally get an update.

Just 3 weeks for Anniversary, hang on.

Downloading now..640 dual sim India.. Stuck at 28%

Am I the only one, who whispered "I Want That Wallpaper" while reading whole article? XD

Doesn't seem much for mobile, what's the size though

Hey...can any one tel me why I cant get update of windows phone 10 update to my lumia 1320 in India..

Coz it's not officially supported

It isn't supported due to performance limitations. Download the stable build if you wish to by joining the Release Preview ring in the Windows Insider app. You'll get the same update that everyone else is getting, so no worries.

Yeah I've been running windows 10 on my L1320 since build .29 and works like a charm.

Oh..really...so when will I get it official support to Lumia 1320 india, any idea???....thank q "" windowbyddies625"..!

The 1320, 520,1020,920,820, and others agent supported do to a plethora of issues. So only stable builds will work, by joining the insider program. Redstone will not be pushed to these phones either. Lol I'm sorry bro, I had a lumia 928 that ran windows 10 mobile better than many supported devices, but that's just how it is. Posted via the Windows Central App for Android

My phone has stopped downloading at 57% and my Surface P4 has stopped downloading at 47%. Anyone else encountering this?

My PC sat at 57% for quite a while, but then it continued successfully. The phone update was applied with no apparent delays.

Thank q thank q "Akhil rockstar"...! Actually I'm a doctor so I dnt knw wel abt al these..! But I like windows OS...:-)

Miracast improvements? Don't mind if I do!

This update received but firmware update which came out few days ago still not.
950xl unlocked UK. Its only me like that?

I have not had firmware update either. 950xl uk.

Same here. Can't have hit us yet, but eagerly awaiting!

My 950xl on release preview and its has lots of freezing and unresponsive live tile (tap on tile but it doesn't open the app). The major issue I notices after latest firmware update through WDRT. Not sure its caused by OS or firmware or a combination of both. Maybe I will get out of any of previews and use this updates.

Fixed issue where Cortana finally starts sending weather and sports card notifications again? I guess not. I might as well wait for the official Redstone release, hard reset (again!), and start fresh with my phone.

what about the constant freezes and reboots? I have sent them the issues and still. it's been happening since a few builds back.

No issues here on the L925 running this line of builds

Oh ok. I apologize. Sometimes I forget about the PC side. I can't vouch for this build on PC because my laptop is on the Fast Ring.

My PC is on the fast ring also. But from last nights new build 14388 I haven't had a freeze or reboot so, fingers crossed.

It looks like a hardware issue. I bet on the powersource ☺

That must be something particular to your install because in general Windows 10 Desktop is rock solid.

Updating now .. on my L635 (512Mb) and L520 ... Don

thanks for letting us know....

Is this the last Cumulative update for 10586 branch? since we will be having Anniversary Update next month.

Don't get hopes high on Anniversary updates, their main goal is to bring Redstone updates on PC's, they care much less about mobiles which are in production.... there is a possibility that we may not get an update at all on Aug 2nd. It may get delayed.... Has to see will MS keep its word or not....

The update will come on the 2nd. They wouldn't have announced a date until they were confident.

Its good if they release update on Aug 2nd but its better not to keep any hopes bcz if they postpone it like Win10 we start abusing them again....

They'll start rolling out the update on aug 2nd. That doesn't mean, you'll get it then. You might, but you also might not.
If you don't get it on aug 2nd, that doesn't mean, the update didn't come out. :)

I am an insider fast ring build 10586.420 Lumia 920 and not having anything

Read the article carefully

You won't get anything on the fast ring for your 920 anyway. Fast ring is for RS builds and x2x devices aren't getting those. :/
If you switch to the release preview ring though you should be able to get the last (few) th2 builds. :)

Downloaded in 5 minutes and now installing! Progress is done about 25% on the gears screen. Hope battery drainage is fixed on the Lumia 550!

WTH! I have an Icon and have received an OS update twice in a couple of weeks! I'm not used to all this activity!!

Can I get this on my Lumia 920 guys? with insider preview or a hack?

Why don't you just try it?!

How can i use insider preview?

You don't need insider preview. Its a regular update

My phone is a Lumia 920. I am not stupid. I asked if there was a way around microsoft not releasing updates for my phone.

You should be able to get it in the release preview ring.
Download the Windows Insider app and choose the afore mentioned ring. Your phone may restart. After the restart check for updates. :)

Just finished installing.... Thanks Daniel!

Now, I'll just have to wait until August 2! :)

im using production build in my lumia 1020.i also downloaded now this build .494 if ever you experience stock your update to 50% try to turn of the wifi and closed the setting menu then turn on again your wifi and check the setting again and you will see become 80-90%downloading

Hows the performace in L1020? Battery life and stability?

moved back from insider to production.... everything fresh installation , I didn't used any backup..... so far mobile performance is good, has to see its battery backup, app crashes which were very frequent in last prod. build

im using lumia1020 and production build. now start downloading

Installed no issue on top of 10586.420 950XL dual sim unlocked USA. Now just need that firmware upgrade and.....pokemon...yes i feel left out. :(

fix the damn data usage!!!!!

Downloading the updates know. Hope these updates don't cause the continual login boot loop other security updates have caused in the past. Looking forward to Anniversary update too.

No one called you stupid, I miss understudy. Use the inside preview. Chill out brush.

Hope my 930 stops heating up occasionally :)

Can you let me know if the overheating issues are fixed? Thanks!!! I have a Lumia 1520, I like windows 10 but it has to many problems.

bit confused..... this update is for non-insider and the Release Preview ring? https://1drv.ms/i/s!Ar3haHQlG0QlvfYDws6QxoaxUjNf1g

Just installed on my HP X360 convertible. First reboot after install ok. Messed around with it for a while and let tablet go to sleep. Half hr later powered up and got black screen only. After a while got following error msge: "driver power boot failure" Next boot was ok. Never had any problems with this unit before. Obviously the cumulative update introduced some problems.

I have updated and this update is very faster than old version .420

My Lumia 638 feels faster with this build smooth scrolling

Just installed on my Lumia 920. This build feels really good.

This just showed up on my Verizon Icon. Pretty shocked I didn't have to install it myself!

Good god how long do we have to wait for black screen bug to be fixed and also I can't restrict background data settings always crash

Installed without a hitch on my 650. Guess it's just a nuts and bolts update but I'm glad to get it. Every little bit helps.

Not sure how I got this today on the dot but still haven't received the Intel 520 driver update from yesterday... Only Microsoft.

Correct me if wrong, but wouldn't that driver update come from Intel, not MS?

Does anyone see an improvement in battery life for 930 and 1520 with the new update? My phones have practically become unusable since the last 2 updates

updated this keeping my fingers crossed worst battrey problems in my 1520

Yep. Still same crapfest of the store app.

Getting error "there problems downloading some updates" when 12% downloaded for mobile.

I installed it today, but I still have not got the firmware update which has the double tap to wake feature. Is it normal? I have an unlocked 950XL dual sim and my region is set to US.

That may come with the win10 anniversary update later on.

Oh thanks, have you got it?

Well. Edge is still a 5 second delay mess. Will they ever fix this I wonder? No ms people must be using wp10 or someone would surely have fixed it by now. I've been onboard since wp7. Why I ask myself. Why.......

Ok I'm on insider fast ring, getting a 10.0.14388.0 update as we text. What's this ?

Stuck on 72% since 1 hour on 640 xl.

After multiple download errors and retrys it finally finished downloading.

Down loaded on my L550 and 950xl and my wife's 950 i don't see any difference at the moment .

With this update, I was finally able to open the Windows Central app. Took ages! But still the WC app crashes all the time. I can't even post a comment in there that's why I'm typing this on my PC. I'm getting tired of this bugs. I'm hoping the anniversary update will change my mind from switching.

From your PHONE- Move it to DEVICE memory..
I had already faced this.

updated! no mayor changes

My atuntu benchmark went from 52000 to over 60000

Just updated my alcatel one touch on Preview release ring.

Fix my optical drive that worked before updating to 10 from 7.
Currently can't play or record CD's , DVD's or Bluray's. Thanks for nothing (pun intended). Wouldn't have hit the permanent switch had I known.
My other two Win 7's aren't going near 10 ever.
Did not do anything special but screw up.

Damn size of the update on my phone is 722mb

Updated my Icon and 928 is in the insider program but the icon is not, both updated without any problems, 928 took about 30 minutes but the Icon was quick about 20 minutes. I think this build is faster and smooth.

My phone is not turning on :O It's stuck in the Windows logo. Help! Anyone experiencing the same? I have a Lumia 950 on AT&T. And this was after the restart once the update was installed.

This is a crap update..
After updating, I cant enable wifi and also mobile hotspot. In the other hand keybord does'nt predict any words, the wordflow has stopped working (this issue was already there in the update .420) in lumia 730, is somebody facing any issues?

I have battery drain issue on Lumia 730. I think Microsoft needs to release firmware update for this. Also the loud speaker is too low . This are the problems from very first build.

mine L730, so far performance is good, Camera improved, battery backup I can't say yet. But loud speaker is very low, none of my ringtones are loud, I can't hear when I get a call now..... windows alarm too very low sound, missed 5/5 alarms today morning...... L730 has very good configuration but still win10 doesn't perform well on it, I updated my firmware using windows recovery tool....

Installing now, hopefully this will fix Cortana with the Australian Language Pack. At present my only options are to not use voice recognition (though Cortana still crashes on searches) or switch to the UK language pack and region. Last update it worked for a while, then stopped after 8 hours of use. :-(

my 1520 crashing at 70 % after the update . had eratic battrey issues with windows 10 fast drain and wrong battrey percentage display. went back to 8,1 still same battrey problem . 8.1.1 was good.

@WindowsU Means windows 8.1 user direct download the Win10M updates?

This .494 and previous update got installed on my Lumia 830 automatically. I didnt even knew when it got upgraded at night :)

Yeah if yours is set to automatic recommended,it would do the update when you least use the phone

This update has battery draining issue

struggling to get the update keeps failing. Got it on my phone

Guys, is the "device is charging slowly" issue resolved on windows 10 mobile ? Can somebody tell me ?

Have you ever lent out your charger to anyone?or use another charger on your phone,that can cause such issues

Nope man ! Like never. Using the original charger of the device i.e. Lumia 730. I think I've rolled back to 8.1 like 3-4 times and still having the same issue.

Seriously .. I am waiting for the fix where the device shows device is charging slowly.. change your charger.. though i amusing the microsoft charger that i got along with my phone. Fixing the bugs and improving OS is welcome. And i am really for an announcement from Microsoft on the next model of mobile. #VeryEager

Makes me question whether you have a genuine Nokia/Microsoft Lumia charger. Try using a USB "Charge" cable (only 2 wires for power) rather than a normal USB "Data + Charge" cable (2 wires for data + 2 wires for power).

You are having the same problem like me and a lot of other. Would you care to explain if you've found a solution to this?

I am having the same problem too.

Is there anything for battery backup?

Explain what's battery backup

My Nokia Lumia 830 updated successfully last night.

It's arrived on a UK 635 512MB, but not done my US 650 yet

microshit battrey problems.

Hi Dan, Just updated my Lumia 640 to this build... guess what... my wifi is broken and am not able to turn it on. Also giving errors for the SD card which resolves itself after some time. My wife updated her 950xl too and she is now having internet issues too... specifically with Microsoft games. Any idea if this is a common issue? Thank Kanchan

Further update: The 950 xl has issues with hotspt too. Inspite of data connection being on and working for browsing etc... with connected as hotspot to a lappy/desktop shows up as no internet connection available. Both the 640 and 950 xl have been soft reset already but in vain.

Yep, I too facing the same WiFi
issue on my Lumia 730!!

The Windows Store broke down right after the update on my Lumia 650.

I'm having problems with the store on 950 XL someone with the same problem?

I love some of the fixes since I seem to have experienced half of them. Thanks

It is better than past days. Please update Windows Hello in Lumia 640 XL so we want it should improve forever.

Hopfully it doesn't kill my one of my HDDs again! 3 times now I have got corrupted drives since installing Win 10, It never happened with XP or Win 7. Once it happened just a couple days ago! Hey Maybe I can ask you guys. I have Win 10 Pro, or at least I should have. Which means I can defer updates, which I do. I have noticed since the the very first update, that if I don't Reboot when it asks me to, ny system will start acting all buggy a couple hours later. As soon as I Reboot and it installs the updates the instability goes away! Has anyone else noticed this? Anywho, may all our updates be clean and uneventful!

I agree with you. But now its smooth.

This build should have been released for Release Preview ring only. Not stable for production build. Since updating my Prod L950, both SIM signals been reduced, SIM2 drops signals every now and then and other app issues. Right now my L640 single sim fast ring with 36 hours of battery life is more stable than my L950 dual sim production ring with horrendous 18 hours of BL.

I'm on a 950 xl. My screen rotation doesn't work since the update. Anyone else having this problem?

battled so much getting this update on my PC's i eventually ended up downloading it from windows update catalogue and installed it on my pc's no issue.

I thought this might have solved the dropping wifi on my lumia 550 but it is still happening although not as much. The wifi disappears and when you click on connect it say unable to connect. witch the phone off and back on and it is connected. Any one know how to solve this?

My SP3's battery life seems better too since the update. Screen ontime has inceased by a hour or so. Nice Microsoft! Posted via the Windows Central App for Android

I am agreed with u. Please update this in Lumia 640 XL

My lumia 1520 is draining battery very quickly after 494 update

I Am In The Build 10586-107 I Have Get That build Today I Think I will Solve My Problem That is After Exiting Apps The are Still In Background Please Tell Me Is it Will do That --- :)

16 more days to the anniversary update. Should this broken production build continue for non insiders?! Need a revision to this build ASAP... >:(
and no, flash back is not an option for non insiders.......

Hello. I still have my Lumia 925 and like the camera scene's settings (Close-up, Night, Night Portrait, Sports and Backlight). I have been waiting for a long time hoping this will come to the camera on my Lumia 950, as I find you get better photo's using these settings. Is there a reason Microsoft are not giving us these settings, even though quite a few people have asked for the option. I would like to upgrade my lumia 925 to Windows 10, but needed to know the phone would work well with the new OS and then wanting the camera settings I like included. Why do they remove things people like and add feature we don't use that much. They could even update the old app and place it in the store for people who do want it, but that's to hard for them. Also can someone please let me know if all this information about MS using Windows 10 on PC's to spy is correct, as I would like this OS on my laptop, but with it having our personnel finances on it and us using it for internet banking, I have avaided it. I have backed most of my things up incase I install it before the 29th July, but would like my mind putting to rest first. Thanks Ian

OS improved a lot... but major issue is worst battery backup, 12 hrs is the most I can get with moderate use. New technology should invent to extend Battery capacity in mobiles ... app scaling issues will not be solved until app developers update their windows app but its not going to happen. What to do ?

my cell Lumia 435 not downloading the update 10.0.14388.0 :(
now what to do? how can i update my phone to get that update. please ans me some one

On my Lumia 950, since this 10586.494 update, it is really difficult to charge battery. When connected to charger while running normally, it doesn't detect the charger.
When shut downed, then connected to charger, it starts up,
and without giving the PIN code (so that the phone do nothing),
it need more than one night to be fully loaded (100% battery full) Before this update, this L950 phone was able to charge full battery in less than 3 hours. What happened ?? Does anybody else experienced the same problem of very slow battery charge on L950 ??

Oh, for duck's sake Microsoft. Fix the damn freezing in Edge Mobile. This POS software is one of the central parts of a modern device and is utterly unusable.

after 10586.494 update sd card not working properly and some of app not opening and can not be update or download from the store, HOW TO ROLLBACK TO PREVIOUS BUILD

so now my lumia 1020 is on 10586.494, presumably, there will never be another official update? if so i can turn off automatic check for updates to save a smidgeon of battery life
Windows Central Newsletter
Get the best of Windows Central in in your inbox, every day!
Thank you for signing up to Windows Central. You will receive a verification email shortly.
There was a problem. Please refresh the page and try again.