All the new Microsoft Surface hardware we expect to see in 2020
By Zac Bowden last updated
A new Surface Book, Surface Go, Surface Studio, and more, could make an appearance this year.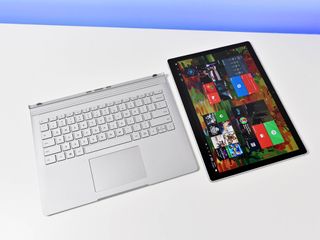 (Image credit: Windows Central)
Microsoft is expected to unveil a plethora of new Surface hardware this year, not including the already announced Surface Neo and Surface Duo. Everything from the Surface Book to Surface Earbuds is on the cards for 2020, so here's all the Surface hardware we think you should watch out for this year.
Surface Book 3
Microsoft hasn't updated the Surface Book with a new model since 2017, meaning we're long overdue for a refresh. Based on leaked specs from Geekbench, we're expecting the Surface Book 3 to feature Intel 10th Generation processors, along with a dedicated GTX 1660 Max Q graphics card for the 15-inch variant, and a GTX 1650 Max Q for the 13-inch variant.
Not much else is known about the Surface Book 3 at this time. We're hoping to see a minor design refresh, perhaps with slimmer bezels and improved hinge design. Microsoft often holds a hardware event in the spring, and I suspect that's where we'll see this device get announced if that event happens.
Surface Go 2
Surface Go is one of Microsoft's more popular Surface products, likely thanks to its low-cost starting price of $399. Thanks to Geekbench, we know Microsoft is testing a variant that includes an Intel Core m3-Y8100 processor on the inside. That's quite the spec-bump over the Intel Pentium GOLD processor inside the existing Surface Go.
Many are hoping that the next Surface Go will be available with an ARM processor, as the Surface Go is a product that makes sense as an ARM device. The most likely processor Microsoft would use here is the recently announced Snapdragon 7c, however, there's no solid evidence that an ARM variant is on the way.
It's possible that Microsoft may make both an ARM and Intel variant available, with the Intel m3 variant being aimed more at businesses or the more expensive Surface Go SKU, and the Snapdragon 7c model being available inside the entry-level model at $399.
I would expect a Surface Go 2 to be announced alongside the Surface Book 3, possibly in the spring.
Surface Studio 3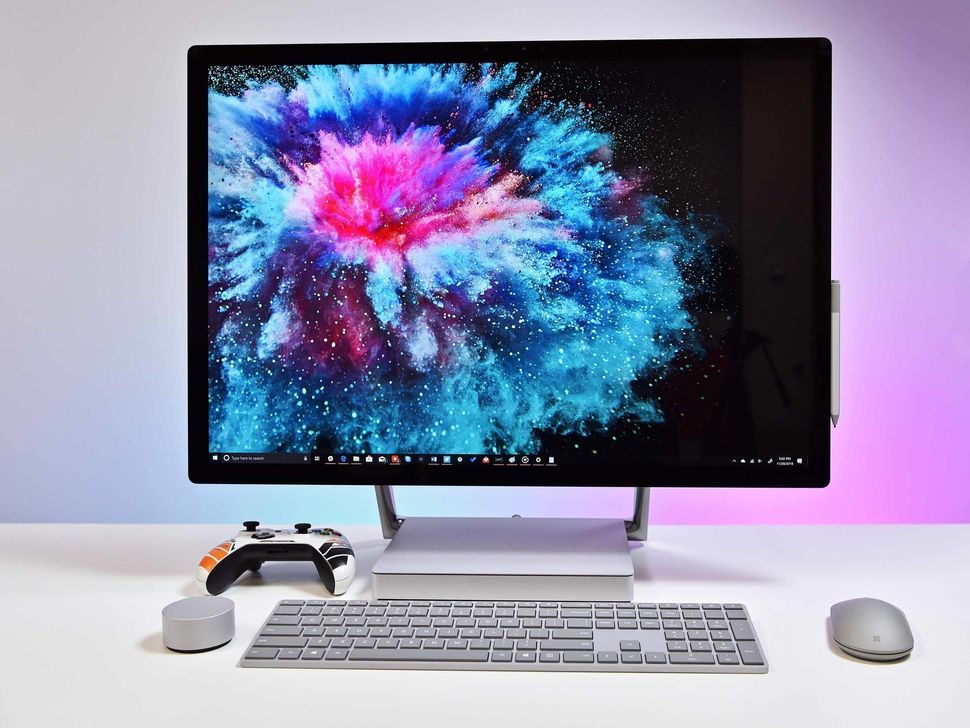 Just like the Surface Book, the Surface Studio hasn't been updated since 2017 either. That means we're overdue for a refresh, and 2020 might be the year we see that. Not much is known about the Surface Studio 3 at this time, however, rumors suggest it'll be a more modular product with components that can be swapped out.
This modularity may be how Microsoft offers a Surface Studio display for purchase. If the computing unit is modular, Microsoft could sell the display on its own, allowing customers to buy the display for less, and hook it up to their own computer.
If a Surface Studio 3 is on the way this year, I would expect to see it announced later this year, likely at a hardware event in the fall.
Surface Headphones 2 and Surface Earbuds
I've heard whispers that a second-generation pair of Surface Headphones are on the way, but I have no details as to what exactly is new with them. I'm told that if they do launch, they'll be available in black this time. Microsoft is also planning to launch the Surface Earbuds this year. The company says to expect them this spring. Perhaps we'll see them at a hardware event in the spring, alongside the Surface Headphones 2.
Surface Neo
Surface Neo is the first "new" form-factor Surface since the Surface Laptop in 2017. It's a dual-screen foldable PC that runs a new version of Windows called Windows 10X and is more modern and secure than the existing version of Windows 10 we have today. It's powered by an Intel Lakefield processor and will feature dedicated keyboard and pen accessories that wirelessly charge on the back of the device.
The Neo also has two 9-inch displays, of which are the "worlds thinnest" LCDs. It has Windows Hello facial recognition and is covered in glass on the front and back. Microsoft says the Surface Neo will start shipping in "holiday 2020," meaning towards the end of this year. It'll be one of the first devices to ship with Windows 10X.
Surface Duo
Surface Duo is arguably the most anticipated of the family this year, being the first Surface 'phone' by Microsoft. It's the first Surface to run Android too and joins early phones exploring dual-displays, joined together by a 360-degree hinge. Microsoft hasn't revealed much around specs, but here's what we do know.
Surface Duo features two 5.6-inch displays with a resolution of 1800x1350. It's 4.8mm thin when open, and has a single front-facing camera sensor above the right display. Instead of facial recognition, the Surface Duo features a capacitive fingerprint reader on the right-hand side of the device, below the power and volume rocker. The device is also covered in glass.
On the inside, the Surface Duo demoed to the press was running a Snapdragon 855. However, Microsoft said at the time that it was not committed to that processor, meaning it's likely we'll see the Surface Duo launch with the Snapdragon 865 instead. If it does, that would also mean the Surface Duo supports 5G, as all Snapdragon 865 devices have 5G capabilities.
Microsoft says that it's planning to launch the Surface Duo alongside the Surface Neo in the fall of this year. However, I've heard whispers that Microsoft may launch the Surface Duo much earlier than anticipated, as the Surface Duo is further ahead development-wise than the Surface Neo.
If what I'm hearing is correct, Microsoft will "soft-launch" the Surface Duo before the summer, allowing enthusiasts and, more importantly, developers to get their hands on the Surface Duo before a more official launch in the fall. I wouldn't be surprised if we see the Surface Duo launch around the same time as Build, allowing attendees to purchase a Surface Duo at a discounted price.
What are you looking forward to?
That's our list of Surface hardware we think you should keep an eye out for in 2020. Of course, Microsoft may have more surprises up its sleeve, but that's what we know Microsoft is working on currently. What are you hoping to see in 2020? Let us know in the comments.
Zac Bowden is a Senior Editor at Windows Central. Bringing you exclusive coverage into the world of Windows 10 on PCs, tablets, phones, and more. Also an avid collector of rare Microsoft prototype devices! Keep in touch on Twitter: @zacbowden.
The Book 2 came out November 2017, not in 2018. So it's even longer overdue than the article alludes.

Right, that's what I was thinking. When I bought mine in spring 2018 it already felt old since the hardware was so a generation old already at that point. Microsoft always seems to be a generation behind. I'd be happy with waiting for a summer or fall release if that meant releasing with the current gen hardware.

Want a surface band / watch. Love my band 1/2. I have a fitbit ionic. Not a fan of Google.

They would probably use WearOS so it would integrate with the Duo.

Surface Neo and a modular Studio are the most interesting to me. A Go 2 might be perfect for my mom.

Microsoft really should sell the Surface Studio monitor separately and then just release a Surface Desktop.

A fully standalone monitor doesn't need a surface-branded desktop, really. But if the monitor has a way to dock in a CPU unit (like the Surface Hub 2) then that is an interesting proposition. Especially if you can still hook up an external PC and switch between.

Disagree, they do need still sell a standalone computer. The base of the Studio could be sold as a competitor to the Mac Mini, but with the ability to dock right underneath the monitor if you want a full Surface Studio experience. Or one could choose to save $1200 and get a $200 32" non touch monitor to go with the $1200-$1500 base.

The PC part of the Studio was never much to write home about. I think the cost of the monitor alone would be higher than you imagine, making it kind of a niche product. More so than the Studio already is.

Early-release Duo? Go on....

Pls yesterday the surface go 2 arm!

I would like the Duo released early to allow the enthusiasts and developers to play with the device for 6 months or so to work out kinks in the UI. My Oneplus is about 2 years old so I can wait about a year to buy a new phone. I do use my Surface Go alot. but I would replace my surface pro 5 before upgrading my Surface Go. So $1000 this year for a new surface. $1000 next year for Duo, and then 2022 a new Go.

The two products I am looking forward to the most are the Surface Go 2 and the Surface Neo. After owning the original Surface Go LTE, I have become quite a fan of portable and light computing....it just needs some more oomph and better battery life. Then it would be nirvana.

Would it be be possible to use Xbox X as a desktop PC with Surface studio monitor ? Massive GPU for gaming and media content creation.

The new GO 2 better not have 4 GB RAM; I made the BIG mistake of buying the GO 4 GB model, and it just really cant' keep up with daily activities; my phone has more RAM...

4 gb is fine if you use it for simple stuff or casual gaming or such and the 4 gb version does keep the cost down. For students or for work the 8gb is better.

Seems like buying the 4G model was your choice. An 8 G was available. The 4G model is there for the same reason Apple has low end iPads.. for the 'Starts at' price.

True, but the CPU boost is definitely needed. I have the 8GB Surface Go and have had regular crashes of non-chromium Edge with 25+ tabs open pretty much since launch (bought mine in August 2018), despite it having the same amount of RAM as my 2015 HP Spectre laptop with a core i7 6600U. The Spectre CPU is twice as fast and never has any issues with the same number of tabs open. Depending on the website, 25+ tabs gets to 100% CPU utilisation on the Go. I also have an m3 Intel compute stick with 4GB RAM and the Skylake based 6Y30 CPU - about 25% faster than the Go. It can't handle more than 10 tabs at once before hitting 100% CPU but I can still switch tabs without delay - definitely not true of the Go, once it hits 100% CPU utilisation, switching tabs takes a very long time, assuming it doesn't crash the browser. The point is that going with an m3 CPU/8GB RAM would be a great device. Yes, 8GB RAM is probably a good starting point but you need the CPU to help, and from experience of both the Go and an old Netbook I purchased in 2011, the CPU really does need to be good - and the 4415Y in the Go isn't powerful enough.

25+ tabs does seem a bit overkill however on a Go, unless you dock it a lot. But than a Pro generally makes more sense.
Personally I would just shut down some tabs, ~10 tabs is more than enough on such a small screen imo.

A surface neo to replace my well worn, battered surface pro 4. I've been using it 10-12 hours a day since 2015 and its starting to look and feel aged. Would love a Duo, but I'm one of these people who uses things until they die, and my one plus 5t is still humming along perfectly, making it hard to justify a new phone. Besides, I've done the early adopter stuff with Microsoft before, and been burned. I'm all in if it makes it to generation 2 or 3....shows some real commitment from MS and gives them time to refine the product

What business are you in that would benefit from a Studio monitor?

I'm interested in possibly upgrading to the Duo, from my Note 8. I have questions, though. - Will the battery life be great or average? It really needs to be able to get a full day, with regular to moderate use, despite having dual screens. - What type of charging will it have? With the Neo reportedly having wireless charging, the Duo should thave that option, too. - Will it have Surface Pen support? If so, will it be the current version of the new Surface Pen and will it be optional or come with? If it does, it should come with. I guess we will find out soon enough.

Looking forward to what oems are kind going to do with the Neo form factor. Asus Precog laptop with one of those Neo keyboards (but perhaps bigger and with a touchpad) would be great I think.

Make tablets with two screens. Tablets with no touch software and old desktop software. That is what they can do with it.

I want more screen estate for work in a portable package dummy. ;)
A laptop with 2 screens is almost perfect for multitasking when not behind a desk + dock while a neo like keyboard keeps it portable. Besides having a touchscreen/pen is handy with Office and sketching.

I'd like to have the Duo and the earbuds like yesterday.
Almost pulled the trigger on the headphones, but after reading that there might be a version 2, I am holding off. If the headphones get the functionality of the earbuds (office integration) I might skip the earbuds in favor of the noise canceling in the headphones.
Or maybe they bundle the buds with the Duo? That would make a lot of sense...
In any case, the Duo and the Neo are on my shopping list for this year.

We can expect a redesigned Surface Pro 8.

I just wish they had released a Surface Pro 7 with the 13" screen that the Surface Pro X has. I have no interest in a super thin ARM based laptop. But I do want the OG Surface Pro to get the 13" screen the X got. But, I guess for that I'd have to hold out at least one more year when the Pro 8 comes out. For the hardware due out this year I'd be most interested in the Surface Headphones 2.0 and Surface Earbuds.

I may have to look at a home equity loan(J/K), so much good stuff coming.

Neo and the duo. Really depends on specs. The duo looks more promising for me but I wouldn't mind having a cut down version of a PC hybrid tablet like the Neo. I've been enjoying using my computer in tablet mode, just wish MS would flush out the tablet ui better.

Serious question here (not trolling), what is the point of the Surface Duo if it is just running android? Is it going to have some ability or special function over the other foldables coming out? Just seems like this may be another product coming to what is going to quickly become a saturated market. Foldables will be released this year or have released from Samsung, LG, Huawei, ZTE, Motorola, TCL, Xiaomi, Oppo, and Sony - all running Android. Unless it does something that really shines above the rest, I just don't see the point. If it were running Windows, that would be completely different.

The point is to sell MS services, with which it will be totally pimped out.

Windows 10 surface Phone X???

I expect the DUO is about as close as we get to a MS phone.

A more narrow version of the duo for one handed use would be nice.

I think they might be some surprises
Surface Go 2 with arm processor but raining Windows 10x
Surface Duo raining Windows 10x
Surface watch raining Windows 10x

Dang the SB3 better come out this spring!

Looks like I'm going to be broke all year. I want the Surface Earbuds, Duo, and to replace my SB2 with something newer. I wouldn't mind having a set of headphones, as well, but I think I'll probably just go with the buds.

Surface Duo! Hurry up 🤗 cannot wait to get my hands on this!
Windows Central Newsletter
Get the best of Windows Central in in your inbox, every day!
Thank you for signing up to Windows Central. You will receive a verification email shortly.
There was a problem. Please refresh the page and try again.