House Forrester is the center of Telltale Games' upcoming Game of Throne series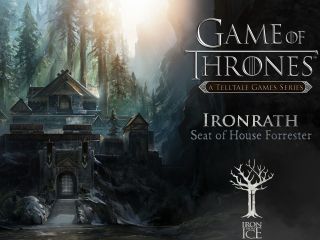 Developer Telltale Games has finally offered some concrete details about their upcoming six part episodic Adventure series based on the Game of Thrones TV show from HBO, including word that the storyline will center on House Forrester, which is part of the George R.R. Martin A Song of Ice and Fire novels but have yet to be depicted in the TV series. The game will be released for the Xbox One, Xbox 360 and PC, among other platforms.
Telltale says their game will begin toward the end of the third season of Game of Thrones and end just before the start of the fifth season. The player will control five characters that are a part of House Forrester during the course of the six episode game series. Telltale adds:
The first episode, Iron from Ice, will be released before the end of 2014. Do you plan to download and play all six episodes?
Source: Telltale Games
Telltale is amazing, hard to stop playing, wolf among us is a very good example

Yes! I own The Wolf Among Us, The Walking Dead 1 and 2. Have 4 more games on my Steam wishlist from them =p

Tales of Monkey Island and Back to the Future are awesome too. Jurasic Park was terrible though.

Am I the only guy who has noticed how Windows Central never write that the game will be for PS3 or PS4? I've only seen it once and I just don't get why they don't mention Playstation
EDIT: I get the "we write about Microsoft's products" and all but it wouldn't hurt to mention PS

Why not to write about Sony, they do make cell phones, or google, they own one.

Im not sure if this is a real comment or a troll attempt.

Yeah I can't tell if he's trying to pull a troll or something.

Am I the only one who doesn't like Telltale's games? Walking dead played like a role game instead of an actual game. You really don't do anything, just click your answers.

Its the whole point.. Its a point and click game. :)

Obviously you didn't play the game or did any research, there's much more than just choosing answers. Go check out any walkthrough

I watched numerous walkthroughs, it's still point and click with no other action. It's like LA Noire with fancy visuals.

I don't like them either. I get why some people like them. They just don't wiggle my joystick...

Whatever you do with your joystick is your business dude lol

Its an exclusive!?
Edit: I just read 'among other plataforms' my bad :) Im sure going to play it, GOT fan here

Ahhhhhhh *-* finally I hope they will get back to old strength ( walking dead s1 wolf among us )

At first I thought this is a crossover between GoT and the Bold and the beautiful :)

I've never been tempted into buying a Telltale game like this, but a GoT theme will be enough for me to purchase on day one. Would be great if it came out for Xbox One, Windows 8.1 and Windows Phone all at the same time, with the ability to continue the game from any device. I don't know if they usually release them for mobile platforms though
Windows Central Newsletter
Thank you for signing up to Windows Central. You will receive a verification email shortly.
There was a problem. Please refresh the page and try again.