How to change the default search engine on Microsoft Edge
Microsoft Edge uses Bing for search, but you can set another default search engine (let's say Google). In this guide, we show you how.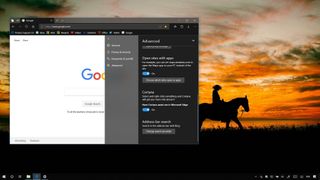 Starting with the October 2018 Update (version 1809), Windows 10 includes a new version of Microsoft Edge that introduces a slew of improvements and a redesigned visual experience to manage settings. Although the new interface was designed to ease navigation and make settings easier to understand, the new changes seem to make it even harder and more confusing for regular users to change the default search engine to something other than Bing.
The option to set a different search provider is still part of the Advanced settings page, but with the addition of the new pillars and relocating the option to the bottom of the page, it buries the setting even further and makes it literally the last setting you can customize in Microsoft Edge.
In this Windows 10 guide, we walk you through the steps to change the default search engine on Microsoft Edge to Google (or any other provider) with the settings available starting with the October 2018 Update.
How to search with Google instead of Bing on Microsoft Edge
To change the default search engine on Microsoft Edge, use these steps:
Open Microsoft Edge.
Navigate to Google.com (or the search engine website you prefer).
Click the Settings and more button in the top-right.
Click the Settings option.
Click on Advanced.
Under the "Address bar search" section, and click the Change search provider button.
Select the Google Search option from the list.
Click the Set as default button.
Once you complete these steps, whenever you enter a search query in the address bar, the results will appear using Google's search engine instead of Bing.
Although it's possible to set any search engine you prefer (as long as the provider uses OpenSearch web standard technology), Microsoft Edge seems to be one of the most difficult to configure.
To put it in perspective, other browsers, such as Google Chrome and Mozilla Firefox, provide clear and direct access to change the search engine within the settings menu and conveniently offer an option to quickly set a different provider without additional steps.
What search engine do you use when using Microsoft Edge? Tell us in the comments.
More Windows 10 resources
For more helpful articles, coverage, and answers to common questions about Windows 10, visit the following resources:
Windows 10 help, tips, and tricks
Windows Central Newsletter
Get the best of Windows Central in in your inbox, every day!
Mauro Huculak is technical writer for WindowsCentral.com. His primary focus is to write comprehensive how-tos to help users get the most out of Windows 10 and its many related technologies. He has an IT background with professional certifications from Microsoft, Cisco, and CompTIA, and he's a recognized member of the Microsoft MVP community.
Missing search shortcuts so much !!

There are search shortcuts.
when you open a new tab/ Right click context menu.

I don't know what you mean.
Bing is the only search service that works well.
Who wants to not use the best free product out there?

I like Bing, so no change needed for me. But if you don't like Bing, i get it. But for the live of pete, why continue to feed the beast that is Google. If you want a different search engine, try another one that doesn't sell you soul and control you. DuckDuckGo is one i use when i don't use Bing.

What some people do not get and I guess the majority of those is from the US is that Bing however good it is in US are not so good everywhere. In some countries it is more or less useless or at least very hobbled. As we all want people all over the globe use Windows there should be good and easy instructions handy for those who needs to change search engine. Good of WC to provide that.

I live in France and I am a developer. I have been using bing for ages now... works like a charm!

It is strange to see a Microsoft friendly website recommend to change from Bing to Google. Why? Edge and Bing is superior to Google and Chrome in my option.

Fluidity. Msft has always done that. Don't get me wrong I love Bing.

No one is recommending Google over Bing, it's just about changing default search engines

Mauro Huculak, do you think you can write a short article targeting readership at WC Putting Windows at its core (like some readers is why I am here) on how to configure Windows 10 in tandem with Edge Browser and other services as currently for the best of Windows experiences.
Not to tout it as best over your favorite Google product and some of your colleagues' Apple product, but rather tell someone who want to enjoy MSFT product. I will not hold it against you if you can not, because most of you except for a few jam Google and or Apple products and services either directly or comparatively down our throat and I know I did not visit your iMore or android central, I came to WINDOWS Central to see what are in there in Windows ecosystem that I am not taking full advantage of that I can explore. If I want to find out or read about MSFT product bashing, TRUST me I know where to go.

Will there be a follow up on androidcentral about how to change the default browser in chrome

https://www.androidcentral.com/how-change-your-default-search-engine-chrome Satisfied, crybaby?
Windows Central Newsletter
Thank you for signing up to Windows Central. You will receive a verification email shortly.
There was a problem. Please refresh the page and try again.