How to change priority of notifications in Windows 10
By Cale Hunt published
How do I change which notification pop up in action center?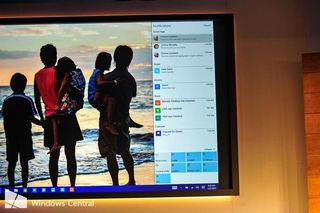 Not all apps on your Windows 10 PC are the same; some you care about a whole lot, and some you don't care about at all. To better personalize Windows 10, you can change which app notifications appear where in the action center.
How to enable and disable notifications from specific apps
Tired of seeing notifications from a certain app? Disable them completely. Can't figure out why you're not getting any notifications from another app? Make sure they're turned on. Here's how.
Click the Start button.
Click the Settings button.
Click System.
Click Notifications & actions.
Click the switch next to an app in the list of senders to turn notifications on or off.
How to change priority of notifications
If you need to always see notifications from a certain app, you can change its priority. Here's how to do it.
Click the Start button.
Click the Settings button.
Click System.
Click Notifications & actions.
Click an app from the list of senders. You might have to scroll down a bit to find it.
Click a priority option. There are three choices to choose from:

Normal — Will appear below high and top priority notifications.
High — Will appear above normal notifications in the action center
Top — Will appear at the top of the action center

Click Confirm if you chose Top.
How to change how many notifications show in action center
The default number of notifications that will show in the action center from a single app is three. If that doesn't seem like enough, you can change how many show.
Click the Start button.
Click the Settings button.
Click System.
Click Notifications & actions.
Click an app from the list of senders. You might have to scroll down a bit to find it.
Click the dropdown arrow beneath Number of notifications visible in action center.
Click a number.
Your notifications
Do you take advantage of notifications in the Windows 10 action center, or do you have everything turned off? Let us know in the comments section!
Cale Hunt is a Senior Editor at Windows Central. He focuses mainly on laptop reviews, news, and accessory coverage. He's been reviewing laptops and accessories full time since 2016, with hundreds of reviews published for Windows Central. He is an avid PC gamer and multi-platform user, and spends most of his time either tinkering with or writing about tech.
Light notification area ....WANT

I see your notification area is white, how to do that? :D

Awesome! Thanks for the tip :)

Microsoft talked all this game at build about how you could develop app and have the notification interacted on one device dismiss the notification on other devices. But so far they can't even impliment this on their own first party apps. When I set a cortana reminder, I get reminded on my phone, on my work pc, then on my tablet at home and my pc at home. If I dismiss or complete it on one device I still get harrased on all of my other devices. Similarly if I snooze I get the same thing on other devices and I'm not sure if I should dismiss so I ende up snoozing every device not knowing if the last snooze will increment the time. I mean yea I guess I could just simply turn off cortana notifications but I do actually want to get reminders on those devices too sometimes.

Seriously, Cortana needs to be smart enough to dismiss it on other devices if you've dismissed it on one. She can make your PC give you your phone notifications, so she can obviously talk to herself. They should put it to good use and fix it within Cortana. I get tired of dismissing on my phone and on my tablet and on my laptop, only to get into Outlook 2016 and have to dismiss it again!

They've been too busy putting stupid restrictions and spyware nodes in place (including the following), that they tend to forget of the actual uses to end users. Not even the data-mining devils at google are this desperate to spy on everything as microsoft keeps appearing to be... - Determine weather forecast for some area, including outside (seriously microsoft, I need an account for this? Such desperation for data-mining) - Begin playing a specific playlist/song/artist (Need an account even when my media is all local? Not even Google is this desperate to spy on everything I listen to, but the devils at microsoft currently are) - Opening of apps (just does a dumb web search) - Get movie listings and their ratings (they have all the resources right there in the Windows Store, should be easily implemented instead of always opening a web search) - Finding local business (not just restaurants) addresses (stupid assistant demands I sign in to get this info)

In thumbnail I saw you made your notification area white. How did you do that?
Windows Central Newsletter
Get the best of Windows Central in in your inbox, every day!
Thank you for signing up to Windows Central. You will receive a verification email shortly.
There was a problem. Please refresh the page and try again.