How to limit the sync speed rates on the desktop version of OneDrive
The desktop version of OneDrive now lets you limit the upload and download speeds to sync data, and here we tell you how.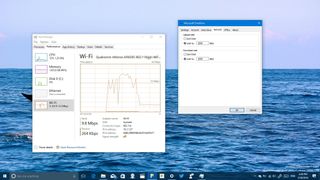 Microsoft recently launched the OneDrive Universal Windows Platform (UWP) app for Windows 10 PCs, which allows users to access their files with a touch-friendly UI and with an alternative solution to the placeholders dilemma. However, despite making available a new app, it seems that the company continues to improve its desktop sync client version of One Drive that will benefit users on metered and slow network connections.
Even though Microsoft has designed the desktop version of OneDrive to use an internet connection to sync files and folders to your account, in the past, the client had unrestricted access to the available download and upload network speeds.
The problem is that when you connect to the internet with a slow connection that you also happen to share with other computers, it can quickly reduce your internet performance. However, this is now changing with a new feature that Microsoft is adding to OneDrive to allow users to specify the upload and download speed rates.
In this Windows 10 guide, we'll walk you through the easy steps to limit OneDrive the network data rates it can use to sync data between your account and your PC.
How to limit the upload and download speeds of OneDrive
Right-click the OneDrive (cloud) icon located in the notification area, and click Settings.
Click the new Network tab.
Under Upload rate and Download rate, change the option from Don't limit (default) to Limit to, and specify the new rate in kilobytes per second.
Click OK to complete the task.
If you're not sure which speed rates you should use, you can visit Bing.com. Then search for Speed Test, and use Microsoft's search engine to determine your upload and download speeds.
While this is a subtle improvement, it's also a welcome addition to OneDrive that many users will appreciate to optimize better and reduce their network data usage.
It's worth pointing out that the new networking feature is not only available on Windows 10, but Microsoft is also letting Windows 7 users to take advantage of the new OneDrive feature.
What you do think about the new feature to limit OneDrive bandwidth speeds? Tell us in the comments below.
More Windows 10 resources
For more help articles, coverage, and answers on Windows 10, you can visit the following resources:
Windows 10 help, tips, and tricks
Windows Central Newsletter
Get the best of Windows Central in in your inbox, every day!
Mauro Huculak is technical writer for WindowsCentral.com. His primary focus is to write comprehensive how-tos to help users get the most out of Windows 10 and its many related technologies. He has an IT background with professional certifications from Microsoft, Cisco, and CompTIA, and he's a recognized member of the Microsoft MVP community.
32+ Mbps uplink. Great. I feel like killing myself.

I feel you bro
My uplink is 0.2 mbps

I was on .5 Mbps up internet until we finally changed to another provider. Now we pay for 10 Mbps up (100 down) but actually get as high as 20 Mbps up. It's actually improved my quality of life. Haha

I haven't got this tab available on latest Windows 10 Preview fast ring.

For me (official Win 10 Release Ring) it is only available for the personal Microsoft Account I have. It does not seem to be available for education/professional account. Strange somehow, still I hope this helps...

Have it on a current branch machine. Seems we need another build in Preview, which is about time ;-) .

This is updated outside of any insider ring.

It is? I thought the OneDrive client for Windows 10 was built in to the OS, and was therefore updated with the OS?

Im on slow ring 14342 and do not have this tab on the navigation One Drive icon

There must be some other system setting or value that determines if the Network tab appears. I have it on my Windows 10 Pro system that's not on an Insider Build. What edition of Windows are you using (Pro, Home, etc.?) Also note that OneDrive does NOT update as part of the OS. I've seen that posted here and as far as I can tell that's not true. It doesn't even have an entry in WSUS (Windows Update Services for those of us who host our own update servers). Maybe you have an old version of OneDrive. Try installing the latest from: https://onedrive.live.com/about/en-us/download/ I needed to do this manual re-install just to get the ability to sync shared folders.

Running 10 Pro build 14342.1001

I cant even find the desktop version of One Drive to uninstall and then reinstall the one you pointed to

No need to uninstall old version. Just install the latest from that download link (at least if you're in the US, maybe need a region-specific one in other countries). You can check your version by right clicking the OneDrive icon in the notification area, select Settings, and then the About tab. Not sure if mine is the latest, but I have the option and I'm on version 17.3.6390.0509.

Downloaded several times but it doesnt change build no. Dont know what up. Leave it for while

And after you downloaded it, you ran the installer (8,685 KB)? Did it appear to install correctly? It worked well and was very simple for me. I looked at the file properties, size is 8,892,608 bytes. Details tab shows the File Version is 17.3.6386.412. However, after installing it, it upgraded me to 17.3.6390.0509 and I had the Network tab and the ability to sync shared folders. I don't know why the version numbers are different between the installer and what I see on my screen. I don't have a record of the old OnDrive version I had installed before I ran the installer.

I have the same version number on both of our Thinkpads / Win10 x64 Pro with MS Home Office 365. We do NOT have the Network tab.

@Lester, maybe there's more going on then. My apologies, but I don't know what to suggest other than installing the One Drive as noted above. That did work for me, but I understand from your response that it didn't for you.

Hey, I've only got 10+...talk about....

I have 300Mbps down and 100 Mbps up but OneDrive tops at 750 KB/s no matter what.

I have noticed that in the past too.
​I actually suspect that internet connectivity for Microsoft is more expensive than the storage itself and that that might be the true reason for revoking their unlimited tier with Office 365.

It is probably your opertor's peering with Microsoft that is limiting the speed. I usually get close to 50Mb/s upload speed, not full blast but still decent.

I have had this for over a month, and I am not on a preview on my PC.

This is actually great for fast connection as well... since it will give you more time to cancel syncing. Soo need this for mobile Posted via the Windows Central App for Android

Am I the only one who thinks Onedrive syncs too slow already? It doesn't get anywhere near topping out my wonderfully below average bandwidth of 7mpbs down and 1mbps up.

Why would you want to limit the sync speed? I can save on one device, go to my others, open OneDrive and it is there. One OS.

As the article notes, if you are on a metered connection (like a phone hotspot) or have a connection with a limited amount of bandwidth and are trying to do other things simultaneously.

Im on slow ring and do not have this.

Do you have the latest version of OneDrive? It doesn't seem to always auto-update and is not part of Windows Update, as far as I can tell. You can get the latest version of OneDrive here: https://onedrive.live.com/about/en-us/download/

This is a much desired feature for me. My 4Mps down/0.7Mbps upload bandwidth is totally hogged by OneDrive, slowing down every other device in the house.

What's the version of the client that this feature appears in? I expected to see this in the article...

Mine has this and shows version 2015 (Build 17.3.6390.0509). I don't know if that's the latest or not (does the 0509 at the end mean May 9?). In any case, you can download the latest version here: https://onedrive.live.com/about/en-us/download/

Dont know what that build number you have up is referring to, dont have that number as an OS build, mine says 14232.1001, none of those other numbers

OK I found what you are referring to, build of One drive, not Windows. OK, I have 17.3.6386.0412 seems to be earlier build from what you have, Dont know how to update it. Cant find One drive exe to uninstall, not in control panel.

No need to uninstall anything. You can just download from the link and install. It will just update the version you have now. I'm not sure if the version I listed is the latest, but I do have the Network tab.

Im on slow ring at 14342.1001 and its not there

Be sure you have the latest copy of OneDrive, which does not appear to update with Windows, from here: https://onedrive.live.com/about/en-us/download/

My Windows 10 CB install has the update OneDrive (not for Business) client with the Network tab, Version 2015 (Build 17.3.6386.0412) BTW this is not that helpful unless we can customize this thru Group Policy or Registry keys for OS deployments (even more so for OneDrive for Business).

Just a note: The Bing-Speedtest only works in US, UK and Germany. With VPN i checked France, Sweden and Romania, there it does not start.
Windows Central Newsletter
Thank you for signing up to Windows Central. You will receive a verification email shortly.
There was a problem. Please refresh the page and try again.