How to disable auto-correct and highlighted misspelled words in Windows 10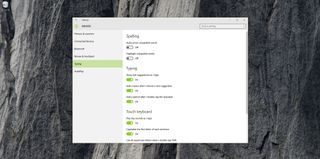 Windows 10 is the new operating system from Microsoft that brings Cortana to the desktop, universal apps, and a super easy to use Settings app to find and configure different options in the operating system, and many other features. Like in Windows 8.x, the new version of the operating system includes an automatic spell checker that will autocorrect and highlight misspelled words in apps designed to take advantage of the functionality.
You will find such feature inside the Microsoft Edge web browser and Internet Explorer, Facebook, Readit, Xbox app, and on countless of other apps. Autocorrect and highlighted misspelled words are excellent productivity tools inside Windows 10, but there could be times when you will not require assistant correct your grammar.
Fortunately, Windows 10 comes with the necessary settings to individually enable or disable the spelling options. If you want to change the grammar settings follow these super easy steps:
Use the Windows + I keyboard shortcut to open the Settings app
Navigate to Devices and go to Typing
Under Spelling, switch the Autocorrect misspelled words and Highlight misspelled words to the Off position.
Quick Note: If you're disabling the spelling options while the apps are still running, you'll need to restart the app you want to use without the autocorrect in order the changes to take effect.
That's all you have to do to disable the spell checker in Windows 10. You can always enable the settings back by coming back to the Typing Settings section.
It's worth pointing out that surprisingly, even though the spell checker is a global feature, many apps work independently. For example, if you want to disable spell checking on the new Windows 10 Mail app, you'll need to open Mail, click on New Mail, navigate to Options, and change the Spelling options. OneNote also doesn't respond to the Windows 10 Spelling feature. However, OneNote doesn't even have options to control spelling.
Disabling spelling feature in Office
The suite of Office apps, including Word, Excel, PowerPoint, and the others, also have an independent spell checker, which you can easily disable. Here is how to do it:
Going to File > Options.
Then go to Proofing and under When correcting spelling and grammar in Word (or from another Office app), make sure you uncheck Check spelling as you type and Check grammar with spelling. And click the AutoCorrect options button to control how Office apps, in this case, Word, corrects and formats your content.
Editing your custom dictionary in Windows 10
If you happen to want to disable spell checker in Windows 10 because, by mistake, you added some misspelled words to your personal dictionary, you can do that too. There are two ways to remove added words to the dictionary.
Method one
Open the run command and type the following command with your account name: **C:\Users\yourAccountName\AppData\Roaming\Microsoft\Spelling**
Go inside the language folder – in my case es-US.
Open the default.dic file with Notepad. Now remove the misspelled words and save the file.
Method two
Open Word and go to File > Proofing and click the Custom Dictionary button.
Select RoamingCustom.dic from the list and click Edit Word List
Then add or remove the words you want and click OK
Click OK, OK again, and close Word.
That's all there is to it!
Do you let Windows 10 help you out with grammar? Let us know your configuration options in the comments below.
More Resources
Remember that we have many other articles on Windows 10, if you need help you always check these other resources:
Mauro Huculak is technical writer for WindowsCentral.com. His primary focus is to write comprehensive how-tos to help users get the most out of Windows 10 and its many related technologies. He has an IT background with professional certifications from Microsoft, Cisco, and CompTIA, and he's a recognized member of the Microsoft MVP community.
I love auto correct, but using curse words is an extremely frustrating experience on touch screen. To the point I want to shut it off.

Really curse words are difficult to write with autocorrect enabled!

Ahh, that's what he said, unless you meant to say something different?

Thank you not so much for the above but it actually helped me find how to disable the US dictionary in Office which annoyingly tells us Brit's we have spelled many words wrong (when actually it is the US who has lol)

Unfortunately, many people that should keep it on are the ones that turn it off. But I do see there are valid reasons.

But if I disable it... Everyone will know that my college degree I really an art project that I failed....

Ah. Reading your comment really helps me grasp your point. ;D

I like the spell checking, but hate with all my heart the autocorrect. It's beyond annoying when you try to write neologisms and words from other languages, and sometimes the word simply isn't in the OS dictionary and is substituted for something orthographically similar but unrelated in meaning.
And I wasn't able to completely turn it off in the Mail app, I can change the settings but can't turn it off completely. Gonna try again when I get home, maybe I missed something...

I haven't run into the problem much at all on my computer, but I did occasionally on my phone. On the phone though they allow you to add words to your dictionary, is that not a feature on the desktop OS?

I found this about some time ago, when I accidentally added a word to the dictionary it was easy as just deleting the words on notepad. it started to highlight the error again immediately. but it's good to know if I had Word it's easy to edit the dictionary and manage these things.

It's broken for me, I have two languages, and autocorrect always correcting for BOTH languages at the same time. It will only highlights a word if it's misspelled in both language, so if a word belongs to language A only, and keyboard language is set to B, it still counts as a right word, even though it's the wrong word in language B. Windows 8.1 got it right.

he perfect reason to remain a monoglot.T

I like the fact that every writer at windowscentral is now deleting my comments from all posts. This shows the respect and power of truth. Truth wins, yeah,,

The autocorrect spell checker does not work with all apps. Notepad for example. It does not spell check it. So it is not clear which apps it does, and which it doesnt.

In my windows 10 on my Laptop i only have two first options and the "show text suggestions as i type" is not there! anyone can help me with that?! tnx in advance.

how do you turn off spell check in windows 10 mobile? settings -> devices -> typing doesn't exist there.