How to disable Windows Phone notifications in Windows 10 PC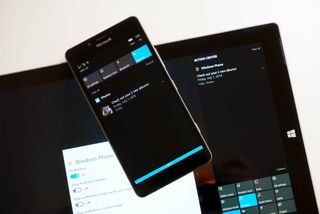 If you own a Windows Phone, you'll be able to see its notifications on your PC when the Windows 10 Anniversary Update releases on August 2nd. If you don't want to wait, you can preview the Notification Mirroring feature with recent builds from the Windows Insider Program. While it can be useful to many people, I don't like my PC getting bombarded with notifications from my phone. If you feel the same, I'll show you how to disable the Windows Phone notifications on your PC, or change the settings to make them more manageable.
Go to Settings > System > Notifications & actions
Scroll down to Windows Phone and switch it to off
That's it! You'll no longer see Windows Phone notifications on your PC.
There's another way to deal with Windows Phone notifications that I recommend on your PC. I've disabled the notification banners but still keep them visible in the Action Center. Here's how to set that up:
Go to Settings > System > Notifications & actions
Tap or click Windows Phone
Keep Notifications on, but turn off Notification banners and leave on Action Center.
That's it! You can also choose whether you want your PC to play a sound when a Windows Phone notification arrives. All these options are also available for other notifications, too, so play around with the settings to get the best experience.
Are you disabling Windows Phone notifications on your Windows 10 PC? Let us know in the comments!
I just want to be able to change the tone. And what else is annoying is turning on your PC after having seen content on your phone and then you still get a load of the same notifications. One after the other. 10 twitter retweets? Let's have them all together, but no... it's like a toast factory. Diddle bong, diddle bong, diddle bong... Aaagh!

And it can go on for minutes if you've been busy receiving texts/IMs throughout the day.

I'm just curious to know how the notifications are coming from W10M phone to W10 PC? Are the two devices connected by WiFi / Bluetooth or is it synced using a cloud solution (via Microsoft Account)?

Well if it's cloud then how is the Messaging Everywhere supposed to work?

I'm not sure if Messaging Everywhere utilizes Cortana or not, most probably it does. However, to answer your query, it's possible for an app to sync data between different devices through roaming folders, publisher folders, etc. I'm not saying that ME works in that way, but MS can make it work without Cortana if they want to.

Is it hardcoded to the OS or does it work through Cortana? I didn't manage to install the FR build on my PC yet, and am curious.

Well I'm not too sure why I'm being downvoted but to answer your question, if it is through the cloud then the most reasonable answer would be that the notification sync is going through Cortana. Cortana is installed on all W10 devices so that would make the most sense. It will also work with Android phones as long as you have Cortana for Android.

I didn't downvote your comments. I was just asking this because Cortana is not available here in Hungary :S

It works through Cortana. Notification syncing and universal dismiss leverages the Cortana backend.

I have done the second one (the one the author suggests). So happy with it. My phone notifications at a glance and they don't disturb me.

You don't need to stop all notifications from your phone. You can right click an any of them and select "Stop receiving notifications from this app". Or better, you can go to the Cortana settings on your phone, tap on "Edit sync settings" and choose which apps you want to send notifications to your other devices. If you select "Messaging" among them, you could reply to SMS from your PC.

I like getting my phone notifications, but most of them are duplicates from the same UWP apps that are on my PC. What's the point of this?

It's generally for apps that you love on your phone that you haven't, or wouldn't, typically install on a PC (e.g. Jimmy has no use for the Facebook app on PC... he just uses the browser... so he isn't going to install it off the store.) and for phone-initiated messaging like SMS and traditional phone calls, and other phone notifications like low-battery. It's a phone-first world, this carries the notifications that come in on phone over to PC if you happen to be using it instead. In theory (there is a setting related to this), if you do have a UWP app installed on multiple devices, the notifications are de-duplicated, and, once you've dealt with a notification on one device, it's dealt with on all devices. This is another reason to have the notification available on the PC when you're using it. E.g. when Jimmy gets a Facebook notification when using the PC, he replies there and the notification is removed on his phone.

A bit cynical, but I think it should be known as an possible last resort option (if all else fails): Another option is to change regions for example to the Netherlands (Nl-nl). You can still use many windows features in this region mode though;) Many regions don't supported Cortana, which will have Cortana disabled by default. No Cortana, no messages. (Hint for microsoft: in the Netherlands we're suffering from a lack of Cortana Dutch support. Please bring it A.S.A.P? Pretty Please?).

So does Cortana need to be turned on on both phone and PC to sync notifications?

The duplication is said to be fixed with a future update, this is not a bug.

Do you need both phone and pc/tablet on "anniversary update" ?

Thx for all these very useful articles. Thumbs up!!!

Why do they call it "Windows Phone" when they renamed it to "Windows Mobile"?

Because there is no coordination between different departments at Microsoft. It is not suprising if there are still people there who still don't know that Windows Phone is now Windows Mobile.
Windows Central Newsletter
Thank you for signing up to Windows Central. You will receive a verification email shortly.
There was a problem. Please refresh the page and try again.