How to enroll in the Office Insider program on Windows 10
By Mauro Huculak published
Here's how to quickly become an Office Insider on your PC and Mobile to get early access to features and improvements — and how to opt out if things aren't working as expected.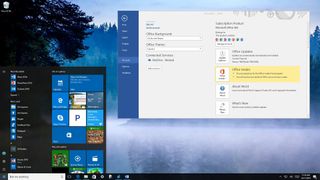 Similar to Windows 10, Office also has an Insider program that allows any Office 365 subscriber to get early access to features and improvements, which eventually will be part of the most popular suite of apps in the world.
Office Insider is available on two levels: "Insider Slow" or "Insider Fast." In the Insider Slow, new versions of the suite rollout at a slower pace, at least once or twice a month, with new features without significant risks of bugs or things not working correctly.
In the Insider Fast, new versions are available more frequently, but you'll find more issues, bugs, and features may not work as expected. In this level, you'll get new releases at least once or twice a week.
In addition, Microsoft makes available security updates, bug fixes, and enhancements on every pre-release version of Office. While Office Insider is meant for Office 365 subscribers, users without a subscription can still join the program to get early access to performance enhancements, bug fixes, and security updates.
In this guide, we'll walk you through the steps to enroll to the Office Insider program, switch levels, and opt out of the program as necessary.
How to enroll in the Office Insider program
Before you can join the program, you must have installed the latest stable version of Office.
Check for Office updates
Open any Office application, such as Word.
Click on File.
Click on Account.
Click the Office Update tile.
Click on Update Now to complete the task.
The software will check and download any updates as required.
Enroll to the Insider program
Open any Office application, such as Word.
Click on File.
Click on Account.
Click the Office Insider tile.
Click Join Office Insider.
Check the Sign me up for early access to new releases of Office option.
Choose your office Insider level: Insider Slow or Insider Fast.
If you decide to enroll to the Insider Fast, you'll need to agree to additional terms of use to make sure you understand the risks involved.
Click OK to complete the enrollment.
Once you're enrolled in the program, you will receive new updates automatically with new features, fixes, and enhancements.
If you can't wait, while on the Account page, you can check for updates again to force Office to download the latest version of the Insider program.
At any time, you can switch levels from Insider Slow to Insider Fast or vice versa. The process is virtually the same as the instructions mentioned above to enroll, but on step 5 the option is called Change level. Also, remember to check for updates to trigger the new download immediately.
Note: If you don't have Office installed on your computer, you can always download and install the latest preview from the Office store (opens in new tab).
Enroll to the Insider program for mobile
If you want to participate in the Insider program for Office Mobile, you only need to join the Windows Insider Program. Once your phone is part of the program, you'll get the pre-releases version of Office Mobile apps automatically.
If your mobile device isn't part of the Insider program, you can do the following:
Open Settings on your mobile device.
Click on Update & security.
Click on Windows Insider Program.
Click the Get started button to join the program and don't forget to choose the Windows Insider level.
To leave Office Insider for mobile, you can follow the same steps, but this time click the Stop Insider Builds option on step 4, which will also remove your device from the Windows Insider Preview program.
How to leave the Office Insider program
If you feel that you had enough of the program, or features are not working correctly, you can always opt out of the Office Insider program and return to the stable version.
Open any Office application, such as Word.
Click on File.
Click on Account.
Click the Office Insider tile.
Click the Change Level option.
Clear the Sign me up for early access to new releases of Office option.
Click OK.
Click OK again to confirm and complete the task.
Once you completed the task, you'll be removed from the Insider program, but you'll have to wait until there is a new update for Office to roll back to the latest stable release, which is usually within a month.
Alternative way to go back to the stable version of Office
If you need to rollback immediately, you can simply uninstall and reinstall the suite of apps using the latest stable version.
Open Settings.
Click on System.
Click on Apps & features.
Select Microsoft Office 365.
Click Uninstall.
Click Uninstall again.
Click Uninstall one more time to confirm and complete the process.
Click Close to complete the task.
Open your web browser and go to www.office.com/myaccount

(opens in new tab)

.
Sign-in with your Microsoft account.
On My Office Account, click Install.
Click the Install button.
Save the installer to your computer.
Double-click to launch the installer and get Office on your computer.
After the installation completes, you'll be back to the stable release of Office. However, you may also want to go back again to the Account page, and check for updates, as the installer doesn't always install Office with all the current updates.
Are you enrolling to Office Insider to try out the upcoming features and improvements? Tell us in the comments below.
More Windows 10 resources
For more help articles, coverage, and answers on Windows 10, you can visit the following resources:
Windows 10 help, tips, and tricks
Mauro Huculak is technical writer for WindowsCentral.com. His primary focus is to write comprehensive how-tos to help users get the most out of Windows 10 and its many related technologies. He has an IT background with professional certifications from Microsoft, Cisco, and CompTIA, and he's a recognized member of the Microsoft MVP community.
Thanks for information. Helps a lot. Nice article.

Sooo.. is the insider of Office free ? :D I have a 1 year subscription because i bought an Assus Atom tablet, i don`t really need a full Office program on my main PC but just asking. For now i`m using the Online Excel and Mobile Excel apps.

Windows Insider program for Windows 10, Office 365, Xbox Preview, and IOT Devs is all free (no cost at all)

I don't think it works that way. Without a subscription means that if you have installed the full version of Office 2016, you can join Office Insider and get early access to updates, but without new features. Thanks,

Yes Mauro is right. Further, if you have an Office 365 subscription, you get early access to new builds *with* new features but it will remain licensed only as long as you have a valid subscription. Microsoft obviously didn't want all people to just become insiders so they could get one of the biggest sources of Microsoft's revenue for free. :-)

And here I thought I could get free office if I joined that. Guess I'll have to stick to the pirated Office I have for the PC

I opened word, account and looked for the options stated, but mine hasn't got 'office insider' option. My subscription is Office 365 Personal. Could it be because I've not enrolled on windows insider for windows on my surface pro 3?

Follow the steps in the guide, you're probably not running the latest version of Office. I have Office 365 Personal too, and I didn't see the option to get Office Insider until I updated the software and that's the reason I also added the steps to check for updates before proceeding. Thanks,

Are not the methods described here for the Home version? I have Professional and in order to enroll I had to follow a different procedure running a script.

I have 365 pro and the article didn't help at all. No Insider tile, though interestingly word reported I was on inside slow under updates. Any idea how to make changes?

Same thing here. I have office pro plus with our E3 license at work. I am in the insider slow, but there is no insider tab.

I have office 365 ProPlus E4 with no option for windows insider

Thanks. You're right. I didn't finish the updating. Posted via the Windows Central App for Android

Not trying to sound negative, and I know I'll get lots of down votes. but it seems people doesn't realize Insider is just Microsoft fancy word for beta testing. If you have to have an Office 360 subscription, you're basically paying Microsoft to beta test their incomplete products. Back in my day, I beta tested Windows 95, Millenium and XP all free, and even got a free gold version of the product as a "thank you" for testing their product.

I think people understand that Insider is beta-testing. It says so explicitly and tells people not to do it on their primary machines. Secondly and importantly, Office 365 is different from the Insider program. Most Office 365 users are on the Current/Stable track. Insider is strictly opt-in. You pay an annual fee to keep getting the latest stable ​Office apps with a bunch of other benefits like OneDrive and Skype. You do not have to receive a single line of pre-release code if you don't want to (and most people don't). Windows beta-testing is still free (as evaluation copies that expire). The only reason that's the case is so people don't keep running beta software on all their computers as a workaround to get free software. Microsoft is a company that runs by selling software after all. And no, I did not downvote you. :)

Insider Program is NOT for beta testing as a sole reason for existing, in my view it is a bonus only. The reason for all the insider programs is feedback, Microsoft wants to make great software that everyone loves, if they just work in private and then say "Here you go, Office 2017, do you like it?" if everyone hates it then they have to work for another year or more to fix everything people don't like and in the meantime you have a whole bunch of unhappy customers. If you find a bug in any software, beta or not, report it and it not only helps you but it could help millions of other people too, yes Microsoft benefits from that but nothing about it is negative, the whole program is opt-in, and let's face it, people like us have fun testing cool new stuff before other people even know it exists and that for me is more than enough reward. I have a 365 subscription simply because of 1TB one drive that comes with it, I barely ever use any of the office programs personally as I only need them at work and my company pays for all of that, but when I do need Word or Excel at home for something it's awesome that I get it for "free" with my OneDrive storage. Seriously, where is the downside? Btw I up voted you :)

Ok so how to get the "office Insider" tile?
Windows Central Newsletter
Get the best of Windows Central in in your inbox, every day!
Thank you for signing up to Windows Central. You will receive a verification email shortly.
There was a problem. Please refresh the page and try again.