How to find your Surface Pen in the Windows 10 Fall Creators Update
If you ever happen to lose your pen, Windows 10 can help to track it down, but you must enable the feature before you can use it.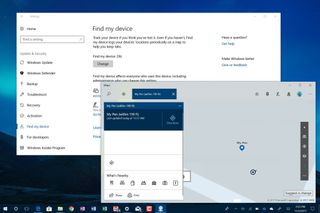 Windows 10 has been able to track the physical location of your device for quite a while in case it gets lost, which is particularly useful for laptops and tablets. Now, with the Fall Creators Update, the feature expands to help you track your pen as well.
Although it's impossible for Windows 10 to know your pen's current location (due to the fact that they don't include GPS), because they connect to your device using Bluetooth, the OS can tell the last location you were using the pen, and saves that information to help you track it down.
In this Windows 10 guide, we'll walk you through the steps to use the pen tracking feature included with the Fall Creators Update.
How to find your pen using the Settings app
In order to find your Surface Pen (or any supported pen) use these steps:
Open Settings.
Click on Update & Security.
Click on Find my device.
Click the Change button, and turn on the Save my device's location periodically toggle switch.
Once you've completed the steps, use the pen so that Windows 10 can start tracking its physical location.
Finding my pen
If you ever lose the Surface Pen, you can use these steps to track it down:
Open Settings.
Click on Update & Security.
Click on Find my device.
Under "Where's my pen?" click the Go here to track it link.
After completing the steps, the Maps app will open letting you know the last location that Windows 10 was able to record you using the pen.
Of course, this feature will only tell you the approximate location. You won't see a message that says: "Your pen is under the couch." So, you'll have to do some digging. And this doesn't take into account the pen being moved while you were away from said location, but it's better than noting.
Also, note that enabling this feature, you'll be giving Windows 10 permission to periodically record the physical location of your device as well. If your Surface or laptop ever get lost, you can go to https://account.microsoft.com/devices (opens in new tab), and click the "Find my device link" for the computer you want to locate.
More Windows 10 resources
For more helpful articles, coverage, and answers to common questions about Windows 10, visit the following resources:
Windows 10 help, tips, and tricks
Windows Central Newsletter
Get the best of Windows Central in in your inbox, every day!
Mauro Huculak is technical writer for WindowsCentral.com. His primary focus is to write comprehensive how-tos to help users get the most out of Windows 10 and its many related technologies. He has an IT background with professional certifications from Microsoft, Cisco, and CompTIA, and he's a recognized member of the Microsoft MVP community.
I already had "find my device" turned on, but I never noticed that you could track the pen. Very nice!

Actually, the gadgets app for those old Lumia phones used to let you do this with pretty much all your gadgets - It would track where the phone was last successfully connected to your headphones etc.

Why in the hell is this dependent upon a MICROSOFT account and not able to use an OFFICE 365 account that is already attached to Windows?!!!! These two account types are one in the same and they have been combining the back-ends for years now. Yet... I still am a second class citizen with a PAID FOR o365 account?!?!?!!!!!!!! I just passed this tip on to all my Surface users in my company and come to find virtually NONE of them can turn the feature on because they don't have a personal Microsoft account hooked up to their BUSINESS computer. Talk about feeling stupid.. Microsoft, please pull your heads out of your collective rear-ends and PLEASE make this right!!

Maybe it is company policy to block tracking of it's employees by a third party? It seems more of a personal feature. But still a nuisance that it is not possible as a business user.

Nope, I'm the IT guy and we don't do things like that. This is purely Microsoft lagging in providing the proper functionality to work for all its customers. This is a problem for Cortana sync, Edge Favorites Sync and Windows Settings Sync. IT is also a problem for the account Microsoft asks you to link to Windows OOB since Win 8.0. They will allow all these things to link to personal Microsoft Accounts but they offer no such functionality for their paying business customers who have o365 subscriptions. Total oversight on their part and shameful it has taken this many years and still no solutions for paying customers.

Hi, that is not correct. Using Windows 10 and a corporate account allows for syncing like a personal account. You have to use Office 365 (Azure AD) and it will sync just like a personal account.

Hmmm Still doesn't seem right. I have Azure AZ as part of o365 but we use Group Policy here and to my knowledge Azure AD doesn't support that, nor can you sign in with both a local Domain and Azure Domain. Can you explain?
Windows Central Newsletter
Thank you for signing up to Windows Central. You will receive a verification email shortly.
There was a problem. Please refresh the page and try again.