How to fix common VPN problems before contacting your provider
How do I get my VPN connection working again?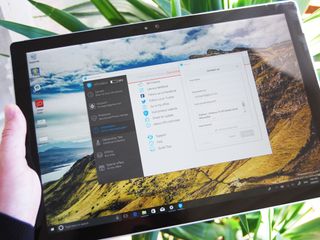 A Virtual Private Network (VPN) is a tool that restores a bit of privacy to your internet experience.
The data coming from your devices is shuttled to a VPN server through an encrypted tunnel. Along the way, your information is hidden from view, and can't easily be observed.
While VPNs usually work without a problem thanks to intuitive Windows 10 apps, you might occasionally find an issue. Before contacting your VPN provider and pulling a support ticket, check out these common problems and potential fixes.
My VPN provider's app is acting up
Any VPN provider worth the subscription fees will either keep their app updated automatically, or will prompt you to let you know that there's an update available. If you're in the latter camp and you're clicking through quickly or busy doing something else, however, you might miss or ignore the prompt.
If you find that the app is performing under par — say the connection is taking too long, you can't connect at all, or you're being frequently disconnected — be sure to check for any updates to the VPN app. You'll often see an updated app fix the problems you're having, and you can be back under a blanket of protection in no time. If the VPN app you're using is updated and you're still seeing the problem, it's time to move on to some other common problems.
Advertisement
I can't connect to a VPN server
Even the best VPN providers will sometimes experience a server outage. If you've been using a certain VPN for some time already, you no doubt have a few favorite servers you like to use. If you can't connect to a server, it might be that one server is temporarily down. Try connecting to a few different servers in different countries before moving on. Restarting your device won't hurt either, especially if it's your first time attempting to connect to a server since installing the app.
Are you running a firewall? To see if it's interfering with the VPN connection, temporarily disable the firewall and attempt to connect to the VPN server again. If the firewall is the problem, you'll likely have to open some outgoing ports, which, depending on the VPN and the firewall software, could change.
Did you manually set up a VPN on Windows 10 or on Windows 10 Mobile? If you used a password, be sure that it's spelled correctly. If not, it might appear as though the VPN is set up, but won't actually let you connect to any servers.
If, after troubleshooting, it was just one VPN server giving you problems, your VPN service would no doubt love to hear from you; let them know that a server is down so they can fix it.
A connection is made to the VPN, but no data is being transferred
This common issue is mostly encountered by users who have multiple devices in use with the same VPN service.
Why? While many of the best VPN services will allow multiple devices at the same time — NordVPN offers six simultaneous connections — attempting to connect more than one device to the same server will usually cause problems. If you have a device that can connect to a VPN server but can't transfer any data, check to see if you have another device currently connected to the same server.
If you have a favorite server, you can connect multiple devices to it if you use different connection protocols on each device. However, you usually want to stick with OpenVPN whenever you can, so connecting to a different server is usually preferred.
Still having problems after confirming that there's only one device connected to a particular server? If you're running a firewall or antivirus, it might be blocking the VPN's access to the internet. Depending on your software, unblocking the ports commonly used with your VPN — which often include TCP 443, TCP 1701, and TCP 1723 — might do the trick.
A connection is made to the VPN, but I can't see a certain website
Not being able to access a certain website can be terribly frustrating, especially when you can see that your VPN is otherwise working fine and other websites are accessible. Try clearing the cache in your browser to ensure that no old information is getting in the way. Likewise, a reboot of the VPN client and even your PC is not a bad idea.
The DNS settings might also be getting in the way of certain websites loading properly. This is a larger problem in countries ruled by restrictive, oppressive governments, as they'll often hijack a popular DNS in order to censor what's seen on the internet. While many VPN clients will automatically get you connected with their own DNS servers, you might have to configure the settings manually. Find out what DNS server your VPN provider is using before changing the DNS settings on your PC.
How to change DNS settings on a Windows 10 PC
My internet is slow when connected to a VPN
Part of the trade-off that comes with the added privacy and security of a VPN is slower download and upload speeds. This isn't always the case — VPNs can actually get you around ISP throttling — but, depending on the time of day and the server you connect to, you might find that website are taking a lot longer to load.
There's no real solid fix for this problem. Many VPN clients have a large Connect button in the middle of the window that will connect you to the closest, fastest server, but that button often doesn't really know what's best.
All you can do is try connecting to servers that's a lot closer to your physical location, or a server that's under less of a load. You might get lucky and connect to a fast server immediately, but other times you'll have to shop around a bit. As always, if the problem persists, reach out to your VPN provider for help.
Advertisement
More VPN resources
If you're interested in what a VPN has to offer, be sure to check out our VPN beginner's guide, which includes all information you need to get started.
VPNs for beginners: A simple guide to protecting your online privacy
Windows Central Newsletter
Get the best of Windows Central in in your inbox, every day!
Senior Editor, Laptop Reviews
Cale Hunt is formerly a Senior Editor at Windows Central. He focuses mainly on laptop reviews, news, and accessory coverage. He's been reviewing laptops and accessories full-time since 2016, with hundreds of reviews published for Windows Central. He is an avid PC gamer and multi-platform user, and spends most of his time either tinkering with or writing about tech.
Also In windows 10 you may have to change the metric of your interface to resolve browsing issues.

A very common cause for slow download speeds through your VPN is the TAP driver, which often can be solved by downgrading the driver. This is a common recommendation from VPN providers.
Windows Central Newsletter
Thank you for signing up to Windows Central. You will receive a verification email shortly.
There was a problem. Please refresh the page and try again.