How to get OneDrive Files On-Demand in the Windows 10 Fall Creators Update
Is your OneDrive Files On-Demand feature missing after you installed the Windows 10 Fall Creators Update? Here's what you need to do to get it back.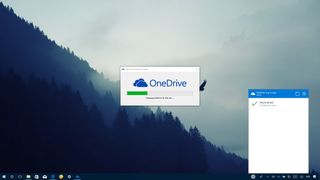 Starting with the Windows 10 Fall Creators Update, OneDrive gets a new feature called "Files On-Demand," which lets you access your entire catalog of files stored in the cloud with File Explorer without having to download them and use local storage on your device.
In other words, OneDrive Files On-Demand is very similar to what placeholders used to be and Microsoft later deprecated, but that feature now works more intelligently.
Unfortunately, after upgrading to the new version of Windows 10, some users have been reporting that the feature is nowhere to be found. Although this may seem like a problem, it appears that Microsoft is rolling out Files On-Demand slowly and not everyone will it immediately.
In this Windows 10 guide, we walk you through the easy steps to get OneDrive Files On-Demand after upgrading to the Fall Creators Update.
How to install OneDrive Files On-Demand
You're probably not getting the feature because the upgrade process didn't install the latest version of the OneDrive client, and in order to use Files On-Demand you must have version 17.3.7064.1005 or later.
To get OneDrive Files On-Demand use these steps:
Download the latest available OneDrive client

(opens in new tab)

.
Double-click the OneDriveSetup.exe file to install new client.
Restart your computer.
Open Start.
Search for OneDrive and click the result to launch the app.
Follow the on-screen directions to complete the setup as necessary.
Right-click the OneDrive (cloud) icon in the notification area, and select Settings.
On the "Settings" tab, you should now see the Files On-Demand section, and make sure the Save space and download files as you use them option is checked to enable the feature.
Once you complete these steps, OneDrive Files On-Demand will be enabled on your device running the Windows 10 Fall Creators Update. You can check out our guide to learn more about this feature.
More Windows 10 resources
For more helpful articles, coverage, and answers to common questions about Windows 10, visit the following resources:
Windows 10 help, tips, and tricks
Windows Central Newsletter
Get the best of Windows Central in your inbox, every day!
Mauro Huculak is technical writer for WindowsCentral.com. His primary focus is to write comprehensive how-tos to help users get the most out of Windows 10 and its many related technologies. He has an IT background with professional certifications from Microsoft, Cisco, and CompTIA, and he's a recognized member of the Microsoft MVP community.
Don't forget to tick all folders -in settings- in order to make them show up on your explorer...

He forgot the 2nd most important option to make this work as intended, lol.

All of this could work on an Ultramoble Surface PC.

You mean in Selective Sync?

This is basically the most useful feature for me in the FCU. It's helping me a lot.

I just clicked the link supplied above and hit run, the newer version of OneDrive installed itself (overwrting the previous version) and didn't need to restart the PC afterwards either. Worked like this on the 4 PCs I've tried it on so far.

I didn't get it on either of the computers I've upgraded so far, but complained on Twitter and somebody was quick to help. Seems a bit odd to me they didn't include it in FCU, but at least they had support ready for those of us who were actively looking for it. It was glitchy at first on one computer, but after removing the account from the registry and adding it again, I believe it is working perfectly now.

Good guide, but tried this on my SLT (running 10s), wasn't able to run the .exe file. Been on 10s for 4 months, had to upgrade to windows pro, which I didn't want to do. For me, this highlighted a fundamental problem with 10s, you should be able to run .exe files signed by Microsoft.

And then people would complain that Microsoft is using priveleged status, that competitors cannot do the same thing, that it is a monopoly, blah, blah, blah. DropBox, Google, Amazon, etc. could all claim that their cloud drive app is at a disadvantage because only OneDrive could be installed by users on their computer with Win10S.

@barneyboyhughes. That's the thing, most will not be able to understand the difference between Windows 10 S and Windows 10 Home / Pro. Microsoft needs an advertising campaign to educate consumers. Oh wait, they decided to forego the consumer market. This is what Microsoft doesn't understand, they cannot address or educate potential and current customers without an advertising campaign. Logically speaking advertising expenses would fall under consumer, you can't sweep that under miscellaneous expenses... Enterprise users aren't the target market for TV adverts, billboards and product placements. The IT department or devices buyers handle that in th enterprise sector.

I have the same, you can't run it idependantly on Surface Laptop with 10S, So guess on Surface Laptop, will need to wait until the upgrade runs by itself somehow..

I tried this and now explorer is slow and edge won't open.

It doesn't work for me, just installs the creators update version, I dont understand why it wont install the FCU version of OneDrive, I've got FCU

Oh gosh, this feature is still as buggy as hell after how many? 10 months of development? Very disappointed about this and other defects in FCU, such as start screen not entirely scrollable sometimes and Cortana who does not recognize the microphone for 1/2 times before working again. Moreover she randomly opens up full screen. Ok, the general performance has been improved, especially in edge, but come on some more polish releases!

Why was this downvoted? dan16 is right. 16299.19 isn't ready. SMDH...effing fanboys can't take any criticism about Microsoft.

The only thing FCU did is massacred the onscreen keyboard on my SP4, messed up language packs and there was nothing interesting or better that I noticed in the rest of it comparing to CU. The onscreen keyboard bugs were so bad that I decided to roll back and now I'll wait for RS4 or 5... Literally the most useless and uninspired update. This on demand thing seems like a good feature, but I can take it or leave it...

Yeah putting a build file on the "only available when online" is just great... I disabled this as soon as I realized it ...

Is it only me or is OneDrive such a slow service ? Compared to GoogleDrive and Dropbox , OneDrive is slow as hell and full of fails ( Are you connected to the internet ?) YESSSSSSSSSS all is running fine but OneDrive is a piece of ####. The same with MS Photos. This thing is unusable slow. I have to wait several minutes everytime to see some Photos from OneDrive. In Google Photos all Photos are instantly loaded. And no! It's NOT my Computer, i7 8GB Ram 2TB HD 2GB NVidia GTX fully new installed. same problem anyone ?

This didn't work for me. I still see the old onedrive settings (this is after uninstalling onedrive, rebooting, and re-installing onedrive from the link above, rebooting again...). Any more tips on how to get this to work?