How to install Amazon Alexa on any Windows 10 PC
You asked for it. Here is Amazon Alexa for your PC.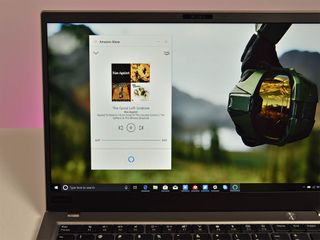 The app for Amazon Alexa is limited exclusively to PCs sold through HP, Lenovo, and Acer, but you install it to any PC.
As usual, there are some caveats, but for those who want a peek at what Alexa can do you for you on the go, this is what you need to get started.
Amazon Alexa: download, install
Amazon Alexa is currently a single executable file called 'Alexa_App_for_PC_Installer_1_2_9' at 134MB in size.
Install the app and follow prompts.
Launch app from Start menu.
Log in using your Amazon account.
Those outside the U.S. may need to change system language.
Optionally enable 'Launch app on sign into this computer' under Alexa settings for auto-start feature.
Installation of the app will automatically grab Microsoft Visual C++ 2015 if your PC does not already have it loaded.
Presumably, newer versions of Alexa will become available. This version we are providing is version 1.2.9.115 (Shopping assistant v1.0.200243.0).
If you would like to show the Alexa app all the time in the Windows 10 taskbar go to Windows Settings > Personalization > Taskbar > Select which icons appear on the taskbar and enable Alexa (it is off by default).
It is unclear if the app will auto-update itself or a new installer will have to be provided later.
Note: This installation file was acquired by Windows Central and is unofficially distributed. As always, be careful where you get stray .exe files from on the internet and use a virus scanner.
What works and what doesn't
Unless your PC is officially supported (unlikely) and you have custom firmware for Alexa (also questionable) the feature for Wake word which lets you call Alexa via voice will not work. That means to use Alexa on PC you need to press the blue Alexa button in the app manually.
Other than the 'wake word' limitation everything else behaves just as Amazon had planned it for PC users. Here is a short list of things that you can try with Alexa:
If you already use Microsoft's Cortana around 90 percent of this will be redundant except for shopping on Amazon, using Amazon skills (third-party apps) and playing Amazon Music.
Related reading
Windows Central Newsletter
Get the best of Windows Central in in your inbox, every day!
Daniel Rubino is the Editor-in-chief of Windows Central, head reviewer, podcast co-host, and analyst. He has been covering Microsoft since 2007 when this site was called WMExperts (and later Windows Phone Central). His interests include Windows, laptops, next-gen computing, and for some reason, watches. Before all this tech stuff, he worked on a Ph.D. in linguistics, watched people sleep (for medical purposes!), and ran the projectors at movie theaters because it was fun.
Hey Cortana... Goodbye! On a serious note, I recently ripped out all my Cortana stuff like Invoke speakers, cortana enabled on windows 10 and installed alexa gear in several places around the house. I love the natural speaking on alexa over cortana, I find alexa significantly more useful than I ever did with Cortana. I love that you can change the wake up command on alexa to "Computer" like Star Trek. Ive just started to integrate it with my security system as there is major support for a lot of stuff... Cortana led the way from the start but Alexa is the future... So long Cortana, see you in Halo 6...(maybe)

lol, you really should try it first...if you think this is amazing then your expectations were low, to begin with, in which case I salute you.

Not sure if im ready to install Alexa on PC yet, since I have it on my android.. But I'll wait and see how it matures on PC.

Since Alexa can never have file-system access or UWP app integration (without assistance from Microsoft) I don't see how this will be much different than Alexa on Android, that is, not very useful. But hey, free is free, at least you can judge yourself.

I thought Amazon and MS were supposed to be working on getting Cortana and Alexa to work together, presumably to achieve proper integration? That's the impression WC gave me in your articles anyway. Is this no longer happening then, Dan?

That is what's happening. That is not this though.

Ah, so still plenty of waiting to do (outside the US, probably another decade I expect). You never know, some other company could well come up with a decent alternative before that happens. Roku is working on an entertainment focussed solution that could well expand. Interesting times.

Do you really think if a company like Microsoft or Amazon struggles with regional localization of language and data that Roku could just waltz in and top it? I really think some of you have zero idea how difficult this stuff is and how much data it requires.

@Daniel Rubino Will this sw eventually morph into what "is" planned, or is it just a bit of side rubbish? If the former, then it might be worth folks time installing/configuring/using etc. Especially for US-based folks who *actually use* Alexa/Cortana (I meet the latter criteria), "even if" -as you say- it's fairly useless "now".

Makes no sense at all. Especially if you live outside the US. Thanks, I'm good with Cortana even as it is right now for non-US.

It is, but I talked to the boys at Amazon and they concluded you need to get out more :P

Why would anyone install another tracking system on a tracking system beats me...!?

I wish the Alexa app for IOS supported voice input. You have to go thru the Amazon app.

I have disabled Cortana, so I am not going to add another so called assistant spy app onto my computer.

No need for spy apps. Everyone just posts all their personal thoughts, images, locations, political views, and more on social media/Facebook.

Exactly. Most people who freak out over privacy don't realize all the ways they are NOT private, based on things they do, particularly on the web. You basically have to have zero presence on the web and then avoid most public places. People leave digital footprints everywhere. I live my life as publicly as possible.

Maybe WC could make their own personal assistant? You could call it Rubi. No need to thank me.

Getting sarcastic comments every time you disagree with it is something I really wouldn't want though 🤣

Don't be silly, literally everyone wants this.

That's a Rubino Rubiyes. I'll get my coat.

hi, I have installed the app but upon launching the app, the icon shows in taskbar but the app doesn't show up. then I tried through right-click and open but is not opening. what do I do???

I do not see how this could replace Cortana. I mean Cortana even works per voice activation if the PC is switched off (Always-Connected-PC). Having to press a button is counter-productive in particular if the PC is switched off.

We're huge Cortana users in our house. Every device has Cortana turned on. But the problem is that Microsoft is doing virtually nothing with it on other platforms. Since they killed their own phones, they NEED to build the necessary hooks in Cortana on the other platforms so the same feature set---hands free use, in particular---is available elsewhere. Right now, they refuse to do that. Cortana is one of the biggest reasons we're sticking with our Lumia devices. Hands-free use. If Samsung is able to shoehorn Bixby in there, you can't tell me Microsoft couldn't figure out how to do that, too.

Recently the app link has been disabled due to excessive traffic link. :(

Damn, figured that'd happen. I'll have to look at a different way to host it. Sorry.

Looking to try this! Hope you find another way to host the install file :)

Yeah, try hosting it on Google Drive or OneDrive.

@Daniel: Try hosting it via Mega

Hey Daniel, seems like the download link is temporarily disabled.

Got it, thank you Mr. R. Will install after I've had sleep then coffee :)

Daniel, have another way to download the app besides one where you have to sign up to a service to download? thanks bud!

Wish we could get Google assistant instead of Alexa. I've used both and alexa is flat out much more stupid.

I had some useful info I wanted to share with everyone re: a simple method I devised to add back in the "wake word" functionality for Alexa on PC which I've found works really well, but this comment system keeps reprimanding me for posting a link (even though there's no link whatsoever in my comment) and I'm tired of futzing with it... :-'(

I'm late to the party... Just wanted to say, I wrote a couple of small, add-on scripts that run in tandem with Alexa for PC and which add back in "wake word" functionality (I played with two methods to make this happen: one using AutoHotkey, and one using VoiceAttack and batch scripts). Both work really well - I am pleased :) You can set the wake word to anything you want, not just the default "Alexa / Computer / Echo / Amazon." Now I'm adding-on / adding back Spotify voice control as well, and then I think I'll be happy using this as a regular Alexa interface. Overall, I'm very happy with how it has turned out! Alexa is pretty responsive - more so I'd say than the Alexa that comes natively built into my latest model Amazon Fire HD 8 and 10 tablets. Anyway, there was/is a roadblock that I've encountered, and it seems it is a known problem that others have experienced as well (see comment above from Milind Goel). It seems there were some minor coding errors in the Alexa for PC .exe file that was leaked / shared around, resulting in compatibility issues that prevent many PCs from being able to properly install the software. Amazon supposedly was aware of this and has stated this is why they weren't ready to release the program and have requested the .exe no longer be distributed /installed (but I'm sure in reality it's more like they have partnerships with several manufacturers and they want you to buy these new models specifically created with Alexa on board). My Dell tablet with Windows 10 Education Pro installed Alexa for PC via the .exe just fine, while my newer and more powerful ASUS desktop with Windows 10 Education and the same current Windows 10 build / updates installed won't run it at all :( The machine complains about issues with the dot NET framework and crashes on first-launch. Lastly, to the posters above who said they preferred Google Assistant and want that on their PC, that's easily doable, though in a somewhat limited but still pretty useful way. You can also install Google Assistant / Cortana on your Amazon Echo devices. There are several, newer, informative article on here discussing the latest details on the Alexa / Cortana collaboration. Siri's parents are really overbearing however and she's not allowed to hang. (I tried to post a couple of < 1 minute demo videos showing all of this in action but I'm not allowed to do so. :'( ) There's also a dumb video of Alexa and Google Assistant "fighting" with one another (programmed via their "Routines") - it's dumb, but it makes me lol every time. If you search my username on the amazonecho community on red it I have a couple of brief demo videos showing the aforementioned digital assistant crossover setup in action, with "how to" links provided for anyone who would like this functionality for their own use.

Yayyyy, it posted :) Evidently Emoji are a no-no :-'( On a side note, can we talk about how bad Windows 10 is when it comes to Emoji integration?

This article is being used to promote a Scam!!! THERE IS CURRENTLY NO ALEXA APP FOR WIN 10 (call amazon to prove this) www .smartspeakersetup .com/has a Download button for the "APP" that says your network failed to download, When you call they do a FULL SCAN OF YOUR COMPUTER, tell you you have a bug and they will fix it for 100 dollars This article (number one on google search the Alexa Windows 10 APP) SHOULD HAVE MAJOR DISCLAIMERS NOW. so it is not part of this fraud.

@BecarefulBob there is an official Alexa application for Windows 10. Its in the Microsoft store. Just some of us (as in Canadian) are unsupported. If you downloaded from a bad source its on you. Not all sources are bad just because you say so.
Windows Central Newsletter
Thank you for signing up to Windows Central. You will receive a verification email shortly.
There was a problem. Please refresh the page and try again.