How to install Windows 10 apps to an external drive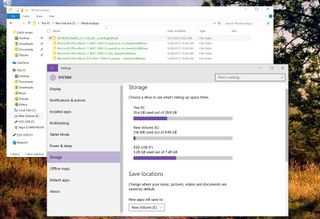 While we are used to installing apps inside the Windows installation drive, the fact is that lately we see more devices with limited local storage. However, things started to change when in Windows Phone 8 when Microsoft introduced a feature to allow users to install Windows Store apps directly onto an external SD Card.
Now the same feature will continue to be part of Windows 10 Mobile, and it will also be part of Windows 10 (desktop).
Follow the steps below to save apps to a new location
In Windows 10, Microsoft is adding the "New apps will save to" option in the Storage "Save locations" area, inside System, in the Settings app.
In "New apps will save to", you'll notice a drop down menu with the available locations you can save newly installed apps, select one storage drive, and you're good to go.
It's worth pointing out that for this guide, I'm using a virtual machine in which I have created and mounted a secondary hard drive. I have also tested the feature with a regular USB thumb drive, and it both cases the feature worked perfectly. This option means that you're not limited to SD Cards only, as you can also use an external USB or secondary hard drive, or a USB thumb drive. However, you cannot not use mapped network drives to install and store Windows apps, and you can always use one drive at a time.
Furthermore, the feature does not require you to format the drive, so you can safely use a personal external drive with data already on it, knowing that nothing will happen to it. Nonetheless, it's always a good idea to make a backup of your files.
Now, what happens if you disconnect the drive? Short answer: Nothing. You'll click an app, and it won't start, but simply reconnecting the drive or SD Card will bring things back to normal.
Also, when you change the settings to install new apps into a secondary location, Windows 10 will create three folders: the first folder has your profile name, then there is the "WindowsApps", which is where the apps will be installed, and finally there is the "WpSystem" folder, which is where all related application data will be saved. Also, the app files stored on the new drive are encrypted, so if you lose the drive no one will be able to access the data. However, keep in mind that personal files stored in your profile folder will not be encrypted by this feature.
Here are a few other things you need to know
This feature only installs new apps to the secondary location. It doesn't move existing apps to a new location. Though, Microsoft is also building a feature to move already installed apps to an external drive, but it's not working at the time of this writing in Windows 10 build 10122.
The best way to get around this limitation is by uninstalling the apps you want, then change the setting to install apps to a new location, and now reinstall the apps again. (Be warned! Depending on how the app was designed, you may lose some app data in the process.)
If you want to stop using a secondary location to install apps, simply go back to the Storage Settings, and choose "This PC". However, the data stored on the external drive will not migrate to your PC. In this case, you want to uninstall all the apps from the secondary storage before changing the settings, and then you can reinstall the apps in your system. Again, this is how things are working in Windows 10 build 10122. Future updates might change the process. Finally, delete the remaining files and folder from the external drive and everything will go back to normal.
Will you be using this feature in Windows 10? Let us know your thoughts in the comments below.
Windows Central Newsletter
Get the best of Windows Central in in your inbox, every day!
Mauro Huculak is technical writer for WindowsCentral.com. His primary focus is to write comprehensive how-tos to help users get the most out of Windows 10 and its many related technologies. He has an IT background with professional certifications from Microsoft, Cisco, and CompTIA, and he's a recognized member of the Microsoft MVP community.
I wish I could put my one drive on an SD card...

Is it starting to take up to much space on disk? Don't forget you can choose to make online only I frequently do this after adding more things to one drive frees up gigs of data.

You can do that with the personal One Drive, but not with the FTP-driven one for Business version. I heard that the latter one will get this feature later though.

This function, as well as folder location no longer works this way in windows 10... :(

You can so long as the SD card is formatted NTFS. Then you just use Explorer and right click properties on OneDrive, go to the location tab and move it over. Used to do it on my Surface Pro 1 because of the limited storage space and I do it on my big computer because I have separate storage drives aside from my OS SSD.

You can also do this with all your other library folders documents, music, videos, etc to free up drive space

Indeed, but for me that's a lesser issue since I redirect my documents, music, videos, etc to my OneDrive folders.

On windows 8.1 I have my one drive folder on an SD card. Bring up the properties for the folder (in the left hand pane where it shows as a library folder) and select location -- change to your hearts content -- now mind you the SD card must be formated NTFS. Selecting move the files takes forever. I usually do it with out moving the files and then just manually deleting the old location. One drive will sync to the new location correctly anyway.

Nice tip, can you convert the SD card to NTFS with out losing what's on there?

It has to be reformatted to convert to NTFS. You will lose anything already on the card when you format it to NTFS.

Buy this
SanDisk 128GB Ultra Class 10 Micro SDXC (SDSDQUAN-128G-G4A)
http://www.amazon.com/gp/aw/d/B00M562LF?tag=hawk-future-20&ascsubtag=UUw...
Its working like a champ on my 1520

Finally. This could really help with my Surface 2. Though I'm hopefully upgrading to a Surface Pro 4.

Well, it won't really help your Surface 2 for sure.

Could, as if it was possible. I don't see why the Surface 2 shouldn't at least get this small feature from Windows 10. Something to maybe ease the pain of RT being almost out of the picture. But like I said, I do plan on getting a Surface 4 as I really need the full system upgrade.

Makes the cheaper 32gig devices worthwhile

Yep...this'll solve my only real grievance with my 32GB Asus T100!

Will we get .exe or .msi or .bat like setups for windowsstore apps like we have .xap or .appxbundle in winphone 8.1 for manual install...

Sideloading apps is working since Windows 8.

Can you please explain how to do it (it would be great if you give me links to any tutorial)....

You can "sort of" do an install like that now with the .xap. You can download the app from the windows store to your PC, then copy it to your phone. However, from there you still have to use the Windows Store to validate the app (and app purchase if necessary). There is a link at the bottom left column of each app that says, "Download and install manually". Under the link is a learn more link that shows how to do this.
Click here to learn more

Since I still use a Surface Pro 64GB, this is a great option.

What if we could install apps on Onedrive and stream them? That would probably cause a big performance hit without specialized software for executable streaming. Or since most apps are going to become universal, what if we could remotely run apps that are installed on a computer and use them on a phone?

Sounds like an odd requirement.
Why would you want applications stored in the cloud? Surely it's better to have apps stored locally.

I'm just thinking of other ways to save space on mobile devices when using an SD card is either impossible (due to hardware) or an unwanted expense.

Fair play....though with micro SD cards costing as little as £13 for 64GB (in the UK), it doesn't seem like a cost saving measure that is worth the effort.
I guess this would be of use for older storage limited Lumia's - but certainly of no real use to computers (that always have micro SD slots).

In my case I have a slow internet connection at home of about 625KB/s (5 Mbit/s) so that would not be nice on some games like Order and Chaos Online which still needs to connect to servers to play online. This game requires 1.5GB of storage, imagine if this game ran from OneDrive, it could simply be impossible to render the graphics and at same time contact online players which might be on another country or continent. This is just my opinion, but I think it should not be a good idea to stream your apps from OneDrive.

RemoteApp is designed for this purpose. It is supported by the official Remote Desktop app on WP8.1. I don't have hands-on experience. Maybe someone else will reply & add more. I believe it requires Windows Server 2008+, Windows Enterprise Edition, or Azure as a host. MS is good about providing evaluation versions good for 90-180 days. MS also provides a product called "Hyper-V Server" for free. It should not be necessary, but I found it useful for playing around with something similar, and it occurs to me that it may have some utility here.

This is a very well explained article. Thanks for telling how this will work on WIndows 10. Right now I'm not considering to do this on my new laptop since I have 1TB of storage space. The largest app I have is a game called Project Spark which requires 2.9GB to install. But I also have old laptops with less storage space that I'm also going to upgrade to Windows 10 so this will be a good option.

Keep in mind that your computer will be running far slower than it need to due to running a mechanical hard drive (unless you are running a v.expensive SSD?!).
This is a great solution for me and for the various laptops I have upgraded for family and friends. I tend to install a 64GB or 128GB SSD for the OS, and a mechanical hard drive in the optical drive bay for storage. This works perfectly on Windows 8.1 aside from the app storage issue. Being able to set d: to be the default app install location will keep the SSD's from filling up too quickly :)

Email modern app on my WinBook with 16gb needs this... I'm gonna upgrade to 10 on that baby...

I'm assuming this would apply to Xbox Video too? I was going to download a movie for offline access and wasnt given an option where to save it (I'm assuming Videos), but would rather have it on my non-SSD drive.

This is such a great thing :D

Thank you windows central, I never knew this feature existed

My DVP8 is dying for this..

Windows 10 looks so nice. it's always good they are adding this to Windows 10. and you can mix them. like you see a large app or game, put it on an external drive and go back to This PC and install small apps there. it sounds good. but a bit complicated to manage. it would be boring to keep switching, so I might not use it like that, but it sounds nice Windows 10 offers this, especially when desktop apps can be on store, like Photoshop and Premiere elements.

After windows 10 comes out, there is finally obsoletely no point of buying an Android tablet.

It would be great not to see a kind of message in future when Devs become Wolverine "Publisher will not allow this app to install in seconaday volume"

This is great news! This will help clear my boot ssd drive!

Good..."Help is On The Way" for the 64gb, i3 version of the Surface Pro 3 and/or the 64gb version of the Surface 3!!!

As another poster noted with 32GB netbooks like the Asus x205 it would be great to be able to install MS Office to an SD card but I haven't figured that out yet. Seems MS only allows install to HD. Anyone know of a workaround?

The option to save apps to my SD Card is grayed out. Everything below has the SD Card as an option. What gives? How do I fix this? I am running this on a tablet with 32gb.

Just installed 10, the item is grayed out where "New apps save to" cant change or pick it. I have 3 internal HD and one external HD, none are available

help!!! why i can't change location of new apps? it's greyed out. is there any hacks that unlock that thing???

thet's my problem too help meeeeee :'(

why i can't change location of new apps? it's greyed out. help meeeeeeeeeeeeee!!!!!!!!!!!!!!!!!

help meeeeeeeeeeeeee!!!!!!!!!!!!!!!!! Let's keep this discussion alive! It is STILL A PROBLEM

This ability is not in Windows 10. Just got 32gb winbook with 128gb microsd, I read they don't have the option working in 10 yet. 10 not so great.
Windows Central Newsletter
Thank you for signing up to Windows Central. You will receive a verification email shortly.
There was a problem. Please refresh the page and try again.