How to install Windows Ink apps for Windows 10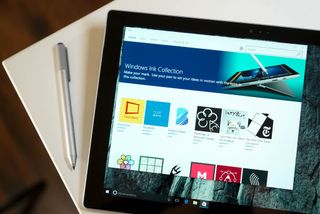 One of the new features on the Windows 10 Anniversary Update is Windows Ink, which expands on Microsoft's vision for digital writing on PCs. An all new Windows Ink Workspace is added to the taskbar which lets users with an active pen access core features such as writing sticky notes, doodling in a sketchpad, or annotating screenshots with Screen Sketch. The workspace also makes it easier for users to find apps that support the use of an active pen.
Tap the Windows Ink Workspace icon on the taskbar.
Tap Get more pen apps under the Suggested area.
The Windows Store opens the Windows Ink Collection, where you can browse all the apps that support the pen. Select an app and tap install.
That's it! Here are some recommended apps to get you started:
FluidMath – This app lets you ink math formulas onto digital paper, solve linear algebra, and automatically graph those pesky quadratic equations with ease. It's one of the Windows 10 gems we covered recently. Download FluidMath (opens in new tab)
DocuSign – Provides a fast, easy and secure way to electronically sign documents and collect signatures from others. Download DocuSign (opens in new tab)
Sketchable – Allows you to scribble a note, snap and edit a photo, import and augment an image, or paint a masterpiece. Download Sketchable (opens in new tab)
Zen: coloring book for adults – Select a page and start coloring! The activity can be beneficial for adults for its de-stressing power. Download Zen: coloring book for adults (opens in new tab)
Drawboard PDF – Open or create a new PDF document, markup using an extensive array of tools, then save it back as a compatible PDF. Download Drawboard PDF (opens in new tab)
Make sure to keep checking the Windows Ink Collection at the Windows Store to discover new apps. Are you excited about Windows Ink on Windows 10? Let us know in the comments!
Windows Central Newsletter
Get the best of Windows Central in in your inbox, every day!
Plumago is a great piece of software.
Super excited to upgrade to Anniversary. Maybe on the next build that should be RTM, or whatever RTM is called now.

I've been hesitent to load the Anniversary on my Surface Pro 4 do to concenrs with stability, but based on an article by Daniel a few days ago, I took the plunge. Works great. The final relase is only 3 weeks away, but if you're impatient like I've been, you may want to jump in early. It's worked pretty well so far. This is just my opinioin, and I take no responsibility if it screws up your machine. Just a piece of information to consider.

Whelp, I took the plunge last night. For the most part I am really enjoying it. The sticky notes from the Workspace is a little annoying though. Even when closing the Workspace, the notes stay open on the desktop. If you close them individually it seems to delete the notes, but if you close the app on the taskbar it keeps them. Hope they tighten that up a bit. All in all though, nice update.

I'm not in any rush, I want to be pleasantly surprised on 02/08 or later.* :-) Plus I can be sure that it's just about as rock-solid as it's going to get by that point. *I've occasionally peeked at fast builds in a 2nd partition on my SP3, but I've not 'lived & breathed' it

"The Windows Store opens the Windows Ink Collection, where you can browse all the apps that support the pen" - well, not all the apps, since I know of 1 good app that supports the pen and is not in that collection (it's mine). Can't seem to find how to apply for being included in that collection...

It's called ECGNote (https://www.microsoft.com/pt-pt/store/apps/ecgnote/9nblggh20bx5). It is an app to read (and measure intervals) and write over electrocardiograms - it is for a very specific audience, but so is Staffpad and that one is in the collection (although Staffpad is the ultimate pen app and a great inspiration for any developer).

I can see a whole lot of potential in the ink applications

Should I update new insider faster, now?

After upgrade to windows my dell laptop touchpad is not working completely

i like sticky nots on my desktop for mouse and keybord. even though i have a touch screen i dont have a pen. i can still use them fine.

I like Xodo for PDF markups with pen ink

This article inspired me to share FluidMath with a friend as well as install DocuSign.

Drawboard PDF has one of the worst customer support ever, and the dev is a lying scumbag. I wouldn't recommend anyone support such devs. Simple yet fundamental feature requests, like this that I requested to enable support for selecting text across multiple pages of a PDF, get ignored for ages, or simply get tossed out with lies to defend such actions (as did the one I requested). The dev has become too proud after Microsoft began bundling their app with the Surface...

I am, I just need a new Surface to use them

No touchscreen, unfortunately.

how to enable windows ink..I just joined the preview build and the build number is 14393.5. I search in the settings but I didn't find the ink option. Where it is and how to enable it. Or it is just for pen ?
Windows Central Newsletter
Thank you for signing up to Windows Central. You will receive a verification email shortly.
There was a problem. Please refresh the page and try again.