Following poor Always Connected PC reviews, Microsoft appears to distance itself from Qualcomm and ARM
Early reviews for the first Always Connected PCs are uninspiring, and Microsoft seems to be downplaying the association with Windows 10 on Qualcomm Snapdragon ARM processors.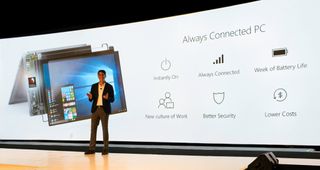 In the wake of criticisms of the performance of Windows 10 on ARM-based Always Connected PCs (ACPCs), Microsoft's Windows general manager Erin Chapple downplayed the position of these devices in the category during a techradar interview. "We're about choice in the ecosystem and working across our partners," she said, as she stressed that ARM-based ACPCs are not the only devices in that category. As a provider of tools others use, this spin sounds consistent with the company's mission.
I say "spin" because Microsoft's messaging beginning in December 2016 regarding its new cellular PC category has been inextricably intertwined with the company's partnership with Qualcomm and Windows 10 on Snapdragon ARM processors.
The partnership's a synergy of Microsoft's evolving of Windows for the modern age of connected computing, and mobile industry leader Qualcomm's mission to bring more people onto the cellular roadmap. Microsoft's cellular PC messaging, beginning with the category's December 2016 introduction, has had an almost unwavering focus on cellular PCs based on Qualcomm's Snapdragon ARM processors. Not until the unflattering reviews of ACPCs did we see Microsoft widen its focus to Intel devices that don't have all of the smartphone-like benefits Microsoft made the highlight of its ACPC marketing.
Microsoft introduces ARM-based ACPC category
During a December 2016 WinHec keynote, Executive Vice President of Windows and Devices Terry Myerson shared that more Microsoft customers have been asking for innovation in the mobile PC space. He touted Microsoft's work with long-time partner Intel to make the PC more portable with sleeker designs. He also conceded Microsoft needed to create opportunities for the Windows ecosystem and add new capabilities into Windows 10, including:
Connectivity always being within reach.
Easy selection of data from a choice of carriers through the Microsoft Store.
Purchasing data with a Microsoft Store account.
eSIM rather than exposed SIM slots to enable connectivity without compromising design.
Activation of plans directly from the device.
Being informed about data usage.
To complete this enhanced mobility solution, Myerson introduced mobile chipmaker Qualcomm as a new PC silicon partner. Windows 10 PCs on Snapdragon ARM processors with integrated cellular, improved connectivity, better battery life and support for x86 Win32 apps were the beginning of Microsoft's cellular PC category.
And Microsoft has marketed "Always Connected PCs" as a proper name for a PC category (rather than "always connected PCs" as a device description) that possesses specific smartphone-like qualities: instant on, always connected and all-day battery life.
Microsoft and Qualcomm the architects of an always connected future
Qualcomm's multi-device, multi-generation commitment
Qualcomm Executive Vice President Cristiano Amon joined Myerson at WinHEC 2016 and stressed Qualcomm's commitment to Microsoft and Always Connected PCs:
Amon praised Windows 10's full compatibility with ARM and emphasized that the Qualcomm-influenced infrastructure that created the smartphone ecosystem could be leveraged for this new ACPC category. When Myerson asked for Amon's long-term vision beyond the initial devices, Amon replied, "we can take all those [smartphone] use cases straight to the PC."
How Qualcomm and Microsoft are making PCs post-smartphone devices
Microsoft promises and delivers ACPCs by 2017
In a May 2017 video (above) Qualcomm Vice President Don McGuire continued the ARM-focused ACPC narrative which began in December 2016: "We continually look for ways to redefine the mobile experience for customers, which is why we developed the Qualcomm Snapdragon Mobile PC platform.
Chapple recently said, "We [Microsoft] don't equate 'Always Connected PC' with Qualcomm." This PR statement, meant to diminish the uninspiring ACPC's association with Qualcomm, is inconsistent with the narrative that continued with Myerson at Qualcomm's Snapdragon Summit in December 2017. Myerson said, for example:
Myerson defined ACPCs as modern Windows 10 devices with thin, light, elegant designs, touch, pen and ink, Windows Hello, instant-on, and always-connected with a week of battery life. Not all PCs with cellular capabilities fit this definition, though the ARM-based ASUS and HP devices Myerson introduced were supposed to.
Andromeda, folding PCs and Microsoft's vision of personal computing's future
As Qualcomm defends ACPCs, Microsoft wavers
As reviews of the first generation ACPCs have challenged Microsoft's and Qualcomm's claims for the category, Qualcomm has stood its ground through three videos that "prove" instant-on, improved battery life and better heat efficiency.
Conversely, Microsoft pivoted away from the Qualcomm-focused narrative that has framed ACPCs since the category's introduction. Chapple did concede that the Windows 10 April 2018 Update should improve the performance of current ACPCs.
None of this is to say Microsoft hasn't invested in the ACPC category beyond Qualcomm (though a focus on ARM-based devices may be in preparation for Project Andromeda). Instead, it's an indictment of the company's tendency to back away from commitments. Whereas Qualcomm defended a narrative that drove the category since 2016, Microsoft quickly distanced itself from Qualcomm.
Dear Microsoft, please don't treat your partners like you treat your enthusiasts.
Related: Microsoft CEO admits abandoning consumers was a mistake
Get the Windows Central Newsletter
All the latest news, reviews, and guides for Windows and Xbox diehards.
Jason L Ward is a columnist at Windows Central. He provides unique big picture analysis of the complex world of Microsoft. Jason takes the small clues and gives you an insightful big picture perspective through storytelling that you won't find *anywhere* else. Seriously, this dude thinks outside the box. Follow him on Twitter at @JLTechWord. He's doing the "write" thing!