Following poor Always Connected PC reviews, Microsoft appears to distance itself from Qualcomm and ARM
By Jason Ward last updated
Early reviews for the first Always Connected PCs are uninspiring, and Microsoft seems to be downplaying the association with Windows 10 on Qualcomm Snapdragon ARM processors.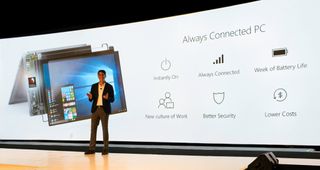 In the wake of criticisms of the performance of Windows 10 on ARM-based Always Connected PCs (ACPCs), Microsoft's Windows general manager Erin Chapple downplayed the position of these devices in the category during a techradar interview. "We're about choice in the ecosystem and working across our partners," she said, as she stressed that ARM-based ACPCs are not the only devices in that category. As a provider of tools others use, this spin sounds consistent with the company's mission.
I say "spin" because Microsoft's messaging beginning in December 2016 regarding its new cellular PC category has been inextricably intertwined with the company's partnership with Qualcomm and Windows 10 on Snapdragon ARM processors.
The partnership's a synergy of Microsoft's evolving of Windows for the modern age of connected computing, and mobile industry leader Qualcomm's mission to bring more people onto the cellular roadmap. Microsoft's cellular PC messaging, beginning with the category's December 2016 introduction, has had an almost unwavering focus on cellular PCs based on Qualcomm's Snapdragon ARM processors. Not until the unflattering reviews of ACPCs did we see Microsoft widen its focus to Intel devices that don't have all of the smartphone-like benefits Microsoft made the highlight of its ACPC marketing.
Microsoft introduces ARM-based ACPC category
During a December 2016 WinHec keynote, Executive Vice President of Windows and Devices Terry Myerson shared that more Microsoft customers have been asking for innovation in the mobile PC space. He touted Microsoft's work with long-time partner Intel to make the PC more portable with sleeker designs. He also conceded Microsoft needed to create opportunities for the Windows ecosystem and add new capabilities into Windows 10, including:
Connectivity always being within reach.
Easy selection of data from a choice of carriers through the Microsoft Store.
Purchasing data with a Microsoft Store account.
eSIM rather than exposed SIM slots to enable connectivity without compromising design.
Activation of plans directly from the device.
Being informed about data usage.
To complete this enhanced mobility solution, Myerson introduced mobile chipmaker Qualcomm as a new PC silicon partner. Windows 10 PCs on Snapdragon ARM processors with integrated cellular, improved connectivity, better battery life and support for x86 Win32 apps were the beginning of Microsoft's cellular PC category.
And Microsoft has marketed "Always Connected PCs" as a proper name for a PC category (rather than "always connected PCs" as a device description) that possesses specific smartphone-like qualities: instant on, always connected and all-day battery life.
Microsoft and Qualcomm the architects of an always connected future
Qualcomm's multi-device, multi-generation commitment
Qualcomm Executive Vice President Cristiano Amon joined Myerson at WinHEC 2016 and stressed Qualcomm's commitment to Microsoft and Always Connected PCs:
Amon praised Windows 10's full compatibility with ARM and emphasized that the Qualcomm-influenced infrastructure that created the smartphone ecosystem could be leveraged for this new ACPC category. When Myerson asked for Amon's long-term vision beyond the initial devices, Amon replied, "we can take all those [smartphone] use cases straight to the PC."
How Qualcomm and Microsoft are making PCs post-smartphone devices
Microsoft promises and delivers ACPCs by 2017
In a May 2017 video (above) Qualcomm Vice President Don McGuire continued the ARM-focused ACPC narrative which began in December 2016: "We continually look for ways to redefine the mobile experience for customers, which is why we developed the Qualcomm Snapdragon Mobile PC platform.
Chapple recently said, "We [Microsoft] don't equate 'Always Connected PC' with Qualcomm." This PR statement, meant to diminish the uninspiring ACPC's association with Qualcomm, is inconsistent with the narrative that continued with Myerson at Qualcomm's Snapdragon Summit in December 2017. Myerson said, for example:
Myerson defined ACPCs as modern Windows 10 devices with thin, light, elegant designs, touch, pen and ink, Windows Hello, instant-on, and always-connected with a week of battery life. Not all PCs with cellular capabilities fit this definition, though the ARM-based ASUS and HP devices Myerson introduced were supposed to.
Andromeda, folding PCs and Microsoft's vision of personal computing's future
As Qualcomm defends ACPCs, Microsoft wavers
As reviews of the first generation ACPCs have challenged Microsoft's and Qualcomm's claims for the category, Qualcomm has stood its ground through three videos that "prove" instant-on, improved battery life and better heat efficiency.
Conversely, Microsoft pivoted away from the Qualcomm-focused narrative that has framed ACPCs since the category's introduction. Chapple did concede that the Windows 10 April 2018 Update should improve the performance of current ACPCs.
None of this is to say Microsoft hasn't invested in the ACPC category beyond Qualcomm (though a focus on ARM-based devices may be in preparation for Project Andromeda). Instead, it's an indictment of the company's tendency to back away from commitments. Whereas Qualcomm defended a narrative that drove the category since 2016, Microsoft quickly distanced itself from Qualcomm.
Dear Microsoft, please don't treat your partners like you treat your enthusiasts.
Related: Microsoft CEO admits abandoning consumers was a mistake
Jason L Ward is a columnist at Windows Central. He provides unique big picture analysis of the complex world of Microsoft. Jason takes the small clues and gives you an insightful big picture perspective through storytelling that you won't find *anywhere* else. Seriously, this dude thinks outside the box. Follow him on Twitter at @JLTechWord. He's doing the "write" thing!
In those famous words, "Told ya so"... I hope they dont get any bright ideas to do a portable xbox. Window mixed reality is in the crosshairs...adjusts scope....

Ironically Xbox is what could have saved Arm PC's but MS is so utterly clueless and still clings to the dead Windows Phone hybrid strategy. Store in Win10 should be best of Win32 desktop Windows with native Arm/x86 software. Arm PC's should have launched with software recompiled to work from the Store. Xbox should be separate like Steam that covers Films/TV like having a virtual Xbox console in the PC, also Arm/x86. Arm PC's level the playing filed as Steams existing huge library is useless, giving Xbox on Arm PC's a chance to grow. Future hybrid Arm PC Phone's could runs premium games too the one thing MS has that Apple/Google do not. Instead they launched a platform with no game support.

Hey, Microsoft... the best way to get consumers interested in your cellular platform is to have a PHONE!

That didn't work out so well the last 3 or 4 times.

Because they don't eat their own dog food. Visual studio not a UWP. Office apps, still lagging behind the win32 versions. Control panel, still exists. How can devs take Windows seriously when MS themselves never finish it. I got a new MacBook Pro this week. I can take screen shots natively and reside the image before using it. Built in. MS have the coding chops for this, but just don't have it. User experience is still lacking. They still struggle with internal "wars" such a broken company. Good devs lost in a sea of politics. Shame as there are some great people within. Sat Nad still not sorted it. Crying.

sadly, you just don't know how to capture screenshot in Windows? Seriously...

They ate so much dog food they became accustomed to the taste and ended up with products that taste like dog food. That's the problem, poor quality, dog food nobody wants to eat.

Lol at the comment of not being able to take screenshots in Windows natively... As far back as XP there was the snipping tool. It amazes me how many ppl never discovered it. Personally now of days I'm liking the built in double tap on my Surface pen.

dev: why take it seriously if there's no user? We have win10, iOS, Android 3 OSes on the market already, now a 4th (3rd mobile) OS called WinPhone?
user: why take it seriously if there's no dev?
And there's iOS and Android.
How do you break the loop?

That was the problem, can't build up any momentum if you keep rebooting the darned thing.

Jason! Are the words of one employee a total representation of the stance an entire company has on a product?
......
This question is for Jason, not you typical dirt bag cockroach troll.

Hey Rodney, when that position is Microsoft's Windows general manager, her words carry a lot of weight representing the company's position. It should be noted that my focus in the piece is that her response in the techradar interview, from my perspective, downplayed the role of Qualcomm in the ACPC category. It didn't indicate (nor do I say in the piece) that Microsoft is abandoning the relationship. I actually think its critical to Andromeda and the whole "mobilization" (if I can use that word :-)) of Windows 10 and is something both companies are committed to for the long haul. How Qualcomm and Microsoft are making PCs post-smartphone devices https://www.windowscentral.com/how-qualcomm-helping-microsoft-make-pcs-more-smartphones My gripe was that when Qualcomm Snapdraogn-based ACPCs were specifically challenged, rather than quickly defending a relationship that has been aggressively pushed by Microsoft, Chapple in my opinion, responded more like "well there other devices in the category" rather than immediatly showing the level of commitment to Qualcomm that has reflected the push to that point.

Best article I've ever seen you write, but only because it calls out MS better than anything else I've seen on WC. I only wish I could be in a place where I was saying that about a more inspirational article.

So you want microsoft to no include Intel or AMD into the ACPC ambit because Qualcomm would be miffed.. lol.. stop being juvenile.. ACPC was never designed with QC in mind. Intel failed to deliver their mobile chip.. if they do why shouldn't they be considered under this umbrella.. lol.. how desperately are you trying to mark this whole effort as a fail when it is only a first gen product.. something that runs 2 days..

Gigantasaurus, no, I never said that. What I said is that since the specific Qualcomm-based devices were in question, not the whole category that included other partners, an immediate response that references other partners doesn't reflect the level of passion/commitment Microsoft has shown for the Qualcomm /ARM relationship to that point. And nowhere, absolutely no where in this piece do I state, infer or suggest this effort is a fail. A careful read shows: I. An opening with a focus on the words of Chapple that I feel downplayed the role of Qualcomm in the ACPC category. II. A body of text that presents evidence Microsoft's pushing of the ACPC category with a predominantly Qualcomm ARM focus, beginning with the 2016 introduction of cellular PC category with Windows on ARM. As I note in the piece this led to the broad defining of the Always Connected PC as a proper name for a category of PC with smartphone-like qualities (not 'always connected PC' as a product description). III. I close with a return to Chapples response that didn't seem to reflect the passion and commitment that Microsoft had poured into the Qualcomm/ARM relationship. I acknowledged that there are other partners in the category, but Chapples response to the challenges ARM-based devices have faced downplayed a relationship that Microsoft has used as the 'mascot' for the category. So, no I don't think the category is a fail at all, nor the relationship between Microsoft and Qualcomm. The piece was very specific in its criticism. To have extrapolated from that the notion that I am marking the effort a fail is a gross misunderstanding of what I wrote. In fact, I included a quote from Cristiano Amon, Qualcomm's VP, where he expressed multi generational and multi device support for ACPC going into the future, when Terry Myerson asked him what he saw going forward. And I fully expect to see more ARM-based PCs in the immediate and distant future, and Andromeda category devices based on ARM as well.

Ahhh, I see. Thanks Jason.

""Dirt bag cockroach troll"" sounds like you're lonely

""Dirt bag cockroach troll"" sounds like you're lonely

Baby bottles are in isle 3 Rodney. The resident bitchfanboy

"WoA isn't currently our focus."

When did we hear that before? They always say this 1 year before killing something. It's a cryptic way of saying. We are going another direction. (once again).

Which makes you wonder, why the f*ck did you water time and resources on it instead of on mobile, where you actually had a chance before you gave up!?

Those guys need a re-education Imo.

Dump the ACPCs and bring back Win 10 mobile....

But no one wanted W10M either...

Windows 10 Mobile had almost 10% market share in the EU and some places like Italy had 14%, yes I know it was mostly the lumia 520 cheap phone but so what … you can't start with a 1000 dollar phone unless you Apple.. people did like windows phone it was the developers and Microsoft that messed it up by paying developers to make stuff than everyone wanted a hand out, Including Verizon... it became a bribe to sell a phone on Verizon they wanted something in return. like MS CEO said, we are not paying for extortion anymore.
anyways
people did like windows phone the look the feel but the apps were not there ..and some didn't realy care ...

Lumia 520 ran Windows Phone 8 (.1) and not Windows 10 Mobile.

Many people still like Windows Mobile 📱

Not Many people still like Windows Mobile. TFTFY Really, not enough to make it fly as a product.

I want it and I want now!

It's my money and I want it now!!!

I want WP8.1, but not this unsupported abandonment.

Hi Dan, Do you think MS put forth the effort in mobile, or was it a change in leadership that decided it go away?
Would Ballmer have kept a mobile device? Thoughts? Thanks, Mr. V

OMG!!! Let it rest, already. Lol. Use the search button in the top right corner, if you want to stroll down memory lane🙄🙄🙄

i'd rather ask it in a forum......

Wow. Down voting the executive editor. I never thought I'd see the day. WC readers have grown.
Wonderful.

That is an inaccurate statement.

"No One" is inaccurate...Win10 mobile still has millions of followers worldwide!

While Android sells a million+ per day, Microsoft was struggling to hit that number per month. Compared to Android, no one wanted Windows phones.

Win10 mobile fans are not in competition with Android!!! All we want is continuous support of OS from MS in spite of lack of apps.....

They are supporting it, for the next year or two at least. They've stopped selling the handsets, so I imagine security patches end in another year or two.

That isn't support. Security updates are the last thing Windows 10 Mobile needs.

That isn't how business works. Fans have nothing to do with it unless there are enough to support the platform. There isn't.

Doesn't mean that it's not desirable. I still miss mine. Android with Squarehome is alright though.

My grandma drove over her 650 last week, so I got a "used" 950 on ebay for $104. It arrived in 48 hours, and it was brand new! Now I'm using my old continuum dock to project it on a sideways 40 inch TV, so she can see messages and live tiles from anywhere in the room. (Continuum in phone mode, not desktop mode) Win10 mobile gains another follower!

No they had not. Took me some time to realize but mobile was long dead before for Microsoft

"We are committed to WoA"......

WoA Feature 2 'coming soon'

"If no one else makes WoA devices, we will."

How many fails until this Nutella goes?

You're categorizing fail incorrectly. Stock is doing great. Nadella is the first Wall Street CEO and it shows.

Typical shareholder response, he is not popular among users of Microsoft products and that's the key NOT Wall Street.

95% of all people using MS products don't even know who he is and couldn't care less.

The same users who were dumping their 920s when 950s were being introduced and switching over to the iphones and androids.. fickle users!! I remember people dumping mobile en masse when some stupid app decided to withdraw support, like the chase bank.. MS cant depend on this fickle bunch

That is why they need to make fantastic hardware and software to complement it. That "fickle" bunch aren't going to stick around for Microsoft's mediocre experiences.

Who says windows on arm is a fail.. Andromeda will be a windows on arm!! lol.. they are building a base people would want to buy..

Which is why Andromeda is likely to fail...

Performance would be more forgivable if the price wasn't astronomical. Sure, there's a tiny argument to be made that ACPCs compete with the iPad Pros of the world, but iPad Pros have amazing performance relative to the OS that's running it. Maybe these ACPC OEMs should have taken a harder look at their product and realized the performance isn't up to snuff so maybe drop the price and lower the build quality to compensate.

True that, the only reason I would consider ARM over anything else would be the lower price it SHOULD have.

Agreed, the price should be lower. Especially on a first gen product.

The Alarm system repairman showed up yesterday. He had an iPad to create the invoice and accept my payment. Let's just say it took him more than 30 minutes to get the invoice and payment recorded. As I watched, the software froze and then dumped all the info he put into the form. Not a ringing endorsement for the iPad.

Sounds like a software issue. Windows never has those.

Sounds like you're making up excuses for Apple... Let's be honest : no OS is perfect.

But that's the point, iPad fans would have you believe it is flawless.

If thar company could make a decenr iPad app, what makes you think they could make a decent Windows app?

Same issues with Windows 10 Mobile regarding apps. But people will always blame the OS no matter what it is.

Just because the processor is cheaper, does not mean the overall cost of producing a device will fall significantly. Plus price has more to do with the value proposition versus the cost of manufacturing. The iPhone cost less than $300, so why can they sell it for $1000? People value the device enough to pay a huge premium. Obviously, an ACPC needs to outpace an iPad to justify a similar price, given the ecosystem for an ARM-powered ACPC is much smaller. So you can prime the ecosystem with a loss leader for several generations.

You can buy the new iPad starting at $329. $999 is absolutely ridiculous no matter how nice the hardware is. The software just isn't there.

Emulation software isn't touch based and ARM software is basically non-existent. The ecosystem just isn't there, especially if you want to charge 3x a similar Apple product.

So you're saying a Windows 10 device has not enough software? Or just referring to the Store? The first is not true, the second is debatable.

No, Windows 10 does not have enough modern software. Then you have to take into consideration that this machine can't even run what software Windows does have due to performance issues.

Wait... you're complaining that legacy software is not touch based? You're just reaching to anything to complain about aren't you?

"You can buy the new iPad starting at $329. $999 is absolutely ridiculous no matter how nice the hardware is."

It's meant to compete with the iPad PRO, but since you're playing the low ball game and cheating, lets look at the facts: iPad (new) + 128GB of storage + LTE = $559. That's no keyboard. Or Pencil. (HP Envy x2 comes with cover/kb and pen in the box and has 128GB of storage + LTE). Add both of those in and now it's

$805

plus it has a display that is 2.5" smaller and no expandable storage (Envy x2 has micro SD). At the very least, I'd say the Envy x2 is in the ballpark of a similarly spec'd iPad (new). You're getting a great iPad experience, but a pretty crappy PC. If you knock it up to the iPad PRO with LTE + KB + Pencil that's

$1,440

. But go on, tell me how

that

is a fair price. And the whole "starts at.." thing doesn't matter. The PC ecosystem is much larger than Apple's. Not every new, first gen device needs to hit the $300 mark for it to be a winner. (Moreover, I have the new iPad 9.7 + pencil + Logitech keyboard and the Envy x2; so I kinda know how the compare/contrast. Let's just say each has their pros and cons).

You're right on paper but iOS is a perfect tablet OS with a lot of well optimized software. The Microsoft Store can't compete with the App Store and the classic Win32 apps run very bad. But all of this sounds important but in fact isn't. Why? Most people use a browser and an office suite nothing more. But here's the big problem. People use Google Chrome and expect Google Chrome to run well on their device even though Edge runs perfectly fine on WoA.

First devices are out for like 5 weeks - so what is your expectation for native Win32 apps? The Chrome issues might just resolve itself in the not so distance future, since Chromium is open source.
And "run very bad" is certainly the wrong term. They run about as fast as on Atom (e.g. like on Surface 3) and in some instances faster, since the GPU is a lot faster. Unless you want to assert that all Win32 apps run "very bad" on the Surface 3 don not make such claims.

Weren't these supposed to be so much faster than Core m3's possibly even rivaling i3's? Now even native binaries are barely keeping up with completely outdated Atoms which Intel (for some reason I still don't understand) brought back from the almost-dead. :-/ The emulated binaries are nowhere close to achieving native performance, not even after multiple runs, which seems to contradict every statement MS made about their emulation technology. It's almost pathetic. On the forums I was probably the most skeptical of MS' claims in regard to ARM performance and particularly x86 emulation performance. Apparently I was still not skeptical enough. :-( I'm certainly not an Intel fan, but it looks like nobody is really so much ahead of anybody else. Ultimately all IC engineers must bow down before the same laws of physics.

Excuse my ignorance, i did some indepth performance test, and the native performance is very close to CoreM core per core. Multithreaded performance is much higher - while consuming less power. On top of this, i did not manage to get the Envy X2 to throttle frequency ever....- even under load scenarios which make the Core Ms choking and throttling.
Emulated performance is very close to the expectation - hit of factor 2-3 ....similar to the worldwide best JIT implementation which exist - only under emulation i see performance similar to Cherrytrail Atoms.
So either you are trolling or really did expect emulation hit below factor 2? Which reference did you have then for such an unrealistic expectation?

@Cruncher04
MS claimed that emulation would reach near native speeds, i.e. a factor close to 1. I didn't believe that. I thought they might, at best, with some spectacular engineering and direct hardware support, possibly achieve that after the JIT ran a few times, allowing it to assemble a fully native binary. I remained skeptical however, while others watched MS' emulated Photoshop demo and accepted that as proof. I don't know what I expected, but after having stoked everyone's expectations, a factor of 2-3 seems very anti-climactic. I seem to remember you claiming that this would eat anything Intel made for lunch and at least border on Core i3 performance, but I don't have the time to go back and look. I apologize if I'm wrong about that.

I do think that such a claim can only possibly be related to the whole application but not to the part being emulated. Indeed some application show less than factor 2 degradation under emulation. But in the big picture factor 2-3 is very impressive. In fact i do not know any other CPU-CPU JIT engine todate with similar performance. Even Java/C# with JIT engines based on easy to decode intermediate languages typically are at least factor 2.
I cannot imagine that i ever used a phrase similar to "eat at lunch", what i did say in the past is that native single core performance is similar to core M and multicore performance is higher, while efficiency is much better. All of these claims turned out to be spot on. I am typically very precise in my statements - please link if you think otherwise.
As i said power efficiency is impressive, even if i am trying to load the cores and GPU far beyond work a core M3 would be able to process the thing stays cool and at max clock.
Aside from Power Efficiency there are other tings which are exceeding my expectations:
1) Stability - no comparision to the early Lumia 950 days
2) DX12 driver of qualcomm is suprisingly good - for a first attempt at DX12 - i can also run very old games like Unreal from 1998 with DX.

Nvm, i just saw Cruncher04's post.

"You're right on paper but iOS is a perfect tablet OS with a lot of well optimized software."

Right, but iPad makes a poor PC, which is my point. We all know iPads are great tablets. Is it as fun to write a paper, do a spreadsheet on a 9.7 inch iPad with no mouse or trackpad? Not so much.

"The Microsoft Store can't compete with the App Store and the classic Win32 apps run very bad."

Um, no, they don't. I have the Envy x2, do you? Office is Win32, and part sof Edge are too. And you may be surprised at many of the Win32 apps that download and work just fine (i'll show some in my review). Now, is SD835 as good as a Core i5? Not for performance. Is the Sd835 "good enough" for productivity apps, streaming Netflix, watching YouTube, and using facebook? In my usage, absolutely yes. The tradeoff? Envy x2 gets me around 15 hours of usage, is super thin, has LTE on all the time, and instant on. Those are pros for some users. In fact, if I told you an Intel PC had that ability, you'd be very excited. Again, W10A is not an immediate hit, but the experience is much better than what many of you have simply read - and not experienced. (Hint: it's better than Atom PCs).

From all the hype I would've expected more than 15 hours. That's a good long time, but I thought the battery life was supposed to be like 2-3 times that. I mean my $40 Kindle Fire gets like 10 hours (granted, different device category), just was expecting to be more impressed.

I agree with a lot of what you are saying Dan but the problem is two fold. For the price the x2 under performs the Surface in every aspect other than battery life and more importantly, to the point of this article, you are arguing with Microsoft, not us. It undercuts any positive spin you can put on this. Thoughts?

Its also lighter and thinner than the Surface Pro, stand-by time is like factor 5 higher. And contrary to the Surface i5, it never gets warm. You could as well argue that the only thing the Surface Pro i5 has going for it is somewhat higher performance while behind the X2 in every other aspect.

> Envy x2 gets me around 15 hours of usage, is super thin, has LTE on all the time, and instant on. Those are pros for some users. In fact, if I told you an Intel PC had that ability, you'd be very excited. I'm thinking most of your readers wouldn't care about LTE. I personally would add 'super thin' and 'instant on' to the 'meh' list. Battery life...would be neat though. Such a shame they started with laptop (2 in 1) form factors.

And to me Battery life, super thin (portable) and instant on are important. I'm still going to wait for a gen 2 to try it out though.

To be fair, the **** I left in the toilet today is better than an Atom... Sorry Dan I couldn't stop myself, I hope you at least cracked a smile 😊

People still use Chrome. Not any Chromium browser but Google Chrome. They expect it to run good on a high priced PC.

But what if you don't want LTE, 128GB, a pencil, or keyboard? The iPad starts at $329 and gives you options. The X2 gives you no options except a very expensive Windows tablet without much ecosystem to actually put to use.

But if the X2 dropped the Pen and Keyboard, you'd be the first to complain about how they're needed accessories for a PC.

@HeyCori, well said. That would be the smart tradeoff -- if performance is low based on the CPU, then just go for good battery life (the key feature), but use inexpensive components elsewhere and price the thing for $399 (or something in that general ballpark, not sure how much the CPU costs). To be fair, smartphones with an 835 are more expensive and have less in the way of hardware, so maybe that price point is a fantasy, but if so, that could be a problem with this design..

From the reviews, it looks like the poor performance is based on emulation. If they could continue to improve on emulation while Qualcomm continues to improve the performance of their processors, I think the benefits are there. I remember when the first Surface pro came out, reviews kept saying that it wasn't a good laptop or tablet.

The emulation is as good as it gets. The Snapdragon 835 devices are as snappy as any modern Intel core processor provided its running ARM code. Its getting less responsive as emulation is involved, but that the property of emulation. Keep in mind only the emulated app gets laggy not the OS itself or other apps running at the same time.
The the conclusion is only, that more native ARM apps are needed, that all.

So what did they try to run on the reviews?? I think it's fairly clear that these devices are mostly for UWP apps. Using PhotoShop, or even Chrome wouldn't make sense even being supported.

The whole point of this is for ARM to run 32/64 bit software which it does very poorly. Otherwise this is just another windows RT that only runs mediocre apps from the Microsoft Store.

No because RT only ran windows store apps and poorly. This runs UWP etc fine, but emulation software not so good

Most reviewers ran benchmarks, which are without exception Win32 x86 programs, which needs to be emulated. Emulation is best case a degradation of at least factor 2.

Ofcourse emulation was supposed to run poorly and yet someppl here are dreaming of running photoshop on mobile. ACPCs were hyped

I remember endless discussions of people claiming emulated software would rival native speeds, in part based on MS' Photoshop demos which I never took seriously. So much for that.

The fact that we are now able to run x86 software on ARM devices where once we were not able to is interesting. I've yet to try it out but if the performance is anywhere near my Core M3 powered SP4 while providing all of it's benefits I'd be interested. At a reasonable price of course...

But even if emulation is as good as it gets, wouldn't new generation processors provide better performance?

Still too expensive to compete with Intel tablets. With around $999, I can get the new Surface Pro 4 8GB ...

True, but the Intel tablet wont' get 15 hours battery, LTE, instant-on, and be this thin. There are reasons that make an ARM Windows device better than an Intel one. It's relative to the user if those matter.

Yeah and how many people do you think would prefer the WoA device with LTE, awesome battery life and instant on?
We'll see in one year or two.

"Yeah and how many people do you think would prefer the WoA device with LTE, awesome battery life and instant on?"

I like how you're spinning having LTE, instant on, and long battery life as things users don't care about in a PC. The bigger question: Is it safe to assume that future iterations of ARM processors will mitigate the current complaints esp performance? Yes. Also, it's about choice on the market. I'd never use a Core i3 processor, or even Atom myself, but for some people it works. Same with a Core i9. Either way, this is about competition. Intel, AMD, and Qualcomm will all step up their game, because conceptually

everyone

wants a fast PC, with internet, that is instant on. That's a no brainer.

Dan, these pcs would be a great alternative to the iPad if we could get just a few mainstream apps like texture reader. Their app has been broken since I had my surface 3. I would ha e one of these new acpc devices if I could have some of these software apps

Apple, the owner of texture reader, is discontinuing the windows version.

I know. Long before Apple bought them out, the app was broken, so no matter at this point. Plus, It works GREAT on my ipad.

My Surface Book turns on immediately when I open it and gets 10+ hours of battery life. I personally don't care about LTE and do not see any indication anyone else does. It is hard to even find an LTE machine and it isn't because they aren't capable.

Surface Book - 12.30" x 9.14" x 0.51 - 0.90" 3.68lbs HP Envy X2 - 11.53" x 8.28" x 0.27" 2.67lbs I thought the SB would be heavier with the keyboard. In any case, the X2 is still more portable.

Does it matter to you in any form how many people appreciate the new device options we have now in the Windows ecosystem?
Do you thinks its better having less options or even worse, that such devices only exist outside the Windows ecosystem?
Does it help your argument, when people going away from Windows because they just do not find the device they need because Windows is locked into x86/x64?
People live under the illusion, that Intel can in the future compete with ARM in power efficiency - they will not. In contrast ARM devices will soon overtake x64 in performance while consuming less power.

Apfel these devices that are getting poor reviews (I spoke to Mike Fisher Mr Mobile who shares some of the early complaints regarding the device he's using) are first-gen for the category. I'm certain that subsequent iterations will improve the experiences and I'm also confident that more smartphone-like qualities like LTE, awesome battery life and instant on are things many customers will find appealing as this category evolves and gains a foothold.

The mistake you are falling for, is the assumption that this has anything to do with first generation. If you for one moment assume, that emulation is as good as it gets - and most critics are exclusively based on emulation performance - then you need to acknowledge that its not a generation issue. Emulation will always be a few factor slower than native...period.
It does not help that the emulation issue is imo totally blown out of proportion in every single review. An certain Photoshop Filter you apply to your image might run say 1 second instead of half a second or less. Does it really matter?
In any case this is not a generation issue at all - you implying that the device itself can be improved - but as long as you benchmark x86 programs in the reviews - and then ranting how bad performance is without putting things into perspective - nothing can possibly be changed in the upcoming generations - except of course encourage developers to compile native ARM.
And then few years down the road, when we are sitting on our antiquated x86 machines and wonder why Windows never made the jump to ARM while everyone else using modern power efficient RISC machines - and i blame the tech press to a very large extend.
This is the single opportunity to move larger parts of the Windows ecosystem to ARM - but the wait-for-next-generation-attitude is absolutely counter productive, because this will solve nothing. Just say it clear for everyone to understand: emulation can only be a stop-gap solution.

Do u think the ACPC's were incorrectly represented by the Tech reviewers thereby leading to wrong expectations. For ex even the long list of articles here at WC claimed the Arm devices would be all in one PCs and app gap wont be a problem due to availability of X86 programs for these devices, it was always a double edged sword when u hype it so much only only to see it not matching the reality (something similar to the whartonbrooks series)

Actually Techiez, if you look at those articles in context, you see that they are in most cases referencing the evolving category over time not just the first gen devices. That's one of the points I was sure to make at times and found myself having to reiterate in comments as some readers made the assumption that expectations for the category over time with evolving chipsets and other improvements would be manifest on first gen hardware. That's not how the tech world works. Ever. Sure we see some benefits now, and some claims are accurate. But there are bumps in the road and expected room for growth. No new category is al that's it going to be out of the gate. So no, techiez, I dont think ACPCs were incorrectly represented here. I think despite references to this being an evolving category that would improve im time, some readers expected a more mature platform from what is in essence an newborn infant category. Can the industry help mitigate some of the bumps im the road, such as pricing? I think so.

Jason, thats very diplomatic ;)
not just ur articles but many others enjoyed the fruits of assumptions, and I remember you only started to correct readers quite late, now when readers ran with the assumptions that I'm talking about, the reader engagement was no doubt high, probably thats the reason never saw a clear correction from anyone. The so called evolving category was and is still far away, but its also true WC silently let the readers believe the surface unicorn was the end result of so called evolution.

H techiez I don't think we "let them" assume anything. It's just a very laborious take to go into comments and correct assumptions that are clearly addressed in the text that according to metrics some folks are not reading in entirety. So all some readers need to do is read the text and they wouldn't be left with assumptions that they plant in the comments after skipping the bulk of the text or responding simply to titles.
#realtalk 😉

There is typically about a $200 premium for anything with built in LTE, So I think $1299 is the comparable model you are looking for.

I think you are reaching a bit, Jason. Microsoft never portrayed the ACPC initiative as exclusively ARM. They were clear from the beginning that Intel would also power these devices. The partnership with Qualcomm was, however, something new and exciting that the press focused on, and that Qualcomm talked up quite a bit. It was perhaps inevitable that the press over emphasized this in covering the initiative. Regarding the mediocre emulation performance on Snapdragon: we will never know, but I strongly suspect that Intel's threat of legal action caused Microsoft to drop certain technical approaches in favor of more generic ones, hamstringing the platform. Regardless, the bigger failing is not in the emulation performance, but in the lack of a concerted effort by Microsoft to help developers port their existing apps and drivers to ARM. Microsoft seems incapable of mounting any real evangelism effort around Windows these days. The cloud's the thing, apparently.

Few points:
1) Emulation performance is exceptional good in technical terms. Degradation for JIT is around factor 2-3 depending on application, which is world class - so no sign of legal threat caused degradation. Name one other JIT engine which gives better results!
2) Of course if reviewer have not better to do than fire up chrome, which needs emulation, and scroll like crazy to detect the lag on occasion followed by the usual benchmarks, which all require x86 emulation you might come to the conclusion that the devices underperform. (Its still Atom class performance under emulation mind you?)
3) There is no help needed for developers, as the application does not have to be ported...it just needs to be re-compiled for 64 bit ARM. There is a big difference between porting (say from Android to Windows) and just re-compilation.
4) I did re-compile a few apps for instance the latest MAME release for 64 bit Windows ARM. Took me a day, because there were few issues with the code itself. Now its running natively on my HP Envy X2 achieving 60fps with very low CPU load.

Though u may be right on technical terms(I cant say for sure as I'm yet get my hands on 1 such device) but apparently these devices were hyped too much and the non technical crowd fell for the marketing speak. it didnt help when some of the writers on tech sites, picked up the marketing speak and ran wild with their fantasies. I'm afraid that Andromeda ll meet the same fate

Looking into an alternate timeline, Andromeda is summarily executed. Now we'll never have nice things.

Andromeda will still be there, it just wont be what WC wants the fans to believe, the endless hype that a phone like device would run photoshop, visual studio etc etc was always far fetched, yet the lack of technical background for a fan focussed website made them spin fantasies.

Again Techiez, you the Project Andromeda device (the Project is bigger than the hardware) is simply a first generation aspirational device meant to spur a new OEM-supported category of diverse hardware. In the same articles you allude to we made this point repeatedly, which has also been reiterated on Askdan videos and WC podcasts. Here's just one example: Andromeda, folding PCs and Microsoft's vision for the future of personal computing's future https://m.windowscentral.com/why-microsofts-foldable-device-first-new-pc-category-everyone And if you're not inclined to click heres a brief excerpt from the articles opening that introduces the point that is reiterate in the piece: 😉😉😉😉 The hotly anticipated foldable PC isn't just a Microsoft device — it's meant to open a whole new PC category for manufacturers and users. Microsoft's Project Andromeda initiates an evolving category of connected pocketable PCs running built on top of Windows Core OS. This first generation device targets businesses, schools and prosumers. Qualcomm's and Microsoft's combined connectivity and mobile computing strategies reveal a long-term goal to eventually bring this telephony-enabled PC category to consumers as well, however. "We continually look for ways to redefine the mobile experience for customers, which is why we developed the Qualcomm Snapdragon Mobile PC platform," said Don McGuire, Qualcomm's VP, global product marketing. Qualcomm's Always Connected PC push is the first step toward the pocketable PC category that has all the power of Windows 10 desktop computing and the mobility and constant connectivity of smartphones. This emerging category may be Microsoft CEO Satya Nadella's ultimate mobile device vision that leapfrogs smartphones. To envision where Microsoft and Qualcomm are pushing mobile computing (though this may sound fanciful) picture the context-conforming, always-connected mobile device that can be a PC, tablet and phone from the popular sci-fi program Westworld. That device category becoming reality for the masses may be closer than you think and here's why. 😉😉😉😉😉 Here's another example: Why eSIM is important to Microsoft's mobile future https://m.windowscentral.com/why-esim-key-microsofts-mobile-strategy I don't think I can make it any clearer. The focus some have on this expected 2018 Andromeda device is not the all encompassing focus of my analysis. The evolving category of pocketable always connected PCs with telephony that it initiates and that will in time address, through evolving chipsets, hardware and OS is. And that's what I'm driving readers to grasp.

ok, lets consider one of your articles.
"Forget phones — Microsoft will bring a true PC to your pocket".
This one and many others simply made users here believe that full PC is coming to mobile device, though the ones closer to tech knew it was not coming anytime soon, the current ACPCs performance is clear signal to that. Now I understand what you wrote, my point is instead of just fantasizing abt the aspiration a balanced view should have been presented with respect whats technologically possible. I also understand MS retrenchment made MS focused tech websites grasping for topics and the fabled surface phone was the last straw. My only problem is the overhype is hurting MS. Imagine the disappointment if Andromeda is not what fans here imagine it to be, the same hype had killed Cerulean Moment.

Btw how about this for a topic of your next article. "Hey Fans Andromeda is a step towards pocketable PC and not a pocket PC in itself"
A clear piece keeping expectation in check would be appreciated, if you see a backlash from the fans then you know I'm right abt fans misunderstanding what Andromeda is supposed to be..

Upon reading the source article, everything there makes sense. Microsoft originated the ACPCs with Qualcomm. Then, as the technology changed (read CoreOs), it will be possible to see more devices run from different chip manufacturers that fit the Always Connected PC paradigm. When making new devices, and really changing the fundamental use case of Windows, you have to expect Microsoft to partner with more manufacturers of hardware than just one (in this case Qualcomm). On the other side, it makes sense for Qualcomm to be all in with Microsoft when it comes to always connected PCs since there really isn't anyone else looking into this right now. Chrome OS isn't a full fledged PC, but can be used in a PC form factor (laptop/tablet). Apple has been slowing on their development of macOS, and focusing on iOS as the iPhone and iPad are where more of their profit come from. I'm pretty sure that while we will continue to see Qualcomm and Microsoft work on making ACPCs work more efficiently, and drop in price do not be surprised if new devices come out that fit the ACPC definition that aren't running a Qualcomm chip.

Optimistic comment, I like that.

Thanks for contributing. Absolutely the category is already occupied by several players as I note in the piece. As such competition will drive innovation and price. My contention in the piece was Chapple's response when Qualcomm devices were challenged, where she immediately referenced there being other devices in the ACPC category, rather than showing the level of passion that has helped forged the category forward as Microsoft has been very vocal about the Qualcomm/Microsoft relationship part of this ACPC category.

Correct me if I am wrong. Is there an ACPC sporting a Snapdragon 845 available? I don't think you can just take a prior generation (SD 835) smartphone SoC and make it perform at the level of an Intel-powered tablet (Surface Pro with an m3). Maybe the 845 will be a better comparison when it is released.

Point is they performing as Core-M cores only when emulation is involved its getting slower. This has nothing to do with the native performance of the Snapdragon CPUs. Snapdragon 845 will not help solving the emulation problem...only native Software can.

Good point, is 845 not the better choice?

845 its about 20% faster than Snapdragon 835. Emulation on the other hand takes a hit of factor 2-3. What i wanted to say is, you cannot compensate the emulation hit with a faster processor unless its 3 times faster...
What needs to be understood is that emulation is a stop-gap solution until more Windows apps are available as native 64 bit apps for ARM. And by the way its currently a solution which is many cases works suprisingly good be it Snapdragon 835 or 845.

It will continue to under perform as long as it needs to emulate. Said this since the beginning. Windows is too bloated for ARM.

You do realize that the OS is native compiled. win32 app run much better if downloaded through the store. also developers can make an arm package .

You ignore the fact that Windows i running perfectly smooth and snappy on these devices, as it is natively compiled for ARM64. So technically there is no "bloated" windows which comes in the way of performance.

So you can run Windows but with no software? What a terrible experience for $1000. The price needs to match the performance.

There's cheaper options like the nova go
the HP a premium device with premium features sold at a premium price =)

Even the Nova Go is double the price of an iPad! Microsoft needs to release these at like $199 to drive adoption and developer support. Then they can start selling premium devices that deserve a premium price.

Good point, but what good is a fast OS if it runs slow software because of the emulation required for 32/64 bit software. This thing will never take off without developer support changing their software to run on ARM natively.

And developers will never care unless they start selling them. Microsoft needs to make these $199 and sell millions ASAP.

Well, Microsoft can't price them at $199, since the devices are made by OEMs. Why is everyone bashing MSFT on the pricing, when they only provide the OS?

It is Microsoft's platform. They need to set the standards or even subsidize them.

Most of the Software i run is native including tools compiled by 3 parties for Win32 64 bit ARM like 7zip, Notepad++ etc.. few Win32 apps i use i compiled myself for 64 bit ARM, very few are emulated - out of those only few have lag because they are CPU limited. So no issues at all.
And yes we need developers willing to re-compile, but the devices are on the market like 4 weeks? What are you expecting?

And this is all just as I predicted. I have said for some time that WoA would underperform in every way other than battery, and that battery was likely one of the LEAST important concerns for people in the market for a tablet or laptop, with features and performance being higher on the list. It doesn't matter if the device can last days between charges if it's painful to use. And, given that that fool Nadella has made it clear they really only care about cloud, IoT and now AI, you can bet they aren't going to waste much effort to make this issue better. I saw all this coming.

Windows on arm faces same identity crisis problem as Windows rt.
Without 100% x86 programs compatibility and acceptable emulation performance it would never be success.
I hope Microsoft treat this as a long-term project because intel already discontinued atom chips for tablets and AMD is pretty much non existent in this segment.

Windows on ARM is a major improvement from Windows RT in that they are at least attempting to emulate old x86 programs, but honestly, the fact that the first-generation systems use an outdated chipset is an issue. ARM has significantly improved from the early days, but the fact remains that you need a strong ARM CPU and clever emulation coding/trickery to smoothly emulate x86 apps that run on more powerful processors. I think later generations will show an improvement, that is, if PC makers will even bother making a second-generation one.

Yup great Microsoft. Just continue to distance yourself from your partners. You will not have many more chances getting Windows ready for the dominant processor architecture of the next decades. All your competitors will be on ARM soon! Instead you tout your Surface Pro, which is anything than a good tablet as ACPC and by this de-value the ACPC brand.
In fact the shortcomings of the Surface Pro made me buy an HP Envy X2!

review tested on 16299 not 17134
shame.

Its never Microsoft, its always developers, OEM's and customers fault.

Echoing what most are saying, price needs to be way more affordable. Around $300 maybe, to compete with Chromebooks.

Pretty crappy move by Microsoft. Also, no matter how, they're the ones who are going to get criticized for this, not Qualcomm. I'm really surprised. Also, how does this affect the Andromeda device?

Here comes andromida running andriod mark my words.

This was so predictable it's almost not news.

Andromeda has no future witout app development, now this! SMH!

Called it. LTE equipped pc's have been around for years without compromising performance so the only tangible benefit was only ever going to be battery life yet all the MS salesmen and fanboys tried to make this look like something new and revolutionary while dismissing any concerns about performance and always ignored the basic truth, a Windows PC needs to run Windows programs, no excuses. Without that, there just isn't a market for these crippled devices.

If you really think Microsoft and Qualcomm - despite Ward's guesses here - are not doing more around this stuff, well...you're all wrong. Windows 10 on ARM has it challenges, but in actually owning/using one, I think many of you are simply armchair experts based on something you read, not actually tried or used. There's a difference. It's easy to form an opinion on the internet. Things change when you try it out (like all the ex WP fans who hated on Android, and now suddenly are "converts").

Thanks Dan, most commenting here did not even bother to try these devices. They are anything but slow. In some cases my Envy X2 is faster than my Surface Pro (e.g. when i starting many apps with GPU usage.) Example, wen starting MAME 4 times, the Envy X2 runs every instance with 60Hz without skipping a single frame, my Surface pro is starting skipping Frames. The best of all: the Surface pro gets hot, while the Envy X2 stays very cool.
Many people here are commenting, that you can buy a Surface Pro for $999 instead. I bought the Envy X2 _BECAUSE_ i have a Surface Pro and am very unhappy about it shortcoming as a tablet.

You could have bought an iPad for $329 that actually has a full ecosystem of tablet software. $999 is a joke for this device.

As far i did use an iPad Pro LTE (1000$+ mind you?) as my tablet because the Surface Pro sucks as tablet. The Envy X2 is replacing my iPad and partially my Surface Pro...but i keep it as a Laptop, which the Surface Pro is good at as long as i keep it on the charger.
Not sure why you suggesting a cheap ass 329$ device, which does not fulfill my needs? Does it have LTE, sufficient memory, a pen and a digitizer and a keyboard, SD card slot?

Do the right math, bleached. Lemme FTFY: An iPad (new) with 128GB + LTE + Keyboard + Pencil = $805. You also get no storage expansion and a 2.5" smaller display. The larger iPad PRO with 256GB (because you can't get 128) with KB + LTE + Pencil = $1,440. iPad is great tablet. It makes a bad PC for doing any work, even writing in Word, Excel, or anything else. That non-Pro config above? I have it (without LTE).

Good luck with that math. I can walk to the Apple store and buy an iPad for $329. I don't even know where I would buy a WoA device. Which one is going to sell ~10 million this quarter and drive developer support? Which one isn't even going to be on developer's radar, making all that other stuff you mention irrelevant? You need to be screaming at Microsoft instead of justifying this garbage. You are cheerleading them right into oblivion. No one is going to read this site when Microsoft is all Azure and Office.

You have been proven wrong with your math several times. Now you are trying to derail into a sales debate, which is not the point at all.
Finally you have no clue about development because you fail to acknowledge, that a Win32 application is 100% identical for both ARM and x86 targets before compilation. So a Windows developer does not have to develop for ARM...he develops for Windows and then compiles for 2 targets ...x64 and ARM64.
And before attacking Dan, at least he understands, that if there are more people like me, who dropped the iPad in favor of the Envy X2, this means one device more in the Windows camp and one less in the Apple camp - because Windows on ARM is extending device option which cannot possibly be bad for Windows. And it will extend device options even more if Microsoft is going to enter the ultra-mobile market with Andromeda, where you cannot successfully use anything else than ARM.

He's a complete nut ball, and even he hates himself. He's just trollin

Holy ****, After reading his rambling I am agreeing with you Rodney.

Again, it is all about sales. If it is so easy to compile for ARM, why has it not happened? I am sure it isn't because of the total lack of ARM sales, right? Is that your argument? The few thousand of these that might sell aren't going to move the needle at all. If Microsoft is serious about this and a future ultra-mobile device, they needed a $199 version 6 months ago. It still might not be too late, but Microsoft needs to be aggressive. Their current strategy of selling low performance devices at high performance prices will end in failure.

Bleached, you really ARE a twit. Compare apples to apples, not apples to sneakers.

I am comparing tablets and tablets. If you think this doesn't compete with the iPad, I don't know what to tell you.

No, you are not...you are comparing a base tablet (ipad) 32gb no lte etc...with a tablet with 128gb, LTE, keyboard and pen included! Add all that to the ipad and it's more expensive...please try to comprehend that when you COMPARE products. As I said, I can get a 59 dollar Kindle fire tablet....the Ipad is a waste of space because it's ridiculously overpriced.

What if you don't need all those things and don't want to pay $650 extra in accessories? Why isn't there a bare bones version for $199? Why are you against Microsoft being successful? $999 for one of these isn't helping anyone.

The barebones Ipad should be 99 bucks then, since then it would compete against the kindle fire!

Bleached - You know what $329 iPads are useful for in the enterprise? I'll tell ya - a media player. That's it. Even higher end iPads are poor value propositions as they are generally used in single function roles, requiring more of them overall. The best use I've found for low end iPads in the enterprise is for moving internet radio off of workstations.

Ohh, the old Enterprise argument. Why do we care about Enterprise hardware? Isn't that the same argument BlackBerry made?

You really think consumer stuff foots the bills for nuts and bolts R&D? Why the iPad Pro? What's Apple's true innovation? The App store? Who do you think buys a large portion of iPhones? Blackberry didn't just fight and lose on hardware - more importantly they fought the rise of and shift to online enterprise apps - services now available to any consumer thanks to enterprise demands and development.

Multi tasking on an iPad sucks big time. Chrome on anything sucks so running on WoA would be slow. The whole point of these WoA devices is to run everything from the Store but have the ability to run the 32-bit x86 applications that people may need that will never be re-written as x64 or ARM64 apps.

Hi theefman as I say in the piece, my contention is that Chapple downplayed Qualcomm's role in the ACPC category. I am fully confident (and never stated otherwise) that Microsoft is committed to bringing more Qualcomm Snapdragon devices to market. In fact I intentionally included Qualcomm's VP Cristiano Amon's statement: We're committed to this with multiple chipsets and multiple devices. We're committed for the long term and actually may drive together the transition of the PC with 5G speeds and immersive use cases. So, more devices based on the evolving Snapdragon chipset should be expected in the near and distant future. My statements in the piece never said Microsoft was severing the relationship nor future investments. I was very specific to Chapple's words which I felt reflected a downplaying of Qualcomm's role in the ACPC category when they were specifically challenged (not the category to which she deferred) regarding their poor early reviews. In fact I've written quite a bit about Microsoft's and Qualcomm's relationship and the connected future of personal computing the two are forging, even in regards to Andromeda. I still feel that's true despite my calling out Chapple's verbal wavering when first-gen ARM-based ACPC's performance were called into question. Here are some of my analysis of the future of personal computing that is being forged by Qualcomm and Microsoft: How Qualcomm and Microsoft are making PCs post-smartphone devices
https://www.windowscentral.com/how-qualcomm-helping-microsoft-make-pcs-m... Microsoft and Qualcomm the architects of an always connected future
https://www.windowscentral.com/microsofts-and-qualcomms-platform-strateg... Andromeda, folding PCs and Microsoft's vision of personal computing's future
https://www.windowscentral.com/why-microsofts-foldable-device-first-new-...

I didn't hate android till I was forced to use it. I had better respect for it before I used it. Now I just miss my Windows Mobile, If it only had the apps I needed. I wish MS would have said why they cancelled the Android bridge. I heard some say it worked too well and others said it bogged down the system. MS just killed it and didn't say anything. If it was done right it could have single handedly saved Windows Mobile. I just hope Andromeda is a worthy successor and doesn't run into the same app gap issue.

Why didn't that save BlackBerry?

Blackberry had an entirely different issue. Their CEO went off the deep end fighting with Gary Bettman and the NHL trying to get a hockey team for Waterloo, instead of pushing Blackberry forward. Their board of Directors should have got rid of him the minute he started with that nonsense.

But they allowed Android apps.

May be we should see some less guessing write ups going forward.

Android Sucks sorry lol And I'm probably buying a flip phone. I have never had a Windows Phone but we window one core os Comes out. I will Build Windows Smartphone.

I don't know what all the fuss is about, really. I tested the HP device for about two weeks as a daily on-the-go device and was pleasantly surprised. Granted, my usage stays mostly within the Office stack and the browser, but for me that's the point. Emulation is something that the device CAN do, but it is not the main use case. I ran Power BI on it which is very data heavy and it worked just fine.
Not having to worry about running out of juice, or being able to just pop it open and be ready to do some work without having to start up and look for a halfway secure WiFi or killing my phone battery by turning on Hotspot was a big improvement for me.
Could it be cheaper? Sure, but it doesn't need to be.
This will only get better from here.

I wouldn't call it YET, as performance will bound to get better on next generation chip sets. This is the first generation of devices and MS has just released a compiler for ARM64 Win32 APIs. So apps like Chrome can be compiled to native 64bit. (Not sure if Google will do that though) Considering Chrome is already multiplatform and multi-chipset, it shouldn't be too hard to port and at the very least a third party could compile the open source version. Additionally, it is said that the 201804 update provides better emulation. I don't think MS will give up on it unless it doesn't gain traction by Generation 3. By that time I would expect more native arm apps and emulation would matter a lot less anyhow.

Of course I'm not "calling it yet" and actually don't expect to "call it" at all. Microsoft's and Qualcomm's relationship for the future of computing is one that is moving forward and one for which I think there is a great future. My focus in this piece was what I see as Chapple's downplaying of Qualcomm's role in the ACPC category. Never, said they were discontinuing the relationhip or cutting ties. :-)

Feels a bit harsh that you pick one statement and weave an article around that and claim that "Microsoft" is distancing itself from Qualcomm?
MS as someone working with multiple OEMs would pick up right moment context to cheer qualcomm, while at other times be neutral so as not be seen as favoring one of their partners if indeed they are working with other partners on ACPCs

FYI, I didn't choose that title using the "distancing" language. 😉

Come on man, so who chooses the titles to be all click baity, dont u protest?

Most authors don't write their own headlines, in print or online, FYI.

I'm aware of that, Editors do that but then hey dont blame someone else when readers point out the gap, its not the first time, so guess its time for Jason and his editor to have a talk. Btw dont see other articles with click baity headlines.

Heres the thing. Your statement wasn't pointing out the gap, but a claim that "Microsoft was distancing itself from Qualcomm." Now I understand what the title says, but ANYONE who reads the piece word for word from beginning to end (just over 800 words) would see that the claim articulated in the piece, which is being discussed, the piece, is my view of the DOWNPLAYING of Qualcomm's role in the ACPC by Chapple.

OOOPS! They did it again!

Hit me baby one more time!

You could say MS and Qualcomm's love is "Toxic" 😁

People keep forgetting that there is typically about a $200 premium for built in LTE. Not sure why, It should be built in with the WiFi and Bluetooth radios. If QUALCOMM was smart and really wanted traction they shouldn't charge the premium for LTE and should provide it as standard for all chips. Then convince mobile network providers to allow voice and data plans to follow the user across devices. I could see a real always connected PC (With Bluetooth headset and smart Watch) that is always on, take the place of Cell phone for some users who always have a laptop near their person. Quick interactions could take place on the Bluetooth headset and smart watch, more involved interactions could take place on the laptop. All calls could go through the Laptop.

iPad is $329 without LTE or $459 with LTE. Makes the price of these devices totally unjustified.

You are DENSE! So, Bleached, using your logic, I can buy a Kindle fire for 59 bucks. That makes the ipad ridiculous and unjustified at 329.00.

The Kindle doesn't have the build quality and ecosystem to compete with the iPad. So, you know what Amazon does? They severely undercut it. Microsoft doesn't have the build quality and ecosystem to compete with the iPad either but they somehow think they can sell this at triple the price?!

Yup, I picked up a new Fire 8 HD on sale for $28 a couple weeks ago. Netfilx, SlingTV, MLB at Bat, side loaded Chrome, all work perfectly, 10+ hours of active use battery life. I'd estimate that's about 40% of what a $1000 tablet can do for 3% of the price.

Does not matter...it's 59 bucks. that's your main purchase criteria comparing the ipad and the ACPC. 1. it does have the same build quality, 2. YOU ARE NOT COMPARING APPLES TO APPLES. Again, compared the 2 devices with the SAME SPECS....jesus Christ, I use to laugh at you getting on Rodney's case...but **** man, you are STOOPID!

You can't compare devices with the same specs then. The Windows machine doesn't have a touch ecosystem no matter what you price it at. The iPad will always have better specs, even at $329. All those specs you listed do not matter when you have no software.

When will MS understand that not everyone needs win32 software? They should've invested in companies to develop UWP apps for future platforms like holographic and virtual displays, consoles, tablets and wearables. A combined division of Nokia, Surface and Xbox would've been perfect to showcase this. Would've loved to see my Surface Pro running Windows 10 Mobile.

untrustworthy. as a consumer Microsoft does not warrant my trust.

The sky is falling!!!!!!!!!

It fell years ago. Windows is now only 15% of the devices market.

Great article Jason. Sad though to hear Microsoft throwing a partner, especially one as important as Qualcomm, under the bus. Thanks for calling them out on that! ACPCs are one of the bright spots, if not the ONLY bright spot, in Microsoft's mobile "strategy", and I think the issues will eventually work themselves out. Surface had a bit of a rough beginning too. The only Microsoft device as mobile currently is the Surface Pro /w LTE, a great option, but crazy expensive. They need a Surface branded Phone or a Surface Andromeda in order to really inspire developers to start compiling their apps for ARM again, but ACPCs are a great option for folks wanting an iPad-like device with an include keyboard. Would help if Microsoft would start acting like a software company again and start building some great first-party UWP apps compiled for ARM. Resurrecting MS Money would be a great start. There's really no other downloadable personal finance apps on the platform. If 3rd party devs are slow to build ARM apps, then Microsoft should lead by example.

Thanks jp144. :-) I think MS should maintain its passion for all of its commitments and partnerships across the baord and in every context. Of course, the Qualcomm partnership and vision is going forward, but a consistent narrative reflecting a consistent level of passion for all ACPC partners I think is important. Particularly in this case where Microsoft has put a lot of passion and has used Qualcomm and ARM to be the predominant driver of the narrative for category.

What did they expect? They have marketed AC PCs a total of 0 times

Windows ARM is good idea, but unfortunately still very far from nice execution.
Lets be honest here, I won't purchase a Windows ARM 2 in 1 because I already just purchased one 2 in 1 from ASUS which comes with Pentium N4200 CPU, which is better than Surface Pro 3 (core M3 )and as good as the Surface Pro 3 (Intel Core i5 model) but much less expensive (my device cost $500 including keyboard)
Windows ARM to be competitive needed to compete with 2 in 1 $500 like the ASUS Vivo Book Flip 12, so I think this is a no go definitive, as Qualcomm is probably thinking they would sell these devices at $999 (double the price) just with the argument of more battery life but less performance than a Surface Pro 3

wow who would have thought that Natella would abandon another product? Go figure!

Wow, who could have seen this coming? I know, everyone except the delusional fanboys who inhabit this place. "Instead, it's an indictment of the company's tendency to back away from commitments." No, its further evidence of Microsoft doing 1/4 baked ideas (not even half baked). Why did anyone believe that running a desktop/server OS on a phone chipset was going to work? An OS that typically has 90 processes and 1,200 threads running upon bootup? Without ANY user processes running? An OS that - upon noticing that no user is doing anything - will start up additional processes because it feels even more things need to be done? There is a reason why Apple did not just move desktop OS X to mobile devices. They created a.....................wait for it.................MOBILE OS!!!! That people here seem to think that desktop Windows is STILL the answer for a mobile world is beyond preposterous. How well do you think Red Hat Linux - and associated apps - would run on a phone chipset? How well is Oracle going to run in emulation on a phone chipset? A few months ago, there was LOTS of noise here about how WOA and "always connected PCs" was the future. Then these things were released. Total silence here. Now MS is backtracking already. It was clear to many of us that this effort was going to fail, for blatantly obvious reasons. Not because of "the company's tendency to back away from commitments". But because it was an obviously desperate idea, by an obviously desperate company. A company with no clue when it comes to mobile. A company that STILL thinks that "Windows Everywhere" is a viable strategy. Why Microsoft still believes this, in the face of overwhelming numbers, is pure denial. 10 years ago, Windows powered about 93% of all personal computing devices sold. The rest was Macs and Linux. Essentially, if you wanted to get on the internet, you used Windows and Internet Explorer. MS held the keys to the kingdom. Today, when you add up all personal computing devices sold - PCs, phones and tablets - Windows is powering about 15%. IE and Edge COMBINED make up less than 6% of all internet users worldwide. Those are the facts. No "foldable, always connected Windows on ARM pocket tablet with a cell phone built into its case, now with E-SIM!" is going to change the reality.

Please reread the article, I never said Microsoft was backtracking on a category. Ever. I said Chapple, (speaking for Microsoft), downplayed the role of one of the partners in the category - Qualcomm.

The good thing is that we as consumers have the choice of hardware that we do. If I can get a device in the form factor of an iPad mini running Windows 10 on ARM I would buy on today. LTE would be nice if I could share the data with my phone and only need one contract but the mobile carriers will not allow that so I would have to tether.

Not great in the lead up to the fabled Andromeda ultra-portable device (that definitely isn't a phone). Might have helped if these WoA devices had been introduced at a price which was commensurate with their performance.

What a nonsense article. Nothing she said isn't true and I see nothing downplaying in those words. Seems more like an provocative article from that other ms blog.

I considered buying an ARM-powered Always Connected Windows 10 PC until I learned that x86-64 apps aren't compatible. 32-bit x86 apps are, but not 64-bit x86 apps. To my knowledge, that means that any apps and games in the Microsoft Store that list 64-bit as a requirement, will not run. I play Minecraft, and Minecraft req

I don't think the ACPC is the right pitch for the Qualcom-Microsoft collaboration. I was not captured by the first Windows on arm posterchild to be a laptop pc. It would have been more exciting to have seen it pitched as a hybrid tablet or surface book device. hybrid meanding two processors in one device, one high performance intell chip, combined with a qualcom chip. Being that there would be an almost doubling of true battery life by basic low energy type productivity performance like office, and on command tap on to amd or intell high performance chip when needed. I think this would have adressed nicely what many customers and businesses want with better perfance AND better battery life. With the first set of W-ARM and WoW it is somewhat underwhelming where performance sacrifice is too great in real world use. But to a degree I also think it is also still the poor state of windows where many features are still have baked. I personally would still have liked to see how windows 10 mobile on the 10 nm Qualcom chip generation would have worked with a slightly improved continuum. I still would have liked to see a windows in my pocket idea whilst still having a mobile OS. An inspiring swiss army mobile for personal and business use. A pity it is discontinued and in maintenance mode.

Now that we can get an Envy X2 on backorder (http://www8.hp.com/us/en/campaigns/envy-x2/overview.html) I hope WC will purchase one of you guys one so that you can officially review it. Honestly it looks pretty cool, and all 6 of the people who have reviewed it at HP's site have given it a 4 or a 5 star rating. But would like for you guys to put it through the ringer and give your two cents.

PS. The main improvements I'd like to see is: * GPS - would love to have turn by turn directions from the Maps app on a man-sized device! * Calls - I think there SHOULD be the ability to make calls from the device, even if it's just a $100 worth of free Skype credits with every purchase (compliments of MS not HP). * Texts - I've always thought they should fix the SMS in Skype so that not only you can send texts but that you can also RECEIVE them. I for one would love to send and receive texts using a real keyboard, and while I'm getting other work done. Especially when I'm traveling. * eSim "On Demand" Data - The ability to purchase data plans on-demand and on-the-go when you need it would truly make this device unique. I'd happily pay $3 to $5 for a days worth of data when I'm on the road.

Simply, ARM is weak. Not only in Windows, but also in Chromebook Intel CPU is much more popular for heavy tasks.

I see the current gen Snapdragon 835-powered devices as more a proof of concept. I don't think ACPCs will really take off until 845 which score nearly 2000 points more than 835 in multi-core testing

Well anyone thinking that Microsoft is a reliable company must really be a strange person. I was that strange person once, but I'm simply moving on to the competition as their offerings seem to be more reliable and usable.

I don't understand how Microsoft can keep releasing half-way products with zero marketing and expect them to transform the market? Surely they must know that going all-in is critical for any product category launch to gain traction? Perhaps they knew that these machines were underperforming and compromised and therefore didn't spend big on marketing or pushing them. In that case however, wouldn't the wise move be to not release them at all until they were ready?

Microsoft was born in 1975, and it became the most powerful software company in the world, but in the last 5 years it acts like a crappy startup company. Lots of hit-and-miss, not a clue of what to pursue, and the few good ideas got scrapped after being covered in Nadella's cloudy poop.
The behemoth that once ruled the Desktop computing, is now happy creating launchers for Android. What a shame.

Because the desktop computer market is contracting. Enterprise upgrade cycles are now approaching decades (we use Windows 7, released in 2009). They've tried a mobile play several times only to find consistent failure. They got surpassed by the competition in the consumer space. They're turning to the cloud to keep revenue consistent. How else could they have afforded the teens of billions of dollars they burned on mobile?

The problems with Windows 10 on ARM CPU"s through use of emulation software stem from the fact most emulation software slows down the execution of programs. Microsoft Software
Engineers have to find a away to speed up the execution process & this is going to take time. Hmm
I wonder if Microsoft would be better off just recompiling their software to work on ARM'sCPU's
like they did for Windows 10 phones. I wonder what the CPU the Andromeda device will use.
hmm how small a device can an Intel Core M CPU can be used on. (n 8 inch tablet perhaps ?
they are better than Intel Atom CPU's are but are not as powerful as Intel i5 or i7 CPU' are
Intel's failure to make a good CPU for small mobile devices really hurt Windows in the mobile
devices World

Windows on ARM has potential. I was even considering buying a Windows-on-ARM PC but ultimately opted for an AMD Ryzen-equipped HP Envy x360 and I'm glad I did. I am a freelance translator and I use some Win32 apps (that my clients require) to complete my work (Translation CAT tools like Trados Studio, MemoQ, Across), all of which are available as x86 binaries and would have ran on the Windows-on-ARM PCs fine because (for the most part) they are not really processor-intensive programs (as processor-intensive as Microsoft Word). However, the initial benchmarks for these systems were seriously disappointing and I simply could not justify paying $800 for a Windows-on-ARM PC when the HP Envy I bought is SIGNIFICANTLY more powerful, snappy, has decent battery life (for my needs) and has a decent graphics chip to boot. I multitask a lot and have Edge/Chrome open with 6-7 tabs, Microsoft Office, Adobe PDF, Spotify, Microsoft OneNote, and one or two CAT tools open at a time, and I think this would have bogged down the Windows on ARM system...I will wait several generations to see how performance fares on later chips because I am still interested in having that 24-hour battery life but not at the expense of compatibility and speed/performance.

There are two things that really hit the "always connected PC" architecture. The first is the assumption that normal people want to be always connected to work. The reluctance of people to pick up that call out phone after 8 hours at work speaks volumes. People want to go home and not be at work. Always connected to the office is conceptually a small number of people including workaholics. Secondly, if people do work the power and the performance is what PCs deliver to get real work done. The PC is there to get work done and to be switched off as soon as possible. People move to their Android and IOS devices to consume entertainment and music on the move. Microsoft has no offer in that space anymore. Microsoft is the business company and people just want to disconnect as quickly a possible. There is no real reason to be "always connected".

I agree, I don't really get how always connected is a feature. Like if my laptop is closed and sitting in my laptop bag, why would I care if it's checking emails or whatever? Granted I don't use a laptop so maybe that's useful for some people in a way I'm unfamiliar with. Same with instant on, sure if you can reduce boot time to zero, great. But reducing 30 seconds to zero isn't enough of a draw to get me to drop $1000.

I still believe in the idea of ACPCs, and would like to have one myself someday. The mediocre initial reviews trouble me a whole lot less than Microsoft's response to them. To be fair, this doesn't absolutely foretell Microsoft abandoning the category...but it sure feels uncomfortably familiar, doesn't it. Here's to hoping we're all wrong. At no point in the foreseeable future will ACPCs ever become a viable "performance option". But I certainly think they are perfectly viable as basic "communter car" computers...or at least will become so shortly...assuming MS doesn't BS, anyway. Cheers!
Windows Central Newsletter
Get the best of Windows Central in in your inbox, every day!
Thank you for signing up to Windows Central. You will receive a verification email shortly.
There was a problem. Please refresh the page and try again.