How to monitor network usage on Windows 10
When you have a limited data plan, it's a good idea to monitor your network usage to prevent going over your data cap, and in this Windows 10 guide, we'll show you how.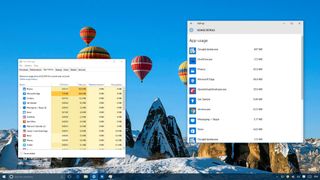 Internet service providers are constantly trying to improve their network speeds to lure customers into faster data plans. But sometimes these faster plans come with restrictions — the dreaded metered internet connections, enforcing a limit on the amount of data you can send and receive.
If you find yourself in such an unfortunate situation, it will be critical for you to monitor your network data usage regularly. Thankfully, Windows 10 includes tools to monitor network usage to prevent you going over your data cap.
In Windows 10 there are two different ways to monitor the data that apps can send and receive in a given month, and in this Windows 10 guide, we'll show you how you can monitor your network usage using the Settings app and Task Manager, and their pros and cons.
How to check network usage with Task Manager
Right-click the taskbar, and click Task Manager.
If you see the smaller version of the Task Manager, click the More details button on the bottom left corner.
Click the App history tab.
In this section, you'll see the date since Windows 10 began monitoring the data usage on your apps. You can also click the Delete usage history link to reset the data usage counter, but remember that it'll also reset automatically every 30 days.
The data that is more usable to you is the Network column which tracks the data usage for your apps. You'll also see the "Metered network" column, but this information is irrelevant unless you configure your Wi-Fi connection as metered.
Oddly enough, the problem with the App history tab is that it only tracks Universal Windows Platform (UWP) apps, you can't view network usage for desktop applications, such as Chrome, the desktop version of Office apps, and others.
How to check network usage with Settings
Use the Windows key + I keyboard shortcut to open the Settings app.
Click Network & internet.
Click Data usage. Under Overview, you'll see the total data usage from the last 30 days for Wi-Fi and Ethernet connections.
Click the Usage details link to view network data usage for all your applications installed on your computer.
The biggest advantage of the Settings app is that you can not only view Universal Windows Platform (UWP) apps, but you can also see data usage for traditional desktop applications.
However, the Usage details page shows only the total network data usage, and unlike the Task Manager, you can't view metered network usage, tile updates, or CPU time information. In addition, this view won't give you the option to reset the usage history or since the date when the data usage is being tracked.
As you can see, there are pros and cons with either tool, but you should consider using both to have a complete overview of which apps are using the most data and help you to manage your metered internet connection plan better. Of course, if these tools aren't enough, you can always find different software solutions online, or in some cases, you can configure your router to monitor your data usage -- just to name a few.
How do you monitor network data usage in your network? Tell us in the comments below.
More Windows 10 resources
For more help articles, coverage, and answers on Windows 10, you can visit the following resources:
Windows 10 help, tips, and tricks
Windows Central Newsletter
Get the best of Windows Central in in your inbox, every day!
Mauro Huculak is technical writer for WindowsCentral.com. His primary focus is to write comprehensive how-tos to help users get the most out of Windows 10 and its many related technologies. He has an IT background with professional certifications from Microsoft, Cisco, and CompTIA, and he's a recognized member of the Microsoft MVP community.
Please, don't forget "Resource Monitor" for a someway "real-time" process usage (resmon.exe)

Yeah I use Glasswire too but it freezes and lags a lot on my 64-Bit Windows 10. Anyone know what's the problem?

Would it also show data used by adware/spyware/whatever unwanted stuff?

I think you'd need something more advanced for that

Do these solutions show data usage on just the computer used or on the entire network (desktop, tablets, TV streaming, etc.)? Everthing connected to the network?

Some routers have the capability to log the entire network.

Next tutorial : how to right click with a mouse?
How to turn on a computer?

Golly gee. I wish I could be as smart as you and already know everything. You are quite an impressive person.

Yes I know already.
Don't give up man.

Lol youd have to know that to use a mac as well

What on earth could Google update be downloading that surpasses OneDrive and Photos combined?

Lol maybe their secretly using you computer as a server

I'm using NetBalancer. It can be used for monitoring and setting priorities to processes. After the trial period you're limited to setting 3 priorities only, but it's more than enough for me. Also it has a cool display in the taskbar so you can easily check in a glimpse how much traffic is being used (very useful to find out when the "god blessed" Windows Update decided to start its downloads). Recently I'm having a few issues with processes not showing up correctly. Don't know if it is related to the Insider Preview build, though.

Download du meter.... It shows real time network speed & data usage for all process .it is the best app for monitoring data usage and speed

My advice... get rid of the Google products. They are eating most of your bandwidth and spying on your personal secrets.

But data usage setting of Windows 10 Mobile is a crap one - showing inconsistent data usage

You can also see bandwidth usage for all apps on Task Manager. In the App History tab, go to "Options -> Show history for all processes." It will also list data usage for software that's no longer installed.
Windows Central Newsletter
Thank you for signing up to Windows Central. You will receive a verification email shortly.
There was a problem. Please refresh the page and try again.