How to remove devices you've installed apps on from your Windows 10 Store allowance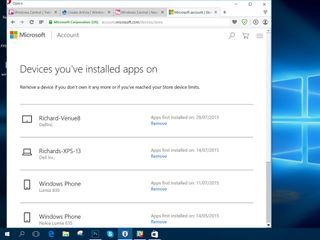 Windows 10 apps can only be installed on a maximum of 10 devices at any one time. That sounds like a lot, but it will include any Windows 10 devices. Old phones and tablets you no longer have, for example, same deal when you get a new PC. The old one may still be taking up some of your allowance.
Fortunately it's incredibly easy to keep track of and remove old devices. Here's what you need to do.
Open up the "Store" app on your Windows 10 device
Click on the little circle that has your account avatar in it.
Click on "Settings."
Under "Account," you then need to click on the text that says "Manage your devices."
You'll be taken to a sign-in page. Log in with your Microsoft Account.
The resulting list will show you everything currently activated for Windows 10 apps against your account. Click "Remove" next to any that you don't want any more.
This will ensure that your 10 slots are only being taken up by computers, tablets and phones that you're currently using. Any that are removed will need re-authorizing to use Windows 10 apps from your account on again.
For more Windows 10 tips be sure to drop by our dedicated page here
Richard Devine is an Editor at Windows Central. A former Project Manager and long-term tech addict, he joined Mobile Nations in 2011 and has been found on Android Central and iMore as well as Windows Central. Currently you'll find him covering all manner of PC hardware and gaming, and you can follow him on Twitter and Instagram.
Great! Is this separate from the devices you own for the find my phone, or onedrive backup?

Music needs to be updated to allow the removal of more than one device every 30 days.

What are you saying? That'll be so inconvenient.

how would that be inconvienient ? Right now you can only remove devices once every 30 days. Being able to do it more would be better.

Well, even though the text says it, you are actually allowed 2 devices every 30 days, but there shouldn't be a limit on devices at all. No other music services says "Sorry but we have a 4 device limit." This limit needs to be removed if they are going to compete against other companies.

i dont know why the page of devices is putting an error :
Try another page. This link isn't working.
Try searching for what you need or try the links below. For your Microsoft email, go to www.outlook.com
Learn more about Microsoft account at https://www.windowscentral.com/e?link=https2F%2Fclick.linksynergy.co...
Help with Microsoft account
any solutions?

Same thing here... Been happening for ages... In fact all the sub-links under devices are doing the same thing... I tweeted to Microsoft that there were several broken links but nothing changed!! Could it be cause I'm not in the US?!?!

Same here. I've been trying to access those pages forever. Contacted support via the app, they said they've been having issues with their website.

Dell Venue 8
Dell XPS 13
Lumia 830
LLumia 635
Richard you have very powerful machines man.....

This is a completely idiotic limitation. What's the point of having Windows everywhere if I only can install apps on 10 different units? I'm very close to this limit already, and Windows 10 hasn't been around that long. I'm not even using Windows 10 on my phone yet! Windows 8.1 allowed installing apps on 81 devices. I was therefore hoping Windows 10 would allow up to 100 devices...

Shouldn't be a limit at all, no other company has one. I'm in the same boat, I build computers a lot and with every spare part I put into other computers to build another for like a media server or really anything, and I'm almost maxed out. This really sucks.

10? that is a very low number when you think about it.

Wait. Windows Central uses Drupal?

That's what I'm asking too -- who cares about the article!

My problem is that it seems to be duplicating some devices. My SP3 appears twice. There are also several (8 devices) that I just can't identify as they just say 'PC'. Apparently I have 12 devices at the moment when in reality there are only 5. I have no idea what to remove but as it doesn't seem to be a problem I shall ignore it until I'm pushed.

Same here. I have a bunch of PC.

I guess it's not just me.... My SP3 appears three times.

Hey Richard, I cannot look up my devices as you mentioned in the article. Please advice me. Check out this screenshot: https://onedrive.live.com/redir?resid=ECF64CD43F4DD4A5!8801&authkey=!ANR...
Windows Central Newsletter
Thank you for signing up to Windows Central. You will receive a verification email shortly.
There was a problem. Please refresh the page and try again.