How to remove Windows 10 Technical Preview from your Surface Pro 3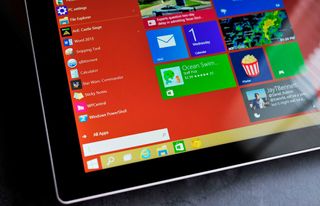 Advanced Tip Series!
There has been a tremendous outpouring of comments on Windows 10 Technical Preview, both positive and negative. Some people have had a lot of luck running it while others have run into problem after problem. When you're dealing with a software preview, that's just the nature of the beast.
You may be one of the technical daredevils that boldly loaded Windows 10 on your Surface Pro 3. You may also be one of those sad souls who now regret that decision. If you fell into the second category and neglected to heed all the warnings about creating recovery media for your device, Windows 10 install has almost certainly wiped out the recovery partition on your Surface. This missing recovery partition makes an easy return to Windows 8 impossible.
Not all is lost though. You can still bring Windows 8.1 back to your Surface Pro 3 using a USB recovery drive. A lot of people have been hitting a stumbling block when trying to recover their Surface because it recognizes that Windows 10 Technical Preview is installed and thinks you are using the wrong version of the recovery disk.
BE WARNED! This action will wipe out your Surface Pro 3 and all of the data on its hard drive. Was I clear enough?
Let me start by saying that if you are attempting this, the assumption here is that you have some level of technical know-how. For that reason, I am not going to spell out certain processes, like how to format a USB drive.
You backed up all of your data, right? Okay, let's do this.
First, download the Surface Pro 3 recovery media

(opens in new tab)

from Microsoft
Next, extract the contents of the downloaded ZIP file onto a USB drive that has been formatted with the FAT32 filesystem. You will need at least 16GB of on the drive.
With your Surface powered off, insert the USB drive.
Press and hold the Volume Down button, and then press and release the Power button. When the Surface logo appears, release the Volume Down button.
Choose your language and country, and then go to Troubleshoot > Advanced Options > Command Prompt.
Type "diskpart" then press Enter
Type "select disk system" then press Enter. This action will select the drive that the operating system is loaded on. There's no turning back after this next step…
Type "clean" then press Enter. Your hard drive is now erased.
Type "exit" then press Enter
Turn off your Surface and power it on using the method in Step 4
Choose your language and country, and then go to Troubleshoot > Reset your PC
Click Next
Click "Yes, repartition the drives."
Follow the prompts to begin the recovery process
If prompted, confirm that you want to clear the TPM (trusted Platform Module) by pressing F12
Your Surface will now boot up and finish the installation. You then will be directed to the initial device setup, starting with Region and Language settings.
Hopefully, everything is back to normal now. You can sign in, download all of your apps and move your backed-up data to your newly-restored Surface Pro 3.
Want to see what Windows 10 is like on the Surface Pro 3? Make sure you watch our hands-on video and in-depth article about our experience with it.
Related Reading:
Have any of you gone through this process? Tell us about your experience in the comments!
Can I install Win10 on a simple Win8 tablet? Like Lenovo Miix 8?

You can, but it is not recommended because the Technical Preview is not geared toward touchscreen devices. It is meant to be used more with keyboard/mouse.

You can install it on any x86/x64 Windows machine. So yes, you could on the Miix 8. However, I advise against it as the touch experience in Windows 10 at this point is not nearly as good as the mouse/keyboard version.

Dan, I totally disagree with your assessment of the touch experinece. I have been running Windows 10 Technical Preview since it was release on my Dell XPS 15 Touch Screen laptop and I have no issues. I did run into driver problems but I loaded the current Windows 8.1 x64 drivers just fine. My touch screen experience has been just fine, but that's probably unique to hardware specific scenarios. Unlike Apple, Microsoft supports literally millions of hardware configurations, so expect a few glitches. This is a "TECHNICAL PREVIEW" and it is NOT meant for the average user whose never installed an OS before. My two cents Robert

Robert, it may be a touchscreen device that youare using - but its still a laptop - hance the UI is geared to the mouse and keyboard setup which is already present on your device. Trust Daniel and others (incl me) who are using this on a TABLET - no keybaord attached and no mouse to use - the UI is NOT greared yet to the tablet scenario like Windows 8.1 was.

Hi Daniel, so this article u were talking about right?

You can, but it doesn't get you much. The current preview of Windows 10 mostly includes things that help desktop users. I have it on two desktop (okay, non-touch laptops) and it's working fine. I have not put it on any of my primarily touch devices, like my Dell Venue 8 Pro, because I don't think it will benefit me much. If you decied to put it on your Miix 8, maybe sure you make your backup media first. With the DV8 Pro I've read some stories about driver issues. Make sure you have a back out plan.

I have it on my DV8 Pro, and can confirm some driver issues. Those were easily solved going back to Dell support and loading the ones for Win 8. The install just diddn't pick them up. I can also confirm the touch support at this point sucks. Not that touch doesn't work, it works fine, but Modern apps only open as windows on the desktop, and a number of the touch gestures, are not available. I would NOT recommend this on any small tablet, or any tablet you primarily interact with via touch. My DV8Pro is a 'spare', so I am not out any productivity. I am however able to note the issues in the feedback app and forums, so they don't forgewt to add the previously excellent touch features back. While they say this geared towards enterprise/keyboard/mouse I am concerned they may forget about things they left out. There is precedent for MS forgetting how to implement features when 'upgrading'. Ask anyone with a WP8 who used to be able to sync media wirelessly on their WP7 and Zune, or waited a couple of years for someone to figure out week view on a calendar, and I'm still waiting for profiles that I had on Windows Mobile to come back. Anyway, Win10 is like having Win 7 on a small touch screen.

I have it in my Dell Inspiron and it's fine except for can't as attachments to my exchange email and neither of my games work...gt racing and mc5. With mc5 it starts the program then logs me out and goes to sign in screen for my wife. I like the windows 10 over windows 8 easily...

There seems to be an issue while picking files. Attachments don't work, subtitles can't he added in the VLC app, can't add picture password. All these require the File Picker. Maybe some bug in that.

I added picture password without any worry ... And working fine now :)

I'm dying to get windows 10. many of my friends too. come soon.

I rather want to see what windows 10 for phones will be like, because I don't use my laptop that often...

Just installed on SP3 today - so far so good.

Nice instructions, you who wrote this article. Seriously. No I'm not being sarcastic. I am surprised at how easy it seems to be to fix it. I suppose this is the beauty of SSD's.

Thanks. You are correct, SSD's make recovery a whole lot faster these days.

I assume this works for Surface Pro 2 as well?

It should be very similar, if not the same.

That red keyboard looks slick.

How exactly do you 16GB? lol

Win10 TP has been fine on my SP3, just a few minor niggles. The touch experience is not as good as Win8.1 yet, but for Win7 users (wife) it's a lot easier to grasp.

Running fine in my Dell latitude e5500

I want it on my Surface 2 RT!!

What about it? Wait for retail 10.

Windows 10 Tech Preview is not available for RT devices yet.

Whoever needs these instructions has no business installing it and has simply done so because it is ' new' and free. These are previews for a reason and you never install them on a system you use for work or one that you don't have and understand recovery options for.

Come on, we did it too when we had no business doing so per your ontological point of view. However, this is how we learned too.

Exactly. Thats how we learn - as long as we understand the risks. Some people have this attitude that there is no business for people who need instructions to install this. What rubbish mentality.

Don't install it on a main machine. This is what the vole said. Be smart hyper v works wonders......

I was surprise anyone with a SP3 our other touch device installed it. It's an enterprise preview for heavens sake.
We're extremely pleased with it as an upgrade path for our Windows 7 key/mouse users. Interested in what is new come early 2015 too.

It really is so much better for keyboard/mouse users than Windows 8, and even 8.1. Much more business-friendly.

I did this on my 1st gen Surface Pro and it would not boot from recovery media. All I could get was the UEFI secure boot configuration options. After much searching and handwringing I discovered that although my recovery drive booted great on my desktop, it wouldn't boot on my Surface Pro. I found that I had to format it a little differently. The instructions at this link saved me. http://windowsitpro.com/windows-8/q-how-do-i-create-bootable-usb-stick-c...

I'd love to install it on my device, but testing it would take too much time for me and I really couldn't and shouldn't because it's just one laptop... No second there...

That's a good decision. Like a million people before me have already said, this should not be installed on anybody's primary computer.

I wonder if there is any way to do a dual boot on the Surface Pro 3 to allow the use of both Win 8.1 and Win 10.

If you create a separate partition from your free space you should be able to, but you'll be pushing it for disk space on a 128GB model. I'm running it on a 64GB partition I created on a laptop I use regularly and of the 63.9GB I started with, currently sit at 36GB free without having installed many apps or other programs.

You still lose the recovery partition correct?

Is anyone else getting Network errors while downloading? Seems MS servers can't hang.

I had to try the download of the recovery drive files several times before it was successful.

I have loaded it onto a Alienware X51R2 Intel Core i7. I have had no issues except running Avast antivirus. I find the build very stable.

I installed the preview on windows 7. Will it go back without problems?

Hahahahaha, no more Windows Preview for me after the disaster that was Windows 8.1 Preview, which ended with my Desktop Computer wiped clean by a Microsoft Tech via remote access. I'll just wait until 2015, when Windows10 is officially launched.

I put it on my SP3, it has been mostly fine, but OneNote is all wonk. You can't add more than one organizational account, which completely ruins it. Desktop OneNote solves that problem, but I have no idea why they'd make such a bizarre change.

Im just going to let it keep chuggin' win10 on my surface pro 3. I've had almost no issues, none being major.

Partitions are your friend

Funny that this works on the SP3. When I tried exactly the same in my Dell Venue 8 Pro it failed to repartition the drive and I had to manually repartition it and copy the image over, which is a rather painful process.

I will be waiting for continuum to make the leap.

that is why the code is in there so they can find problems with the preview....duh..remember u signed a agreement when U downloadd it for testing...lmao

I just bought an sp3 and installed w10preview after its first ever boot LOL :)
100% happy with it.

OK question: why FAT32? I'm guessing more than half of us share the opinion that NTFS has been outdated for a long time, and are just waiting for the new and improved!!
So can it really be the case, that you can't install on NTFS instead?

Only the USB drive needs to be formatted as FAT32. The drive on the Surface will be formatted to NTFS during the installation.

Would this work with say another set up, I've got a windows 8.1 device, could I potentially create a recovery drive to use on my main machine? I installed the preview thinking I can always go back, because I bought the Windows 8 disk. Yet I've searched my house up and down but I can't find it to return!

It like windows 7 but camfertable i like ti........

Hi! Just wanted to say that these instructions work just as well on Surface Pro 2 too... :)

How do I press f12 without a keyboard
Windows Central Newsletter
Get the best of Windows Central in in your inbox, every day!
Thank you for signing up to Windows Central. You will receive a verification email shortly.
There was a problem. Please refresh the page and try again.