How to schedule a Skype call on Windows 10
Skype lets you schedule calls, and in this guide, we'll show you the steps to perform this task.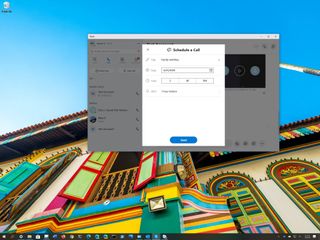 (Image credit: Windows Central)
On Windows 10, the Skype app allows you to schedule calls, which you can use as a reminder for important calls with family or friends without the need to share a calendar or sending emails.
When you use the schedule a call option on the app for Windows 10, you'll receive a notification once the invitation is accepted or declined. If you're using the mobile app, both parties will get notifications for any updates, and you can set a reminder before each call, and the invitation will appear in the "Calls" tab.
In this Windows 10 guide, we'll walk you through the steps to schedule a call using Skype.
How to schedule calls on Skype
To schedule a Skype call on Windows 10, use these steps:
Open Skype.
Select a person from your contact list.
Click the Schedule call button from the bottom-right corner.
Specify the title of the meeting. For example, "Family meeting."
Use the Date setting to select the day of the call.
Use the Time setting to choose the start time of the call.
Use the Alert setting to get a notification before the call.
Click the Send button.
Once you complete the steps, the recipient will receive a notification about the call, which they can accept or deny from the Skype chat history.
Edit or delete Skype call schedule
If you want to modify or delete the call, use these steps:
Open Skype.
Click the chat where you created the schedule.
Click the Edit button.
Change the title, date, time, or alert as necessary.Quick tip: Using this page, you can also delete the call schedule.
Click the Save button.
After you complete the steps, the Skype call will update or remove from the chat history and "Calls" tab, depending on your configuration.
Mauro Huculak is technical writer for WindowsCentral.com. His primary focus is to write comprehensive how-tos to help users get the most out of Windows 10 and its many related technologies. He has an IT background with professional certifications from Microsoft, Cisco, and CompTIA, and he's a recognized member of the Microsoft MVP community.
OK, but a problem for many (not all) is finding someone on the other end that uses Skype these days.

True. I mean, there are only 800 million users. What a failure. OH, you meant on your iPhone!

laugh all you want Khaaannn, but I'm beginning to lose track of the number of people who have asked me to do Facetime!! Sadly, I agree with Dave47, what was once a mighty empire of internet communication is now a desolate wasteland of stragglers. :(

Skype was once a synonym for video chatting. What happened? I remember a slew of atrocious designs a few years ago, that made me ditch it. Plus chatting now is mostly on mobile devices that have their own built in video calling features like Face-Time. I still use Skype once in a while. It does have the best connectivity, better than Face-Time.

I used this for the first time yesterday for a virtual family Quiz and it worked well reminding us when the call started. While you can edit a scheduled call it does not let you change the invitee list which was disappointing (workaround is to delete the scheduled call and recreate) My biggest confusion is which app to use on Windows 10 - the Store/ UWP version or the download from Skype.com

Also, I couldn't see this article in in you Windows 10 app (later stories are appearing)
Windows Central Newsletter
Thank you for signing up to Windows Central. You will receive a verification email shortly.
There was a problem. Please refresh the page and try again.