How to send an email with Cortana on Windows 10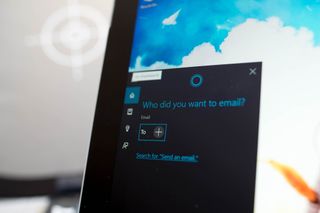 Cortana, your personal assistant on Windows 10, can help you send an email without opening the Email app or even touching the keyboard. Want to see it in action? Check out our how-to video with the Surface Pro 3.
1. Tap the microphone button inside the search form located in the taskbar or use the keyboard shortcut, Windows key + C. This can also be enabled by saying Hey Cortana if you turned on that option in the settings.
2. Say, "Send an email to [Person's name]," followed by the message for the email. Cortana will prompt you to select a contact if she doesn't find an email address associated with the person or if the name matches multiple people.
3. Cortana automatically inputs your contact's email and the message with the subject, "Quick note." She then asks if you want to send it, add a subject, or make any changes. You can make changes using your voice, touchscreen, or mouse pointer.
4. If you're happy with the message, go ahead and say "Send."
That's it! Cortana uses the People app to find the email addresses, so you can add your contacts there. Sending short emails with Cortana is very handy, but I wouldn't use it to send longer emails. Have you been using Cortana to send some emails? How was your experience? Let us know in the comments!
For more resources, don't forget to check our Windows 10 help, tips, and tricks page. Or if you have any questions, you can always count on our Windows 10 Forums at Windows Central for more help.
Windows Central Newsletter
Get the best of Windows Central in in your inbox, every day!
This post has now made me more impatient for Cortana!;-)

got it from desktopography.net

@gmail.com? What is this, 2005?

do i need to get rid of this too? It was really hard leaving @aol.com

No, @aol.com is officially retro now. Vintage is in. Hang onto that Gmail address till 2030 just in case.

I dropped Gmail when I saw an ad (back when I used it in-browser) that was based directly on content in my recent emails.

That's Google, in every service they offer.

Yeah. The only Google service I use now is YouTube

Just setup a gmail forwarding to your outlook.com email. Start replying to people from oulook account and have a signature line on your emails - 'Please note my new preffered email and update in your contact info'. You could also make a HowTo video on this topic for WindowsCentral!

I did that, except I also set a Gmail out of office/vacation reply that informs anyone who sends email to my Gmail address that I don't use Google services anymore as a result of their privacy policies and anti competitive business practices :P

Finally! An actual useful tip that I didn't know about!

Does Cortana not yet have the ability to recognise a question & accordingly put up a question mark?

I haven't tried this much on the desktop, but I do know that the phone version does question marks automatically when sending text messages by voice, so I don't see why the desktop one would not. And if not yet, I'm sure that'll come soon.

Update: I just tried "Hey Cortana, send an email to Rebecca, when does the train arrive" and it added the question mark automatically. So apparently it just struggles a bit with some sentences.

Probably detects the WH words and not intonation.

Nr.1 - Move to USA, Nr.2 - Send mail,...

Step 1) change region to United States; step 2) profit.

I'm not changing my region since that breaks as for of stuff in my ERP and CRM. We want Cortana region independent in English. When? NOW!!

I'm in Spain. I do this all the time. Where are you from?

Not in any of the supported country's.

One of the first things i tried. I kindof love it. That really made Cortana feel like a personal assistant.

Until it integrates with office (outlook) this feature seems pretty pointless to me. I need outlook for work as most do and I love the idea of using cortana to send mail or add calendar entries but since it's limited to the sh*tty windows mail app, it's utterly useless. Posted via the Windows Central App for Android

Doesn't work... I'm from Germany. She tells me to wait for future updates... :/

She tells me she can't do it until the next update. Or that she hasn't learned to send emails yet. I have Spanish Cortana through changing my region to Spain. How do you make it work? I say "Escribir correo" and she says "Aun no he aprendido cómo ayudarte con los correos electrónicos, pero te puedo ayudar a enviar y leer mensajes de texto" (which I think is not accurate).

One downside so far is that she cannot interface with the Outlook desktop client. That may change with Outlook 2016, but for now you have to connect your Exchange account to the Mail/Calendar app in addition to the Outlook desktop client.

Wank. Windows 10 is buggy as fuck.

She still doesn't recognize my microphone consistently. Ya know...my official real sense camera and microphone array....thats an awesome bug.

well, that is a developer tool with some rough edges

Hey Dan, I sent you an email about the Grand Opening of the Microsoft Store in Columbus but I haven't received your response

Cortana can't do this yet in Spain, FYI.

The mail sending interface on W10 looks much more barebones than in Windows Phone 8.1. I hope they'll change that in TH2.

Thanks for telling *my* cortana to send an email to Sheila. My wife was listening. Still explaining.

When i ask it Here in italy she says she can't do it yet and says to wait for future updates...does only works in US?

I don't have that microphone icon there how do I get it? I have to push the Cortana icon then push the microphone icon that shows up with in Cortana.

@Moe920; I didn't have it either when I first upgraded. You may have to set it up, just Bing or Google "how to setup Cortana" or some like wording.

No inner circle on the PC so can't give my contacts an alias, half of my contacts are non English names and Cortana doesn't recognize any of them

Hotmail is my main account. Gmail is an optional account. Rare times its used by me if I wanna give someone who wants my email adress but in kit eager to give him that so I drop such ppl that adresss where they think I receive mail from them but I don't give a fuck.

I've got a 50\50 experience with Cortana and her microphone. My PC and sp3 have the issue that sometime it works, sometimes it doesn't...until I reboot. The more I use win 10 the buggier I find it to be.
Windows Central Newsletter
Thank you for signing up to Windows Central. You will receive a verification email shortly.
There was a problem. Please refresh the page and try again.