How to set up and manage a Network Bridge connection on Windows 10
When there aren't ports available on the router and Wi-Fi connectivity isn't possible, then use Network Bridge on Windows 10 to join other PCs to the network.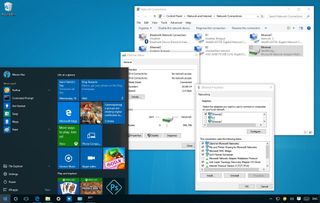 Network Bridge is a feature that has been part of Windows for a long time. A bridge allows you to connect two or more network segments together allowing devices to join the network when it's not possible to connect them directly to a router or switch.
For example, on an Xbox 360 without a wireless adapter, an Xbox One that no longer connects to Wi-Fi, or when a computer is far away from the router, you can use Network Bridge to share your computer's connection (e.g., Ethernet or Wireless) with these devices to allow access the network. Once devices connect using a bridge, they will appear as if they were physically connected to the router.
In this Windows 10 guide, we'll walk you through the steps to properly set up a bridge connection on your desktop or laptop to allow other devices to join your local network and to access the internet.
Before you begin
Before you start setting up a bridge connection on Windows 10, you will need at least two network adapters. One that is connected to the internet and a second adapter that will be used to connect another computer.
Additionally, as a result of setting up a bridge on Windows 10 (or on previous versions of the operating system), the primary network adapter on the host computer will lose internet connectivity.
To regain access to the internet, you will need to set a static IP address to your computer manually. The first thing you want to do is to save to a text file the current IP address information assigned by the DHCP server on your local network.
To get the IP address information from your computer follow these steps:
Use the Windows key + X keyboard shortcut to open the Power User menu and select Command Prompt.
Type the following command and press Enter:ipconfig /all
Make note of the IP address configuration of the network adapter connected to the internet. You need to record the following information: IPV4, subnet mask, default gateway, and DNS servers addresses.
Note: You can use an IP address dynamically assigned by the DHCP server as static only as a temporary solution. On best practice you should assign an IP address in the range that doesn't belong to the DHCP address pool on your router. For more information on how to find the DHCP server configuration make sure to check your router's manufacturer support website.
How to create a Network Bridge on Windows 10
Use the Windows key + X to open the Power User menu and select Network Connections.
Select both, the network adapter that connects to the internet and the adapter you want to use in the bridge connection.
Right-click the selection and click Bridge Connections.
At this point, the device connected to the bridge port should have access to the network and internet with the IP address information coming from the router, but the computer hosting the bridge won't be able to access the internet unless you have a third network adapter that is also connected to the network or a static IP address .
How to regain internet access after setting up a bridge connection
To regain access to the internet from the host computer do the following:
Use the Windows key + X to open the Power User menu and select Network Connections.
Right-click the bridge adapter and select Properties.
Select the network adapter that connects to the internet.
Select Internet Protocol Version 4 (TCP/IPv4).
Click Properties.
Select the Use the following IP address option.
Use the IP address information you collected at the beginning of this guide to assign a static IP address like is shown in the screenshot below.
Click OK.
Click Close to complete the task.
How to add more network adapters to a bridge connection
You're not limited only to offer bridge connectivity to a single network adapter. At any time, you can add multiple adapters.
Right-click the network adapter and select Add to Bridge.
Connect a game console or another computer and the device will automatically acquire the network settings from the local router.
How to remove a bridge connection from your computer
When you no longer need a bridge connection, select one or all the participating network adapters, and select Remove from Bridge.
At this point, the bridge adapter should disappear from Network Connections, but if it doesn't, simply reboot your computer.
The last thing left to do is to remove the IP address static settings and let your PC once again get this information automatically from the router.
Right-click the network adapter and select Properties.
Select Internet Protocol Version 4 (TCP/IPv4).
Click Properties.
Select the Obtain an IP address automatically option.
Select the Obtain DNS server address automatically option.
Click OK.
Click Close to complete the task.
Network Bridge or Internet Connection Sharing?
It's important to note that Network Bridge is very similar to the Internet Connection Sharing (ICS) feature, but they're not the same.
When you use Internet Connection Sharing (ICS), you will convert your computer into a router, which uses a built-in DHCP server to assign IP addresses to computers participating in ICS. It also offers Network Address Translation (NAT) that allows multiple devices to connect to the network using the ICS host as the middle man.
On the other hand, Network Bridge doesn't turn the host computer into a router and you won't get Network Address Translation. It only provides a medium (bridge) in which other devices can connect directly to the network and obtain the same IP address scheme every other computer connected to the network is using.
Which feature you should use? The answer to the question is: "depends". Both features offer similar benefits. If your local network already includes a router connected to the internet and you want a seamless network integration where all devices share the same network addressing scheme, then you should consider using Network Bridge.
If you need a router-like feature, and you want to keep the network segments separated while taking advantage of the security benefits of Network Address Translation, then you'll be better suited using Internet Connection Sharing.
In theory, a bridge connection is more efficient, because the host is only a pass-through, and all the routing process will occur in the local router and not on the host computer.
Remember that Network Bridge and Internet Connection Sharing have been designed only for home and small office networks, and for scenarios, where a wireless connection can't be established, or a cable run to the main router or switch is not possible. These features are not recommended as networking solutions for businesses. In addition, there can only be one Network Bridge or one Internet Connection Sharing per-computer.
Windows 10 resources
For more tips, coverage, and answers on Windows 10, you can visit the following resources:
Windows 10 help, tips, and tricks
Windows Central Newsletter
Get the best of Windows Central in in your inbox, every day!
Mauro Huculak is technical writer for WindowsCentral.com. His primary focus is to write comprehensive how-tos to help users get the most out of Windows 10 and its many related technologies. He has an IT background with professional certifications from Microsoft, Cisco, and CompTIA, and he's a recognized member of the Microsoft MVP community.
Hell with Microsoft!! No word on Lumia 1020.

Just the wrong article to vent your frustration.

They published all the info about the 1020 in the article about Tweetdeck. You should try looking. You have to read that article quite carefully, but I promise the info is there.

please just be patient it will be released soon enough... microsoft release w10m to newer versions first before the older once that have to get fexid with firmware

I still remember when Windows have Ad-Hoc networks...

Love it! Would love to see an article on Remote Connection on Windows 10, especially with the SP4 and 950 XL

Thanks, very helpful. Windows 10 Phone . Lumia 1320 .

Thanks for this article! I was just wrestling with this problem when trying to share the internet connection on my pc to my Xbox 360. So much needed!! :)

Well that's again a very very interesting theory.. But again I have a simpler one.. Buy a WiFi adaptor for your PC just at $4-$5. A much reliable and better solution :-).

Did that long ago when I got my 1st 360 the latency was so high xbl dropped out players got annoyed and rated quit early. Eventually moved to a dgl-3420(their shoddy wpa implementation not compatible with their N routers or WDs), then a wl-330ge(repurposed as a homepass repeater), & now a rp-n53(not as good as the wl-330ge due to lack of configuration access by 360)
Windows Central Newsletter
Thank you for signing up to Windows Central. You will receive a verification email shortly.
There was a problem. Please refresh the page and try again.