How to upload videos to Youtube with Cortana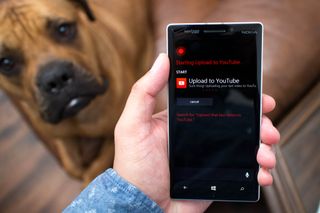 Upload to Youtube, a Windows Phone 8.1 app that lets you upload videos from your camera roll to Youtube, has recently been updated with a cool new feature. This handy app now lets you upload your last video with the help of Cortana. Want to see it in action? Continue reading and watch our quick how-to video.
Here's how to do it:
Make sure to have the latest version of 'Upload to Youtube' from the Windows Phone Store.
Bring up Cortana. You can do this by holding the search button, or clicking the Cortana live tile on the home screen.
Say, "Upload that last video to Youtube."
That's it. Upload to Youtube will open up briefly and then upload the most recent video in the background. You get a notification when it has finished uploading.
It seems this process was made for getting the video online as quickly as possible. The video is automatically uploaded with the title, 'Latest Windows Phone Video,' and privacy as unlisted. You'll have to edit them later on if you want to share them with friends.
The new voice command feature for Upload to YouTube needs to be unlocked via an in-app purchase. It costs 99 cents. This new feature has been added in version 2.1. In addition to the voice control, the update also adds Norwegian translation, more options for your upload, and bug fixes.
Upload to Youtube is the first YouTube uploader for Windows Phone 8.1. It's a free download from the Windows Phone Store with in-app purchases.
Will you be using this feature with Cortana? Let us know in the comments!
Further reading:
Windows Phone 8.1 Tips, Tricks and How To
Does the App compress the file? Seems like you can't get a pic/vid off the phone without MORE compression unless you use a PC.

You don't like mytube? :(

İ want an official YouTube. MyTube and MetroTube have lot of bugs (not stable)

Well you will be waiting a looong time. YouTube is owned by Google who won't be developing anything for WP. That's the way it is, so you will have to get used to '3rd party' solutions.

Haven't seen that many with Mytube. Especially after installing update 1. Besides, official apps have bugs too

Talk to Google stupid *sees; I'm tired I'd hearing about not enough interest in WP. We have 300k+ apps now, enough users, and devices in cellular stores

Talk to Microsoft about their Scroogled campaign, and Gmail Man, and every other attack they've launched at Google over the past few years. Posted via Windows Phone Central App

I simply want to use Youtube in the browser. I don't need an app, because it just worked fine for me. Until a few days ago since my device is suddenly not supported anymore... Embedded links still works fine, but YouTube.com doesn't work anymore, maybe the mobile version does work? Don't know. But the thing is that I want google to stop acting like a 3 year old spoiled child. If they have a problem with Microsoft, make an advertising campaign against Microsoft, but I'm a consumer and I have nothing to do with that.

On my ativ s mytube is very stable, the best youtube client for windows phone

Lots of bugs eh? Where at? I've had zero problems with any of these apps.

Did you see the official app for Android? Is even worst than MyTube.

3rd or first party, it doesn't change that this is a cool feature to have

Who needs officials when Chris and Rudy is here.
Thanks guys ;)

I don't care if it is 1st party, 3rd party or 27th party. If it works, it works. I rather give my money to a single developer or a small company than to throw it after multi billion corporations.

Because first party apps are so great right?

I want auto upload...
For filming dangerous stuff, like the police in MO at the moment.

Try this? http://www.windowsphone.com/s?appid=44a61f17-62ce-4599-865a-282d610177c1

I want it to do this in response to the command "aww yeah upload dat shit to YouTube!"

Haha this guy over here
+Ativ S Neo xD

Good to see that this is available. Really excited to see what developers do with Cortana. I wont pay for this feature but the future is bright!

Wait, doesn't Nokia Video Uploader or whatever upload to YouTube?

Yes it does. But this one has a better layout. Although the Nokia one has all your videos in one spot and you don't have to go searching for them.

We need a app that can record our screen for gameplays and tutorials

It is an app on PC. In your system settings on your phone, you can turn it on. It is great for recording games or showing off apps you've made. Unfortunately it doesn't record sound.

Without Google services, WP is a dead platform, Google maps is one major app that is missing, same for google search, YouTube. Microsoft needs to make nice with Google, and forget about their failed Bing experiment, once they do that, WP sales will skyrocket, but until then, it will do nothing but fade into oblivion, like BlackBerry.

Interesting. How nice, so awesome.

There's an app called videotube it lets you upload and download youtube videos

Yea but what about using Cortana to post to facebook or see feeds? It always take me Bing

Can we have an "upload the last video to ONEDRIVE" option included in Cortana's programming?

Probably have to wait for a third-party developer do make one

Just configure auto-upload (just see today's article about it here on wpc ;)

Yep. Just configure auto upload. I suggest setting it to auto upload only over WiFi though.

I cannot use Cortana yet, but I love the dog in the photo

I won't auto-upload anything to YouTube. People need to start trimming videos before they post them, no one wants to see a 10 min video for 2 min of content :D.

Now why the hell would you pay good money for a feature like this when you could do the same thing with a couple of taps! Come on people!! Don't be so so lame and lazy! Kudos to the dev for pretty cool and unique Cortana integration though.

Spoken like a true cheapskate.

Your attitude is why we have ridiculous plan rates.

Gotta pay $0.99 for the voice command

Not a bad price to pay if you're a youtuber

I'd rather transfer the videos to the PC, use FormatFactory to convert the MP4s to FLVs, THEN upload to YouTube. Once it's done uploading, it's instantly "processed", because it is already a FLV.

Cool, App like it a lot :)

No! To OneDrive! Automatically! OK?

Is this better than "Nokia Video Uploader"

Doesn't seem to work for UK Cortana gutted good job IV got shed loads of free funds in my ms account thanks to Nokia ;)

what I would like to do with a phone is not to upload to youtube but to download video from youtube and it's more difficult to do ________________________________________ apple iphone 6 galaxy s5 prix

J'ai besoin du Youtube,le smartphone travaille bien.Regarder la vidéo,vous pouvez apporter un casque(<a href="http://www.coquebox.com">accessoires smartphone</a>),vous entendez bien.

J'ai besoin du Youtube,le smartphone travaille bien.Regarder la vidéo,vous pouvez apporter un casque dans accessoires mobile boutique vous entendez bien.
Windows Central Newsletter
Get the best of Windows Central in in your inbox, every day!
Thank you for signing up to Windows Central. You will receive a verification email shortly.
There was a problem. Please refresh the page and try again.