How to uninstall Cortana on Windows 10 May 2020 Update
Microsoft made it easier to get rid of Cortana, and here are the steps to complete the task on the Windows 10 May 2020 Update.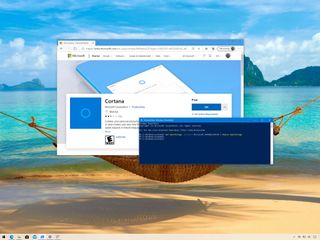 (Image credit: Windows Central)
On Windows 10, Cortana has been undergoing a lot of changes in the past several years. Starting with the May 2020 Update (version 2004), you're now getting a new version that leaves behind many of its functionalities and shifts focus to help you be more productive. The new chat-based interface will interact primarily using the keyboard, but you can continue to use voice.
In addition to removing many non-productive features (such as Skills and Notebook), one of the most significant changes with Cortana is that it's no longer part of Windows 10. Instead, it's a regular app that you can move around and update through the Microsoft Store. More importantly, it opens the option to uninstall it.
Although Windows 10 allows you to remove system apps (such as Mail, Weather, and Voice Recorder) through the Settings app, Microsoft isn't making it a straight forward process to uninstall Cortana. However, if the digital assistant isn't for you, it's possible to remove the app using PowerShell commands.
In this Windows 10 guide, you'll learn the steps to uninstall the Cortana app on the Windows 10 May 2020 Update and higher. In addition, we even show you steps to install the app again if you change your mind.
How to uninstall Cortana on Windows 10
To remove Cortana from Windows 10, use these steps:
Open Start.
Search for PowerShell, right-click the top result, and select the Run as administrator option.
Type the following command to uninstall Cortana from Windows 10 and press Enter:Get-AppxPackage -allusers Microsoft.549981C3F5F10 | Remove-AppxPackage
Once you complete the steps, Cortana will be removed from Windows 10. The button on the taskbar will remain, but you can right-click the taskbar and clear the Show Cortana button option.
How to install Cortana on Windows 10
Want to reinstall Cortana? Follow these steps:
Open the Cortana app page

(opens in new tab)

.
Click the Get button.
Click the Open button.
Click the Install button.
After you complete the steps, the Microsoft digital assistant will install on Windows 10.
Will you be removing Cortana on Windows 10? Let us know in the comments.
Mauro Huculak is technical writer for WindowsCentral.com. His primary focus is to write comprehensive how-tos to help users get the most out of Windows 10 and its many related technologies. He has an IT background with professional certifications from Microsoft, Cisco, and CompTIA, and he's a recognized member of the Microsoft MVP community.
It's a shame Cortana has been reduced to this. On the bright side of this, IF they choose to, they could always add features through app updates, withough the need to push out a system update.

Isn't easier to just not use Cortana?

It's a shame what MS did with Cortana, being exclusively for the USA. I love digital assistants and what they can offer to help us accomplish more. Google does it right, event though it is very intrusive. MS could have worked harder to accomplish something with Cortana.
They are missing the train, just like they did with Windows Phone.

it's unfortunate I really wanted to like using cortana but it never really worked properly. and them stripping functionality away means they've missed the bus again.

I used on my Windows Phone and now "use" it on my Android and my Invoke speakers. It is a shame to me that they are removing some much of it. I understand why, but also why not leave what it there.

Try Alexa. It works great and isn't nearly as intrusive.

Actually, MS did not miss the train. MS was ON the train, with phones and mp3 players and Cortana. But it turned out that their ticket was invalid and MS was thrown off the train. The reality is, MS tried consumer products. All of them failed. Today, MS is in better shape than ever. You might as well claim that Apple is missing the Enterprise Cloud Services train. Apple does not care about that. Just like MS does not care about consumer products.

Is uninstall system apps will reduce windows performance?
Windows Central Newsletter
Thank you for signing up to Windows Central. You will receive a verification email shortly.
There was a problem. Please refresh the page and try again.