What's new with Cortana with Windows 10 May 2020 Update
By Mauro Huculak last updated
Cortana has been updated as a productivity tool with the May 2020 Update, and this is what you need to know.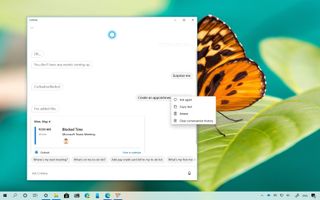 (Image credit: Windows Central)
Microsoft is finally shipping the Windows 10 May 2020 Update (version 2004) for compatible devices with a slew of improvements and several small new features, as well as a new version of Cortana, which is significantly different.
Starting with version 2004, Cortana no longer has a deep integration on Windows 10. Instead, it becomes a regular system application that receives updates through the Microsoft Store. This means that the company can now release new features and improvements without having to wait until the next feature update.
As part of the design changes, there's a new experience in which you can move around the desktop, and it offers a chat-based interface designed primarily to interact with Cortana using the keyboard, but you can always use voice.
Also, since Cortana didn't become as popular as Amazon Alexa or Google Assistant, Microsoft has decided to shift focus to make the assistant a tool exclusively for productivity that will work best with a Microsoft 365 subscription. As a result, many non-productivity features have been removed, including skills and the Notebook.
This means that Cortana will now only be useful at helping you manage meetings, tasks, surfacing Office documents, and other work-related tasks.
In this Windows 10 guide, we'll take a closer look at the new Cortana experience available with the May 2020 Update.
Cortana app features and improvements
Starting with the May 2020 Update, Cortana introduces a new interface, simplified settings, and options to quickly fix problems with the app.
Cortana new interface
Although the new interface looks familiar to the old experience, the new design is clean and simple. When you first open the Cortana app, you'll be prompted to sign in with your Microsoft or work account. Once signed in, you'll access the new interface that's no longer attached to the taskbar, and because it's an app, it behaves like one, and you can drag it around the desktop, resize, or full screen like any other modern app.
The app has also been designed to make typing the primary method of interaction. Something that makes a lot of sense, since most people use devices with a keyboard and mouse, and many do not prefer talking to a computer. However, you can still use your voice to interact with Cortana using the mic button or the hands-free option.
Above the text box and voice control, Cortana also provides query suggestions to help you get familiar with interacting with the assistant. Then there's the main chat canvas that shows your text interaction in a threaded conversation, similar to the text interface on your phone, which you can also scroll to revisit certain information at a later time.
You can also right-click every one of your text or response from Cortana to access the context menu with options to ask again, copy text, delete a specific text, or clear the thread history.
Cortana now updates automatically through the Microsoft Store, but sometimes, you'll see a New version available notification in the experience, which you can click to update the app manually.
The new experience also supports the light and dark modes, but you can't change the mode independently within the app, the color mode will change automatically when you switch modes on Windows 10.
Cortana functionalities
Since Cortana now has an emphasis on productivity, moving forward, the assistant will focus only on managing your work life.
If you're in the United States, the digital assistant will continue to assist you in managing tasks and schedules. You can ask for Office files or people using typing or voice. You can also check calendar events and create and search emails.
You'll also be able to create reminders and add tasks to your lists inside Microsoft To Do.
Similar to the previous version, Cortana is connected to Bing, which means that you'll continue to have the ability to ask for the weather, jokes, and other information. And it'll help you set alarms timers, change settings, and open apps.
The app will be available outside the United States, but initially, the experience will be limited to answer questions using Bing and interactions with the assistant using chat. However, Microsoft says that it has plans to bring more functionalities in future releases.
Alongside the new visuals and improvements, Cortana is losing noticeable features. For example, starting with this new version, the left rail has been removed, and the Notebook is no longer available either. In addition, because the new assistant is now focused on productivity, Microsoft has also removed some of its core functionalities, such as skills.
Finally, for security reasons, Microsoft is ending support for Cortana in older versions of Windows 10 that have reached the end of support, so you'll only be able to access the assistant on the most recent releases.
Cortana app settings
The Settings app no longer includes a section exclusively to control the Cortana experience on Windows 10, but you can still adjust settings within the app.
The settings are available, clicking the main (three-dotted) menu button from the top-left and selecting the Settings option.
This device
In the Talking to Cortana page, you'll find the "Activating Cortana" section, which you can use to turn on the Wakeword toggle switch to allow the assistant to respond when you say "Cortana." (This option may or may not be available.)
Also, under the "Keyboard shortcut preference" section, you can choose whether you prefer to Type or Speak or type when activating Cortana.
In the Permissions page, you can control device permissions, but the options available are links to customize related features using Settings. For example, clicking the Microphone option opens the Settings app to allow or deny Cortana access to the microphone.
The Speech option opens the settings page to allow or deny sending speech information to the cloud to improve speech recognition when using the assistant. And the Voice activation option will enable you to control Cortana access to voice activation on Windows 10.
Account
The Privacy page includes the Revoke permission and sign out option to disable Cortana (in a sense) by removing Cortana access to your calendar, contacts, emails, and other information as well as to sign out of the experience.
Similar to the previous version of the digital assistant, there's a "Clear your data" section with an option to open the Microsoft Privacy Dashboard on your Microsoft account online to review and delete Cortana data.
You'll also see a Clear history feature that you can use to delete all the information about Cortana and you on the device.
Hardware
Finally, the "Hardware" section includes a page to add, remove, and control devices that support the digital assistant, like the Surface Headphones, Xbox One, and Amazon Alexa devices.
When you open the page, you'll see any device already connected to Cortana. You can click the available options to manage the device.
If you recently purchased a new accessory, you can click the Add a device button to open the Cortana Device Setup app to complete setting up the device.
Cortana repair options
If you're having problems with Cortana, you don't get an option to remove and install the app again, but since it's now a regular app, you can now access the tools to reset or repair the app using Settings on Windows 10.
You can access the new options from Settings > Apps > Apps & features, selecting the Cortana app, and clicking the Advanced options link.
Once inside the page, under the "Reset" section, click the Repair button, which runs an option designed to fix the app without affecting the data in the app.
However, if Cortana doesn't start or is not working correctly, you can use the Reset button to reset the app and delete the data from the app store on your device.
The page also includes an "App permissions" section to grant or deny the app access to the camera, microphone, or the ability to let the app run in the background without the need to change those same settings from the "Privacy" section.
If you don't want the digital assistant to run on startup, under the "Runs at log-in" section, you now have a toggle switch to decide whether Cortana should launch automatically as you sign in to Windows 10.
Alongside these changes, Microsoft is also introducing some other additional features, such as Play My Emails and the ability to receive an Outlook "Cortana Briefing" email for Microsoft 365 Enterprise customers.
What are your thoughts on the new features and changes rolling out with Cortana? Let us know in the comments.
Mauro Huculak is technical writer for WindowsCentral.com. His primary focus is to write comprehensive how-tos to help users get the most out of Windows 10 and its many related technologies. He has an IT background with professional certifications from Microsoft, Cisco, and CompTIA, and he's a recognized member of the Microsoft MVP community.
Wow. So basically I can't even use Cortana now to start my Xbox or play Spotify music since they removed the skills! That's really bad as I'm struggling to choose between Alexa, Google Assistant and Bixby since then

Go with Alexa. I am a former Cortana user and Alexa offered the best transition for me. I use Alexa all over my house and on my phone with Microsoft Launcher. Also use it sometimes on Windows PC (where there's actually an app in the Microsoft Store, even though it's not the best).

can it put the computer to sleep?

I believe that the smart home skills should still work if you have an Invoke and if you have an Android or iOS device that you can use Cortana through. I coykd be wrong, but I do not think that this functionality has fully been killed off yet.

On my Android, the notebook and skills are still listed. I am actually delaying taking this upgrade right now since we have 4 Invokes and uses them to control the lights and play music.

I totally agree. If I can not use my Invoke with the smart home skills I am going to be so ticked off. I have avoided getting the May 2020 update because of this one fact.

Nice! Cortana is getting less and less relevant to everyone after each release!

That's because the CEO doesn't care about the consumer, only ENTERPRISE users. We consumers only get the occasional incidental bone thrown our way. The consumer focused part of MS should really be separate.

"That's because the CEO doesn't care about the consumer" No, its because consumers don't care about Microsoft. "The consumer focused part of MS should really be separate" There is no "consumer focused part of MS". Microsoft has never been a consumer products company. Yes, they tried for a few years, but every single Microsoft consumer product failed. Why? Because consumers - who are looking for consumer electronics - never think "Microsoft". They think Apple. Or Samsung. Or whoever. For the same reasons that Enterprise customers don't look to Apple for DB servers. Or to Samsung for networking. No company can be all things to all people. Harley Davidson does not sell cars. Cadillac does not sell motorcycles. McDonald's does not sell T-Bone steaks. And they never will.

"Microsoft has never been a consumer products company. Yes, they tried for a few years, but every single Microsoft consumer product failed." Yes, they tried and did it poorly. Because almost every single consumer product was limited to US only. Even now a lot of MS products and services aren't globally available. Take Cortana for instance or Surface line products. "Why? Because consumers - who are looking for consumer electronics - never think "Microsoft". They think Apple. Or Samsung. Or whoever." That's because Microsoft never really advertises their products to consumers as good as Apple or Samsung do. And both these decisions are made by the CEO. So yes, it's because CEO doesn't really care.

Let's also not forget the fact that Microsoft's marketing department absolutely sucks at selling things. They couldn't sell a dollar for ten cents.

Actually that is incorrect. Here is a story from back in 2017 on Windows Central: Microsoft CEO admits repeatedly abandoning consumers was a mistake
In a recent interview, Microsoft CEO Satya Nadella said he failed, multiple times, to remain committed to consumers who have shown a commitment to Microsoft.

Why not focus on privet and work.. And maybe can start to fight with the big ones one day? They killed it from start to not release it to every one like the big ones did and now they go all in to kill it.

Uninstalling her is the best feature out of all.

Can Cortana actually be uninstalled now? If so, that IS great news. You can't even kill it now, it immediately comes back.

It can be, but not the icon by all accounts, I updated to 2004 a couple of days ago, just for the fun of it and Cortana is not even running in the background any more, maybe that is to do with shut up 10, but that is good. the only problem is 2004 is as slow as anything on my machine for some reason, so I am going back to 1809

"Hey Cortana, read me my unread emails" ->->-> "first unread email, dated May twenty-seventh, two thousand twenty, sent at five fifteen p.m. from bed,bath and beyond, Subject: enjoy spring savings for all house wares and bath wares, contents: .... F-this.

Does the F stand for Focused Inbox?

How can I re-dock Cortana's window so it appears as before undocking her? I want her in her place.

All news of Cortana breaks my heart. She was useful and ahead of her time early on and then MS neglected her and is now de-evolving her to be less capable than ever.

One could think of this as a new beginning. I'm glad we didn't lose her altogether, especially since I'm in a Non-US-EN country.

What about regular Microsoft 365 users. The "play my email function doesn't work for me. I am in an xps13 with the may update

"Available to US users." The big feature upgrade on every version of Cortana.

Since the May 2020 update Cortana has worked on 0 out of 3 computers that received the update, I never really used her anyway after windows mobile died, but I ask her a question either by speech or typing and I get no response. I have tried repairing and resetting no change. Perhaps its something to do with being in Australia, though my surface pro which does not have the may update has cortana working fine. Go figure. Mark

"Microsoft has decided to shift focus to make the assistant a tool exclusively for productivity that will work best with a Microsoft 365 subscription." -- so can we get a Clippy skin for Cortana then? :)

Why all or nothing? Even if Cortana is not the biggest, they could still have core consumer functionality while focusing on productivity. Do well in one area, and it might be easy to use other features as well, slowly growing the user base.

I think Microsoft should deprecate Cortana and put resources into finishing other half baked features still present in Windows 10.

Yeah, like tablet mode they destroyed from Windows 8

Everyday, at night, i be like, "Hey Cortana, Sleep" She replied "goto sleep?". and I respnd "Yes." And Magically my computer went to sleep...... But NOW I can't do that. I can't even say Hey Cortana, to get her to start listening. (I do see a note saying that feature may come out with later versions.) This is Lame. Dumbing down is dumb in this Scenario. It's like they care NOT.
Windows Central Newsletter
Get the best of Windows Central in in your inbox, every day!
Thank you for signing up to Windows Central. You will receive a verification email shortly.
There was a problem. Please refresh the page and try again.