The HP Elite x3 at Microsoft Store UK is already getting a small price cut before it launches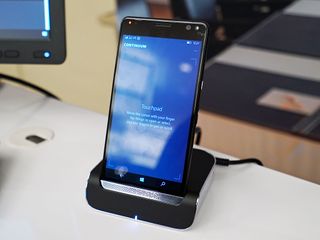 The UK Microsoft Store site has lowered the price slightly on the HP Elite x3 smartphone with Windows 10 Mobile before it ships to customers later in August.
The UK Microsoft Store (via Neowin) previously listed the 6-inch HP Elite X3 for £749, which included its Desk Dock accessory. Now that same listing shows a price of £706.80 (opens in new tab). That matches the one found on the UK HP site (opens in new tab). HP also lists the phone with the Desk Dock accessory as well; previously, the price was for the Elite x3 on its own.
Ship dates for the phone on the UK Microsoft site have also been pushed back slightly; previously they were to begin today but now they are expected to start on August 22. HP's site shows that the Elite x3 will still ship in 5 to 10 days. Another third party phone retailer in that country, Clove, has actually increased its price for the HP Elite x3, from £680 to £700 (opens in new tab) on its own. The site shows that it expects its units to be delivered on August 19.
Need more? Don't miss our other coverage of the Elite x3 including:
Windows Central Newsletter
Get the best of Windows Central in in your inbox, every day!
Waiting for the detailed review

Interested in the reviews and comparisons with Note 7. Want to hear if media like it, but "there's an app gap". If that is only complaint, then serious win for HP.

A serious win for us Windows fans but not enterprise. The App Gap is a problem even for business users. For example a business which already uses Google Docs may not realise that there is no Google Drive app, worse - Windows 10 Mobile users who try to access Google Drive online via Edge on their new £750 devices, still can't. Google now tells Windows users to download the iOS/Android app. Only work around is a 3rd party app which many enterprises will be concerned about providing access. There is also no snapchat to communicate with. I'm still a big Microsoft fan, but the narrative on Windows Central is that Enterprise users are dusty old men in suits which is completely old fashioned and not how the modern business world operates in 2016.

Wow....just WOW...do you even know how the X3 came to life? HP spent 2 years asking thier muli billion and million £ customers what they wanted, the result is the X3. As for App Gap, do you realise this beast runs FULL DESKTOP APPLICATIONS through virtualization ( millions of medium size companies want this too) please do a tiny incy wincy bit of research.

Now it just needs more price cuts, genuine materials and a relevant OS. I guess this is a start. Preorders must be below expectations if they are already cutting prices. Posted via the Windows Central App for Android

1) a few weeks ago, due to uncertain exchange rates after Brexit in UK, prices were made higher. Now that in the last few weeks the exchange rates are slowly stabilising and recovering, the prices have been brought back down closer to the original price. Yep, making it affordable in the UK and a similar price to as it would be in the US (for example) definitely shows low expectations /s.
2) You forgot to mention how Clove has increased the price (as said in the article). Doesn't fit with your "Low expectations" argument does it? :P

Stabilizing....not recovering. Still getting a crappy exchange.

In this context, stabilising and recovering are the right words. It's slowly stabilising, which also means it is slowly recovering. I never said it has already fully recovered :P

Not really a price cut. It was over priced on site

Not really a price cut. It was over priced on site

Think I will get this phone and for a while, attempt to use solely as my daily driver for phone and pc use.

I wouldn't say this is a "price cut" considering it hasn't launched, it's just the finalised price before launch.

It needed a price cut. It's nice but $500 or so is closer to the mark.

Yet no where in the UK has this on contract yet. I've got to switch off a corp phone plan this month and have been told I can chose any consumer plan, but I can't find one with the X3. Considering going PAYG for a month and seeing what happens.

I don't believe you'll be able to purchase this via a carrier, unless it's via their business team. You'll probably need to order direct and get a SIM only contract.

Mine will be with me next tuesdayyyyyyyyy. Well all being well

Where are the dissenters then? MS push back the AU and they go mental with the vitriolic comments, HP have a small delay and that's fine. To answer the post above, carriers in the UK are apprehensive due to the enterprise aspect, and not being aimed at consumers. My mate works in a company that shares its name with a large music venue in Greenwich, and their business dep't are looking closely at these. Having been hands on with one, I'm going to hang on for a while. If no urban myth phone appears ;-), I'll look at the HP, but for me, the 950xl is just as capable, but not nailed together as nicely. Also, if the rumoured phone doesn't arrive, the elite could be a bit cheaper in a few months, plus others can bug test it and tell us how long the honeymoon period lasted, before they realise that its just another windows device. I guess, as well, that HP will load it with baked in enterprise apps.

How come I don't see this article on my laptop browsers? Posted via the Windows Central App for Android

Soon 79£ at bargain bin. Still hard sell due crappy cam and no apps.

Smells like a troll to me..

Cue the generic 'the sky is falling, Windows is doomed, wah wah wah' comments. Pretty sure EVERYBODY already knows that a price re-evaluation is just the latest obvious sign of the impending apocalypse! /s Exactly the same thing happened to the 950/XL just before release... And guess what... MS is still updating W10M pretty much weekly. Phew, that's a relief!... I haven't quite got around to building my bunker yet! :)
Windows Central Newsletter
Thank you for signing up to Windows Central. You will receive a verification email shortly.
There was a problem. Please refresh the page and try again.