The HP Elite x3 Desk Dock works with any Continuum device — Lumia 950 XL included
HP has a clever trick to let you connect any Continuum-enabled phone to their Desk Dock. Here is how it works.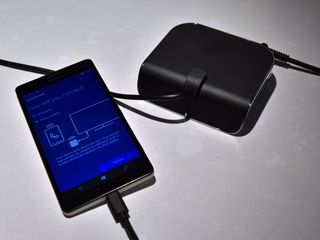 HP is selling the Elite x3 phone together with its superbly crafted Contiuum Desk Dock for $799. The HP Elite x3 Desk Dock is sold separately, but currently only through HP. It retails for $150, which is $50 more than what Microsoft charges for its Display Dock.
It's designed for the Elite x3, but can the Desk Dock work with other Continuum phones like the Lumia 950 or Lumia 950 XL?
The answer is a simple yes.
Any Continuum dock that uses USB Type-C is essentially just a USB hub. It's akin to asking "Does a USB Thumb drive work with my PC?" It's USB, of course it does. That's the beautify of standards.
The longer answer is that it works because HP was smart about how they made the Desk Dock. You might have looked at it and foresaw a compatibility problem — this is a dock, after all, and the Elite x3 is designed to slide into it, versus the Microsoft Display Dock that you'd simply plug into.
Swipe to scroll horizontally
Category
Features
Ports and Connectors
1 DisplayPort
2 USB-A
1 USB Type-C
1 RJ-45
1 AC power
Dimensions (w x d x h)
4.25 x 3.74 x 1.2 in
108 x 95 x 30.5 mm
Weight
15.87 oz
450 g
Power
45W (5.25V/3.0A) power adapter with 1.5m cord length
Security
Security lock slot
HP solved this by including a few interchangeable shells for the Desk Dock. That is why you can put an HP Leather Folio on the Elite x3 and still slide it into the Dock. There is also a shell for the Rugged Case (our review is coming next week).
But what if you don't want to use the HP Desk Dock as a holder for your phone? There's an additional shell that extends the vertical dockable USB-C plug into a cable ending in a USB-C plug. So if you prefer to plug in your phone and leave it flat on the table (like with the Microsoft Display Dock), then you can. These shells are all magnetic, so swapping between them is a no-tools affair.
Update: Many have been asking if the Lumia 950 XL can stand in the Desk Dock. Yes, it can. It's a little shaky but it makes the Type-C connection just fine. While the Lumia 950 also fits for some reason the Type-C connection does not commit likely due to some the way the connection sits.
While HP intended this to be used with the Elite x3, you can just as easily plug in any Continuum-enabled phone whether it is the Lumia 950 XL, Acer Jade Primo, or NuAns NEO. I tested this with a few devices and just like any USB peripheral if it works on any Windows 10 Mobile device with Continuum. (Update: After trying with a few Lumia 950's for some reason that phone is not working with the Desk Dock, while the Jade Primo does).
Image 1 of 4
So what advantage is there with the HP Desk Dock over the Microsoft Display Dock? That one is a little more complicated. Some of it is personal preference as the HP Desk Dock is flashier, heavier, and a bit nicer looking.
Using Continuum for a week with the HP Elite x3
The HP Desk Dock also includes a built-in RJ-45 Ethernet Port, and it uses a Display Port for video instead of the more common HDMI port found on the Microsoft Display Dock.
If you do not have a Display Port connector on your monitor or TV, you can pick up a Display Port to HDMI cable. Here is the one I use, and it's 4K enabled to future-proof:
See Display Port 1.2 to HDMI cable on Amazon (opens in new tab)
Overall, the HP Elite x3 Desk Dock is a very premium accessory, and it will continue to work with any Continuum-enabled Windows 10 Mobile handset.
See HP Elite x3 Desk Dock at HP (opens in new tab)
Further Reading
Windows Central Newsletter
Get the best of Windows Central in your inbox, every day!
Daniel Rubino is the Editor-in-chief of Windows Central, head reviewer, podcast co-host, and analyst. He has been covering Microsoft since 2007 when this site was called WMExperts (and later Windows Phone Central). His interests include Windows, laptops, next-gen computing, and for some reason, watches. Before all this tech stuff, he worked on a Ph.D. in linguistics, watched people sleep (for medical purposes!), and ran the projectors at movie theaters because it was fun.
I won't lie...I really like this phone! My existing Lumia 950 can still use this dock though, so I could get this now and save cash for the Elite v3 come later. Thanks Daniel for the article!

Just ordered one for my L950XL. I need the RJ-45 port.

L950/L950XL which one should I buy ? As an upgrade from L1020.

depends on your hand size and pocketability for you, i went with 950, no regrets, either way it's best upgrade no doubt

The one you feel more comfortable with after doing research on the product.

I tried both in the store and the 950 was better for one handed use. I went with that, got a mozo light oak case and it's a beaut!

i ordered the white mozo case, awaiting mine anxiously

The 950xl has a slighly bigger screen/is a slightly bigger device, and has a slightly faster cpu. Other than that, all other features are the same. So to know which one you want, go to the microsoft store and play with the two of them to see which one feels better in your hand.

Well, not that accurate - I've been doing some research before buying and found out that L950 has older version of Gorilla glass as well as bigger battery... So there are some differences to consider, though..

Any of the two is going to be a good upgrade. Lumia 950 is more of a standard phone and you can find many more accessories for it. Partly because it is also sold by ATT. 950XL is a tad faster (barely noticeable). Screen on 950 looks better than 950XL, maybe because the pixel size is smaller. If you plan to use lenses with the phone (like fisheye or zoom lens, etc), the Lumia 950 is better for that because the lens is centered in that circle and some lenses fit right into that space. On 950XL, some lenses won't sit flat. Also, I use a grip that has a tripod stand nut. The 950 fits in easy while 950XL is just wide enough to barely fit. Most glass screen protectors fail to work on 950XL (except a couple) because it has a little bowed screen. 950 has no such design issues, if you will. 950xl power button is between the volume up and down buttons. Some people have issues adjusting to it. Don't understand why Microsoft did that. I use 950XL and my wife uses 950. 950XL is too big for her hands. I have long fingers and thumb so I'm fine with it. I went with 950XL for screen size and 8-core (vs 6-core) processor, expecting smoother gaming because of the gpu. I haven't done any game speed comparisons yet.

Thanks I think I'll go with L950

The one you discover that best fits your needs after you visit the forums where your question really belongs.

Ya I agree but I need all of your support...

Fair enough. The editors will come along and say the same thing. FWIW, I have a 950 with a red MOZO case. I wish I had bought the xl, but none were in stock anywhere when my previous 1520 gave up the ghost. Now, me, coming from a 950, it probably makes sense why I want the xl.

Owning both the 950 and 950XL, I use the XL daily due to the extra horsepower of the 8-core Snapdragon 810 and the larger screen. I use Contiuum daily and simply wanted the most powerful Windows phone at the time. I want the Elite X3 for the same reasons, the most powerful Windows phone for Continuum. I have two Microsoft Display docks but I am interested in the one from HP due to the inclusion of Ethernet. I have an Ethernet adapter for my display dock and will probably just buy another adapter for now.

I went with the 950 thinking the XL would be big. The 950 even seemed large for a couple of days, but now it just feels like an average sized phone. Knowing what I know now I would have went with the 950 XL, like a lot of users say about it and 1520 you get used to size pretty quickly

Lapdock, lapdock, lapdock!!!!!

strange they used Display port instead of hdmi,guess adapter will be needed.

Yep, I'm not a fan of display port. Much prefer HDMI as a standard.

DisplayPort is quickly becoming the standard digital port on business-class monitors and computers. All of HPs business monitors at least have DP, some include HDMI as well but not all. HDMI is certainly more common in the consumer space but the Elite x3 is definitely business focused and the inclusion of DisplayPort makes sense from that perspective.

Display port can send stronger signal than hdmi. You can use really long cables with display port (15m+) and still get full HD at Best quality. Plus there are some power advantages of Display Port (search LVDS) expected in future. HDMI is more common and it performs well. But when you are looking for that little extra umph at longer cable lengths, Display Port wins.

wow HP keep surpassing me , they really care about there products just like nokia did , not like htc or Samsung.

Nokia did care about their products until they accepted that they would never sell well with Windows Phone. Same with HTC and Samsung, they just took less time to reach that conclusion. You don't see any of them making Windows phones now. Posted via the Windows Central App for Android

Nokia did all the way. HTC/Samsung never did. And this nothing to do about sales. You're making things up.

Samsung had one device with WP7 and HTC had a line of devices WP7x and one WP8x upgreadable to W10M.

Nokia did care about their products until they accepted that they would never sell well with Windows Phone. Same with HTC and Samsung, they just took less time to reach that conclusion. You don't see any of them making Windows phones now. Posted via the Windows Central App for Android

will the 950 stand in the dock?

It appears that it does stand in the dock. But if you move the dock unleveled it may fall off. So the solution to that is to make a custom made adaptor.

Thanks I'll definitely buy one

I just got it and it doesn't seem to work with the Lumia 950. I hope they're gonna fix it. But the standing it's really stable, it doesn't fell off.

...the strange thing is that it is not even charging my phone...maybe my desk dock is broken but it lights up...

It looks like a software/desk dock firmware problem because if I reboot the phone everything works, but after attaching and detaching many times it stops working. You also need to change the desk dock cover and put the one with a square hole, included in the package, otherwise it will not work at all.

I picked up the Aukey USB-C Hub / dock from amazon. it has hdmi and 4 USB-3 ports, and a usb-c port for power (but works without power). No ethernet, as I really didn't need that. It works fantastic with the lumia 950! and it was only $30

is this the hub you're talking about? https://www.amazon.com/gp/product/B01EIWJ9QG/ref=ox_sc_act_title_1?ie=UT...

Does a USB thumb drive work with MY WP8.1 or W10 mobile device, without first connecting both to a PC?....

AFAIK there is USB OTG support in W10M

There is not OTG support, only USB type C phones support USB Host

for 950 / XL they do, just use an adapter and you can read and write from usb device

Extrapolating from this price: the Lapdock might be a > $300 investment!

$150 and I assume that is also faux metal? Posted via the Windows Central App for Android

Speaking of display docks, does anyone know if the MS Display Dock can be used to PIN unlock a 950 without user interaction on the phone's display or turning on Continuum? I have a cracked/dark display and I'm trying to unlock the phone. Thanks!

I'm going to guess if continuum isn't activated it won't work. Any chance you setup the face unlock?

No Continuum is not activated but I was hoping it would show the unlock screen on a monitor or TV if I use the display dock.

Pick your favorite way to hook a keyboard up to it. Bluetooth or wired will work.

Connect to Windows 10 PC and use the app for usb display

I've tried using the Project My Screen app on my PC but still need the phone to allow it by clicking yes and the screen is damaged.

tap exactely in the middle left part of a screen if touch works

I just tested it with my 950XL that doesn't have a damaged screen. Here is what I did: Locked 950XL by pressing the power button. Display turned off. Connected phone to display dock Full Windows 10 Lock Screen comes up on Monitor. Clicked Enter on they keyboard to bring up the PIN Entry text box Typed PIN with number keys on keyboard Phone unlocked and now I am typing this reply via Continuum. With this test, I would say yes, you can unlock and use the phone via Continuum even if the screen is cracked or not working since Continuum is completely software and is not affected by the screen. When using Continuum with any dock, cables or Miracast, you rphone acts as a desktop would, therefore giving the keyboard full control over text entry on the phone and that includes entering PIN/Passwords.

Wow thank you so much! I'm going to stop by my local MS store this weekend to see if they still have a demo Display Dock and try it out. I got a replacement 950 from insurance but have to send back my broken 950 and would like to get some photos off it first. Thanks!!

You're welcome! Definitely try it out if you get a chance. If the PIN box doesn't appear and it simply says Click Here To Unlock and clicking does nothing, you can type your PIN at that point or unplug and then plug the phone in again. I've seen that bug a few times. I hope everything works out.

Yeah thanks. And I don't have to enable the Continuum app on the phone first correct? Hopefully I can just plug it into the dock and then unlock it. At that point I'll try to disable the PIN lock if possible. If not then the phone will lock again in 5 minutes. I might just need to talk the MS store into a good deal on the dock!

I was waiting for this news and looking forward for the video review. So glad that HP didn't make the dock proprietary. Thanks Daniel!

I want to know whether we can use hp elite laptop(technical word cant remember) with Lumia950xl/950..

I want to know whether we can use hp elite laptop(technical word cant remember) with Lumia950xl/950..

Not just windows phones but any slimport devices. Lg g3,4,5 v10, v20,
Htc 10, blackberry priv Hoorah

I like HP's phone, but I was hoping I could stand up my 950XL in it's cradle even if it required a shell to do so. I'll stick with the MS dock for now.

Would a 950XL fit into any of the shells and sill connect / charge?
I'm not interested in it lying on the table, Microsoft have that covered for much cheaper.

If size is not a problem go with 950xl
Extra features from 950 are
Snap 810, gorilla glass 4, 3340mah battery & 3gb ddr4 ram whereas 950 has ddr3 ram
Both are great phones
It all comes down to size preference

Do they make a similar dock for non-continuum phones? I would like to use my 640 XL on my TV for games, videos and MS Office docs.

No, Lumia 640 support miracast only

The article States any dock with USB C supports continuum. Seriously? I am thinking to buy this. COuld anyone please confirm https://www.amazon.com/dp/B01FWT7MEA/ref=nav_timeline_asin?_encoding=UTF...

Do these other phones work with the Microsoft dock? That's my question.

Sure, same deal. They're just USB hubs. USB is USB.

Yes, and no. For nexus phone , since their usb-c is still usb 2.0, the video out won't work but otg and charging is working. But if you have a htc 10 or lg g5 or moto z, then all the funtion would work just fine. I even tried macbook on it it works with macbook as well., but you need plugin the mac charger instead of the dock's charger.

woooo a nice dock for my surface pro 5 too? :) so it shoud work wtih my phone if I want or my sp5 hmmmmm


Does the displayport support daisy chaining spec?

porperbly not, since continuum for phone can only drive one external screen. But one have to try to connect it to a laptop with usb-c like the HP spatre to try .

I couldn't find the x3 dock by itself on the hp store website! Dan, can you send the link? All I found was a special order listing at B&H website...

the link is already in the article, just above "Further Reading"

The article States any dock with USB C supports continuum. Seriously? I am thinking to buy this. COuld anyone please confirm https://www.amazon.com/dp/B01FWT7MEA/ref=nav_timeline_asin?_encoding=UTF...

Basically almost all usb-c dock would work for continuum. I am using minix neo C dock even though it was marketed as macbook accesory

Can I ask you if the minix neo c actually charges the 950xl through the hub when using continuum. I've read some conflicting reports and the Microsoft display dock is not available in the country where I'm living at the moment.... Thanks.....

Glad you asked, yes the dock drain lots of power due to too many ports. So if plugin with the charger come with Lumia(only 15W) or basic most of cell phone power adaptor, it can barely charge the phone. However if you plugin a usb-c power delivery charger with 30w or more, like the one from MacBook or HP laptop, it would provide enough to actually charge the phone or other USB-c devices.
but I use this simply because I don't need to plugin to use continuum.

But again, if you don't need Ethernet, then you can find lots of very cheap adaptors with HDMI/type-c charge/USB adaptor for $20

Thanks for the reply , exactly the info I needed.. Cheers.

and if you want some nice ones, I just found out this one which is really portable and they even demo Lumia 950 in their promo video https://youtu.be/JBHAsttnKog

And also just for reference, MS display dock shown her in this video works on MacBook.
https://youtu.be/u3fDbq57dus?t=4m12s

yes, look like it would work. Just to be sure check spec of the dock/hub that compatible with usb Power delivery (usb PD) for charging, USB type-c displayport alternate mode for video out (even it is hdmi, it should still go tru DP mode), and rest just simple usb otg hub. I have been using several thrid party usb-c dock or hub for traveling. They all work just fine.

The Lapdock doesn't though. Tried one with my 950 and 950XL both wired and wireless and it wouldn't connect. It detected but failed to connect either.

I read an article here or mspu mention lapdock works with Lumia 950, so maybe the paddock you tried need update in firmware.

"The Lumia 950 XL can also stand in Elite x3 Desk Dock and work with Continuum" ... perfect. just what I hoped.

Lumia continuum dock also works perfectly with my Dell Venue 8 Pro (The new one with usb c). USBC FTW!