Let's discuss the HP Elite x3 in our new dedicated forum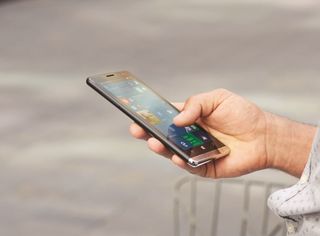 Now that HP has revealed their high-end Elite x3 with Windows 10 Mobile it is time to give you folks the space to talk about it.
The HP Elite x3 forums at Windows Central are now ready. Here you can ask questions, debate how good the phone is (or isn't), talk about rumors, and share your opinions on what is likely the most important Windows Phone yet!
If you can leave a comment on our site you are already registered and if not, registration is free, and you can log in with your Microsoft, Facebook, or Twitter accounts.
So jump in and get talking:
Go to the HP Elite x3 Forums at Windows Central
Need more? Don't miss our other coverage of the Elite x3 including:
Elite x3 Photo Gallery
Elite x3 Hands-on video
Daniel Rubino is the Executive Editor of Windows Central, head reviewer, podcast co-host, and analyst. He has been covering Microsoft here since 2007, back when this site was called WMExperts (and later Windows Phone Central). His interests include Windows, Microsoft Surface, laptops, next-gen computing, and arguing with people on the internet.
I have it on good authority that some of the people responsible for the awesome Elite x3 are not only big fans of Windows Central, but like reading the comments too. Let's show HP some love and make this phone all that it should be!

Did HP allowed hands on time with this phone?

If Redstone supports touch and ink over continuum, will we see them add 8" and 12" tables with stylus to the mix of accessories? NFC tap to pair, connect 8" tablet. Take notes in meeting. Walk back to office, dock to 34" curved monitor, run seamless desktop apps from virtual desktop combined with native mobile apps. Go home, tap and pair to 12" display, browse web watch movies. The only problem I see so far is Miracast as the core wireless display technology. It's OK, but will it handle realtime touch and inking without leg. Windows Mobile + NFC + Miracast/Continuum + Azure Remote Desktop

Finally an OEM that is here to be the first choice. Lovely work HP!! It was out of the blue! By the way Daniel, did you know that India broke the world record by manufacturing a phone called freedom 251 for $4 with features 1GB ram 1.3 Ghz 3G and basics and android lollipop!!!! You must check that out

It can beat Lumia 950 family in terms of features and performance, but I'm sure Camera is still better in 950 family.

Hi Mr. Rubino! I got the MS band 2 when I saw your review video! Anyway that phone seems awesome. If I weren't broke I would totally get this phone

Does it come with Super Sensitive Touch Screen??

The update of windows central is too fantastic

I'll coming back to windows phone. I'll be coming with a slew of Universal apps too

Ooh that sounds nice what kind?

Looks like Microsoft has been one upped.

Alternatively: This is what Microsoft wants to happen? They were involved with its development, after all.

And I still suspect that part of the reason MS didn't try harder to get the 950 onto Verizon was to keep some big market segments open for other brands. Not sure this was the specific target (since it's business focused), but I certainly think Microsoft wants to see most Windows Moblie device sales coming from OEMs.

Redefining the smartphone category

Thanks Daniel, some of the people have a fedish with blaming microsoft for everything as opposed to giving them credit.

It's reading new windows phones

Expecting a bomb like this from Microsoft itself real soon. But HP take a bow! This is brilliant stuff packed in a smartphone. Really curious to know the price.

Taken together, this is probably the coolest phone on the planet. It is shame it is HP.

What's wrong with HP? They are an honorable company. Actually, I think we should all be open to the fact that computer manufacturers are going to fill this void for the better.

What's wrong with HP? They are an honorable company. Actually, I think we should all be open to the fact that computer manufacturers are going to fill this void for the better.

I had an HP Pavilion dv4170us laptop that was awesome. Let's give HP a chance and welcome them to Windows Phone.

This is how a phone should look like!!! And dedicated buttons:D

Expectations that exceed Surface Phone?

Thanks to this phone, I'll be saying goodbye to my 950XL real soon. :) Thanks, HP.

FYI this phone only comes out in late summer.

They are giving a laptop as an accessory which can run Universal Apps and some other HP apps. I don't understand why people will buy this and not any normal laptop or a Surface which are powerful and can run all the apps, coz this phone along with accessories will be quite expensive.

This is targeted to business. The "HP Apps" you refer to are probably like Microsoft's Remote Desktop. Basically, you connect to a desktop on a server that can run any desktop app you want. I thought MS should offer an Azure remote desktop for every 950 and Office subscription.

That will become clear after sometime what those HP apps are. But still it doesn't make clear why people (business users) would buy this over a laptop or a 2 in 1. MS advertised Surface to replace two devices with one. But here you have two devices and still make you limited. Even if it had Android apps, it makes less sense to carry the accessories.

The me extender is the key. It is a dumb terminal with low cost of operation and can be lost or stolen without having to worry about security issues with your data, unlike a laptop.

The extender may be less expensive but the if you add up the Phone, the Dock and the Extender, it will get close to the Surface Pro pricing. If you're talking about losing the device, then a phone has more probability of getting lost than a laptop. I am in a college and for every 1 person whose laptop was stolen or lost, there are at least 10 people who lost their phone.

The laptop shell should work with 950XL too right? Great stuff HP, great stuff.

Yeah, I am hoping it would work for 950 XL. We will go to the store and would ask for the HP laptop without the CPU, Motherboard, RAM, or anything inside except the battery! LOL!

HP said it would be just the same as the other flagship phones around. So, I think it would be great price for this phone.

I think it'll cost as much as the iPhone 6S+

Awesome phone. There will be complaints about the lack of a camera button and removable battery. However, this is marketed for enterprise and I'm not sure that is a priority. And I'm not sure you could meet the water, dust, and mil specs with a phone that van be opened up.

Looks great love it Posted via the Windows Central App for Android

I have a strange feeling this won't make it to Australia :(

This is the only windows phone that is worth succeeding my 1520, come baby come! To Kenya

Meanwhile on TechCrunch
http://techcrunch.com/2016/02/21/hp-announces-yet-another-mobile-product...

I don't read TechCrunch. An interesting read/viewpoint but they seem a little out of touch buying into all the hype of the death of WP.

Already released... World Release in Timbuktu and Tasmania.

OMG!!!!!!!!!! HP this thing changed my impression about you. A laptop without a CPU for continuum!!! OMG that's simply brilliant. Bravo!!! Laptop and phone (monster phone battery!! I will buy that for apocalypse) with that monster dock that's a bravo work. This thing already shaken the very windows mobile market w10 mobile hardly needs 2GB ram but that double!! . Hope that its affordable though!!

Who would have thought that accessories is actually a viable product? A laptop without CPU and anything inside except a battery, keyboard and the monitor! I was like.... Seriously? I would like to go to an electronic store and ask "Do you have the HP laptop for Continuum? The one without CPU, RAM, Motherboard, and anything inside except the battery? LOL! Why are you looking for that?, he might ask. Because I have a computer phone, you moron!

If this is making phones for enterprise I say bring it on. This phone will make you think twice about the Lumia 950 xl. I wonder what would happen if Asus decides to join in considering how great they are at making hardware

Acer = Great Hardware ... is that a serious comment?

Hey Dan, I have a question I hope you will ask anyone from Microsoft or HP. Since this phone is dedicated to enterprise user although it wilso be sold to regular consumer, is Microsoft giving the whole business enterprise market for business phones to HP or is it going to compete with them with its Surface Phones in the future?

I think with OEMs venturing into smartphone business, Microsoft will delay the surface phone as more and more partners venture. I think the priority now is about enhancing windows 10 mobile, trying to solidify market share through the OS which is why the has been a sudden increase of companies partnering with Microsoft in the smartphone category

Will this phone work on the Verizon network?

Let the battle begins Lumias vs X3s.. Round one fight... X3s Toastees!!!

Sorry but I'm not wowed by it. Yes it has a newer processor and an extra gig of ram. The 950XL has a removable battery and a camera that takes awesome photos. The stand up dock is a nice twist on the continuum dock but we have several month to wait to see if there is any real difference in functional use. Both phones have Gorilla Glass 4. The four foot drop rating is good but the 950XL is pretty solid on it's own. I like the overall look of the phone but it doesn't compare to a 950XL with a Mozo leather back. Yes that costs more but we will have to see the price difference to see if that matters. I do give them a thumbs up for the front facing speakers. While it may not make a real difference in sound, it will make it louder and clearer for the user and that is important. The questions for me are. Would I have been willing to wait 10 months for this phone over the 950XL? No way. Would I upgrade to this phone from the 950XL? No way. There is nothing there in this phone to make me want to switch from what I have now. Plus I still have my fingers crossed that by the time this phone launches, the Surface phone details might be clearer. That still looks like my next phone purchase and this phone doesn't change that.

I'm really excited for this phone. It's what I expected from the mythical Surface Phone.

Why didn't they include camera button? thats my only draw back on this phone. glance would be good if it is included. otherwise it a perfect device.

So is Microsoft trying to take BlackBerrys place in the market? This could be a boon for businesses, if they package laptop and phone together for a decent price. I know my company would sell tons of these that way.

I love this phone, but Elite screen size is too big for me. I wish they done another model with screen sizes, say a 5.2" or 5.5.

how good is that camera flash?, looks small

Fascinating. Particularly considering all of those haters that did not want to see HP create another smartphone.


Glance, stylus, improved camera- ah, that would be good

For me it's good because it creates more competition for those who understand http://youtu.be/gCJ9pYuxDNc

The numbers of quality apps and the numbers of win phone users are chicken and egg situation. You will find no good use of the phone when others having fun time on iPhone. After all, are you sure that you are doing a lot of your work on a phone? I doubt.

Well this phone will get direct Updates from MS and will get launch in INDIA?
Windows Central Newsletter
Get the best of Windows Central in in your inbox, every day!
Thank you for signing up to Windows Central. You will receive a verification email shortly.
There was a problem. Please refresh the page and try again.