HP's refreshed ENVY x360 15 was announced in March alongside the ENVY 17. It's been improved in a number of ways compared to the previous-gen model, including a higher screen-to-body ratio, larger touchpad, new keyboard, and a slightly thinner and lighter body. It has also stepped into AMD Ryzen 5000 Mobile and 11th Gen Intel Core CPUs for better performance. This mid-range laptop has a lot to offer, and the price might just be right for someone who doesn't want to go full premium. I've been using the AMD-powered ENVY x360 15 for a couple of weeks to see what it's all about and whether or not it's worth a buy.
Bottom line: HP's ENVY x360 15 is a premium convertible with a mid-range price. Battery life is outstanding, performance is tops, and the FHD touch display has precise color and contrast. It's also easy to type on and the touchpad is huge. As long as you can work around the lack of Thunderbolt and lack of 4K display option, the AMD version should be quite appealing.
For
Super performance from Ryzen 7 5700U
Thin, light, high-end aluminum build
Color-accurate FHD touch display
Excellent keyboard and touchpad
Outstanding battery life
Against
Port selection could be better
No 4K version for AMD-based system
Top speaker grilles are for show
Glossy display finish and 16:9 aspect ratio
HP ENVY x360 15: Price, availability, and specs
HP supplied Windows Central with a review unit of the ENVY x360 15. This model includes an AMD Ryzen 7 5700U processor (CPU), 16GB of DDR4-3200MHz RAM, a 512GB M.2 PCIe NVMe solid-state drive (SSD), and a 15.6-inch touch display with FHD resolution and an advertised 400 nits brightness. It retails for about $1,020 at HP.
If you're on a tighter budget, you can get a Ryzen 7 model with 8GB of RAM, 256GB SSD, and 250-nit FHD touch display for about $800 at HP. A model with Ryzen 5 5500U CPU, 8GB of RAM, 256GB SSD, and 250-nit FHD touch display is about $810 at Best Buy. The top option here is to buy the Ryzen 7 model straight from HP, either as configured or with some upgraded parts.
Following is a closer look at the specs in my review unit.
Swipe to scroll horizontally
Category
Spec
OS
Windows 10 Home
Processor
AMD Ryzen 7 5700U
8 cores, 16 threads
Up to 4.3GHz
RAM
16GB DDR4-3200MHz
Dual-channel
Upgradeable
Graphics
Radeon RX Vega 8
Integrated
Storage
512GB M.2 PCIe NVMe SSD
Upgradeable
Display
15.6 inches
1920x1080 (FHD)
Touch, IPS
Pen
HP MPP 2.0 Tilt Pen
Ports
USB-C 3.1 (Gen 2)
Two USB-A 3.1 (Gen 2)
HDMI 2.0
3.5mm audio
SD card reader
Audio
Dual stereo speakers
Bang & Olufsen tuning
Connectivity
Wi-Fi 6
Bluetooth 5.0
Camera
Front-facing 720p
Webcam shutter
Keyboard
Backlit
Touchpad
Precision
Security
Fingerprint reader
Webcam shutter
Battery
51Wh
Barrel charging port
65W AC adapter
Dimensions
14.13 x 8.98 x 0.72 inches
(358.9mm x 228.1 x 18.3mm)
Weight
4.11 pounds (1.86kg)
Color
Natural Silver
Nightfall Black
Expensive look on a budget
HP ENVY x360 15: Design and features
While the Spectre x360 15 is HP's flagship large convertible, the ENVY x360 is considered a mid-range alternative that costs hundreds of dollars less. We've already seen what HP can do with the ENVY x360 13 and ENVY 14, which share some similar design cues.
No, the ENVY doesn't have the same premium gem-cut design and it's not built quite as solidly as the high-end Spectre x360 line, but it does certainly have its fair share of perks. The ENVY x360 15 is actually thinner and lighter, and it's built with recycled aluminum for a sturdy feel and a bit of environmental consciousness. If the Spectre x360 wasn't nearby, you could easily mistake the ENVY as being HP's top offering.
It's available in Natural Silver and Nightfall Black color schemes for a bit of variety. I have the latter in for review, and after using it for a couple of weeks I strongly recommend sticking with silver if at all possible. The black finish is a fingerprint magnet, especially on the touchpad. But it does look fantastic sitting open or closed, with the modern HP logo on the lid the only offset.
Image 1 of 2
This is a convertible PC with hinges that rotate around 360 degrees. Even though I've not been using the PC as a tablet other than for testing, the hinges have loosened up a bit with regular use. Nothing major has come of the slight hinge wiggle, but it's definitely noticeable due to the lid's weight. I'm hoping the additional movement doesn't worsen. The hinges do grab the display firmly in all positions, so you don't have to worry about the display moving around if you're, say, working in a moving vehicle. When opened, the lid sits flush against the main body for a flawless look.
A lack of Thunderbolt is a common issue with AMD-powered laptops, but that doesn't make it sting any less. Instead, the laptop has a single USB-C 3.1 (Gen 2) port with video and power capabilities. It's accompanied by two USB-A 3.1 (Gen 2) ports, HDMI 2.0, 3.5mm audio, and a UHS-I SD card reader with a press-to-lock mechanism. When in use, the SD card sits flush against the chassis to prevent damage. The laptop relies on a barrel charging port for the tiny 65W AC adapter; a better setup here would be a second USB-C port that could handle data when not charging. Alas, you can still connect one of the best laptop docking stations if you're in need of expanded connectivity.
The keyboard on AMD Ryzen models has been redesigned, ditching the number pad and instead placing speaker grilles on either side. It offers a clean look, but anyone who often works with spreadsheets is likely going to miss the extra keys. And, as I discovered, the top grilles don't actually house any speakers. More on that in a moment.
The keyboard is comfortable even when typing all day thanks to plenty of travel and a clear actuation point. Keys are spaced well and have a three-stage backlight (off, bright, and brighter) for working in the dark. I appreciate the dedicated column of navigation keys to the right of the board, especially when many laptops are doubling them up to use with the Fn key. I type thousands of words a day and find this to be an ideal keyboard for that type of effort.
A fingerprint reader for Windows Hello is incorporated into the keyboard setup. It works well each time and provides quick and effortless logins. The camera shutter toggle is also built into the keyboard, as is a mic mute button. And the power button's placement in the top row of keys (next to Delete) would be controversial if not for some nifty engineering. It takes considerably more pressure to depress, and it must be held down for a couple of seconds to engage. Don't be worried about accidental presses; I had none during my time with the ENVY x360.
The Precision touchpad has been enlarged by 19% compared to the previous generation. It's now rather massive, competing with the Dell XPS 15 9500 for room to point. Tracking is smooth, the click is satisfying, and there's no loose rattle. It picks up fingerprints, but otherwise, it's a great touchpad.
HP pulled a bit of a fast one with the speaker setup. There are two massive grilles that flank the keyboard, which I assumed to be for top-firing audio. To be fair, it's never specified anywhere that these are for speakers, and indeed there are also two grilles on the bottom edges of the PC that hide actual speakers. It's definitely an off design choice considering the number pad was ditched for these top grilles. Audio quality is nevertheless rather good and the placement on the wedge design means the sound isn't muffled no matter how you use the device.
Wi-Fi 6 is included for fast and reliable wireless internet. The M.2 module is accessible if you ever need to upgrade. Bluetooth 5.0 is also included for connecting wireless accessories and more.
The camera is not the best I've seen, but it's not going to be an issue for video conferencing. The picture has a bit of grain, but it deals well with exposure. HP includes its Enhanced Lighting app that can be used to turn your screen into a makeshift light ring. It's good if you're in a spot with terrible lighting, but I didn't use it during meetings. The camera seemed to do a good enough job with picking up the right amount of light.
FHD with 400 nits
HP ENVY x360 15: Display and inking
The AMD-powered ENVY x360 15 comes with two configurable FHD touch display options; if you're looking for 4K, you'll have to move over to Intel hardware. My review unit has the higher-end FHD option with extra brightness of up to 400 nits as advertised. In testing, it hit just 300 nits at the peak, which is disappointing. The display's finish is about as glossy as it gets, so glare is an issue if you're working outdoors. I managed, but a shady spot delivers much better results. And if you go with the 250-nit display, expect more issues.
Color and contrast look great right out of the box, and indeed it comes calibrated from the factory with Delta E<2 color accuracy. Furthermore, testing with my Datacolor SpyderX Pro colorimeter revealed 100% sRGB, 76% AdobeRGB, and 79% DCI-P3 color reproduction. These are good results, and those handling some editing work should feel right at home. If you're getting into truly specialized work, however, you'll no doubt want something with higher AdobeRGB and DCI-P3 reproduction.
The display's bezel is pleasantly thin, contributing to an 89% screen-to-body ratio. This is still a 16:9 aspect ratio (boo), but there's not much of a chin below. A 16:10 or 3:2 aspect ratio would be much better for a tablet, giving you less of a rectangle and more of a square when the lid is rotated around. The HP ENVY 14 moved to 16:10, so hopefully, the x360 models will at some point as well.
The ENVY x360's screen is compatible with HP's MPP 2.0 pen with 4,096 levels of pressure sensitivity and tilt support. It wasn't included with the review unit so I wasn't able to test it out. If you're buying this laptop, it looks like you'll get one included in the overall price of the device. That's a nice addition by HP and one that not every company sees fit to include.
Eight cores in a thin laptop
HP ENVY x360 15: Performance and battery
The AMD Ryzen 7 5700U processor in the ENVY x360 15 is truly a top performer when it comes to multithreaded tasks. Its eight cores and 16 threads push it well ahead of the comparable 11th Gen Intel Core i7-1165G7 chip, and it will even beat out 10th Gen H-series Intel Core i7 CPUs. Intel still wins in most single-core cases, but if you're going in heavy on multitasking, this is the CPU you want.
On the other hand, however, the RX Vega 8 GPU isn't particularly impressive. It's basically the same as you find in Ryzen 4000 chips, and its performance comes in below Intel Iris Xe integrated graphics. No matter the case, a dedicated GPU — like the NVIDIA MX450 in the Intel version of the ENVY x360 15 — is going to trounce the integrated graphics. If you're leaning toward more intensive design or editing work, it will certainly come in handy.
I had absolutely no issues using this laptop for heavy web browsing (multiple windows, each with 10+ tabs), photo editing, video conferencing, and media streaming. The CPU and GPU each have a separate fan, but they're silent when the laptop isn't under strenuous load. While benchmarking the laptop I noticed some fan noise, but it quickly cut off when the testing was finished. Despite how thin it is, this isn't a laptop that gets particularly hot on any surface.
HP Command Center software has some preset power profiles you can swap between depending on what you're looking to accomplish. For the following benchmarks, I used the HP Performance plan paired with Windows 10's Best Performance plan.
Image 1 of 6
All of the above results show just how strong of a laptop this is. Even the SSD speeds are generous. To boot, the SSD and RAM are user upgradeable, and HP has a video to walk users through a full teardown. There are two SODIMM slots beneath an aluminum heat shield, as well as a single M.2 SSD slot. If you for some reason can't find the exact configuration you want at checkout, you can always upgrade down the line. This is also a great way to save some money.
Using this laptop as a daily driver I was regularly getting more than hours of battery life from a charge, more than enough to get through a workday. PCMark 10 battery rundown measured 14 hours and 9 minutes with the screen's brightness set at 75% (300 nits) and the power plans set to Balanced and Better Performance. The lack of discrete GPU and UHD display helps prolong a charge; nevertheless, this is an excellent result for a 15-inch device.
They're just envious
HP ENVY x360 15: Competition
The best 15-inch laptops include some attractive convertibles. The Samsung Galaxy Book Pro 360 is another convertible with an FHD display (this time with AMOLED display), excellent inking, strong performance from 11th Gen Intel Core CPUs, and a sleek design. If you really want to go as thin and light as possible, this is the one. Models have seen a recent price drop, now starting at about $750.
The HP Spectre x360 15 is a step up into truly premium PCs, but I'd say the ENVY x360 gives it some strong competition. Nevertheless, if you'd like a 4K OLED touch display, flawless gem-cut design, discrete GPU, and solid performance, this is the way to go. Prices start at about $1,300.
The Lenovo Yoga 9i 15 is another premium option, with prices starting at about $1,900 before any of Lenovo's frequent (and deep) discounts. This model has a 10th Gen Intel Core i9-10980HK CPU, NVIDIA GTX 1650 Ti GPU, 16GB of RAM, 2TB M.2 PCIe SSD, and 4K display with Dolby Vision HDR 400. This is also the laptop with a soundbar hinge and integrated active pen, making it one of the best for media.
Finally, the ENVY x360 15 is also available with 11th Gen Intel CPUs, a number pad, 4K AMOLED display, and NVIDIA MX450 discrete GPU. Prices start at about $732 for the Intel-based models. Check out our roundup of the best Windows laptops for many more options.
Easy recommendation
Should you buy the HP ENVY x360 15?
Who it's for
Those who want a thin and light 15-inch convertible with inking
Those who want an AMD Ryzen 5000 Mobile system
Those who need 14+ hours of battery life
Those who want a high-end machine without paying high-end prices
Who it isn't for
Those who need a 4K display or taller aspect ratio
Those who need a discrete GPU
Those who need Thunderbolt connectivity
The ENVY x360 15 is another quality entry for HP's mid-range lineup. While you might suspect a lesser build quality due to the modest price, the aluminum build here is top-notch. The hinges loosened up a bit with use, but not in a way that causes the display to not sit right where you want it to. The lines are clean, and the laptop is pleasantly thin and light.
The keyboard is super comfortable for all-day typing, and the enormous Precision touchpad is easy to use. There's no Thunderbolt, but you still get HDMI out, an SD card reader, and a USB-C port for connecting a docking station. The camera is passable, the audio is good (though no top-firing speakers), and the fingerprint reader and webcam shutter are appreciated.
The display is a mix of good and bad. It has precise sRGB color and deep contrast for a satisfying picture, but it also has a glossy finish, lower than advertised brightness, 16:9 aspect ratio, and maximum FHD resolution. At least the bezel is very thin and you get an active pen with tilt support included in the price. Hard to complain about that.
Performance and battery life are where the ENVY x360 15 really shines. The Ryzen 7 5700U CPU demolished benchmarks without really breaking a sweat, and the battery lasted more than 14 hours on a charge. With prices starting at about $800, your money is going to go a long way despite some of the laptop's shortcomings. If you're shopping around for a 15-inch convertible and don't want to empty your wallet, this is an easy recommendation.
Thin, light, and powerful
With superb performance, 14+ hours of battery life, sleek design, and colorful FHD display, the ENVY x360 15 is a truly quality PC masquerading behind a budget price. If you're looking for a 15-inch convertible, this one should be seriously considered.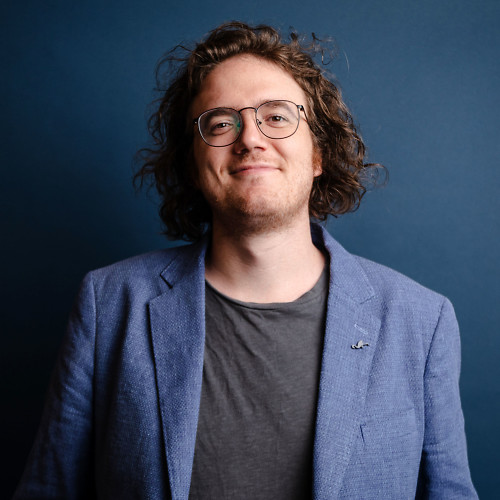 Senior Editor, Laptop Reviews
Cale Hunt is formerly a Senior Editor at Windows Central. He focuses mainly on laptop reviews, news, and accessory coverage. He's been reviewing laptops and accessories full-time since 2016, with hundreds of reviews published for Windows Central. He is an avid PC gamer and multi-platform user, and spends most of his time either tinkering with or writing about tech.