HP wants to make Windows 8.1 PC desktops cool again with new Pavilion and ENVY models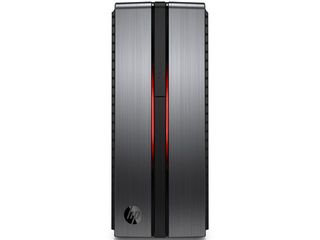 HP thinks that regular consumers will still be interested in buying the old fashioned Windows desktop PC. Today, the company revealed a lineup of new Windows 8.1 desktops with refreshed designs, along with new color and material options.
Both the new HP ENVY and HP ENVY Phoenix desktops have a case with brushed metal chassis. Hardcore PC gamers will likely want to take a look at the HP ENVY Phoenix, which will have a dark aluminum look and a red LED light that makes the front glow. They can choose to install either NVIDIA or AMD graphics cards but it's the desktop's overclocking features that are most intriguing. HP says:
Both the HP ENVY and HP ENVY Phoenix desktops will go on sale June 10. Prices will start at $699.99 for the ENVY and $899.99 for ENVY Phoenix.
HP is also selling new versions of its less powerful Pavilion desktops, made for the back-to-school shopper. It shares some similarities to the case design for the ENVY but consumers can also choose from a variety of colors (Blizzard White, Natural Silver, Nobel Blue and Sunset Red). Those desktops will go on sale June 26 for the starting price of $449.99.
Source: HP (opens in new tab)
Someone will downgrade to Windows7.

They'll upgrade to Windows 10 in a couple of months, so it doesn't really matter.

Only laptops will upgrade to Windows 10.
Without Windows Media Center, the only place you'll get to see a desktop will be at the bank.
And that will actually be an all-in-one desktop.

What are you talking about??

The same media center that like 3% of windows users actually used? Desktop in the same place they have always been, under your desk helping you be productive at work and maybe at home. Makes you wonder why people still call them desktops when most are placed under the desk.

Well I suppose it beats calling them deskunders :P

Who cares? If you're going to downgrade, that your choice as it is for others who chose to.

Looks beautiful, I would to give a desktop PC, I don't ever disconnect my laptop from my moniter

Desktops are great because you can upgrade their parts and keep them up to date :)

Well, I upgraded the RAM and hard drive in my laptop though too.

It's not the same. Desktop hardware has much better performance because they are designed with pre knowledge of the ease of heat dissipation. So, hardware is pushed to its limits. Laptop hardware has to balance performance with heat generation.

Yes, I'm aware of the difference. Laptops have limits to only upgrade them so much. For example: I upgrade the ram and hard drive, however,ihave a 1.3GHz AMD processor (which can not be upgraded to Intel) and the biggest I can upgrade it to is another AMD 1.6GHz processor which, in turn, isn't worth it.

Most newer laptops dont even allow for upgrade of processor, due to intels embedded processors. And ultra books require the user to void the warranty to upgrade memory or storage.

lol, comparing laptop chips vs desktop chips is like phone vs laptop, just consider this, a laptop cpu wont go over 10w, while a desk cpu will be at 95w from stock, 150w with serious oc

Partially, in ho, and dells case you cam only upgrade so far. If they did away with these factors they may sell more.

But laptops are manufactured to break down after about every 3 years lol.

Yea sadly most products are that way now.

If they didn't we'd all be out of jobs

I still have a Dell Inspiron laptop from 2001 running XP that still works fine and another Dell Inspiron from 2009 running 8.1 that runs great too. Original hardware on both of them except for a hard drive replacement on the 2001 model.

Not if they are proprietary.

Sell laptop Buy Desktop Profit?? EDIT: If you are not into gaming you should keep tabs on Dell/Lenovo outlet. Dell literally had their precision line for $1000 off!!!
16GB ECC RAM, Dual Nvidia Quadro K600, Xenon 3.3GHz, 512GB SSD, $760 :OOOOO That is one hell of a workstation for a developer.

Wow, that is an amazing deal. No sarcasm.

2 decades too late. We wanted non beige utilitarian boredom in the 90s. Companies formally run by old men. Good on yer Meg ;)

Not bad hp, not bad at all. Pretty cool for a college students who need a work station. Hats off. For the rest of us there is still (thankfully) a do it yourself way.

maybe windows 10 :P (yea i know its upgradable)

As a teacher I strongly recommend that parents invest in a desktop, especially for college students. Desktops create a working environment that helps structure studying.

But desktop are at the same time much more powerful and able to run any kind of games :D

I'm going to have to disagree... As a recent grad, I can tell you first hand, you pretty much need a laptop for EVERYTHING now. Perferably a 13 inch. I never understood why PC manufactures charged more for a 13 inch laptop vs a 15 inch. That is in my opinion why Macbooks KILL in college.

MacBoos sell because there part art stuff and part hip product.

What you need is a desktop and a convertible tablet.

Because the 15 inch laptops use older/larger/cheaper parts than the 13s.

Anything that involves miniturization costs more. It's easier to engineer a case to fit all the components into a 15" laptop case than it is for a 13". Plus you have to deal with the heat dissipation issues involved with packing all those components in such a small environment. There are plenty of 13" and 15" PC laptop choices. The popularity of macs is due to a perceived increase in status. These college kids think their are cooler and the higher price will make people think that you have some money. The sad thing is that they are getting basically the same hardware that is available in less expensive PC and when they get a job, they will most likely be working with a PC.

I would strongly recommend that parents buy their student children a deliberately underpowered portable computer. A desktop computer plus its monitor, keyboard, mouse etc is a huge PITA for the young person who will probably spend the next decade at least moving regularly from one rented place to the next. That lack of mobility you're talking about might seem useful for creating a fixed study environment, but it also stops the student from working at their convenience and whenever the move strikes them. A desktop PC features all the distractions of social media that pose a threat to any student's attention, but the desktop computer has an extra one: popular big budget games. A laptop with a weak GPU (or just an IGP in the CPU) or a tablet would be a better choice. The student is more likely to keep the machine with them more of the time, which makes it more secure. I think it's better to encourage the student to work on the move and to use cloud storage, so that if his/her technology is stolen their work isn't gone.

Neat looking cases, it would be interesting to see what the internal bays look like. Also if mounts have been pre-fitted or not. Cable management is usually a given with high end cases.

Really awesome. Hope they come to India soon

great! waiting for it in india................................

Cheaper than the macbook.

I use to be enamored by laptops and tablets, but realized that a desktop is still the best solution for myself. The whole mobile thing is way overated. You need a mouse and keyboard and large screen 19+ inches to really get work done, or to study proper. The reason phones and tablets make so much noise, is because there upgrade cycle is so quick. A good desktop can last for years, while people replace their phones and tablets every year or two. The new desktops are awsome, with built in wifi, bluetooth, hdmi out, They provide much better bang for your buck. I'm going to get the 640 for under a hundred bucks and sale my note 4. I'll never pay 700 dollars for a phone again. Waste of money IMO.

Absolutely agree to it. I don't have the apetite or the space in my home to put a desktop...but I will get a really powerful laptop which can provide me portability and power side by side...but spending so much on a phone is just plain ridiculous IMO

I agree. I really like my Icon, but its overkill for everything I use a phone for. What I really use when I have to get something done is my desktop.

Well, sure, if you don't do a lot of social media, then a smartphone may not be your thing. Then again, Windows phones aren't that great when it comes to social media anyway; they have a not so great Facebook app, a very basic Twitter app, a hacky third party Instagram app, and that's about it.

Completely agree! Desktops are cheap and great at doing heavy lifting. Phones are amazing in their portable utility. Laptops and tablets are just compromises between portability and power, and often represent the worst of both worlds rather than the best.
With continuum for phones around the corner we could start to see phones completely replacing the need for most people to have a traditional tablet, laptop, or even desktop. Want your content on a TV? send the phone display to the TV. Want it at your computer station? send it to your desk space. Want it on a laptop or tablet? I am sure there will be some sort of battery powered WiDi display that can fill that role in the near future. You may still want to upgrade your phone every 2-3 years, but the rest of your devices will merely be displays rather than complete machines.
The next step will be getting a home server/desktop that can do the heavy lifting that the phone cannot so that you can do big AAA games and productivity work through your phone. The phone will be fairly capable in itself, but it's main role will be the coordinator of inputs, outputs, and resources in the home or office.
The future looks good :D

ENVY? Personally, that's my least favorite deadly sin. I tend to vacillate between Lust and Sloth. They should have used one of those names.

Sloth would be their Pavilion lineup. I think that most people would consider Lust to be an Apple product.

I always considered Apple products to be ruled by Greed.

I think Apple is more about vanity. People care more about how they look doing their mundane tasks. They can do those same mundane taks on less expensive machines, but they think they won't look as good using those.

I build my desktop systems from the ground up...properly researched it makes the upgrade cycle longer and easier. And since overclocking normally voids the warranty anyways, I really have no need for manufacturer support.

Intel sells OC insurance for, like, $25.

Worst customer support I've ever experienced was with HP. They have lost my business forever. Buyer beware with them.

Hats off to Dell and HP. After years of shoveling crap they are now both putting out very respectable products. It is nice to see PC makers caring about their products again!

Nice design, these'll last

If I were a student still, I'd get a desktop, maybe in all in one for space saving and portability and a surface 3 for on the go. I definitely work faster at my desktop, but when my house gets too hectic with kid drama to work, its nice to grab the laptop for a few hours away to pound out some work.

If you got an SP3 you could set it up just like your desktop at home but still have the portability as well.

Looks nice but still rather build my own ;)

Can finally upgrade from my hp pavilion a6120in desktop PC from 2007 :)

Red lighting is awesome! Too many PCs use blue.

never heard of an imac gaming machine.

About time, everyone likes nice looking things.

I normally build my own, but wow, that thing is gorgeous. HP, please sell me one of those cases.

HP has always been my personal favorite when it comes to design, not their super low-end offerings, but their mid- to high-end products always seem to align with my likings.
Windows Central Newsletter
Thank you for signing up to Windows Central. You will receive a verification email shortly.
There was a problem. Please refresh the page and try again.