HTC Locations updated with offline navigation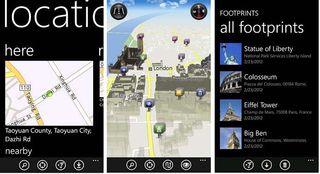 HTC has recently updated their Locations app for Windows Phone, which now sports handy offline navigation. Nokia beat the gun with implementing support for navigation not requiring data connectivity in their Drive app. Now HTC handset owners will be able to enjoy the same functionality as both Lumia and HTC Android owners.
HTC Locations enables the user to "share your favorite locations with photo, voice and note. Share your favorite locations to your friends", with downloadable maps as well as offline navigation. It's a pretty simple app with neat functionality.
Should you own a HTC Windows Phone, you can download HTC Locations from the OEM collection of apps.
Via: Engadget; Thanks, SolunaKitty, for the tip!
Rich Edmonds is Senior Editor of PC hardware at Windows Central, covering everything related to PC components and NAS. He's been involved in technology for more than a decade and knows a thing or two about the magic inside a PC chassis. You can follow him over on Twitter at @RichEdmonds.
The app description was changed to this:
¨Find your way with directions or voice guidance. You can download maps to your phone for offline use, or search and browse online maps when you're connected¨.

OMG, was much better now!! Almost equal to Nokia Drive.

Offline maps come to HTC's second gen phones. They're free for a month and then there's a fee for either a month, year, or unlimited. Nice attempt, HTC, but charging for offline maps is going to be a hard sell when Nokia is doing the same but for free. However, 30 bucks for full fledged offline maps isn't that bad, especially since Navigon charges way more. Plus I'm glad to see that HTC is still working to improve their selection of services and apps. Aside from Nokia and HTC, the other vendors haven't released/updated a worthwhile app in quite some time.

Where did you see that?? ''Offline maps come to HTC's second gen phones. They're free for a month and then there's a fee for either a month, year, or unlimited.''
I didnt see this on my phone (HTC HD7).

My mistake about the second gen limitation. I was thinking about their DLNA service with Connected Media, which isn't available on all of HTC's Windows Phones.

But when you go to "get more," select "navigation" and then pick a location it pulls up a list of fee options and when you have start paying.

I feel really dumb, I did not know this app was available. It's been a while since I looked at the HTC marketplace.

Upon investigation, it seems that the navigation itself wont be free after a period of time. It costs a certain amount to renew the navigation. You can check under "Get More" -> "Navigation" -> "Get more". It's $30 for the US for unlimited. It seems unlikely HTC would change that, but only time will tell.

Yeah, it looks like they are going to surprise people with a charge after 30 days. Its looks more and more like Nokia is going to dominate. The Lumia 900 costs less and has more functionality like this, included. No brainer...

For me in Australia it's $7.50 for 1 month, $35 for 1 year and $70 for unlimited. I assume this is for updates only and that it will continue to work otherwise. Quite frankly that pricing is ridiculous. It does seem deceptive that neither the app description nor the terms you have to agree to make any mention of future payments.

A good attempt. Might be payware at some point. This may be due to map licensing reasons. In all a good attempt.

Aww...isn't that special.

See there is a car mode in the settings. So if you have the HTC car dock it can auto launch the app. Nice feature.

Maps and cams via Route66.


Come on CoPilot... I'd buy in a nano-second


P.s. I already have Navigon and I'm glad to leave that behind (Various reasons: Speed, locking on, no full post code etc)

Looks like HTC is ready to compete with Nokia

Might give this a shot. One thing I haven't like about wp 7 is how the maps are embedded so deeply in local scout. It takes multiple screens to get to it and it not very intuitive which kind of goes against the wp7 philosophy.

What? It's on the very first screen of scout. When you touch the scout icon then "Eat & Drink" comes up with localised results and the map is at the top of the screen. Touch the map and you've got a full map view.

Exactly which is three clicks from wherever you are. That's something I'd like to see addressed with Apollo.

I did just see that you can pin local scout so that helps.

is it only me who is able to cook omlette on back of my HTC trophy when i use this app...???

And peppers, (HTC Arrive/Sprint). But dunno if its cause I use TeleNav...

Typical CDMA phone behavior.

Saw the fees and instantly uninstalled

Good luck getting anyone to pay for this. I'm hoping Nokia releases a desirable phone on Verizon once WP8 comes out since they don't charge you ridiculous prices for just ok apps.

I thought Nokia apps would be released to all windows phone users after 90 days? Kinda getting sick of all this wp7 mess. Just release and update this shit

I don't mind paying for it...
I used to have a TomTom (a gift), but got rid after I found out you had to pay £50 per annum for updates...
This, in retrospect; it's cheap both in the short AND long term.

This update is great it can compete now with Nokia drive. Hopefully it will stay free. Great job hTc horayyyy!

My Mozart in Australia is starting to ask for a valid license...might have to get the Lumia 900 once it's released over here.

I paid for an unlimited North America License for HTC Locations for my HTC Verizon Trophy. I downloaded the WEST region, and everything worked well. I downloaded the South Atlantic region and found that I am not able to search for *any* addresses at all in the South Atlantic region. In order to navigate to an address, you first must search for it and find it in the app, so I can't navigate to addresses in the South Atlantic region. This is VERY FRUSTRATING! I carefully searched through the app's settings to see if I must set one of the maps I've downloaded as the active map for searching, but there is no such setting. As-is, the app. is not usable if you think you are going to hop an airplane and use then use a map different from the one covering where you live.

Each map takes a very long time to download over a good wifi connection having more than 10 mb/sec download bandwidth. Even though you can download multiple maps, you can only use one, and if the one you want to use was not the first map downloaded then you have to delete all of the other maps you downloaded and installed on your phone.
This app is not ready for prime-time. Its astonishing that a big company like HTC would sell a $50.00 license for an app like this, where you can download multiple maps, but they don't tell you about this major 'feature' that prevents you from using all but the first map you downloaded.

Update: After much time uninstalling and re-installing map regions, I have managed to get two map regions completely working, but no more. Once a 3rd map region is installed, it will no longer be possible to search for and navigate to addresses in at least one of the three map regions. As far as I can tell, which map regions will work vs. be broken is not predictable or dependent upon order of installation. For anyone who travels around the country the app. will be very unreliable because of this problem.
I contacted HTC support who responded stating that it is a 3rd party application that they do not support. Since the app is called "HTC Locations," I thought HTC would support it, or would at least provide information about how to obtain support.
This certainly appears to be a flagrant bug, and its frustrating that they would release this, charging $50.00 for a North America license that effectively can't be used. Uninstalling and installing map regions on the fly is not doable either because downloading a single U.S. map region takes hours over a reliable network.
My advice: Don't waste your money.
Windows Central Newsletter
Thank you for signing up to Windows Central. You will receive a verification email shortly.
There was a problem. Please refresh the page and try again.