Three new indie games are coming to Xbox One tomorrow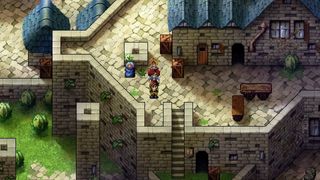 This week is a huge one for everyone that is a part of ID@Xbox. Earlier this week they launched Never Alone and Jackbox Party Pack, and today they announced that three more games will be dropping tomorrow for Xbox One. The games are Thomas Was Alone, Pier Solar and the Great Architects, and The Pinball Arcade.
Thomas Was Alone
The first game coming tomorrow, Thomas Was Alone, isn't a new game at all. The game first launched as a flash based game back in 2010 and has since made its way to mobile devices and consoles. Thomas Was Alone is an immersive puzzle platformer that is driven by its narration.
The game is about "friendship and jumping" as Thomas and all of his proportioned friends try to overcome levels. Each shape will have its own unique personality and capability, so the shapes will have to work together to jump and overcome obstacles before arriving at the point of exit.
Thomas Was Alone - Xbox One - 465.46 MB - $10.99 - Xbox Store

(opens in new tab)
Pier Solar and the Great Architects
Next up we have Pier Solar and the Great Architects. Development of the game began as a Sega Genesis homebrew project but ultimately became something very special. Pier Solar is about three best friends; Hoston, Alina, and Eddesot. These three friends are on a journey to seek out a rare herb to cure Eddesot's stricken father.
The games plot is said to become even larger as the story unravels and becomes more focused on the Great Architects. Pier Solar is a love letter to the JRPG genre, and when it released on other platforms earlier this year it was widely accepted with raving reviews.
Pier Solar and the Great Architects - Xbox One - 2.29 GB - $14.99 - Xbox Store

(opens in new tab)
The Pinball Arcade
Lastly, The Pinball Arcade from Farsight Studios will be releasing tomorrow as well. Unlike Pinball FX, The Pinball Arcade focuses on allowing their users to play faithful recreations of classic real-life tables. The game is free-to-play and will have more than 25 tables available to purchase when it launches tomorrow, with more to come down the line. Some of those tables include Ghostbusters, Medieval Madness, and Twilight Zone.
Which game are you going to scrape pennys for?
Get the Windows Central Newsletter
All the latest news, reviews, and guides for Windows and Xbox diehards.
I want the pier solar rpg.

I want that Thomas Was Alone

I totally thought it was Chrono Trigger for a second!

Pier Solar does look pretty awesome.

I am a little pissed at Watermelon to say the least. I put out $135 for the Dreamcast version over a year ago...no info...no release date.

I ordered the genesis version for them to keep delaying the printing of it (TWO YEARS AGO)... I got my $60 back.

Am I misreading? Says Pier Solar has been there since the 7th.

Lots of games this month. :)

I'm starting to think that Ori and the Blind forest is pushed to 2015. I see gamespot has all versions listed for that now.

Nah it's going to be a December game for all of the new Xbox One buyers

Pier Solar, totally the same as Doom & Destiny for Windows Phone (that itself is totally the same as Final Fantasy 1)

D&D was amazing. Big fan and just backed their crowding. Thanks for the heads up. Will def be getting pier solar.

The same genre. Completely different games, all of them.

Probably different story and approach. But yes, it's the same genre, and I'd like to see hundreds of them.

Yes, it is so nice to have Indie games in XBOX1 !!!

Apparently Pinball Arcade won't be releasing tomorrow due to some last minute loose ends to tie up. Posted via the Windows Phone Central App for Android

Speaking of Indies, when will Ori And The Blind Forest gets released. There haven't been any news about this for a couple of months now and it was scheduled for release in Q4