IFA 2016: Our top picks for the best new laptops, desktops, and more!
This year's Best of IFA winners are breaking new ground in pretty much every direction.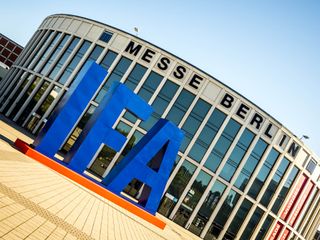 IFA 2016 was something of a subdued show compared to previous years, but that didn't stop the companies that we know and love from bringing their A-game to Berlin. On the Windows side of things we saw a great showing from companies like Acer, ASUS, HP, and Lenovo. It was definitely the year of experimental and ground-breaking designs, and that's reflected in our choices for the Windows Central Best of IFA 2016 Awards!
Lenovo Yoga Book
There's one device that captured the imagination of everybody who saw it: the Lenovo Yoga Book. It's easily the most innovative device to come out of this year's CES, pairing a 10-inch Windows 10 tablet through a hinge with a touchpanel that serves as both keyboard and pen surface. It's impossibly compact and surprisingly affordable at $549, and hands-down the one device we most want to spend more time with. Whether its unique form factor will find a purpose in everyday life or if the potentially underpowered hardware will be able to keep up is an open question, but there'es no question to the uniqueness of this device and our hopes that it lives up to our expectations.
Acer Predator 21X
And on the complete opposite side of the portable spectrum is the Acer Predator 21X. This sucker is portable in name only, but its enormous size and weight is made up for with its extreme specs. This notebook PC sports a 21-inch curved ultra-wide display, Intel Core i7 processor, dual NVIDIA GTX 1080 GPUs, five cooling fans, a full-size mechanical keyboard, eye tracking, and a design that will strike fear into your LAN party opponents. Of course, this sucker won't come cheap, but Acer's not talking about price or availability just yet.
Lenovo Yoga 910
Lenovo's next-generation Yoga 910 notebook takes everything we've loved about the previous Yoga 900 and makes it thinner, lighter, faster, and overall better. It retains the signature watchband hinge that's defined the Yoga line, but packs a larger 13.9-inch display in the same footprint as before thanks to reduced bezels all around. Add in a 7th-generation Intel Core i7 processor and a touch fingerprint reader and you've got a convertible laptop that's setting the standard for excellense in design and engineering.
Acer Swift 7
Acer went big with the Predator 21, but they're also going super slim with the Swift 7. This ultrabook, part of the all-new Swift line of laptops, is the thinnest laptop ever made, measuring in at just 9.98mm when closed. Inside its aluminum unibody shell Acer managed to pack a brand-new 7th-generation Intel Core i5 processor, 256GB SSD, 8GB of RAM, and a 13.3-inch display. It's simply beautiful and thin and light; you'll be able to get one starting in October 2016 for $999.
Acer Swift 7
ASUS ZenScreen
Sometimes you need a truly mobile workstation, and for that you need more screen real estate than any laptop can provide. ASUS aims to solve that problem with the ZenScreen, a portable USB-C-powered 15.6-inch Full HD monitor. With its folding cover stand and compact, narrow-bezel design, the ZenScreen stands ready to earn a spot in many a mobile professional's arsenal.
HP Pavilion Wave
One of the biggest problems with getting PCs into the living room is that most desktop computers simply don't look good. You don't want a big ugly box of metal and plastic sitting out for everyone to see, and HP's looking to solve that with the Pavilion Wave. This is one of the most attractive desktop PCs we've ever laid eyes on, with a fabric-wrapped design and integrated 360-degree Bang & Olufsen-tuned speaker for high-quality room-filling sound.
LG 38UC99 ulta-wide monitor
LG's long been a leader in ultrawide and curved displays, and the artfully-named LG 38UC99 pushes both to new extremes. This monitor is a beast, measuring 38 inches diagonally with an UltraWide QHD+ resolution of 3840x1600. The panel itself is a beautiful IPS LCD with an extra wide color gamut that hits 99% of the sRGB color space. It even has a USB-C port and stereo 10-watt speakers that you can connect your phone to via Bluetooth.
LG 38UC99 ulta-wide monitor
Lenovo Miix 510
You wouldn't be wrong in calling the Lenovo Miix 510 a "Surface clone," but just because the two share a similar design doesn't mean this isn't a 2-in-1 tablet worthy of consideration. Packing a Core i5 or i7 processor, 12.2-inch HD display, and up to 7.5 hours of battery life, the Miix 510 is a worthy Windows 10 tablet. Throw in a $599.99 starting price that includes the detachable keyboard and pen that don't come with a Surface Pro 4 and suddenly Lenovo's take on the 2-in-1 seems a lot more competitive.
Acer Spin 7
The Acer Swift 7 might have captured hearts and minds with showstoppingly thin profile, but its much less flashy Acer Spin 7 cousin is an equally impressive machine. Sporting similar specifications that notably include the new 7th-generation Intel Core i5 and a 14-inch HD touch display in the footprint of a 13-inch laptop, this convertible PC still manages to measure a mere 10.98mm thick — just a mm thicker than its non-touch non-convertible stablemate. If a thin-and-light convertible notebook is what you want, the Acer Spin 7 will be well worth consideration.
HP Elite Slice
HP's take on the stackable modular computer is a unique one. Really, the concept in general is a neat one, and it's nice to have more companies giving it a try. You start with a compact base computer to which you can literally stack on top additional modules to expand its capabilities. When the HP Elite Slice goes on sale later in September, it'll bring with it modules for speakers, DVD drives, wireless phone charging, speakerphones, and more.
Derek Kessler is Special Projects Manager for Mobile Nations. He's been writing about tech since 2009, has far more phones than is considered humane, still carries a torch for Palm, and got a Tesla because it was the biggest gadget he could find. You can follow him on Twitter at @derekakessler.
Can't say I liked anything from IFA. Yoga 910 only has low rev USB ports and no Thunderbolt 3. Really disappointing no one is taking advantage of native USB-C 3.1 Gen 2 and Thunderbolt 3 on Kaby Lake chipsets. Guess I continue waiting for someone to make a 2-in-1 worth buying.

Thunderbolt 3 is an additional controller that needs to be inside the PC, and requires extra licensing costs.

So to understand you're "smarter" then him, but still did not get the point?! He fu***ing said that. No one wants to do it!!!! Is that hard? I can translate. Just tell me your native language;)!

Dude chill! He was trying to explain why most companies are not implementing it right now. It's all about costs and whether they can fit that extra controller. Understand?

Man, i would love Thunderbolt in the next Surface.

I don't blame Lenovo at all for not including Thunderbolt and USB-C 3.1 Gen 2. Most people have no clue what USB-C and Thunderbolt are.

Look up the company Eve. They are making a Surface like device that has Thunderbolt 3 and the new usb 3.1. Windows central has covered this device before.

The IFA 2016 is untill Wednesday September 7. The IFA show isn't over. Is it?

The big annoucements are.

Why is this article not readable in the WC app?

It is, i read it in the wc app. I clicked the link and the article opened in the wc app. U need to be on the latest fast ring build of w10m (rs2) and latest version of the wc app.

Mm I'm aware. I mean why is the story not integrated fully as an app article instead of just a link.

I'll definitely buy the Acer Predator 21X, I'm always a supporter of Acer.

21 inches. At what point does it become counterproductive to buy a laptop?

when you are rendering a movie.

I'd buy the 910 on the spot if it didn't have such and ugly lower bezel. Why can't companies just get rid of ugly big bezels? The thing is it looks even worse since they made such small bezels in the top and sides. So disproportionate.

I find writing on that surface counterintuitive, you write in one place, it's shown elsewhere, it's more natural to write on the screen.

I really like the Acer Swift 7. Really good. Posted via the Windows Central App for Android

I really love the Surface 2-1, however with it's limited availability globally and price point, I may have to go with one of these great products from Lenovo, Acer, or Asus. It's a big compromise for me as I have always planned to own a Surface laptop/tablet

Berlin is the party capital of the world which makes it the best in general. Clubs, Drugs, Chics. Only the finest, exclusively picked. Just for You.

I'm mostly interested in the new revamped Razer Blade.

Both the Lenovo Yoga 910 and the Miix 510 have that travesty of a keyboard layout that reduces the size of the right shift key and places the up arrow key on the same row. If you touch type, this will drive you insane. Who the hell gets to make these keyboard decisions? You would think everyone involved in keyboard layout woiuld at least be aware of touch typing issues.

I think these laptops are for the "search and strike" crowd :D

I'd go for the 910. But I just bought an X1 Yoga. The acer Ultrabook line is really nice, too. Glad to see Acer making good quality machine again. I own two and they are great. Always picked them over Asus.

Why don't they add 4G/LTE radios to the mobile devices? I would buy one if they did.
Windows Central Newsletter
Thank you for signing up to Windows Central. You will receive a verification email shortly.
There was a problem. Please refresh the page and try again.