The Inaugural Edition of the Weekly Xbox Upload Contest: Grand Theft Auto V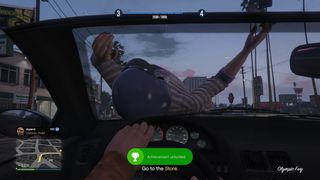 Have you said, "Xbox, record that" lately due to an epic kill? How about to some funny bug you encountered? Well, we want you to share those moments with us, and we'll reward you for doing so. Each week, we'll pick one lucky winner for the week's theme on Xbox One. This is our inaugural edition of the Windows Central Xbox Upload Challenge!
This Week's Contest
Since this is our first time doing this competition, we wanted to make it big. So, this week we will have two winners! So here's what we want from you. This week we're looking for your best clip of Grand Theft Auto: V on the Xbox One. We want you to submit your clip of either your most epic moment from the game or your best epic fail. That being said you can only submit one! Submissions go here.
The contest starts as soon as you read this post and all entries must be submitted by Friday, March 20 at 11:59 p.m. (PST). Winners will be announced (with their winning clip) in next week's contest post is up.
The Prize
Since we have two winners this week we, wanted each winner to walk away with their own unique prize. So we have (1) copy of Ori and the Blind Forest to give away while the other winner will walk away with (1) copy of ScreamRide. Remember you can only submit one entry. That means if you submit an epic moment clip, you cannot submit an epic fail clip.
Contest Rules
Entry must be submitted to the corresponding forum post which you can access, here.
Video must be submitted via a link from XboxClips.com
You must have used a valid email address to register here at Windows Central, so I know how to contact the winner
ONLY one entry per week per person
If we have reason to believe the content isn't yours, we will contact the gamertag via XBL for verification.
XboxClips.com
XboxClips.com is an easy way for you to share your clips without you going through the hassle of uploading them to OneDrive or whatnot. In order to access your clips, simply go to xboxclips.com/(your gamertag here). For example, I access my clips at xboxclips.com/kiddj55. Once your clips are selected, you can choose the embed button under details to copy and past that embed link into our forums.
Good luck and have fun! But most importantly, don't forget to say "Xbox, record that!"
Windows Central Newsletter
Get the best of Windows Central in in your inbox, every day!
Cool prizes, might actually enter a contest on here for once lol

I wish I could slap you really hard. Then I'd give you ice cream to make you feel better but without forgetting why you got the slap in the first place.

I believe that there is a misspelling.
Under "the prize" >> last line, "you cannot submit and epic fail" I think u meant "an".
No problem ;)

http://xboxclips.com/michileno/160983ef-47cf-4534-897b-422797e19e5a/embed

Submit it to the forums please

Clips are also found on Xbox.com if you don't want to use a third party site.

Yea but there's no way to share them directly from the website

I submitted mine. I was divided on the suv barrel roll or the cop failing to stop a tractor but I had better video of the barrel roll.

Have you checked out XboxDVR.com? It is a lot better than XboxClips.

Will definitely check it out :)

Can confirm. Much much better.

I don't have GTA V so maybe the next one. :D

Great idea team. Traffic from the Xbox faithful looks to continue @windowscentral.

I posted my link. It's from xboxdvr.com which works the exact same way with Xbox Clips. XC wouldn't show me my video cause it was a few days older, XDVR shows me entire history

Thank you! It will still be counted of course. We just suggested XboxClips because that's what we know best

Thanks, Jonathan. Do you play GTA too? GT?

Yes I try to find time when I'm not busy. Add me Kiddj55

Added. Hopefully, we'll play at some point!

When windows 10 comes out, will PC be included?

Too early about that. Besides, GTA will be delayed until January next year.
Windows Central Newsletter
Thank you for signing up to Windows Central. You will receive a verification email shortly.
There was a problem. Please refresh the page and try again.