The Incredible Adventures of Van Helsing II fights monsters on the Xbox One July 1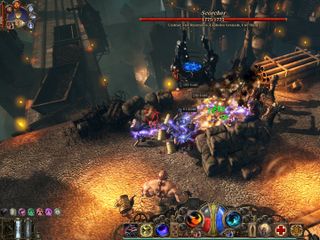 NeoCore Games will release the Xbox One version of its steampunk-themed action-RPG sequel The Incredible Adventures of Van Helsing II on July 1.
The PC version of the game was released over two years ago in May 2014. Here's a look at what Xbox One owners can expect when it's released for the console:
Three playable classes – In the sequel to this gothic-noir adventure, you can choose from three very different classes: the classic Hunter with shooting and melee skills, the magic-wielding Thaumaturge or the Arcane Mechanic, the master of deadly devices, all included in the base game.
Hunter's Lair – The Lair returns in the sequel as your perfect hideout to stash collected loot, trade with non-playable characters, teleport between locations, forge new items, utilize the alchemy lab and accept new quests from allies who join the Resistance against the scientific scourge.
Extended Tower defense mini-game – With enemies invading in waves, you have the opportunity to defend your Lair and other strategic locations with deployable traps and several upgradable functions to ward off evil, now with improved gameplay mechanics and up to 7 levels presented as optional side quests.
Resistance Management – As the leader of the Borgovian Resistance, you will participate in the micromanagement of the allied troops, improve the equipment of the Resistance fighters or find loot that makes them more powerful.
Rage system – You can charge up to three skill modifiers called PowerUps on 8 active skills by way of spending Rage points collected from impressive feats.
Unique companion – Lady Katarina, a ghost with snappy wit, comes to the support of Van Helsing with her own set of abilities, behaviors, and two skill trees.
Runecrafting – Besides forging, enchanting and infusing items with essences, you'll have another option to alter items to your liking. Artifacts can be taken apart, shattered into magical fragments to be turned into purely magical runes that can be altered and put on new items, changing them into various new powerful artifacts.
The Beast in the Lair - The Chimera is a unique creature, an artificial monster straight from the Ink. You can enhance its abilities and summon it into combat or send away to the Ink to hunt for treasure.
Hall of Trophies - You can decorate the Lair with trophies that give global modifiers to the game world, like empowering monsters, granting more spellpower to all allies or turning Katarina into a more lethal ghost.
Multiplayer – You and your friends can test your skills against each other via the PVP mode (8 players) or join forces and complete the story in the co-operative campaign (4 players).
The price for The Incredible Adventures of Van Helsing II will be $14.99. In addiiton, two DLC packs for the game, Che Domovoy Minipet and the Expurgator Set, will also be available for $0.99 each:
Get the Windows Central Newsletter
All the latest news, reviews, and guides for Windows and Xbox diehards.
Looks interesting. I'm kinda looking forward to playing.

I played the first one on pc ... and on xbox. I'm looking forward to try this one on xbox :)

Meh! If this is simply a port of the PC game available on Steam, the reviews are not that great and the game on steam has many game play issues that have never been addressed by the developer since 2014. I will wait to see if the console port is any better. At least on Steam you can get a refund of a crappy game.

While the first game had a great graphical presentation, it was ruined by unbalance gameplay and controls. There were no combos to fight off the hordes of enemies coming at you at one time. Just one 3 hit combo. That's it. And it had extremely loooooong load times. I really wanted to like it but I just couldn't handle horrible way that the game was presented. Posted via the Windows Central App for Android

I should get around to finishing the first game, but it got boring after a while when I had to constantly run laps with massive hordes behind me while waiting for skills to refresh.

I liked the first one a lot. I will most likely play this as well.