Intel launches first 10th Gen 'Ice Lake' CPUs for laptops, 11 chips in all
The 11 new chips include Wi-Fi 6, integrated Thunderbolt 3, dedicated AI power, and boosted graphics.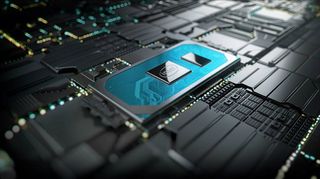 (Image credit: Intel)
What you need to know
Intel today launched its first 10th Gen "Ice Lake" core CPUs, designed for 2-in-1 laptops.
The 10nm chips pack support for Wi-Fi 6, integrated Thunderbolt 3, significant graphics boosts, and more.
Intel expects these new CPUs to begin shipping soon in "more than 35 designs" for laptops and 2-in-1s.
After their initial tease on stage at CES earlier this year, Intel today officially launched its first 10th Gen "Ice Lake" CPUs. The CPUs are designed for laptops and 2-in-1s and include 11 different chips at launch. Intel says 10th Gen chips will roll out across other PC segments over the next 12 months.
The initial batch of 10th Gen CPUs encompasses five in the low-power Y-series and six in the higher performance U-series, each spread across a variety of Core i3, i5, and i7 chips.
Core i7-1068G7
Core i7-1065G7
Core i5-1035G7
Core i5-1035G4
Core i5-1035G1
Core i3-1005G1
Series
U-Series
U-Series
U-Series
U-Series
U-Series
U-Series
Graphics
Intel Iris Plus
Intel Iris Plus
Intel Iris Plus
Intel Iris Plus
Intel UHD
Intel UHD
Cores
Threads
4
8
4
8
4
8
4
8
4
8
2
4
Clock speed
2.3GHz
3.6GHz (All core)
4.1GHz (Single core)
1.3GHz
3.5GHz (All core)
3.9GHz (Single core)
1.2GHz
3.3GHz (All core)
3.7GHz (Single core)
1.1GHz
3.3GHz (All core)
3.7GHz (Single core)
1.0GHz
3.3GHz (All core)
3.7GHz (Single core)
1.2GHz
3.4GHz (All core)
3.4GHz (Single core)
Cache
8MB
8MB
6MB
6MB
6MB
4MB
TDP
28W
15W/25W
15W/25W
15W/25W
15W/25W
15W
Core i7-1060G7
Core i5-1030G7
Core i5-1030G4
Core i3-1000G4
Core i3-1000G1
Series
Y-Series
Y-Series
Y-Series
Y-Series
Y-Series
Graphics
Intel Iris Plus
Intel Iris Plus
Intel Iris Plus
Intel Iris Plus
Intel UHD
Cores
Threads
4
8
4
8
4
8
2
4
2
4
Clock speed
1.0GHz
3.4GHz (All core)
3.8GHz (Single core)
0.8GHz
3.2GHz (All core)
3.5GHz (Single core)
0.7GHz
3.2GHz (All core)
3.5GHz (Single core)
1.1GHz
3.2GHz (All core)
3.2GHz (Single core)
1.1GHz
3.2GHz (All core)
3.2GHz (Single core)
Cache
8MB
6MB
6MB
4MB
4MB
TDP
9W/12W
9W/12W
9W/12W
9W
9W
Outside of general performance improvements that are typical of a new generation of CPUs, Intel has put a lot of effort into improving connectivity, battery life, and even AI performance on the new chips. These new processors come with support for the latest Wi-Fi 6 (802.11ax) standard, which is only just starting to hit the market. Thunderbolt 3 support is also now built into the CPU, with support for up to four ports, eliminating the need for a separate controller in laptops.
On the graphics side of things, chips equipped with Intel's latest Iris Plus graphics hit up to twice the performance when compared to 8th Gen CPUs, Intel claims. Based on Intel's Gen11 graphics architecture, the integrated GPUs come with built-in support for VESA's Adaptive Sync standard — a first for Intel graphics. According to Intel, the increases in graphics performance with this generation of chips should allow for smooth 1080p gaming in games like Fortnite and Dirt Rally 2, along with more efficient 4K video editing and photo processing.
The final big addition with the 10th Gen is the inclusion of a dedicated instruction set, Deep Learning Boost, for accelerating neural networks and AI workloads. The company claims up to 1 teraflop of GPU engine compute performance for "sustained, high-throughput inference applications like video stylization, analytics and real-time video." The company has also included a dedicated engine for background AI tasks like voice processing and noise suppression.
Intel says it expects 35 new laptop and 2-in-1 designs to debut with 10th Gen Ice Lake chips through the end of the year. We've already seen a preview of some of these, including Dell's new XPS 13 2-in-1 7390. Outside of laptops, expect the 10th Gen "Ice Lake" range to debut for other portions of the PC market, including desktops, over the next year.
Portable (and affordable) power accessories we love
Each and every one of these charging gadgets will keep your favorite gear and gadgets going for longer, and none of them costs more than $30.
VisionTek 8,000 mAh micro-USB power bank (opens in new tab) ($13 at Dell)
This compact dual-output powerbank can speedily recharge any and all your devices, thanks to a two-amp "fast charge feature," using its micro-USB out port. Its simple design includes an LED indicator, and it costs about as much as a single ticket to the movies.
Panasonic eneloop AA batteries (opens in new tab) (From $13 at Dell)
Panasonic's rechargeable batteries are among the best available, and just a couple of them will keep your favorite remote, mice or other peripherals powered up when you need them. They're also eco. And the company's affordable charger (opens in new tab) fits and charges both AA and AAA batteries at the same time.
Belkin Qi Wireless Charging Pad (opens in new tab) ($30 at Dell)
This unobtrusive Qi wireless charging pad looks good (and kind of like a UFO …) and easily charges all your Qi-compatible device up to 5W. Its LED indicator lights up when you're charging. And it costs just $30.
Dan Thorp-Lancaster is the Editor in Chief for Windows Central. He began working with Windows Central as a news writer in 2014 and is obsessed with tech of all sorts. You can follow Dan on Twitter @DthorpL and Instagram @heyitsdtl. Got a hot tip? Send it to daniel.thorp-lancaster@futurenet.com.
Perfect info, thank you. Now it's time to look for 2 and 1 upgrades for the family.

Here's to hoping we see a Surface Pro with Thunderbolt 3 this year. Might finally be able to buy my first Surface Pro.

Assuming it uses 10th Gen there's literally no reason for it not to have TB3 beyond Microsoft making a poor call.

Not at the expense of losing a standard USB port, let's see one of each please MS. I've got a Pro and a Go, and at times both become irritating because the lack of USB-C or a standard USB respectively, and I know you can carry around adaptors, but you don't want to have memory chips sticking out further than necessary. Couldn't care less whether it's Thunderbolt 3 or not (still a niche product IMHO), just want the USB-C socket and preferably charge capability through it.

Replacing the mini display port with thunderbolt 3 would allow you to have both USB A and C

The big reason for Thunderbolt 3 is docking. That is de facto docking standard now. All my docking stations for work and family are Thunderbolt 3, so this is for compatibility. USB-C alone isn't good enough since it means you can't really use any docking stations.

Okay I think I finally understand this horrible nomenclature.
From right to left: G1, G4 and G7 indicates GPU performance class (32EU, 48EU, 64EU) 0, 5 and 8 indicates TDP class (9-12w = Y, 15-25w = U, 28w = U) 0, 3 and 6 I'm not certain but I gess it's Mhz class, but don't give this numbers much meaning as they coincide with i3, i5 and i7. 10 is the Gen i3 has always 2 cores and 4mb cache i5 has always 4 cores and 6mb cache i7 has always 4 cores and 8mb cahche Now my opinion with these CPUs is that they are much better in GPU and a bit better in power consumption. With their higher TDP in the Y series can mean that intel doesn't believe they can beat ARM in tbe 5W - 7W range. This CPUs also did a side step, this was necessary because with the desktop versions of the Zen 2 and Navi we can conclude that intel will lose hard on the performance per watt war.

The naming convention is pretty garbage, but the addition of the GPU class hasn't helped. But yes, the G7 and G4 refers to the new Iris Plus graphics, the G1 is the old UHD which sticks around on the lower tier chips. I wouldn't look too much into the number of cores, because these aren't the last of the 10th gen chips we'll see for laptops. There will be some beefier versions for gaming laptops coming down the pipeline.

Yeah I can see the 45w versions of i7 having 6 cores 12 threads and i9 having 8 cores 16 threads.
Windows Central Newsletter
Get the best of Windows Central in in your inbox, every day!
Thank you for signing up to Windows Central. You will receive a verification email shortly.
There was a problem. Please refresh the page and try again.