Why it's time Microsoft made a Windows 11
Is it time Microsoft moved on from the Windows 10 brand?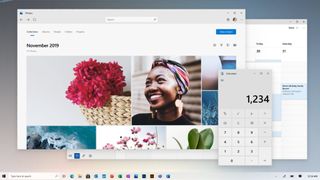 (Image credit: Microsoft)
2021 is a big year for Windows. Even without Windows 10X, Microsoft has a lot of plans for the Windows platform thanks to Sun Valley and its renewed interest in bringing OS innovation to market. Microsoft told us last year that it would be reinvesting in the Windows platform in 2021, and it is now almost time to see the result of that reinvestment.
We know Microsoft is planning to hold a dedicated Windows event soon, likely within the next handful of weeks. This event will be Microsoft's chance to prove to the world that it's still serious about Windows by unveiling its new Windows user experience (UX) and features that are designed to make using Windows better on PCs and tablets.
Unveiling a new Windows UX and feature set is all well and good, but you know what would really set the market on fire? A new version of Windows. A successor to Windows 10, if you will. I think it's time for Windows 11. I know it sounds crazy, but based on everything that's happening this year, I think it would make sense if it happened. Hear me out.
Sun Valley is happening
Microsoft is already working on a significant Windows UX overhaul. The Sun Valley effort aims to reinvigorate the Windows Desktop with new shell features, sounds, animations, and app designs. Why not use this as an opportunity to headline a new version of Windows?
I've had the chance to peek at some of what Microsoft is working on with Sun Valley a handful of times, and I personally think the features and changes they're planning to ship warrant a new version of Windows on their own. Microsoft is essentially bringing modified versions of some parts of the Windows 10X interface over to desktop, along with some new UX things too.
If you've used or even seen Windows 10X, you'll know that it's quite the departure from Windows 10 and was announced as a new release of the OS. As Sun Valley's UX follows a similar path, I think it would make sense for it to ship as a "Windows 11" thing.
If Microsoft did do this, I think it'd also have to make Windows 11 a free upgrade for Windows 10 users, just like how Windows 10 was a free upgrade for Windows 7 and Windows 8 users. It could even show up as feature update in Windows Update, just like existing Windows 10 feature updates do. It would be seamless, and offering a new version of Windows for free is good PR.
Implies a fresh start
There's no doubt that Windows 10 is a great operating system, but doing a Windows 11 would imply that Microsoft is starting fresh. All the bad of yester-Windows is in the rearview mirror; Windows 11 is here, and it rights all the wrongs of Windows 10. Of course, the reality of the situation would be less drastic. Windows 11 would basically be Windows 10 with a new UX on top, but that's more than enough for most end-users. This has worked for Apple with the introduction of macOS 11, so I don't see why it couldn't work for Windows too.
It also gives Microsoft a chance to remove features that haven't worked well without it coming across as a "failure." Features like Timeline, My People, and Live Tiles could be removed or replaced with better alternatives on Windows 11, and most people wouldn't notice that Microsoft is actually backtracking on a few things.
Easily generates hype
If Microsoft wants the world to know Windows is back, it needs to generate a lot of hype. Holding a dedicated Windows event is a good way to do this, but announcing a new version of Windows at said event would be the biggest Microsoft announcement of the year, and possibly the biggest Windows related news in the last half decade.
It would also give Microsoft an opportunity to kick off a new marketing campaign that highlights the fact that there is a new version of Windows in town. OEMs would be able to sell PCs with the added benefit that it comes with "Windows 11" out of the box, which could be a viable selling point for a lot of people this holiday and into 2022.
The secrecy is back
Microsoft has significantly upped the level of security and secrecy around the work it's doing on Sun Valley. The internal selfhost builds are watermarked with warnings that say to not take screenshots, and testers are being instructed to not show their desktops to anyone outside the project.
The Windows org hasn't seen this level of secrecy around a release of Windows since the Windows 8 days, back when Steven Sinofsky was in charge. Microsoft had a heightened level of security around early Windows 8 dev in an effort to stop the Start screen experience from leaking before announcement. I'm witnessing a very similar thing happening with Sun Valley right now.
All this just tells me that the stuff Microsoft is working on is significant enough to warrant a new version of Windows if Microsoft really wanted to brand it as such.
Chance for a new logo
The Windows 10 logo has been with us for a number of years, and the current Windows flag has been with us for almost 10 years. Doing a Windows 11 would give Microsoft a chance to refresh the branding around Windows, updating it to match the rest of Microsoft's Fluent Design System and modern iconography.
I know Microsoft has been kicking around the idea of using the Microsoft logo in place of the Windows flag for some time as it was one of the things they originally considered for Windows 10X. It would still be called Windows, but changing the logo would allow Microsoft to align it with the rest of Microsoft's major product portfolio. Surface already uses the Microsoft logo, for example.
But Microsoft said …
I know Microsoft said Windows 10 would be the last version of Windows, but that was said under old leadership that is now long gone. Microsoft was stupid for saying "Windows 10 is the last version of Windows" back when it did because it backs the company into a corner that is unnecessary for it to be in. You should never say never.
Microsoft would have to go back on their word, but I think it would be worth it as the impact of a new version of Windows with a new UX and new features coming to market is huge. Plus, if they made it a free update for Windows 10 users, that's even more positive press generated for basically no effort on Microsoft's part.
Besides, if Microsoft really wanted to, it could ship the Windows 11 release as another Windows 10 feature update. Instead of this fall's update being called the Windows 10 October Update, it would just be called Windows 11. This is exactly how Apple and Google operating systems handle major new releases.
Heck, if Microsoft returns to one major feature update a year (or maybe ever couple of years,) the next big release release of Windows could be called Windows 12! That's assuming Microsoft has more big updates planned beyond Sun Valley of course. A simple way to think of this would be as a change in how Microsoft names Windows 10 feature updates.
We'll have to see
Regardless of how Microsoft decides to announce and ship Sun Valley, I think Microsoft's number one goal for Windows in 2021 should be to generate hype and convince the world that Windows is still relevant. I think the easiest way to do that is by announcing a Windows 11, but delivering Sun Valley as another version of Windows 10 would work too.
Word on the rumor mill is that Microsoft's dedicated Windows event will be held sometime in June. I would suspect that Windows Insiders will be able to start testing Sun Valley bits in that timeframe too, as I know the company is waiting to announce all the new stuff on stage before it's put into public testing, just like in the old Windows days.
Also, to be clear, I'm using "Windows 11" as an example as it sells the point I'm trying to make. I'm not specifically suggesting it should be called Windows 11, as anything would work. It just needs to signify that it isn't Windows 10 anymore. I know people think they should drop the 10 and just call it "Windows," but I think it makes more sense to have an identifying factor in the name.
Either way, I'm excited about Windows again, and I think you should be too. Sun Valley will deliver a great new UX for all devices, including the best Windows laptops, tablets, and desktops. In the meantime, what are you hoping to see from Windows and Sun Valley this year? Let us know in the comments.
Get the Windows Central Newsletter
All the latest news, reviews, and guides for Windows and Xbox diehards.