Kaspersky Security Cloud Free vs AVG AntiVirus Free: Which antivirus protection is best?
Kaspersky is hands down the better program, but many are hesitant to use it because of its shady past. Here are the reasons Kaspersky Cloud Security gets my seal of approval, why it's O.K. to trust Kaspersky.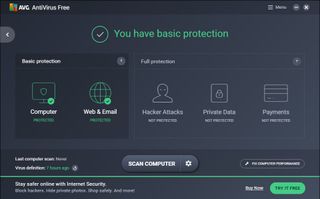 (Image credit: Nicole Johnston/ Windows Central)
Kaspersky Security Cloud Free
More Protection

Kaspersky Security Cloud Free stops malware quickly, earned a high protection score, includes advanced tools, and doesn't guzzle your system's resources.
For
Real-time protection
Password manager
Some VPN access
Against
Not recommended for government employees
Extra layer of protection

AVG Antivirus Free works alongside other security programs well to provide a second layer of protection. However, it lacks real-time protection, so it doesn't always stop malware attacks immediately.
For
Works in tandem with other programs
Includes a system scanner
Easy to use
Against
No real-time protection
Causes computer lag
Both Kaspersky and AVG's free antivirus programs help protect your computer from malware, but Kaspersky does it instantly by stopping files during the download process. AVG, however, waits until the files have downloaded then scoops up the threat and quarantines it. Because of this difference, Kaspersky Security Cloud Free tends to stop 99% of threats where AVG AntiVirus Free only stops about 95%. Both have features the other lacks, which does set them apart, but overall Kaspersky is the better option for better protection.
Side-by-Side Comparison
Swipe to scroll horizontally
| Header Cell - Column 0 | Kaspersky Security Cloud | AVG AntiVirus |
| --- | --- | --- |
| Price | $0 | $0 |
| Protection score | 99% | 95% |
| Real-time protection | Y | N |
| Safe browsing | Y | N |
| Vulnerability scanner | Y | Y |
What's so great about Kaspersky Security Cloud?
When I test antivirus software, I look first at how well each stops live malware before it has a chance to infect my test computers. Kaspersky stops infected files during the download process so there isn't a chance for the threat to infect computers at all. Plus, Kaspersky Security Cloud has most of its program housed online rather than on your device, so it doesn't take up valuable resources or cause computer slowdowns.
Another part of my testing included accessing websites that I know either harbor malicious downloads or have phishing schemes to see if these threats are also recognized. Kaspersky did a better-than-average job blocking these, including several phishing sites made to look like PayPal and Facebook logging pages. There were a couple of malicious websites Kaspersky didn't block, but it did stop the file downloads when I clicked on them.
Even though it is a free program, Kaspersky Security Cloud includes a few extra tools typically reserved for paid programs. This includes a password manager that keeps log in information for online accounts in one place. This helps you remember complicated passwords and also shields your online credentials from being swiped by keyloggers or other snoops.
Kaspersky also includes a vulnerability scanner. This looks at your whole computer setup and finds any weak points where hackers or ransomware can break through. Typically, these vulnerabilities include outdated software. Kaspersky will point these out to you and help you find a legitimate updated version to download.
With this free security program you also have limited access to Kaspersky's VPN. This hides your IP address and keeps trackers from seeing your online browser history, making it more difficult to create targeted ads or track you with cookies. Purchasing a paid subscription to any of Kaspersky's antivirus programs gives you unlimited access to its VPN.
What about AVG ?
The biggest bonus of using AVG is that is will work in tandem with other antivirus programs, including Windows Defender. AVG knows to take a back seat and cover any gaps in your primary security software, offering a second layer of protection. Just about anything that slips past your first antivirus program will be scooped up by AVG. During those moments when your primary antivirus isn't cutting it, AVG knows to step up and become the primary program.
On top of malware protection, AVG does include a system scanner that looks for weak points in your system, like cookies, adware, outdated software programs, and weak passwords. It gives you suggestions on how to fix these issues if it can't fix them automatically. Using this scanner helps reduce the probability of a ransomware attack. AVG's paid program also has additional features. Even though they are displayed on the dashboard, you can't access them without paying for the upgrade.
One of the biggest drawbacks of AVG's free program is it doesn't have real-time protection. This means it doesn't stop malware as it's downloading very well, if at all. Instead it monitors your computer and gathers up threats that are loose. During my inhouse tests of AVG AntiVirus Free, most of the over 300 live samples were stopped once the download was complete and the threat moved to the quarantine folder. However, AVG did miss five percent of these threats, much more than any of the paid antivirus programs tested and several times more than Kaspersky's free program
The other problem I found during testing was how AVG caused my computers to run super slow during system and virus scans. It was difficult to send email or simply navigate the web because the buffering and lag was so significant. It got to the point that I scheduled scans during time when I didn't need to be online. However, outside of these scans, AVG didn't create enough slowdown to become too much of a distraction.
Why you can trust Kaspersky
A few years ago, Kaspersky was suspected of using its computer security programs to gather classified information from government workers' computers, both in the office and on work computers at home, and filtering this information to the Russian government. Kaspersky has vehemently denied these accusations, but the U.S. government did remove all Kaspersky programs from its computers and required its workers to do the same on home computers. There have never been any accounts of Kaspersky pulling personal data from personal devices.
The U.S. has never formally condemned Kaspersky or charged it with any wrongdoing. There has never been any sanctions placed on the company, and Kaspersky isn't banned from being sold or used in the U.S. However, some vendors, such as Best Buy, have chosen to no longer sell Kaspersky products, while others, like Amazon, do carry them.
Kaspersky has tried hard over the last three years to restore its image and trust with the public by moving its company's most essential functions outside of Russia to countries including the U.K., Turkey and the U.S. In these areas, Kaspersky is subject to more scrutiny and laws that require frequent inspections by those countries. None of Kaspersky's quality control, development, monitoring, or legal teams are located in Russia. Its company servers are also located outside of Russia.
Kaspersky Labs has dominated in the number of malware it has detected, including harmful ransomware, before other antivirus companies have detected them. It's one of the first to update its malware databases and roll out upgrades to its software programs to keep users safe from new threats.
Because Kaspersky doesn't pose a threat to personal users, coupled with the work its Lab does in monitoring for new threats, and how well all of Kaspersky's antivirus programs work, I can't write off Kaspersky completely. Personally, I trust Kaspersky and use it on several of my own devices at home. There isn't any reason Kaspersky can't be used for protecting personal devices.
The Best
Kaspersky Security Cloud Free
Secure protection

Kaspersky uses real-time protection to stop malware before it has a chance to download and infect your computer.
Good Alternative
Double security

AVG's free program works alongside other antivirus programs to give you an extra pair of eyes to watch for intruding threats.
You can always look to purchase one of the best antivirus software options if you want some more features and functionality.
Get the Windows Central Newsletter
All the latest news, reviews, and guides for Windows and Xbox diehards.
Nikki is a commissioned editor for Future Plc covering internet security including antivirus and VPN. With over 18 years of research and writing experience, and 11 years of testing and reviewing internet security solutions, Nikki knows how to dive deep to get the information consumers need to make better buying decisions. She is also a mom to 10 children, and personally uses many of the products she reviews to ensure the safety of her own family.