Kensington Surface Pro Dock review: Turn your Surface Pro into a mini Surface Studio
By Daniel Rubino last updated
While not cheap, Kensington's new dock is a stunning achievement in functional design that any Surface Pro owner should want.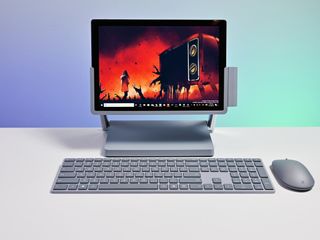 (Image credit: Windows Central)
Blink, and it's easy to confuse the Kensington SD7000 Docking Station with a miniaturized Surface Studio. The dock is arguably the most expensive accessory you can purchase for the Surface Pro, but it's also the most transformative. While the idea of expanding ports for various computers is not new, the Kensington SD7000 is so much more than that. It breathes new life into a mobile-only device letting it shine as a full desktop replacement.
Does the cost justify the Kensington SD7000? That depends. But I can say that it is the best accessory to date for the favorite 2-in-1. If you want to maximize your Surface Pro's usefulness here's why I think this dock is a good purchase.
(opens in new tab)
Kensington SD7000 Docking Station
$399 (opens in new tab)Bottom line: The Kensington SD7000 is a very expensive dock that will transform your Surface Pro into a full desktop PC. The price is off-putting, but Kensington nailed the execution making this a drool-worthy purchase.
For
Excellent built quality.
Articulating hinge allows for different modes.
Plenty of ports including multiple displays.
Re-purposes Surface Pro as a desktop PC.
Perfectly matches Surface line.
Against
Very expensive.
No SD card slot.
No front-facing ports.
Ports but more
Kensington SD7000: What is it?
Most people will look at the Kensington SD7000 and see it as a $400 port-expander. That's technically true due to the abundance of new input-output options available, including:
1x USB Type-C (data only)
4x USB Type-A 3.0
Gigabit Ethernet
DisplayPort++ v1.2
HDMI 2.0
3.5mm combo audio port
I'd be also most remiss to point out that there's a prominent Kensington Security Slot to lock the whole contraption down.
What's missing (and a bit disappointing) is the lack of a slot for an SD card reader, which seems like an obvious choice for such a dock.
All those ports are powered by the Surface Connect port on the Surface Pro, which is impressive. That means you still get to use the Surface Pro's native USB Type-A port as well, bumping the total here to five.
Microsoft's aging Surface Dock, by comparison, has four USB Type-A ports, Gigabit Ethernet, and two Mini DisplayPorts. No Type-C for data, no HDMI, and no security lock.
Using the HDMI or DisplayPort for the Kensington SD7000 yields support for dual 4K displays at 30Hz or one 4K at 60Hz (multiple full HD displays run just fine too).
While the portion that holds the Surface Pro is good quality plastic, the hinges and parts of the base are metal. The plastic is necessary because the idea of sliding metal against the metal of the Surface Pro – especially the newer black variant – seems like a bad idea.
Screws are unfortunately visible from the rear. Some form of masking those screws or hiding them would have upped the craftsmanship here, but from the front, the entire setup looks fabulous.
Kensington uses the same Microsoft-branded 90-watt Surface Dock AC adapter, keeping within Microsoft recommended power limits.
Regular docks don't do this
Kensington SD7000 more than ports
Saying the Kensington SD7000 is just a port expander is like saying Surface Studio 2 is just an expensive desktop computer – you're missing the point.
Slotting in the Surface Pro 6 into the Kensington SD7000 you immediately experience how this hinged-mount changes everything. Now at eye-level, the Surface Pro now feels like a mini-Surface Studio.
To the right of the dock is the Surface Connect for data and power. The contraption is built within an ergonomic rounded grip letting users slide the connector in and out to release the Surface Pro. The design feels robust, sturdy and it should hold up for many years of repeated use.
The display of the Surface Pro now seemingly floats in the air and because the hinge is articulating you can angle it however you wish.
By adding a Bluetooth keyboard and mouse the Kensington SD7000 with Surface Pro turns into a beautiful, minimalist full desktop PC experience even without adding larger displays.
The hinges are polished and mirrored, and the overall look is strikingly like the Surface Studio. Even the platinum color here matches precisely that of the Surface Pro and similar accessories like the Surface Keyboard (opens in new tab) and Surface Mouse (opens in new tab). It all feels very complimentary.
Because of the design, you can sit closer to the Surface Pro compared to a regular desktop PC without discomfort.
Slide the Surface Pro down to the draft board mode, and suddenly the Surface Pro is a rock solid, stable inking machine propped at a proper angle.
While the hinge is nowhere near as fluid as the Surface Studio's "zero gravity" effect, it at least has the look nailed. The hinge is stiff and requires some effort to move, but the entire station weighs a gobsmacking 7.31lbs (3.32kg) giving it significant heft that reduces shifting.
Kensington didn't forget about the Surface Pen, which cannot stick to the Surface Pro when mounted. Instead, to the left are a couple of modestly firm magnets. The magnets could be stronger, but overall, it's just great to have, and it worked without issue.
A stunning first attempt
Kensington SD7000 — so good Microsoft should have made it
Perhaps the most puzzling thing about the Kensington SD7000 is that Microsoft didn't make it themselves.
It's evident Kensington worked with Microsoft as the dock has earned the official "For Surface" endorsement on the box – something only a few manufacturers have achieved. The matching color scheme, mirrored hinge design, the overall look, even the Microsoft-branded power supply says that this is all a semi-official release.
That $400 price-tag is steep, but I can't stress this enough: Using the Kensington SD7000 has made me completely rethink the Surface Pro as an everyday all-the-time computer versus a portable one.
If you plopped down $1,700 for the Core i7 Surface Pro 6 (or $2,100 for the 1TB model) this extra $400 lets you stretch the Surface Pro to your full-time and only computer.
If I were a college student (with some money), or someone looking to build a clean, minimalist desktop experience, the Kensington SD7000 should be a strong consideration. The build quality is excellent, and I genuinely enjoyed using the Surface Pro at eye-level.
The dock works with Surface Pro 4, Surface Pro 2017 (5th gen), and the new Surface Pro 6. While older models are OK, I've argued that the new quad-core processor in the Surface Pro 6 gives a significant and important boost in performance. When combined with 16GB of RAM, 512GB (or more) of storage, the Core i7 CPU, and this dock, you get an outstanding desktop performer.
During my review, I had the Surface Pro with the Kensington SD7000 setup in my living room. I often found myself just gravitating towards it versus nearby laptops. It was instant-on and with a mouse and keyboard just so fun to use.
I do think the Kensington SD7000 also highlights some current limits of Surface Pro. Were Microsoft to offer a Thunderbolt 3 port, I can imagine something like the SD7000 but with a built-in GPU in that base — it'd be amazing. But that's not Kensington's fault, and considering the limits they had to work with they did an excellent job.
The port selection is solid but having two forward-looking USB-A ports would have been preferred instead of placing them all in the rear. The Type-C port is nice, but even for data, the speeds were abysmal when using a Type-C Samsung T5 SSD (opens in new tab) (speeds went back to normal when using the Type-A ports) - while Type-C is more future-proofing, I think an SD card slot may have worked better for the intended audience.
The use of plastic in certain areas is forgivable, but I'd like to see Kensington step up some of the quality of materials used for the area that holds Surface Pro. Alcantara here would could work well as an accent.
The consumer angle for this Kensington dock is clear. Those with money who have a lot invested in the Surface Pro line and wish to make it their only computer – a noble and desirable goal. For them, this is an excellent purchase that I highly recommend.
But there is also the business angle – those who want to use Surface Pro as a high-class, secured, public-facing computer for kiosks or front-desk workers. Even those who work in cubicles could use this instead of having two computers – one desktop, one laptop – not only saving space but money and being more efficient.
As to when you can get your hands on the Kensington SD7000 dock online retailers like Amazon and B&H Photo (opens in new tab) should be stocking it by January 2019.
For those just looking for a basic dock, or port expander, there is a myriad of lower-cost options. None will turn your Surface Pro into a mini-Surface Studio, but it will cost you a lot less. But if you see the photos here and think that is something you want for your home, office, or dorm then take the plunge as it's worth the investment. Let's hope Microsoft doesn't radically change the Surface Pro's design or Surface Connect port next year.
Mini-me
(opens in new tab)
Kensington Surface Pro Docking Station
Brilliant design.

For those heavily invested in the Surface Pro the new Kensington SD7000 Dock is a pricey, but outstanding accessory that lets you have one PC instead of two.
Daniel Rubino is the Executive Editor of Windows Central, head reviewer, podcast co-host, and analyst. He has been covering Microsoft here since 2007, back when this site was called WMExperts (and later Windows Phone Central). His interests include Windows, Microsoft Surface, laptops, next-gen computing, and arguing with people on the internet.
At this price I would like it to be all metal, which would also match the SP's look better. All of that plastic looks just bad for $400. Otherwise I can imagine it's very useful accessory for people who use their SP docked.

Microsoft has never licensed use of the Surface Connect port to third parties, and I'm not sure they have this time either. The very high price, the identical ports and specs, and the inclusion of the actual Microsoft OEM charger leads to the inevitable conclusion that this product is literally the Surface Dock, reskinned. I'm sure they worked out a bulk price with Microsoft, but the idea of taking a retail product and remanufacturing it into this device would explain the $400 price. It's all great and very clever, but it would be much more helpful if Microsoft were to open up use of the Surface Connect and the Type Cover magnetic connectors for third parties to build their own original devices.

Hot damm 400 bucks? That's another Surface device.

It's also a lot cheaper than buying a desktop rig ;)

It doesn't make it a desktop rig. If you don't like drawing at that angle, it doesn't offer much but ports. Do notice they haven't drawn on it either - it's the default drawing that comes with the surface...

In 'your' opinion he's wrong.

Why use the single quotes?

If Microsoft had added Thunderbolt 3 to the Surface Pro 6 you could have paired this with an external GPU and made a far smaller and modular Surface Studio. Maybe they'll finally figure out Thunderbolt 3 and USB-C by the time they release the Surface Pro 7.

Previous articles here have gone into why SP lacks TB3 -- namely the lack of available PCI lanes on the CPUs used. There's not a lot to "figure out" -- they just needed Intel to give the CPUs enough bandwidth.

There are bucket loads of laptops running the same processors and still being able to output Thunderbolt. It might mean ditching the Surface Connect but outside of proprietary docks (that are ludicrously expensive) there is no reason to have the surface connector anyway.

Of course Microsoft should have made this accessory and I would love to see them make something for all of their Surface devices that provide this functionality especially the Surface Book line. I could easily justify that $400 price if I could turn my SB2 15" into a usable Surface Studio Mini.

Yeah I see a lot of requests for Surface Book 2. Only complication there is you then have to surrender your NVIDIA GPU at the desktop, which is usually the opposite of what people want/expect.

Unless you dock the tablet to the base in reverse, so that the base can fold backwards. And then you can connect it all.

Or build a separate base that includes an NVIDIA GPU just like the base of the Surface Book 2 without a keyboard and ports

Looks like a great product for someone who doesn't mind tiny screens when working at a desk. That could be many people, but not me. I'd rather have a flexible cable connecting my Surface Pro to the dock (and to larger monitors), so that when I need to ink while docked, I still can. Great design, though. And in terms of dock functionality, it can't be worse than the Surface Dock, the buggy, unreliable mess that's been.

I'm generally not a fan of tiny screens at the desk, but with this you can sit closer to it than a normal PC, so I ended up not minding it at all, which was a surprise. For your second situation that's doable here too and why I like it. Use Surface Pro as a permanent angled inking machine with an full external display as the main one. Such a fun and unique combo.

Thanks for replying. Yeah, I thought about that, but most of the time at my desk I don't need to ink, so I stow the Surface away under the monitor. It's a great system. With this, you'd have a "permanent" inking stand. That's perfect if you ink a lot at your desk (like note taking or brainstorming) but don't want a Surface Studio.

What I like about this is that I could just connect two 1080p monitors and it should run with 0 trouble.

Nice, but it's the future-proofing I'd worry about. I already needed a new dock when I upgraded my SP2 to the SP4. Will the SP7 fit and work with it's rumored USB-C, or will you need a new dock? Again.

Yup, that's a tough thing to figure. At least Microsoft has been very consistent with Surface Pro 4-6; but this may have been better had it come out with Surface Pro 4 for longevity, vs what may be the end of that design/ports era.

I like it.
I would get it if it didn't cost as much as new Surface Go.
Guess I'll just have to make my own, like this:
https: / / docks. bigcartel. com /

The hero no one deserves but everyone wants.

Dan you gonna do a video review?

Already did! Should be posted to our channel either late tonight or early in the AM ;)

The second that Thunderbolt is added to the Surface Pro's, I would buy this dock with eGPU instantly.

Dan, no support for the SP3 that I'm still rocking?

Sorry, no. According to Kensington "Unfortunately, the SP3 is not supported. "

Any clues about availability? The Amazon link shows "unavailable" with no estimated date.

Kensington tells me "Late December, early January ".

Am I the only one that doesn't care about TB3? Why would I want an external GPU? Playing games like Overwatch on a desktop in a small screen like this one sucks. I hate playing games on the Nintendo Switch screen most of the time.

I think that, if you were serious about gaming on a Surface with an eGPU then you'd have a big monitor connected too.

The screws on the back and big bulging whatever it is on the side kill it for me... especially for $400... seriously?

If I had desk space in my apartment this would replace my Surface Book 2 in a heartbeat!

The most important question here (which was not covered from what I have seen) is the heat. I want to know does it block the holes in the SP or not? Can air flow without any problems? Being most of the plastic, I guess it will only get worse and be more heated. Not something I would like to experience for 400$.

Kensington has said this in response: "The product is certified by Microsoft's Designed for Surface Program. All parts of the head dissipation design and structure is carefully reviewed together by Kensington and the Microsoft team." Hope that helps!

Thank you for your effort and reply. It will for sure affect my consideration of that product.

"and no security lock." I've owned several MS Surface Docks and they've all had a Kensington lock on the end opposite the power cord.

Kensington tells me "A lock slot is available on the dock. In addition, an optional kit (K62918WW) is available that locks the dock and the Surface Pro into the dock so neither go missing. "

I really do think this is cool. If I was doing the tiny house thing it would be pretty ideal for that, very versatile. However, since I have a monster desktop that I use for gaming, netcasting and video/graphics work, I can't imagine a situation where I'd use my Surface Pro differently than I use it now. Bottom line, it would be way to cool to have one of these for the rare instances I'd use it, but at that price I can't justify it. But I do like it.

Yep, that wad of money added towards the purchase of a real desktop would make a unit far beyond what a Surface Pro is really useful for. The Surface is a portable with known portable compromises, mostly wrapped around graphics processing power and display size. This device doesn't address that issue in an attempt to make the Surface into a desktop. Just outfit the Surface as it is with standalone desktop add-ons. And, I'd never pay this much for a Logitech device as my experience says they have durability issues in the simple things I bought from them

The Kensington lock is pointless. You loose your tablet but not the dock... Ehhhhh....

Not really. According to Kensington: "An optional lock kit (K62918WW) is available to lock not only the dock, but the Surface Pro into the dock as well. "

How do you connect your surface to this dock?
That's the question the answer of which the video skipped!!
Windows Central Newsletter
Get the best of Windows Central in in your inbox, every day!
Thank you for signing up to Windows Central. You will receive a verification email shortly.
There was a problem. Please refresh the page and try again.