Papa Pear Saga now available on Windows 10 PC and Mobile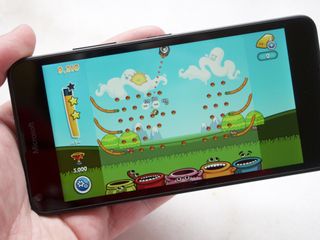 Mobile game publisher King continues to release titles for Windows 10 for both PC and Mobile platforms. The latest such game in the Windows Store is the free-to-play puzzle game Papa Pear Saga.
The game joins other King titles such as Candy Crush Saga and Candy Crush Soda Saga as Windows 10 titles. Here's the summary of Papa Pear Saga:
Pearfect graphics that will have you bouncing for joy
Boosters and power ups to help with those challenging levels
Special items to unlock by completing levels
Easy and fun to play, challenging to master
Hundreds of wonderfully wacky levels - more added every 2 weeks!
Leaderboards to watch your friends and competitors!
Easily sync the game between devices and unlock full game features when connected to the Internet
The game is a free-to-play title but does have in-game content for purchase.
Thanks to everyone for the tips!
Download Papa Pear Saga from the Windows Store (opens in new tab)
Yeah that game that isnt on WP

Awesome developer king .. Full support for WP

Awesome? They're the EA of mobile gaming.

That's cool. Still waiting for universal Instagram, Twitter, Facebook and Messenger.

Twitter is universal? And Facebook are making universal apps for instagram, messenger, and fb.

The actual company Facebook? OFFICIAL apps? Is this true?

yup. "Facebook founder and CEO Mark Zuckerberg expressed his excitement regarding the commitment. Soon, universal apps for Facebook, Messenger and Instagram will be developed for Windows 10 users. Windows launched Instagram's mobile version almost two years ago, and an update for this version has been long overdue." 7th October 2015

For desktop and tablets, yes. The mobile app is still the WP8 version.

No is not. We already have a Win10 app for mobile (it's horrible of course, and the news feed isn't working as always). WP8.1 apps can't use actionable notification, and the new FB app can.

I believe he's talking about Twitter not Facebook

It might be universal, but not available for mobile (Windows 10). Hmm... I heard that... at the beginning of October :) It's February 18th. Would love to see those apps getting updated soon!

If you think that is long, what about Viber? Microsoft demoed a Win 10 optimised Viber beta app on April 2015 and 10 months later, we're still seeing nothing.

They use the Bridges tool in VS.

Think what you want, like or dislike it. This is exactly what the Windows 10 platform needs.

Exactly! It's a clone of peggle? Who cares!!! This is one of those situations where we can finally say "Yeah, it's on winphone too :D "... well... where you can say it, my WP broke and I am now on android /tear

"Windows 10" is starting to work. #UWPstrategy

Very nice to see them continue to show confidence in the "dead" platform. It's been reported that phones and tablets will surpass the xbox one and ps4 in just a couple of years. With Microsoft bringing it's xbox exclusives to windows 10, and continuum a feature on it's top end phones, they could very much be hinting at the future of gaming!

That's great... can my outlook emails display properly like they do on my Android phone please? Kthx... FOR NOTHING

Pretty sure King aren't doing the Mail & Calendar app. Thanks for playing, though.

Didn't you know that's a perk of the WP version?
*Someone whispers to Compiux*
*Compiux seems surprised* What?... it's a bug? but it's been there since day 1! how could a bug survive this long?

Wondering the deal behind these games.

Glad King is supporting the platform. I hope they patch it soon though. Lots of glitches and laggy. Still a fun time waster.

Needs optimising, mobile version is very glitchy, laggy, jerky; animation freezes for a few seconds sometimes.

Candy Crush jelly saga is also available on windows 10 so with this it makes 4 titles. I was hoping farm heroes saga would be the next one available though.

Cool game. I just installed this on my Windows 10 box. Graphics are extremely nice. Well done King. No lagging just smooooth game play.


Yay more freemium dog s***!!!!!

It sux not be able to play it on Lumia 930 yet.....

It's available for the 930, I just got rid of it today since it was asking for money

Not available for 512mb ram devices...

Ya itsnot available in my lumia 720 Posted from Windows Central for Windows 10
Windows Central Newsletter
Get the best of Windows Central in in your inbox, every day!
Thank you for signing up to Windows Central. You will receive a verification email shortly.
There was a problem. Please refresh the page and try again.