Lenovo ThinkPad 8 gets a $50 discount at the Microsoft Store, now just $399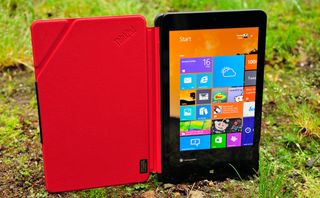 Come next week, Microsoft is expected to reveal a Surface Mini device in New York City. I'll be there to cover the event along with Mark Guim, but if there were one other 'mini' tablet to challenge a smaller Surface it'd be the ThinkPad 8 from Lenovo. Packed with an 8.3 inch Full HD IPS (1200 x 1920) display, Intel Atom processor up to 2.4 GHz and 64 GB of storage, the ThinkPad 8 runs full Windows in a well packed machine.
Normally, the ThinkPad 8 runs for a pricey $449 but Microsoft Stores have it discounted by $50 (as well as other products (opens in new tab)). That brings the price down to "just" $399, which is about $150 more than a Dell Venue 8 Pro (which is now $249 (opens in new tab)). Considering the spec differences between the two tablets that $150 difference may very well be worth it for your needs.
Ironically, my replacement unit just arrived from the Microsoft Store (they were kind enough to pro-rate the $50 discount) due to an overheating audio component. Lenovo themselves have either run out of this device, or halted shipments (opens in new tab). This second unit is working much better, and I have to say, it's an interesting device and kind of fun to use. Having said that, you absolutely must get the Quickshot Cover ($34.99; not included) (opens in new tab), as it makes the device more portable and the 'flip corner to unlock the camera' is truly awesome.
As many of you know, I consider the Surface 2 with LTE to be my favorite tablet. It'll be interesting to see if Microsoft can outdo Lenovo in the smaller tablet arena, especially with promises of a clickable pen designed around OneNote. Regardless, if you've already set your mind on the ThinkPad 8, best to scoop it up from a Microsoft Store for that lower price and Windows Signature experience.
Do you ave any questions about the ThinkPad 8? Leave them in comments, and I'll try to answer.
Source: Microsoft Store (opens in new tab)
Windows Central Newsletter
Get the best of Windows Central in your inbox, every day!
Daniel Rubino is the Editor-in-chief of Windows Central, head reviewer, podcast co-host, and analyst. He has been covering Microsoft since 2007 when this site was called WMExperts (and later Windows Phone Central). His interests include Windows, laptops, next-gen computing, and for some reason, watches. Before all this tech stuff, he worked on a Ph.D. in linguistics, watched people sleep (for medical purposes!), and ran the projectors at movie theaters because it was fun.
What is your opinion of the surface pro vs. RT models? Is the gap that large? What would you suggest for a college student?

Surface Pro is really nice hardware. But, for the price and size, I'd rather use the Surface 2 or just buy an Ultrabook. I find that doing "serious" work on a 10" display is just not my thing. Heck, I prefer my Dell XPS 15 with QHD for 'real' work when mobile. I think a Surface 2 for Office, battery life and that keyboard would be fine for college, assuming you have a PC too? Otherwise, splurge for a nice 13" Ultrabook.

I see. Yeah, I do have a laptop already, but its pretty old. I want get a tablet so I don't have to lug around my big Toshiba everywhere. I'll look into the surface 2 and dell XPS 15 as well, and maybe even the Asus T100. ( I've heard decent things about the T100) Thanks for the swift reply!

Go for the yoga man. It's great at both things.. I'm really content with it. It's light and powerful. Get rid of the Toshiba you've been lugging around. It'll be worth it. :)

The T100 is pretty good. I do a lot of writing on it and I'm comfortable. But that may be because I've used a netbook for 4 years before I got the T100. If the 10" screen suits you, and if you don'twant to spend too much, the Asus T100 is great.

Dell XPS 15 absolute pleasure to use..really premium build quality and superb power with 2 ssd, 2 ram slots, i7 quad core...yes it is expensive but its worth the price....i use dell precision m3800 same machine, almost.

A surface pro with docking station and external monitor is a great option to provide portability and also screen real estate for when you really need it.

i work in IT and i'm almost permanently on call, so this question has been in my mind many times. The 10 inch form factor is only good for browsing, video, games and writing emails and word documents. Anything else, that will require multiple applications and multiple windows will be too cluttered in a 10 inch screen. So, for me there is no real advantage having a Pro because i'll never require the CPU. I rather have the thinner Surface 2, lighter portability, and i just remote desktop to my work computer or servers when some light support is needed while im on the go. The touch keyboard with trackpad is essential to navigate these remote desktop sessions with non-touch optimized applications and is as thin as the required cover i should have anyways. So for me, Surface 2 is the best option, better, lighter and thinner than an iPad with mouse and keyboard attached.

I am so happy I canceled my order with the ThinkPad. It was just short of being vaporware. As much as I wanted it I'm content not having it.

It's really nice, but at this point...seems better to wait until Tuesday, unless running full Windows at 8 inches is really important.

Now that todays announcment has come and gone. What are your thoughs on the small tablet arena? Do you feel the ThinkPad 8 is worth the extra money over the DV8P?

Maybe. Not sure if there's much demand. Will see how it holds up over the weekend, assuming it doesn't flake out ;) and I'll revisit it next week.

Okay, but I would like to see a 630 review, it's about time,no? :)

Daniel please review "HP Omni 10" .Kindly consider my request.

When I was buying my Surface Pro 2 two months ago I was looking to buy Thinkpad 8 as well, but I couldn't find anywere (not even MS store in Chicago) and Lenovo website said they may be shipping the units starting the following month (that is, March). Now, from this article I've found out two things: 1-I may find some in MS stores. 2-Somehow there's no demand despite the fact is been around for like two months only... I agree the prices on the Dell VP are really agressive, but this devices' spec seems to be really great.

It's a nice device but have you tried connecting to a 5Ghz WiFi while using a Bluetooth mouse, even with the latest drivers which can only be downloaded from Lenovo as Broadcom don't have them on their site?

I wanted a review from you so badly, now I have lost my faith :(

Why, because it broke and I had to send it back and that took like 2.5 weeks? lol

I have the ThinkPad 8 and it is the best tablet I have used so far and I have owned most of the major models across all operating systems

Dan what do you recommend for my first tablet? I don't want an iPad.

DV8P really is the best bargain at the moment, though let's see what Microsoft reveals on Tuesday.

Best current all-rounder. Let us hope Microsoft can once again show these OEM's (and the world) how to produce an eight-inch tablet!

If price is an issue... He should get the original surface over the dell... I've went from the surface to the dvp8 to the surface 2 the screen size makes a difference. If you need full win find a bigger screen tablet from years ago

The Dell is certainly a great device, picked one up when I was in Vegas last April and did not look back really.

If you want a "home" button that is improperly located. I have a toddler who uses the tablet, so this was a deal breaker for me.

Depends on what you want. Want to take hand written notes? Get an Asus vivotab note 8. Otherwise pick up the dell venue pro 8.

I had an Asus and the build quality isn't very impressive also the battery life compared to my Surface RT was poor.

I like the dell venue 8 pro's build quality over the Asus note 8, but the stylus on the Asus is the best. Battery life is comparable to any other 8 inch tablet. Also consider these are x86 based tablets not arm ones. Battery life should be close but probably little less.

Compared to my Acer 8" W3, my Asus Note 8 is day and night. Faster, better battery life, and the stylus works flawlessly. With its 64GB and microSD, I wont be running out of space any time soon. The 1280x800 screen seems about right for my tired eyes. The x86 gives me the ability to run things like; inSSIDer, WebRoot, Dropbox, SkyWallet Desktop and Microsoft Access Runtime. The Z3740 processor is a lot snappier and handles things like updates a bunch faster than my Acer and Surface RT did. I realize Asus wanted to keep the front display clean, but the side Start Button can be a pain. They should have made the Asus logo a virtual button. Not sure if the Surface Mini will be able to top this little guy for performance and capability. But if the Mini helps drive Pen support, that would be a good thing. Still don't understand why the Asus Note 8 is being treated like a step-child (no real official launch or announcement), but sure glad I decided to do a search for it a month or so ago. It's a keeper.

Really want an 8" inch device with full Windows for the train rides to work to do some catch up app coding or evening photo editing. Haven't found a 10" device that I really like yet and so far the Thinkpad 8 seems to be the way to go but needing a price drip first in Australia. Doubt Surface mini will have full Windows but if it does MS can take my money.

Bro why don't you check out hp omni 10.
It's 10" tab 1920x1080p W8.1 32 bit. Intel bay tail z3770. With mini USB and micro HDMI ports. A separate charging pin. wireless display support live DVP8 and can use external HDD which is not feasible on DVP8

We have two in the office and 2.4Ghz is fairly congested so switched to 5Ghz. The Bluetooth setting switches of and a reboot is required to switch it back on, dropping back to 2.4Ghz doesn't reenable the Bluetooth

Microsoft store had the ThinkPad 8 at $399 including overnight delivery since May 1st of this month. I ended up buying a couple.

Makes sense. I ordered it before then, then it broke and I only found out about the price reduction while doing a return. Regardless, if I didn't know, I'm sure others don't either ;)

I think that an active pen should be a must have for any medium-high level 8"... Lets wait for Surface mini :)

Can't you tell this is about to get wooped by surface mini?

I really hope the surface mini will have a kickstand built in... And some sort of touch/type cover... And 1080p would be nice.

It won't have a kick stand.

I've heard that too... But I'm still hoping for it lol

It will have a kickstand, as part of the keyboard. Not quite the same, but I imagine they did that b/c people probably don't prop 8 inch devices as much and to save space.

Before the price drop on the surface pro, this was the tablet I had my eye on. But $499 I had to go pro

I've had mine from MS store since the beginning of the month the day I found out they were available there. My original order (they cancelled two on me) from Lenovo was placed Jan 29th and they still didn't have it to me by the time I could overnight it from MS store. Pretty embarrassing. Anyway it is a really great device, I'm very glad I didn't settle for the dell venue because this is the superior device. I wouldn't jump at it at this point with the MS announcement around the corner. However if they dont announce an 8.1 surface mini this is the best available for 8 inch windows 8.1 devices. I used a brookstone sleave for a time until I ordered the cover from another shop since ms store didnt have any. The cover is fantastic as well.

Given my ownership of both the original Surface RT and the DV8P, I don't necessarily need another tablet. That said, the DV8P, while decent and above average, doesn't really match the quality of the Surface tablets; I learnt that the hard way when trying to play Spartan Assault on it! I kept wondering why it was so difficult to control my Spartan?! I finally figured out it was the coating; not as good. That and the basic nature of the template Intel offered up for the 8-inchers, and we're quite lucky that we even had something decent come as a result. With regards to a releasing a new 8" tablet, I've seen a lot of criticism of Microsoft for not being able to get the Surface tablets out to the various regions/markets that need it. But compared to these partner OEM's that have offered/been offering 8" inch tablets? Microsoft provides Apple-like distribution in comparison! Only Dell (with the DV8P) has really pushed distribution of its device, and even then is still took 2 -3 weeks before I received it after ordering directly from their site. Now Imagine ordering Lenovo tablets with the horror stories one has heard of their site processes?! If the Surface Mini comes with a Qualcomm chipset and is as decent (in every regard) as the Surface 2 then it may possbily qualify as a purchase of mine. (If the the May 20th demo really excites, I may well sell both my current tablets and get it). Fingers crossed!

About six month to late for me - got an Apple iPad Mini Retina LTE! Nice Lenovo Thinkpad 8 and it has high resolution screen too. Cost is really attractive too. But I very happy with the iPad Mini Retina. iPad cost a lot but it was the only Mini that had a high resolution screen and was not an Google Nexus 7! I like the 4:3 form factor too! Oh well........................... I looking for a high end smartphone so maybe Lenovo will a nice upgraded Moto X2!

This is very tempting. I really like my DV8P but the resolution is a little disappointing. A full HD Surface Mini sounds pretty good but then again I like the option of having complete Windows desktop.

Daniel. What do you think about having full Windows on an 8" device? Does that have any real life use? I believe that I could not utilize that full Windows power on such a small screen and if a person buys a Lumia 1520 having any kind of small tablet may prove to be not too much useful imo. I'm currently wrecking my brain deciding between surface 2 and latest surface pro. I have a desktop computer but I was thinking on shutting it down if I go the Pro way.

Dont buy this device. Miix 2 is better and a better value. The Thinkpad 8 sounds like a good idea in theory, but 1920 x 1200 is unbearable on an 8" screen, because full Windows just doesn't scale the display well enough (1080p on a phone is a different story). Fact! The newly announced Thinkpad 10 will be a great device though.

We have them at work. Just set desktop zoom to 200% and you are fine.

But who uses desktop on 8" ? That is the question! HOW do you use it? It's too small.

I had a Dell Venue 8 Pro and while it is good being cheaper, I am not happy without the HDMI port. Also, I see the huge difference in the resolution. I like the crispiness of the display in the Lenovo Thinkpad 8 than the Dell Venue 8 Pro. I was lucky there's someone who are ready to buy my 1 month old Dell Venue 8 Pro, so I was able to get the Lenovo Thinkpad 8.

I have it and it is amazing, but forget u can get this red case. I have no idea why, but lenovo decided to abandon it. Tragic marketing

Why isn't anybody talking about HP Omni 10. It's a great device. Anybody own it?

LOL!... I purchased it a month ago. It has great built quality. 1920x1080p. Has USB and hdmi ports. DV8P doesn't have display out. I play FIFA 14pc version at 720p without a stutter.
I feel HP omni 10 deserves better coverage.

I ordered my ThinkPad 8 from Lenovo.com on 2/11 and got it delivered on 5/2 after 6 delays :( It is a pretty good tablet though ... works best with http://www.amazon.com/Perixx-PERIDUO-880-Bluetooth-Keyboard-Touchpad/dp/...

I got my Lenovo Thinkpad 8, last month and I am enjoying it. It is fun to use. I play Halo with it when connected to my TV. I used powered USB 3.0 Hub and connects the Xbox Controller Wireless Receiver, the mouse, keyboard, etc. I don't have wireless mouse and keyboard so yeah, I connect all of them in the USB 3.0 Hub.

Hi Daniel, the Thinkpad 8 it's not in sale here in my country (Portugal). If I wanted to order it from other country, would I have problems with language and store? Or is it like a Windows Phone?

Didn't Lenovo just release the ThinkPad 10 recently too? Is it available yet? Anyone have it?

Waiting to see what MS announces on Tuesday, damn this perptual waiting game lol.