Lenovo ThinkPad X1 Tablet vs. Microsoft Surface Pro: 2-in-1 showdown
These two laptops have a lot in common, and there's really no clear winner. But there are some key differentiators.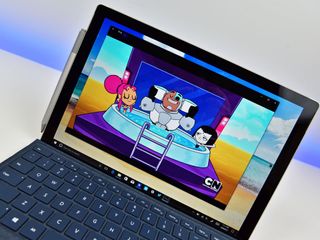 Lenovo's refreshed ThinkPad X1 Tablet is back in its third generation with some serious changes, including a 3K touch display, two Thunderbolt 3 ports, and a better kickstand design. This is a serious 2-in-1 device, and while it's more of a business-oriented laptop, it remains in competition with Microsoft's Surface Pro. If you're in the market for a new 2-in-1, both of these are likely on your radar. Let's break things down to help you decide which is best suited for your needs.
ThinkPad X1 Tablet vs. Surface Pro tech specs
Swipe to scroll horizontally
Category
ThinkPad X1 Tablet
Surface Pro
Processor
8th Gen Intel Core i5-8250U
8th Gen Intel Core i7-8650U
7th Gen Intel Core m3-7Y30
7th Gen Intel Core i5-7300U
7th Gen Intel Core i7-7660U
Display size
13-inch
Touch
12.3-inch
Touch
Display resolution
3,000 x 2,000
3:2 aspect ratio
2,736 x 1,824
3:2 aspect ratio
RAM
8GB, 16GB DDR3
4GB, 8GB, 16GB DDR3
Graphics
Intel UHD Graphics 620
Intel HD Graphics 615 (m3)
Intel HD Graphics 620 (i5)
Intel Iris Plus Graphics 640 (i7)
Storage
256GB, 512GB, 1TB PCIe SSD
128GB, 256GB, 512GB, 1TB PCIe SSD
Windows Hello
Fingerprint reader
IR camera (optional)
IR camera
Pen
ThinkPad Pen Pro
Surface Pen
LTE
Optional
Optional
Ports
Two Thunderbolt 3
Nano SIM
microSD card reader
3.5mm audio
USB-A 3.0
microSD card reader
Mini DisplayPort
Surface Connect
3.5mm audio
Nano SIM
Battery
42Wh
45Wh
Dimensions
Tablet: 11.97 in x 8.9 in x 0.35 in
(304.1 mm x 226 mm x 8.9 mm)
With keyboard: 11.97 in x 8.9 in x 0.59 in
(304.1 mm x 226 mm x 15.1 mm)
Tablet: 11.5 in x 7.9 in x 0.33 in
(292 mm x 201 mm x 8.5 mm)
Weight
Tablet: 1.96 pounds (0.89 kg)
With keyboard: 2.8 pounds (1.27 kg)
1.69 pounds (768 g) to 1.73 pounds (784 g)
Type cover: 0.68 pounds (310 g)
ThinkPad X1 Tablet vs. Surface Pro design and features
Both the Surface Pro and the ThinkPad X1 Tablet are 2-in-1 devices with removable keyboards and touchpads. The tablet portion of both devices employs essentially the same kickstand design, folding out and back from the middle to prop up the display when it's on a flat surface. The Surface Pro's kickstand rotates 165 degrees, while the X1 Tablet's kickstand rotates at least 170 degrees.
The X1 Tablet has gone through some rigorous durability testing (most ThinkPads do) and its magnesium-aluminum chassis should hold up well. The Surface Pro's magnesium body is likewise sturdy and well built. If you like to get inside your PC and tinker or upgrade, know that the X1 Tablet can be opened relatively easily, while the Surface Pro is pretty much off limits.
Both tablets are about the same thickness, and while the X1 Tablet is slightly larger and heavier overall, it has a larger display. Either device is going to fit easily into a backpack, and even with keyboard and pen along for the ride, both remain highly mobile.
As for ports, the Surface Pro's single USB-A 3.0, Mini DisplayPort, microSD card reader, 3.5mm jack, and Surface Connect offer up some good options, but the X1 Tablet is designed to be future-proof. You're getting two Thunderbolt 3 ports, each with four PCIe lanes, a microSD card reader, Nano SIM, and a 3.5mm audio jack. You don't have as much variety, but those two Thunderbolt 3 ports offer a lot of options for connecting just about any peripheral, including displays or eGPUs. The only downside is that you'll no doubt soon be investing in a USB-C to USB-A adapter.
The Surface Pro comes standard with an IR camera for Windows Hello, and you can grab the same as an optional feature on the X1 Tablet. However, only the latter device comes standard with a fingerprint reader that can also be used with Windows Hello. Both devices feature a TPM security chip, and both are using vPro processors (CPU), except for the Core m3 Surface Pro model.
Image 1 of 2
As for the attachable keyboard and touchpad, the X1 Tablet is treated to a ThinkPad-style typing experience, with cupped keys, plenty of travel, and a soft touch. The Precision touchpad is large, and included are a TrackPoint and physical mouse buttons. The Surface Pro's Type Cover has an Alcantara fabric finish and is available in different colors, offering up a bit more variety than just ThinkPad black. Typing is likewise spot on, and the Precision touchpad, though slightly smaller than the one on the X1 Tablet, is nevertheless solid.
Related: 5 Surface Pro keyboards that cost less than Microsoft's Type Covers
Finally, both laptops have optional LTE-A connectivity options. The LTE version of the Surface Pro has a Nano SIM slot but it also has an eSIM, whereas the X1 Tablet seems to only use a Nano SIM slot. If you're interested in eSIM, this could make a big difference.
ThinkPad X1 Tablet vs. Surface Pro display
Image 1 of 2
The new X1 Tablet is still using a 3:2 aspect ratio, but the 13-inch touch display has been upgraded to a 3,000 x 2,000 resolution. It looks absolutely gorgeous with great color reproduction, and while it does have relatively thick bezels, the Surface Pro shares the same trait. Included in the package is Lenovo's ThinkPad Pen Pro (Wacom AES) with 4,096 levels of pressure and tilt support.
The Surface Pro is no slouch either, though the touch display is slightly smaller at 12.3 inches, and it has a lower resolution at 2,736 x 1,824. It uses the same 3:2 aspect ratio, and it also has inking support in the form of the Surface Pen. With 4,096 levels of sensitivity and tilt support, it will likewise deliver an exceptional pen experience.
ThinkPad X1 Tablet vs. Surface Pro performance
The Surface Pro is using Intel 7th Gen CPUs, while the X1 Tablet has been refreshed with 8th Gen hardware. Those extra cores from the newer CPUs make a noticeable difference in performance, especially when multitasking. Using Geekbench 4.0, the Core i7 Surface Pro received a 4,513 single-core score and a 9,346 multi-core score. The X1 Tablet received a 4,971 single-core score and a 14,289 multi-core score.
Neither laptop has a dedicated GPU, so both rely on an integrated solution. The Iris Plus Graphics in the Surface Pro will outperform the standard UHD Graphics 620 in the X1 Tablet if you're looking at Core i7 models, though the Surface Pro's Core m3 and Core i5 models should fall short of what the Core i5 X1 Tablet model can offer.
Comparing solid-state drives (SSD), the 512GB Surface Pro uses (in most cases) a Samsung PM971 that offers read speeds of 1,284 MB/s and write speeds of 963 MB/s. The X1 Tablet I have for review, however, uses a 512GB Samsung PM981 with read speeds hitting 3,398.1 MB/s and write speeds hitting 1,946.6 MB/s. That's a big difference, but keep in mind manufacturers are beholden to suppliers; if these high-speed drives aren't available, slower alternatives will likely be used.
Overall, the X1 Tablet's more modern hardware should perform better than what the Surface Pro can offer, though both can handle a good deal of work before getting bogged down. A final difference between the two is the battery life. If you want the best, you'll have to go with the Surface Pro, which offers about eight hours or more on a single charge. In my experience, the X1 Tablet lasts between six and seven hours.
ThinkPad X1 Tablet vs. Surface Pro price
Microsoft does a good job of offering up a "low-cost" model of its laptops, though the hardware is pretty baseline. Starting at about $800 (opens in new tab), you can get a Surface Pro with a Core m3 CPU, 128GB SSD, and 4GB of RAM. This doesn't include a Type Cover (opens in new tab) or Surface Pen (opens in new tab), which when added brings the total price closer to about $1,060. A model with similar specs to the X1 Tablet I tested costs about $2,460 (opens in new tab) when you add in the Surface Pen and Type Cover.
The X1 Tablet doesn't have the same lower-cost option, and models start at about $1,270. This price includes the keyboard and touchpad as well as the ThinkPad Pen Pro.
The high-end model with Core i7-8650U CPU, 16GB of RAM, and 512GB PCIe SSD costs about $1,750, nearly $700 less than what you'd pay for a similar Surface Pro package with accessories. Considering you can also choose to go with a cheaper SSD in the X1 Tablet and upgrade yourself later on, that initial price can be brought down even more.
ThinkPad X1 Tablet vs. Surface Pro bottom line
The Surface Pro undeniably has that aura around it that comes from a high-quality, well-built laptop, though it does cost considerably more than similar X1 Tablet models. Still, you get an IR camera, beautiful display, ports that fit better with legacy peripherals, and longer battery life. It's a Surface through and through, and if that's your thing, there's really no alternative.
The X1 Tablet kind of has the same thing going for it, though it has a true ThinkPad vibe, right down to the TrackPoint system. Similarly-spec'd models cost less than the Surface Pro, and accessories are included by default. It has a larger display with a higher resolution, it has newer hardware inside, but its battery doesn't last as long.
This is a tough decision to make, and the final pick will no doubt come down to your personal preference. Either way, you should be happy with your new device, but you can get a lot of laptop for a lot cheaper if you go with the ThinkPad X1 Tablet.
More resources
Surface Pro 2017 review: A 2-in-1 tablet you'll actually want to use
Windows Central Newsletter
Get the best of Windows Central in in your inbox, every day!
Senior Editor, Laptop Reviews
Cale Hunt is formerly a Senior Editor at Windows Central. He focuses mainly on laptop reviews, news, and accessory coverage. He's been reviewing laptops and accessories full-time since 2016, with hundreds of reviews published for Windows Central. He is an avid PC gamer and multi-platform user, and spends most of his time either tinkering with or writing about tech.
SP5 is dead in the water these days to be honest with that last gen CPU. Microsoft should either refresh it now or wait for CannonLake or whatever new CPU Intel decides for their SP6. Or even better, use Ryzen and score a win all around for everyone.

An AMD ravenridge apu in such a device and be openable/upgradeable like the thinkpad would be lovely. They can always put an 1200p screen in it to compensate for the slight battery loss

I am using the Tablet X1 Gen 2 at work since a month and it is already a good experience. The new format should be better for lapability and performance. I am a bit disappointed that the new processors 8gen is not improving autonomy up to a full day work.

I am surprised that Lenovo does not offer a version with an 'm' proc like the Surface does, because that would be ideal for many businesses (/much more battery life).

I extremely happy with my SP5 ...it excels at everything I need it to do and so I wouldn't say dead in the water just because of a last gen cpu that's still rums my device butter smooth.. Most everyday users, don't buy upgrades to the MACs/Surface (and whatnot) everytime a new cpu is out, they hold on to their device until they really feel it is time to make the switch. Some even buy the older model to save some money. So may

I am using a ThinkPad x270 at work and Surface 3 at home.
Although the x270 performance largely outweigh the 3, the latter is a more pleasant to use. What is bad about ThinkPad is that they have too many bloatware: both hardware and software. Things like TrackPoint and its buttons are bloat hardware. Also, the nanoSIM cover is always there even though you choose a model without LTE, another bloat hardware.
For software, the Lenovo suite pre-install is so annoying and slow the device down a notch. And that is my unpleasant personal experience with the x270. Well, for X1 tablet, it weighs as much as my x270. So, very heavy for a tablet! Although I want MS to refresh the Surface Pro but Intel has not come out yet with new Core M series (abandoning already?) for cannon lake. So, refreshing with the same gen of Core M3 would be a disaster. So, no thanks.

Sounds like if you want to buy an exceptional device but also want to show off that you're rich or branding is everything, buy the Surface, otherwise if you just want an exceptional device, buy the Thinkpad
Windows Central Newsletter
Thank you for signing up to Windows Central. You will receive a verification email shortly.
There was a problem. Please refresh the page and try again.