Hands-on with LG's Tab-Book 2, the Windows 8 machine that slides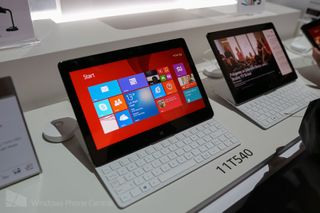 LG doesn't get a lot of name drops here on Windows Phone Central. At one point LG was making Windows Phone devices, but stopped making them after poor response and sales. They haven't been particularly strong in laptops or tablets either, but a few devices of theirs surprised us this week at CES. Their ultrabook, called the Ultra PC, left us with a good first impression. Here's a quick look at another interesting machine from LG – the Tab-Book 2.
The Tab-Book 2 comes in two configurations, one based around an Intel's Core processors and the other around Atom processors, also from Intel. Both variants run Windows 8.1 and feature a beautiful 11.6-inch IPS display running at 1920 x 1080. The Tab-Book 2 with the higher end Core processors are slightly bigger and slightly heavier than the Atom version. For example, the Core version of the Tab-Book 2 is 16.7 mm thin and weight 2.31 lbs. While the Atom version is just 13.7 mm thin and weighs only 2.05 lbs.
Now that we have the differences out of the way we can actually talk about the machine. The Tab-Book 2 features a really unique hinge mechanism that transforms it from tablet to laptop with just a push of a button. On the left side of the device is a button that will neatly lift the screen from the keyboard. Check it out in action in the video embedded above.
Like the Ultra PC, LG doesn't have pricing or availability information to share right now. We'll try to get to get one into our offices sooner than later.
Windows Central Newsletter
Get the best of Windows Central in in your inbox, every day!
Looks pretty nice and it's a good competition for Lenovo Miix 2 10 and 11.

This looks like the machine in the Intel commercials where the dude spills coffee on his old computer so he can get a new hybrid device. Looks pretty sexy imo, very curious about pricing. Hopefully dv11 price?

I think the one in the Intel commercial is a Sony Vaio Duo, but this looks way better!

That sliding mechanism is pretty slick but I don't see a trackpad. I can't see that being a good thing when you're in desktop mode.

I barely ever use the trackpad on my Surface. I either use my finger, or the MS Arc Mouse that I pull from my pocket.

LG moving into the computer industry Nice, now everything in my room can be LG.(almost)

Not impressed. Sony already has this.

The click button works very well. I like this better than Sony's implementation.

Regardless its good for the eco system and I'm hoping future signs of LG WP.

While the click button would be fun, I find it handy to have the trackpad on the Vaio Duo (even as small as it is) at times and I hate trackpads. I could realistically just carry around a small mouse most of the time. Still, this LG slider looks pretty great.

Tbh this device looks prettier than my Sony Vaio duo 13 but a keyboard without a trackpad to me is useless. If mouse is your thing then this device will be perfect but I can't remember the last time I use mouse on any laptop or a tablet.

Very cool, actually feeling a bit of envy when compared to my SP2. However, the issue I see here, much akin to the original Surface, is that it only goes in one position when standing up, which could be a problem. Still, looks really cool, I'm loving all these new device designs coming out lately!!!

Damn, that's a good looking device.

I like my Asus T100 a lot and I use the track pad quite a bit when I am programming and not at a table where I can use a mouse.

Really sweet! I'll have to keep an eye on this one. But it doesn't look like you have much of an angle choice while in laptop mode. Still really cool design.

That looks very sexy. Cant wait to see this compared against against the likes of the miix11. All this new kit is so exciting i cant to start seeing some full reviews as they start to be released! I'm so glad i didn't buy the surface 2 before Xmas :)

Surface 2 is getting a good challenge here. LG looks pretty nice.

pretty close but still not good enough, the perfect form factor is really hard to invent i guess

Ooh that is pretty sleek, really want to know what i/o ports does it have. If LG ship it with a stylus, lte, msd slot etc they could be on to a killer device.

Gotta love the dude who give you the "whaddup" nod at the very end. Haha!
Windows Central Newsletter
Thank you for signing up to Windows Central. You will receive a verification email shortly.
There was a problem. Please refresh the page and try again.