Weekend Entertainment: Listen to Dillon Francis and watch Mad Max: Fury Road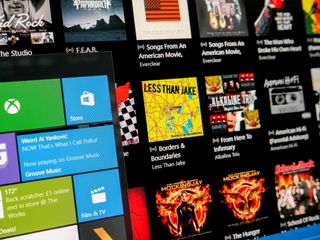 Every week, lots of new stuff drops on Groove Music and Movies & TV, and it becomes hard to keep up. Well, that's where we come in. Every weekend we'll highlight some of the hottest albums and singles on Groove Music.
We'll also let you know what movies and television shows just dropped on Movies & TV for your viewing pleasure. It's the weekend, and we'll help entertain you.
Groove Music
Dillon Francis - This Mixtape is Fire
Dillon Francis is an electro and moombahton DJ/producer who rose to fame back in 2011 when he collaborated with Diplo on a song. This Mixtape is Fire is his eleventh studio album but his first moombahton album since 2013.
The album only features seven tracks, but each song stands out from the last in its own unique way. My favorite two songs after giving the album a listen are Coming Over and What's Your Name. Check the album out for yourself and let us know what you think!
Listen to on Groove Music (opens in new tab)
">
New Politics - Vikings
New Politics formed back in 2009 when the group of friends were working on solo songs together and they realized that they pretty much had the early makings of a band. Here they are six years later and with two studio albums in their repertoire.
Vikings is the perfect summer sounding album with its 11 song track list. The songs that easily stuck out to me are 15 Dreams, West End Kids, and Lovers in a song. See for yourself below why we enjoyed these songs.
Listen to on Groove Music (opens in new tab)
Music & TV
Mad Max: Fury Road
Mad Max: Fury Road saw the return of George Miller's beloved franchise and didn't disappoint when it released in theaters this summer. The movie follows Max as he tries to escape imprisonment and comes across a group of women, led by Furiosa, who are trying to escape as well. However, Immortan Joe will do whatever it takes to stop Max and get the women back into his possession.
Watch on Movies & TV - $19.99 (opens in new tab)
Do you have plans to watch or listen to something else this weekend? Let us know in the comments below! Also, if you have any suggestions for next week's post you can always hit me up on Twitter @JonDollison. Have a great weekend!
Windows Central Newsletter
Get the best of Windows Central in in your inbox, every day!
Already bought Mad Max Fury Road for Xbox Video/Movies & TV. Such an amazing movie. Fun fact: "The film contains about 2,700 cuts of its entire running length, which is equivalent to 22.5 cuts per minute compared to The Road Warrior's 1,200 cuts of its 90-minute running time equivalent to 13.33 cuts per minute" That's. Insane.

Seen it 4 times already, I just can't get enough of it.

My man Dillon Francis knows how to throw down at a festival. No mention of Dr. Dres new album "Compton"? Bunch of living legends and an amazing album.

Maybe if it were on something other than iTunes I'd mention it ;)

Ahh that I didn't know.. Haha

It actually is on Groove now.

I love the mention of Groove and the screenshots are of Spotify.

Definitely picking up Mad Max, but when it releases on blu-ray. I also bought the new The Devil Wears Prada, P.O.D., Pop Evil, and Disturbed albums :D
Windows Central Newsletter
Thank you for signing up to Windows Central. You will receive a verification email shortly.
There was a problem. Please refresh the page and try again.