Live Interior 3D Pro, the brilliant interior designing app for Windows 8, is on sale this week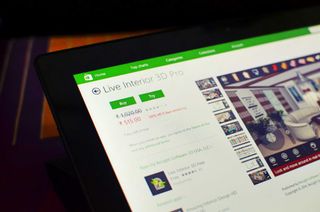 Live Interior 3D Pro is a useful app for Windows 8 devices for homeowners planning to renovating their home or planning improvements and professional Interior Designers trying to bridge the gap between ideas and visualization.
I've written about the app before when I first discovered it, but the app has come a long way since then. There's a Light Editor dialog that helps create and control light sources and Type & Representation dialog for setting object type, origin, as well as adjusting 2D and 3D representations. There are several more small but nifty additions as well.
The app allows you to design in both 2D and 3D. You can start your home by drawing out a 2D floor plan using intuitive, touch-based drafting tools, and then switch views to see and walk around the structure in 3D. You can make changes in both 2D and 3D using an easy drag-and-drop workflow. You can also arrange furniture, paint walls, adjust the lighting, and build in a realistic, beautiful, real-time 3D environment.
There's a free trial available and while the app usually costs $19.99, till April 13th, the app will cost only $9.99 as part of their Spring Renovation Offer.
This fully functional home and interior design app caters to both professionals and hobbyists, and is powerful enough to design skyscrapers, yet intuitive enough to build something as simple as a shed. Give it a whirl, and let us know how you like it.
Download Live Interior 3D Pro for Windows 8 (opens in new tab)
Windows Central Newsletter
Get the best of Windows Central in in your inbox, every day!
This looks like a great candidate for a future HoloLens app!

+1 would be awesome for hololens. Hololens is on my wish list

This reminds me of the cheap software all of the shops in the UK used to sell. Woolworths and the like.

It's actually a pretty nice piece of software. Pro? Probably not, but great for mocking up some floor plans.

Agreed. I would think most professionals would stick with AutoCad and Revit and similar.

This program looks like it's worth $2.99 max.

I bought this the last time it went on sale. Pretty straight forward to use and I was working on laying out my house for renovations. Everything was going well until I couldn't set my interior doors to be hinged on the opposite side as the only option was in one direction. I emailed them and their response was it was not available yet. I've since installed SketchUp Make and it can't be beat for being free, so much more powerful compared to this and very easy to learn.

Awesome, I'm going to check out SketchUp Make!

Love this app! Been using it to map out the plans on my house. Its not perfect but its great for basic use and its cheap!

Also, you can import Google Earth KMZ files (SketchUp) which there is a large library of Ikea stuff, etc.

I pity the people that live in a skyscraper designed with this app :)

A very limited review to day the least.
Does it export scenes to .obj or such 3D file formats?
Windows Central Newsletter
Thank you for signing up to Windows Central. You will receive a verification email shortly.
There was a problem. Please refresh the page and try again.