Lumia 650 is now available at Cricket Wireless for $130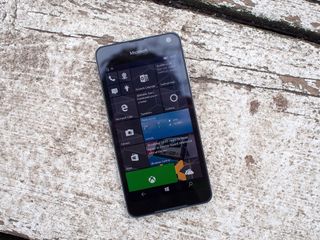 As promised, Microsoft's Lumia 650 with Windows 10 Mobile is now on sale at Cricket Wireless. The no-contract smartphone is priced at $129.99 (opens in new tab).
This is a rare case of a U.S. carrier selling a Windows 10 Mobile smartphone; the only other examples at the moment is the Lumia 950 at Cricket Wireless' parent company AT&T and the Alcatel Fierce XL at T-Mobile. The Lumia 650 has a 5-inch 1280x720 display, a Qualcomm Snapdragon 212 quad-core processor running at 1.3GHz, 1GB of RAM, 16GB of internal storage, an 8 megapixel rear camera, a 5MP front camera and a 2000 mAh battery.
Check out our Lumia 650 review
See at Cricket Wireless (opens in new tab)
Windows Central Newsletter
Get the best of Windows Central in in your inbox, every day!
As a cricket store manager I can verify we got them in yesterday. What a beautiful device

Is there anyway I can get one with setting up/activating a plan? I want to use it on at&t

if you can tell us about LTE bands this supports highly appreciated !! Edit: Got it from other comment: LTE Bands 2, 4, 5, 7, 12, 28

Ya, that 960 is so amazing, lol. Typo.

Can't wait until Lumia 650 comes to my carrier :)

Hmm, Might have to see if my girlfriend can get out of her contract with Verizon. They suck for Windows phone owners and she's been worried a new phone will cost her a lot.

Hmm -- so would it be possible to buy this handset w/o a Cricket plan and replace my 640?

Usually Cricket tacks on an extra charge for existing customers to upgrade to a new device, which is exactly why i never buy new devices through them. I just buy AT&T gophones and swap in my cricket sim. It's a dumb practice on their part that ensures i won't be giving them any extra money.

Not that rare a case. Cricket has been selling Windows Phones for a couple of years. My 640 is from cricket and they had the 630 as well.

Do you pay the $10/mo for the mobile hotspot feature?

there's another windows 10 smartphone at T-Mobile

Yup was gonna post this as well. Obviously just a slip of the mind since Windows Central covered that launch. Alcatel one touch Fierce XL.

T-Mobile is also selling a Windows 10 Mobile, the Alcatel Fierce XL for $139. I highly recommend it too.

Definitely going to get one. I played around with the dual sim 650 in the Microsoft store and it looks much better than my 640. Windows 10 was nice to see, and the Edge browser seemd to work better and faster on the 650 than the IE on my 640. It renedered one specific web page differently too. (But same as UC browser on the 640 but that crashed a lot on the WM8).

Does it have qi charging?

Nope! Which is very unfortunate given that MS pitched it as a business phone. For some crazy reason, MS continues to reserve that feature for its flagship phones. For example, the 640 XL shipped with the internals to support Qi. MS simply chose not to put a Qi case cover on it.

at&t go phone is it way just get the phone

Any confirmation on whether it has LTE on the Cricket/AT&T network?

Yes. It's supposed to be throttled to 8 Mbps LTE.

This is how much it must cost in all stores. With all due respect to the phone the current $200 price rather antagonizes customers than attracts. Posted via the Windows Central App

Anyone know what happened with the white one? It is silly to show off the first white windows phone and not being able to buy it. Posted via the Windows Central App for Android

I ordered a white one from the UK back in February when the phone first came out. It seems like MS decided to only sell the white version in the Europe . I have not seen the white one sold in the US at all.

Cool. I'll love for someone to get this and compare the LTE bands with the unlocked version sold at the MS store. Edit: Hey all, check this out: https://www.cricketwireless.com/content/dam/aio/Support/DeviceSupport/mi... According to the bands, the Cricket version has bands 2,4,5,7, 12 and 28!

I've had Cricket for a while and love it. Nice to have AT&T's network, and pretty much any choice of GSM phones.

I got one at a Microsoft store a few weeks ago. Very good device overall, fast and fluid with the .218 update. Solidly made phone.
Screen is beautiful too, doesn't smudge too badly at all.
I recommend this highly. It will probably be the last of the Lumia line.

Meanwhile in Malaysia a Lumia 650 cost rm899, which is about usd225, seriously?

Guys, when It's a carrier subsidized phone in USA, you must remember it's a SIM LOCKED phone to that telecom carrier. It's not an unlcoked phone that retails for full price, meaning you could use it any other carrier just swapping SIM card. Unless you pay the full price or complete the agreed tenure to get it unlocked, you can't use it. That's why you could see such a price difference. But yes sometimes there are promotional offers on unlocked devices that is diff. place to place, based on many conditions MS has with online retailers, etc. where they can't simply or shouldn't simply beat retailers to hell.

Im definitely getting this. Ive got new phone fever. Cant wait to spend my meager savings.

Knock $50 off and I'd be interested. Cricket is selling an Alcatel Droid (I know, I know...) for the same price that's $200 unlocked.

$130 for the last Lumia device are signs that Microsoft doesn't want to know nothing more about Lumia, they must be working to clean-up inventory to start working for the Surface phone for April 2017.
Windows Central Newsletter
Thank you for signing up to Windows Central. You will receive a verification email shortly.
There was a problem. Please refresh the page and try again.