Lumia Camera 5.0 updated with bug fixes for those with Lumia Denim update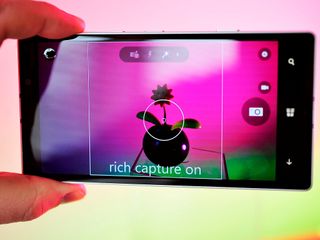 Microsoft today has updated its Lumia Camera 5.0 app with the usual bug fixes and improvements. The update applies only to those with are running the official Lumia Denim update and a Lumia 830, Lumia 930, or Lumia 1520.
Today's update is one of a few that have arrived over the last few weeks as Microsoft and the imaging team tweak the new much faster Camera app. Besides faster shot-to-shot and launching speed, Lumia Camera 5.0 also brings 4K video recording and Rich Capture (HDR, Dynamic Flash).
The newly updated app is now at version 5.0.2.42. No new specific features were added.
Although those with Lumia Denim can download this app, upon launching it they will be told that they need the latest update in order for the app to work. In that regard, Lumia Camera 5.0 is only good to have installed in preparation for the upgrade, but users are encouraged to stick with Lumia Camera Classic for regular usage.
Thanks, Sami P., for the tip!
Windows Central Newsletter
Get the best of Windows Central in your inbox, every day!
Daniel Rubino is the Editor-in-chief of Windows Central, head reviewer, podcast co-host, and analyst. He has been covering Microsoft since 2007 when this site was called WMExperts (and later Windows Phone Central). His interests include Windows, laptops, next-gen computing, and for some reason, watches. Before all this tech stuff, he worked on a Ph.D. in linguistics, watched people sleep (for medical purposes!), and ran the projectors at movie theaters because it was fun.
Oh well.. My poor 730 :-( better luck next time

Also not for the Icon right? :(

The Icon doesn't have Denim yet :D

No, Verizon sucks. No updates atol

I'll get Windows 10 before I get Denim on my Icon

Yup......so sad - Windows cant get any support from carriers. It boggles my mind why WP hasnt caught on more - its so much better than IOS and Android.

Icon will be going from Back straight to Denim once Microsoft and Verizon releases it.

Mine 730 is also disappointed from getting filtered...

Yeah.. Wonder why is that as L830 has the same processor.. Anyone?

Actually been using it on my Cyan 1520 for quite a few days now. Minus the 4k and Rich Capture though.

When is denim coming to Europe, I have a 1520?

No specific date of course. You could either keep checking Microsoft's support page or sit back and wait patiently as WC will surely cover it as soon as it rolls out.

Just got Denim for the 930 Germany CV, shouldn't take too long anymore

Hmm, you do anything special to enable it on your 1520 Cyan? Tried on mine but it just basically says I need Denim

Here's how I did it. Do it only if you are really keen so you don't come back with complaints of missing features or errors later.
http://forums.windowscentral.com/showthread/333698.htm

All i want is windows phone 10!

Pray for lumia 1020 , lumia 1020 user here

I'm in the same boat! The camera is amazing...but also amazingly slow! I mean, super slow at times that I think it's crashed sometimes. And since 8.1...the phone is noticeably less smooth. Still love it though, lol!!!

I was on the movie set this last weekend and had my production assistant use my 1020 to take some behind the scenes pictures for me and she was just in love with the camera as was the camera crew who knew exactly what it was. Anyone who uses it just gushes over the camera. Love my 1020....my slow 1020.

Queue the "where's my Denim update?" complaints in 5, 4, 3, 2, 1...

All this whining will stop by next fall. It will be a whole new kind of complaints when people start hearing carriers won't carry the next best thing. (T-Mobile)

I think the complaints are completely justified for someone, like me, who bought a Lumia 830 under the impression that it had the "real" Denim and not a placeholder or whatever.
Originally, I read that the 830/Denim would come preinstalled with the camera improvements. Turns out that wasn't true either.

Same here. I have "Denim" but I don't have access to these updates. Microsoft's doing or AT&T?

Thanks for this comment. I have an 830 as well and was loosing my mind thinking I had the latest. Even have the developer preview installed but still is not the final release I guess.

I've got a different confusion or complaint, not sure which. The article states that my 830 (pre-installed with Denim) should be able to download this app. I know due to the processor I won't be able to take advantage of all features, which is fine - I'm most interested in the shot-to-shot time and the dynamic flash. Going to the Microsoft store from the link, it says my device isn't eligible for this app. Similarly, going to the store on the phone only turns up the classic app. Any ideas, Daniel? Thanks! AT&T Lumia 830

I'm in the same boat using the Rogers variant of the 830. Looking at the reviews on the apps page shows much of the same confusion. Is anyone using an 830 lucky enough to be running Lumia camera?

I was able to run the previous version. But not it doesn't even let me update. Rogers here too

If you are an 830 owner you can only get LC 5.0 once you get the "update to Denim", not Denim itself, which you already have, but the next update to Denim. The reason no one seems to understand that is because Microsoft have been wholly unable to articulate it and websites like this, whilst purporting to be authorities on these things, I'm sorry to say do an even worse job. " The update applies only to those with are running the official Lumia Denim update and a Lumia 830,.." INCORRECT. You need the update to Denim. IN SUMMARY: YOU CANNOT GET LC 5.0 UNLESS YOU HAVE THE UPDATE TO DENIM; DENIM 1.1, IF THAT MAKES IT EASIER TO UNDERSTAND. And while I'm having this little rant about misinformation by so called authoritative websites, Microsoft have not officially said which hardware or devices will get Hey Cortana. An employee has tweeted to another website (whose name I wouldn't dare repeat here) that it is Snapdragon 800 only for now however MS have not made anything official except saying that it does require a sensorcore. My educated guess is that it will be on a device by device basis, as high end feature often are with Nokia/MSM, and that it will come soon to the 830.

thanks for being both civil and informative. I think of myself as pretty knowledgeable and I try not to ask stupid questions but occasionally WPCentral gives contradicting info like above.

you're totally welcome. i actually thought i was being slightly sarcastic but i'm glad it clarified for you. to his credit the author has actually explained this in a bit more depth below in a comment however i don't really get why he doesn't just make it crystal in the article itself. It obviously still isn't clear because people are still asking about it - here and everywhere.

I had just assumed that I'd get WP10 before Denim on my 1520 anyway.

Yeah. I wonder what features we will lose with the move to the W10 preview though.

We are not with (those) have denim, I have L930 & thank god I'm not of (those).

For those of us running Denim and Camera 5.0, the improvements really are remarkable! So, for the rest of us, let's commence our usual whining about not having it yet on our favorite flagships, how we won't be getting it on legacy chipsets, and how the low-end devices are getting it first!

Low-ends aren't getting the new improved Lumia Camera v5.

This app not available for my 830 on ATT... Ugh..

Same situation here.. Why? Do I need to install e.g. the Developer Preview version to get it?

Because AT&T hasn't released Denim yet for the 830.

The phone says its Lumia Denim (in Extras + Info) though..

It comes preinstalled with Denim

This preinstalled version is a "preview" Denim. The Lumia 830 will also receive the "final" Denim update.

The 830 shipped with Denim.

Mine either. I don't understand why it says for the Lumia 830.

Because you do not have the right software version yet.

Is it just AT&T or is this for every 830? I just don't understand why it says its for the Lumia 830 too.

Look, let me be clear on this: Lumia 830 gets Rich Capture, HD moments (instead of 4k) and all the other Lumia Camera 5.0 stuff. We have said that numerous time already, and we even did a full interview with Juha from Microsoft last week about it. You do not have the latest version of Lumia Denim to enable Camera 5.0. There is nothing more to say. You will eventually get the update and then get Camera 5.0. That is why we say Lumia 830.

Which is silly because it was announced 6 months ago for the 830. And when I try the 830 in store it is no better than my 920. Whereas if this feature alone was present by now or better at release it might have been a motive to upgrade: Wow the camera is so fast and has a bunch of cool new features. But sadly not. Hopefully Microsoft will learn from this.

"Which is silly because it was announced 6 months ago for the 830."

Actually, just over 3 months ago. The good news is it is worth the wait. Lumia Camera 5.0 is night/day by comparison to the current version.

I wonder if it would be worthwhile for Windows Central to make an article that literally goes through each Lumia model, specifying which features they will get, and any special notes about them (like the 830 doesn't have denim final yet). Then you could just link to that one clear article on each of these other articles. I know many wouldn't read the link, but at least you could then point out the link instead of re-explaining it every time. I would think it would be a lot less frustrating.
From a user point of view, there are a number of things that are very confusing about this situation to those who are not informed... there is the Extras and Info Denim bug that tells you you have Denim when you don't; there is the 830 "Denim but not Denim" situation: there are the multiple versions of the app in the store, some of which will install but not run, some will not install; etc. Heck, right now on my 1520 I have Lumia Camera, Lumia Camera Classic, and Nokia Camera. I think I can uninstall Nokia Camera, but I'm not sure. I think it would be very valuable to have all the information in one place.

As a fellow Lumia 830 user, I agree - I consider myself moderately tech-saavy but find this whole Lumia Camera 5 thing to be confusing!

Couldn't have said it better myself! You already did. Lumia 830 madness.

But three months ago they presented it with all the features on. Nobody mentioned it that Denim isn't real Denim and the praised camera app is not available.
So I bought it expecting to find the features that were showed by Joe Belfiore at launch show and that are marketed on product page. I'm sorry to say it, but that was and is misleading advertisement.

I agree - I had the exact same expectations. Never knew the Denim on my 830 wasn't the real Denim.

Actually, Aug 28th: Sept, Oct, Nov, Dec, Half of January. over 4.5 months. So nearer 6 than 3 :) edit: Darn. Sept 4th IFA. So 4.4 months. Still, quite a while back.

That's the good news.
The bad news, we were all lied to about Denim and the Lumia 830 and now we have to wait like everyone else.

Dan, you're preaching to the choir as I've had to explain the same thing to people, but would it not make more sense to say that its coming soon to the Lumia 830 as opposed to saying its available? If literally no Lumia 830 has this firmware, then it seems pretty inaccurate for it to say its available.

Thanks for this bit of clarification. This Lumia Camera 5 thing is confusing for for me and a lot of Lumia 830 users. I keep seeing that its available for those with Denim/830. And then there are these updates and others who report that they have it. So I never understood why I couldn't get it nor did I know that the Denim on my Lumia 830 is not the final verson. Other than this post, I don't see any of this mentioned anywhere. Even Lumia support on Twitter couldn't explain why I couldn't get Lumia Camera 5.

I was looking forward to sidegrading to the 830 on AT&T Next 12 right before Christmas but this whole damn Denim + Lumia Camera 5 issue was the only reason I waited. At this point I might as well use my 920 until something better comes out this summer, fall, winter, eventually, SOON, etc.. Thanks MS!

My Daughter had the same issue with her 830.

I'm in the same boat with my AT&T L830. But the version of Denim we have isn't the final version. We still have to wait for the official push. The version stated in Extras & Info is a known issue.

Known issue by us, following WPCentral articles and reading comments on forum.
What about new customers, that just bought a phone that don't have all advertised features.

Any idea when Lumia 830 will get the additional small firmware update that enables Lumia Camera 5?

Rule of thumb here: If I know anything, we'll do an article on it, which means searching the site will bring it up if you missed it. If you don't find an article or don't recall us writing one about that issue, then no, we do not know. What is never the case: Yes, we know when your phone is getting the update, but we decided not to (or forgot) to write about it.

I really admire your patience Daniel.

Daniel, I hear your pain. Problem is, it's not always easy to find old articles/information. Would be cool to have a menu of sorts on trending topics...something like you did for the SP3. An intro piece on the Denim update followed by links to related stories for instance? By the way, the amount of coverage on this site is nothing short of phenominal. Thanks.

Rule of thumb:
Don't be a dick.

Thank you for your answer. Nevertheless, I wasn't trying to get an insight to your publishing policy, I was trying to ask if someone (not only Daniel) would have information or at least a rumour, when this update is possibly coming to Lumia 830.

It's not available for my Lumia 830 :(

I have Denim but not Lumia Camera

Denim for green Lumia 1520 at&t?

I have a Lumia 830... why does it always tell me this app isn't available for my phone?!

Same here mate your not alone

Ugh.. There you go again!! 830 owners gang up on MS already. Same crap. 'You need to update to denim'

You need a newer version of the OS and firmware. They are not lying about that.

I don't see this requirement of needing a newer version of Denim mentioned anywhere else but here. I didn't know there was some pre-release version of Denim - I always thought that my 830 came with the final version.

Daniel, when you're saying that Lumia 830 doesn't have the latest firmware... How do you know it, what is your source?

App isn't available on the 830 witch a bit stupid considering it was one of the first to have denim

830 HAS NOT HAS final Denim yet...

The 830 doesn't have the final version of denim as of yet your trying to say ? Bit silly on Microsoft's part if so perhaps

Why would the 830 already have the final release of denim when it just now started rolling out to the big 3, I.e. 929, 930, and 1520?

Probably because it was released as the first phone with Denim preinstalled... nothing was said about a 'final' version at the time.

Because newer phones sometimes get a new firmware sooner than existing phones?

Anyone know how to get Denim on a 635 that is currently enrolled in the preview of developers program?

Turn off DP and it will magically say Denim. Then re-enable DP. Of course no one knows if that is a fake Denim. Likely real though as reportedly only 930,1520,830 will get Denim firmware updates.

Why is it named denim? Why not something like Lumia Corduroy? Bah

Lumia Amber, Black, Cyan...Denim... $5 if you can point out the pattern

Gets an idea for the next firmware update: Lumia Egg

Lumia Amber, Black, Cyan, Denim, Emerald, Fuchsia, Gold, Honeydew, Indigo, Jet, Khaki, Livid, Magneta, Nyanza, Orange, Platinum, Quartz, Red, Sapphire, Teal, Umber, Vanilla, White, X-mas Green, Yellow, Zomp. Bring me $5 now. All in the order of English Alphabet.

Zomp was rather impressive.

You misspelled magenta and are disqualified...

Since nobody named the pattern, they are all colors that follow the english alphebet. $5 please.

"for those with denim update". Store downloads: 28 and counting. Still 28. Anybody? Ok. 29.

Does it work outside of the US? Shows as not available on ATT 830 and Vzw 822

Finally denim is gonna be out atlast... Other wise Microsoft won't release this update now....

Wait can i patch the cracked Lumia camera v5 xap to my 920?

Because you do not understand the fundamentals? Lumia Camera 5.0 cannot run on old hardware and will see no benefit. This isn't a software issue, it's hardware and firmware one and no "cracked" XAP can fix that.

So you mean to say that it will be the same Lumia camera v4 experience?

No. You need extra hardware to use Lumia Camera 5 features. So for us 920 users, we will only ever get Camera Classic. Got to upgrade that phone sometime to get the new features... eventually.

I am so confused with this Lumia camera thing as to which phones get what. What do the phones other than those mentioned in the article get from denim in terms of Lumia camera?

Almost nothing. Possibly a bit faster, but there have been no promises on that.

my Poor NL 928 f! U! Microsoft

WOW. Pretty negative for the older phone. I also have a 928 and realize I will have hardware limitations going forward. Welcome to the technology world we live in. Today's top-of-the-line device, is tomorrow's old trash.

It has always been that way, always will. Its just that stuff becomes trash a lot faster nowadays.

I hope Microsoft havent forgoten they have the Lumia 1520 to give Denim still.

Denim? What Denim? Never heard of it!

And depending on your carrier, you probably never will.

Does any 1520 out there even have denim yet?

My 830 is running denim yet still doesn't have it... Microsoft are dragging their feet here, mines an unlocked device with no ties to any network operator.

What about my L1020 ? Doesn't it have a decent camera?

You should really see our previous coverage.

I hope they will fix the yellow tint photos...

Hey Daniel..I got an email from microsoft titled denim update. Does this mean the update is available for my device?

I've learned that if I just read the first 5-7 comments, I know what every single other comment says...."where's denim for my..." " don't know yet". Lol

Lol it seems most people who post here don't read before they post. It could save a lot of redundancy and waste less of our time if they would simply read through.

For 1020 users there was an update out for Lumia Camera on 8th January v 4.9.3.0 is a vast improvement start up time/picture quality
Has anyone else noticed this???

Ugh... Complaints everywhere.

So what do you expect? Not everyone has a 1520, 930 or 830!

I actually have Denim on my 928. I have the Lumia Camera on my phone. When I click on the link to the store it tells me that the Lumia Camera is not available for my phone. Hmmm..... Just took a picture. It works. Oh well.

So sad the 1020 isn't getting this

yeah don't state obvious, i'm selling my 1020 to get 930, quad core grabbing all latest features not dual core

Today received email from Microsoft Mobile saying that the denim update is available now for all devices but there is no update

Obviously spam. Microsoft hasn't ever released updates for all phones at once.

I download it in my Lumia 1520,but I can't use it without the Lumia Denim update.

I was roaming with 520 btw :p

Since Lumia and Verizon can't update the Icon, it's going to take a miracle to save Windows phone. All of the gung ho fans on Verizon have been stabbed in the back. There go a few thousand would be supporters. Forever lost to Android or iPhone. It's a shame because I have been loyal since Zune. For some reason Joe Belfiore and Verizon have seen fit to assassinate their biggest fans. Oh well. Anyone have an iPhone 6 plus for sale?

Wife's 830 (sim free uk) is saying app not available for her device!!

I might make use of this, when I get denim!!!!!!!

Forgive me if it's said somewhere, but what's the reason the 735 to not get that? Needs another firmware update or older hardware?


I got an update on my lumia520 in india.....i can access folders,bluetooth internet sharing,data toggler in action center......but my phone write cyan in extras+info.
Someone please verify did i have to update again to go to denim..or some fault is in extras+info//8.10.14219.341 is os version.

Denim is a firmware and not an OS...

Lumia Camera updated on DP it means Denim firmware update also possible for DP users....

It seems what I thought was true. My 830 needs another update before it can get Lumia camera 5

What about low end devices! O think they have considered it as well.. Anybody knows about this?

They won't get Lumia Camera, just the Classic version.

Is this on the Canadian app store? My 830 says app not available, and my Lumia camera classic isn't updating either.

I'm anxious to hear reviews from users with Lumia 830, also video reviews would be plus for other users wanting to purchase 830

Got a lumia 830 on developer preview, will I get the final denim soft/firmware with camera 5 too, or will I have to downgrade the OS as it had been with cyan????

The Bitlocker bug was fixed ages ago...

I want Denim in my 930 :c

Denim is right here!!! Germany unlocked Lumia 930 owners happyness tonight!!!!! Yeeeees:D downloading.....

Thanks from my Denim-930 ;)

I have Denim on my vzw 928 but still can't use thus app.

Aside from not getting the camera tweaks due to not having pureview, is there any reason the 735 couldn't benefit from the speed enhancements given it has the same internals as the 830? Never been quite sure why we can't get some of the features of the new camera app on phones that have the same chipset and ram.

Why does the link of the store show not available for your region.. I am using the 730 preloaded Denim.

Read the article ... 830 (updated), 930, 1520 and Icon only.

I have a 928 on Verizon, which is supposed to have Denim. Do I need a newer/better chipset to get the better camera? Assuming so...

Available for 830 (with right update), 930, 1520 and Icon only.

Was gonna say, that's kinda lame that I have Denim on my 822, but cannot download it. Sucks it only supports various devices.

This Lumia Camera 5 it's amaizing. I'm very surprise if what they have done with.

Just received update on 1520.

I have Denim on my 930, but there are some issues with cam 5.0. Already before this update, the possibility to reframe was gone. Access to "edit rich image" (replacing the reframe icon) was only available from the within the camera app or from Storyteller, not the picture hub.
This update doesn't fix any of these issues.

Rich it's a Lumia Camera feature, not a separated app. You only can use through the Lumia Camera app. It's not an issue.

Reframe was also Lumia (pureview) specific, but still available from the hub.
In any case, the now total absence of reframe possibility is annoying and must be a bug...

Use Lumia Camera Classic for reframing.

@Wam1q pics taken with Lumia Camera won't reframe in Lumia Camera Classic, it shows "open in Lumia Camera" instead...

An update: Reframe is now within Lumia Creative Studio. Got this from LumiaHelp on Twitter.

Reframing is still available for those using the Camera 5 on a 930. Follow these steps: 1. Set the picture quality to small and large Jpeg 2. Take a picture 3. Open Creative Studio and you'll find there the reframe option

Keep dragging your feet, AT&T. If I had an iPhone shoved up my ass, you would do anything I asked. Sick of paying outrageous prices and getting turtle speed updates.

I would like to see a video with the now new update to the camera app between the two apps since it's a huge difference. "Night & Day difference" Thanks! I can wait for the update, just wanna see a comparison video.

There's a video of you make a search of the old articles.

Man what! Hopefully you go back to school to learn how to form a proper sentence, oh I'm sure you can find a video to show you that.

If AT&T would freaking step on it with updates that would be great...

When can we expect the denim update on Lumia 1520 in India ....been waiting for long

Lets remember that we have newbies to Windows Phone and people that don't read these articles often or at all. Just saying before we go slaying people...lol

Don't even have denim yet
1520

My 730 has denim firmware... Y it's still not available... Whatever I buy..somehow it's always get filtered..

Not available for my 830 (GB-CV)

Does Denim fix the laggy unusable mess WP 8.1 has become on an unlocked Nokai 1020?

On lumia 520 demin firmware it isn't available :(

I have a 830. Lumia camera isn't available?

Bought a new Lumia 1520...... Eagerly waiting for Denim to use the latest camera features!

This is the problem. Overseas gets everything first.

I can't wait to get Win 10!!

How to activate hey cortana?(lumia 930with denim) the camera speed and quality is awesome!!! Thank you microsoft.

http://windowscentral.com/commenting-guidelines

Camera 5.0 is gonna be sick, btw love how its called 5.0, there is something classy about that that I can't put my finger on ;)

AT&T. WHERE IS MY DENIM FOR MY LUMIA 1520 ???

I have the Lumia 830 and it says that this app isn't available for my Lumia. I had Nokia Camera preinstalled. I deleted it and tryed to download the Lumia Camera app. It's not downloading! (help!) my Lumia is obviously on denim.

According to Windows Central you were lied. Your Denim is not real Denim. Microsoft won't comment about that.

Really? Oh man this sucks. :(

Hold on if I don't have denim then how come ive got Cortana and live tiles because that comes with denim. (I checked on the website.)

It seemes that we have an early version of it. No one knows, just common sense. Maybe Daniel has more inside info.

@Daniel Rubino Do you know if there is a rough estimate as to when Lumia Denim will be released for AT&T?

How to activate hey cortana in the background? Anyone help me please....:(

It's all explained here: http://m.windowscentral.com/commenting-guidelines.

Posted how to do this here on Windows Central a couple days back. Watch the video to activate feature! http://www.windowscentral.com/hands-on-hey-cortana-video

What should I do ....celebrate...Ms ur always the same u think A and say B...when is denim planning to launch for other phones...is it after when windows phone 10 update roll outs.. ...

I don't have denim yet but I do have the app and in main capture mode in the settings it says 16mp or 16 mp/ 16 dng.

Maybe will get Emerald instead, jumping over Denim version. Just like 8 to 10 :).

It means Denim is come soon before Win 10 on DP users....

Concerning the 830: I've been vocal about on the boards in a few threads, but... The fact is Microsoft misrepresented the product to consumers. It, obviously, doesn't have the final Denim code. And that wasn't realized until Denim bagan rolling out for other devices in the last couple weeks. No where, not once, was anything said by Microsoft that the 830 needed another firmware update. In fact, all the marketing materials that are available at this moment will lead the average person to believe otherwise. We were being told that it would only require an app update, not a firmware update. And guess what? That's still the case. Go out and read the material on MS/Nokia websites. So, is is any wonder that there's so much confusion? That's what happens when you misrepresent a product. MS screwed up. Period.

So lets focus improving an app that the majority of phones can't utilize or even install, maybe someone should tell MS they need a horse to pull that cart... I dunno but finding their implementation in certain areas to be ars backwards at times and very spotty. Oh, got lumia camera 5 a couple of weeks ago on my 830 and now showing not available for my device, how is it I was able to install in the first place, confused.

Ya this really makes no sense.

How do I enable rich capture?

830 fido canada, no camera update

So... not for my ATT Lumia 830 yet....?

I have L830, and i cant get Lumia Camera 5.0 I have been waiting for this, like 830 years....

Wait.. The 830 can't download the app? :-o

I don't really understand why I would download it if I can't even use it yet (830).

I have an 830 and it says this app is not available for my phone....it came with denim but still has the Nokia camera app????

Must be something going on. I'm running an 830 fully updated yet store says not available for my device. Will check back later.

i have denim on my 830 and i can't install it this app not available for your phone !

"The update applies only to those with are running the official Lumia Denim update and a Lumia 830, Lumia 930, or Lumia 1520" L830 doesn't have the latest denim update right?

MSFT is showing the new camera app with 830 on marketing materials, websites, hell, even in the instructions manual to 830 there is the new camera app and not the clasic version. The cake is a lie!

So once we get denim we have to wait for a patch for denim before this app is fully functional?

This apps not support for my Lumia 830

Has anyone with an 830 been able to update to LC 5? It's such a disappointment. Newer Lumia used to have the newest apps (like motion sensor, storyteller beta, etc.) but 830's earlier adopters see Icons/930 and 1520 get all the fun that should rightly be ours too. Has Microsoft commented on this and have I not read it?

I'm downloading it now on my Lumia 1520 with only cyan (RM- 938). What's with that?

Not available on my 830? Wtf

I have an 830 with Denim. When I go to site to download Lumia camera is says not available for my phone. What gives??

i need some jedi type patience for me to wait for this lumia camera 5 to be able to install on my L830, although now it feels like the owner of L830 has been misguided by microsoft when L830 was unveiled at IFA2014 to believe their Lumia 830 have the latest Denim update out of the box. :)

This app cannot be downloaded in 830.

I have L830 but its saying "this app is not available for your device" why???

What's currently the best version of this app for the Lumia 1020 on Denim? I know there are a number of new features we can't make use of, but I'm currently using "Nokia Camera Beta" from a while back, so what's going to give me the best speed and image quality on the L1020?

Thanks to Daniel I understand why my L830 can't get camera 5... Is there any way to force the "update to Denim" on the 830 that has "Denim"

store says its not capatible with my 928 even though i have denim

The update was a hassle since it WAS my default camera app. I was at an event using the camera with no problem on my 1520.3. The update must have happened between shots because suddenly I got the warning and no way to continue. Had to switch to another app. If that had happened to my father he would probably have thrown his phone since he wouldn't know how to work around.

I have Lumia 830 with Denim update but i haven't got the Lumia Camera app yet. I'm from India

Though my Nokia Lumia 520 has been updated to Lumia Denim this update is again asking to update to the latest software. Please check and give a solution.

I'm using 1520 preview developer with cyan, does the Nokia camera will automatically upgrade to Lumia camera after denim updated? Or I need to install Lumia camera?